Marantz SR8015 Measurements & Conclusion
Marantz SR8015 Measurements & Conclusion
All measurements were conducted using our Audio Precision APx585 8 Channel HDMI Audio Analyzer.  The Marantz SR8015 was defaulted to high-impedance mode (8-ohms or more).
For more information about how we measure power amplifiers, please see: Basic Amplifier Measurement Techniques

Marantz SR8015 11CH AV Receiver Bench Test Results

Marantz SR8015 Preamplifier Measurements
The SR8015 is capable of outputting > 4Vrms unclipped from the multi-ch preamp outputs which is more than 2X voltage drive needed to make most external amplifiers reach full unclipped power.
Editorial Note about Preamp Mode:
Based on my feedback for the SR8012, Marantz now offers preamp mode for ALL new 2020 AVR's that have multi-ch preouts. This allows the preamp to physically disconnect from the power amp stage and thus avoids having the unloaded amplifiers clip when input levels exceed 1.4Vrms. If you're planning on using the SR8015 with external amplification for ALL channels, you'll want to engage preamp mode for best performance.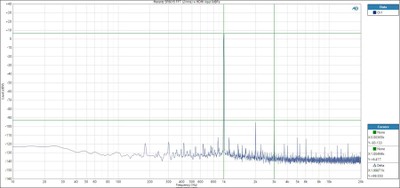 Marantz SR8015 Preamp Out FFT Distortion Analysis @ 2Vrms
Marantz has made great strides in improving preamp output performance on the SR8015. Even with this unit NOT engaged in preamp mode, I measured -20dB lower 3rd harmonics at 2Vrms compared to the SR8012! This is a really good measurement that most dedicated preamp/processors can't beat. Let's see what happens with preamp mode engaged.
Marantz SR8015 Preamp Out FFT Distortion Analysis @ 2Vrms Preamp Mode
Preamp mode lowers the harmonics very little, meaning you don't really need to engage this mode to still achieve excellent drive for external amplification. I'm quite happy with the fact that Marantz's HDAM redesign provides the necessary isolation at all times to keep the preamp outputs clean. The SR8015 will serve as an excellent preamp/processor with the bonus of also having some stout amplifiers on board in case you wish to use them to power your surround channels or other zones of audio.
Marantz SR8015 Preamp Out THD vs. Frequency Response @ 2Vrms Preamp Mode
When driven to 2Vrms, the SR8015 exhibited excellent distortion results via the preamp output. THD+N was below .003% for the entire audio band and I saw similar results even when driving the preouts to 3Vrms. This is a clean preamp with plenty of output drive.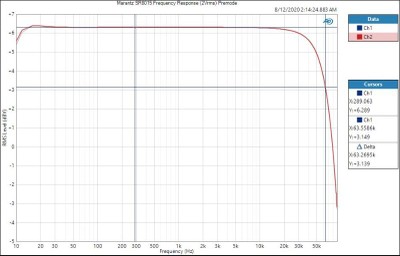 Marantz SR8015 Frequency Response - Pure Direct Preamp Mode
The -3dB point of SR8012 preout outputs is 63kHz, which is plenty wide for high resolution but not too wide to allow excessive noise ingress.  CH-CH deviation was excellent at +- 0.06dB from 20Hz to 20kHz for all channels.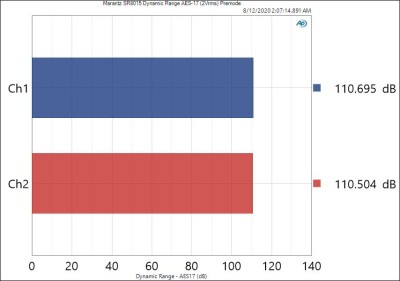 Marantz SR8015 Signal to Noise Ratio (2Vrms) - Pure Direct Preamp Mode
The SR8015 preamp output exhibited excellent low noise floor (101dB @ 2Vrms about 2dB better than I measured with the SR8012). Using A-wt, I measured in the same fashion as Marantz and got about 2dB less SNR than their report (112dB vs. 110dB @ 82.5dB vol). The measurement was the same regardless if it was engaged in preamp mode or normal, or pure direct.
Bass Management
Denon and Marantz have always offered excellent bass management on all of their AV receivers, and the SR8015 is no exception.  Like the SR8012, the SR8015 offers dual independent subwoofer outputs with separate level and trim controls, which is really handy for properly tuning multi-sub installations. There is also a separate setting for LFE crossover. We usually recommend leaving the LFE x-o at 120Hz to not truncate the LFE soundtrack of Blu-ray or DVD mixes, which can have content above 80Hz that would otherwise be lost if you set the LFE crossover lower.  You can have independent crossover settings per channel groupings as well.
Marantz SR8015 Bass Management
I measured the HPF and LPF responses of the bass management circuits and observed exactly 24dB/oct slope of the LPF and 12dB/oct slope of the HPF at the selected 80Hz crossover frequency.  Don't forget to set up your bass management for 2CH listening if you have your mains set large and you also wish to enable your subwoofers.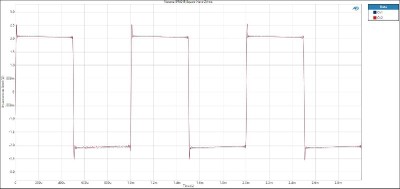 Marantz SR8015 Preamp Output Squarewave Response (2Vrms)
I've been asked by several audioholics to start including square wave response curves in our measurements. Ideally there'd be no overshoot or ringing like we are seeing in the curve above. BUT Marantz confirmed this was a deliberate design attribute due to the short delay, slow roll-off DAC filter curve employed on ALL Marantz products to help better preserve high frequency phase response.
For more info, read: Why Amplifiers Can Sound Different
Power Measurements
Using our Audio Precision APx585 8-channel HDMI analyzer, we conducted a full barrage of multi-channel amplifier tests on Marantz SR8015 per our Amplifier Measurement Protocol. We tested power using three methods all of which were taken at < 0.1% THD + N:
Continuous Full Power Bandwidth (CFP-BW) - from 20Hz to 20kHz into 8 and 4-ohm loads (up to two-channels)
1kHz Power Sweep vs. Distortion (1kHz PSweep) - popularized by the print magazines, this is an instantaneous power vs. distortion test at 1kHz. The problem with this test is it often masks slew-related and/or frequency response problems some amplifiers exhibit at the frequency extremes, and thus inflates the measured power results. It does provide an instant gratification number for consumers to argue over on the forums, so we are now incorporating this test to please the masses.
Dynamic PWR (1kHz CEA-2006 Burst Method testing) - This is a dynamic power measurement adopted from the car industry similar to IHF method only a bit more difficult for an amplifier and more representative of real musical content.
Keep in mind most review publications don't do continuous power measurements and they usually publish power measurements into clipping at 1% THD + N. Our measurements are very conservative as we use a dedicated 20A line with no Variac to regulate line voltage.  We constantly monitor the line to ensure it never drops more than 2Vrms from nominal, which in our case was 120Vrms. 
For more info on amplifier measurements, see:  The All Channels Driven (ACD) Test
Marantz SR8015 CFP-BW (2CH) Power Test - 8 ohms
With two-channels driven, the 140 watt/ch rated SR8015 delivered >150 watts/ch for full bandwidth 20Hz to 20kHz at < 1% THD for 8 ohm loads and 220 watts/ch for 4 ohm loads. These are similar power figures I got when I tested the SR8012.
Marantz SR8015 1kHz ACD (7CH) Power Test - 8 ohms
The SR8015 was able to muster and impressive 101 watts/ch at 1% THD and 92 watts/ch at 0.1% THD with 7CH driven. Marantz guarantees 70% of rated 2CH driven (98 watts/ch) for up to 5 channels but this receiver clearly met that goal for 7CH driven. Impressive! This should be plenty of power for all but the largest and most demanding home theaters. The higher distortion before clipping I saw on some channels was a bit puzzling but I believe it has something to do with the Auto Eco switching which I left on during these power tests.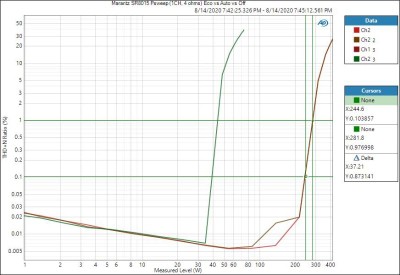 Marantz SR8015 Power Test Eco On vs. Eco Auto  - 1CH, 4 ohms
As I've stated numerous times in prior reviews of receivers that offer an "Eco" mode, NEVER use "Eco On" if you're planning on using the internal amplifiers. "Eco On" neutered the power of the SR8012 to a mere 30 watts/ch and that was with just 1CH driven!  "Eco Auto" vs. disable produced similar power output results so I would safely recommend using "Eco Auto" if you want to be a little more energy efficient and cut down operational heat without losing output power.
Editorial Note: Impedance Selector Switch - No matter how tempted you may be to do so, DO NOT change the default "8 ohm min" impedance setting of ANY AV receiver.  All this does is starve your speakers of power, simply so Marantz could get 4-ohm certification (at a reduced power level) without making the receiver get too hot during their power tests. We have tested this 'feature' on virtually every receiver that offered it in the past and the results were always the same: the low impedance setting robs your speakers of power. 
For more information, see:  Setting the AV Receiver Impedance Switch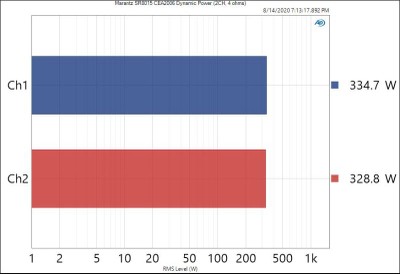 Marantz SR8015 Dynamic (2CH) Power Test - 4 ohms
The SR8015 performed well for CEA 2006 short dynamic burst tests by delivering about 330 watts/ch with 2CH driven at 4 ohms and over 177 watts/ch with 7CH driven at 8 ohms.
| | | | | |
| --- | --- | --- | --- | --- |
| # of CH | Test Type | Power | Load | THD + N |
| 2 | CFP-BW | 155 watts | 8-ohms | 1% |
| 2 | CFP-BW | 220 watts | 4-ohms | 1% |
| 1 | 1kHz Psweep | 200 watts | 8-ohms | 1% |
| 1 | 1kHz Psweep | 189 watts | 8-ohms | 0.1% |
| 2 | 1kHz Psweep | 167 watts | 8-ohms | 1% |
| 2 | 1kHz Psweep | 151 watts | 8-ohms | 0.1% |
| 1 | 1kHz Psweep | 281 watts | 4-ohms | 1% |
| 1 | 1kHz Psweep | 244 watts | 4-ohms | 0.1% |
| 2 | 1kHz Psweep | 251 watts | 4-ohms | 1% |
| 2 | 1kHz Psweep | 229 watts | 4-ohms | 0.1% |
| 5 | 1kHz Psweep | 122 watts | 8-ohms | 1% |
| 5 | 1kHz Psweep | 114 watts | 8-ohms | 0.1% |
| 7 | 1kHz Psweep | 101 watts | 8-ohms | 1% |
| 7 | 1kHz Psweep | 93 watts | 8-ohms | 0.1% |
| 1 | Dynamic PWR | 220 watts | 8-ohms | 1% |
| 1 | Dynamic PWR | 354 watts | 4-ohms | 1% |
| 2 | Dynamic PWR | 210 watts | 8-ohms | 1% |
| 2 | Dynamic PWR | 330 watts | 4-ohms | 1% |
| 7 | Dynamic PWR | 177 watts | 8-ohms | 1% |
Marantz SR8015 Power Measurement Table
Despite the power section of the SR8015 being very similar to the SR8012, I decided to retest the entire unit to see what it could do when plugged into my dedicated 20A line. I was pleasantly surprised with the power output that the SR8015 was able to muster. These figures should give any skeptics cause to rethink their preconceptions that receivers can't have stout amplifiers.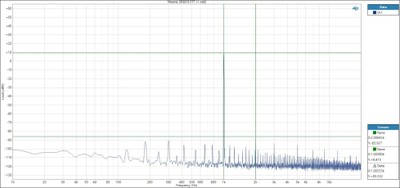 Marantz SR8015 FFT Distortion Analysis (1 watt, 8 ohms)
The FFT at 1 watt for the SR8015 looks similar to what I saw from this model's predecessor, which was very good.  The 2nd order harmonic residual dominates and is about 95dB below the 1kHz fundamental.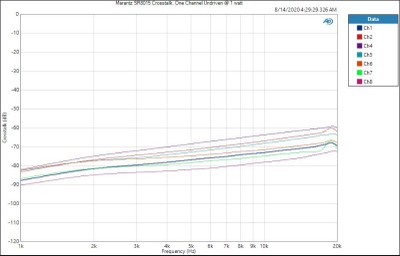 Marantz SR8015 CH-CH Crosstalk (1CH, Undriven) @ 1 watt
The channel-channel crosstalk was excellent for a multi-ch receiver, especially one packing 11 channels of amplification. With ACD except for the one under test, the SR8015 provided > -60dB of CH-CH isolation.
Listening Tests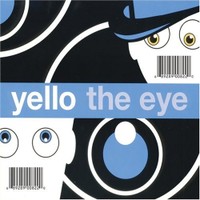 I will keep this section brief as I wrote very favorable about my listening experience of the SR8012 in that review. Much of what I heard in that receiver I heard here as well - excellent clarity, dynamics, low noise, and great immersive effects in my 5.2.4 RBH Sound/JL Audio speaker setup.
One demo that I particularly enjoyed was Yello the Eye streamed from Tidal. This was a reference album of one of our former reviewers, Tom Andry, for years but I never took the time for a listen until recently. This album is quite a treasure in electronic style music with gobs of deep sustained bass and excellent fidelity. Planet Dada is an eargasm to bass heads like me. My JL Audio E112s loved the workout this track provided and I was particularly impressed with how the DSU upmixed the computer generated effects that sounded like an old Commodore 64 game called Raid over Bungeling Bay.  Of course I had to knock the center channel down 6dB since the center spread feature is now gone for maximum enjoyment.
I streamed the first 4 episodes of the Umbrella Academy on Netflix with my wife and daughter and I really enjoyed the immersive bubble I was hearing from the DSU upmixing the native 5.1 soundtrack. I noticed during quiet passages, the speakers were dead silent, as they should be. The SR8015 proved to have a vanishingly low noise floor both on the test bench and in practice.
The Downside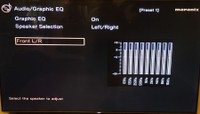 There is little to criticize about the Marantz SR8015. It's a benchmark product offering the latest HD audio and video decoding and more features than I'm able to write about in this review without turning it into a dissertation. However, let me pick a couple of nits so this review is not all roses.
Why the hell are they still rolling with manual GEQ? This is just a dumb feature that needs to die. Manual GEQ is pretty useless for any sort of optimization due to fixed bands and fixed Q. PEQ would be far more useful for fine tuning performance, especially at bass frequencies. I've been railing Denon and Marantz to update this, especially since their closest competitor, Yamaha, has had manual PEQ for over a decade now!
While we are on the subject of EQ and calibration, in my opinion, Denon and Marantz are missing the opportunity to calibrate Auto-EQ from IP control and PC when receiver is in a different location than the speakers. Some of their competitors like Anthem and NAD already do this via ARC Genesis and Dirac, respectively. When I move into my new home, I will find it very difficult to use Audyssey since my SR8015 will be in a centralized rack upstairs while it powers my family room 5.2.4 speaker system on the first floor.  The Audyssey Editor App needs to be replaced by web control to bring this room correction system into the 21st century and make it a useful tool for integrators and serious calibrators like myself.
Conclusion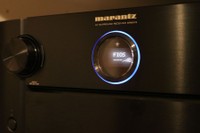 Marantz took an already excellent AVR and made it better. In fact, as far as 11CH receivers go, I'd say the SR8015 is king of the hill at the moment. It has a solid amplification section that would make most separates enthusiasts think twice.  The preamp section is among the best I've ever measured from an AV receiver and the SR8015 comes armed with one of the best and most up to date HDMI 2.1 platforms in the business. The fact that the SR8015 has virtually every current surround format and post processing covered and plans for future updates (DTS:X Pro) should give skeptics worries about obsolescence some security so they can rest well at night that this product will be in their reference system for many years to come.
The Marantz SR8015 is a wonderful sounding, high performance one box separates-like solution that will satiate the audiophile and home theater enthusiast alike. It will also ensure gamers have a platform that will keep up with the latest tech and not be a bottleneck in the years to come thanks to its low latency gaming mode and inclusion of eARC for high resolution audio streaming from the display to the receiver when more 8K sources become readily available. The SR8015 is high on our list for product of the year award and is certainly the best AV receiver we've tested for 2020.
The Score Card
The scoring below is based on each piece of equipment doing the duty it is designed for. The numbers are weighed heavily with respect to the individual cost of each unit, thus giving a rating roughly equal to:
Performance × Price Factor/Value = Rating
Audioholics.com note: The ratings indicated below are based on subjective listening and objective testing of the product in question. The rating scale is based on performance/value ratio. If you notice better performing products in future reviews that have lower numbers in certain areas, be aware that the value factor is most likely the culprit. Other Audioholics reviewers may rate products solely based on performance, and each reviewer has his/her own system for ratings.
Audioholics Rating Scale
— Excellent
— Very Good
— Good
— Fair
— Poor
| Metric | Rating |
| --- | --- |
| Frequency Response Linearity | |
| SNR | |
| Measured Power (8-ohms) | |
| Measured Power (4-ohms) | |
| Multi-channel Audio Performance | |
| Two-channel Audio Performance | |
| Network Features | |
| Video Processing | |
| Bass Management | |
| Build Quality | |
| Fit and Finish | |
| Ergonomics & Usability | |
| Ease of Setup | |
| Remote Control | |
| Performance | |
| Value | |
Confused about what AV Gear to buy or how to set it up? Join our Exclusive Audioholics E-Book Membership Program!
Recent Forum Posts:
ToddNash posts on September 22, 2020 16:50
what is the thinking on Audyssey's midrange compensation setting? on or off ? any pros and cons would be helpful.
masrtin Gillespie posts on September 20, 2020 17:57
It is a interesting one , I will keep an eye on Yamaha to see what the 2020/21 flag ship may hold
DJ7675 posts on September 20, 2020 11:33
masrtin Gillespie, post: 1419630, member: 81219
The 8500h is two years old so in theory the Marantz should be more upto dates chip wise, and computing wise, I may be wrong, it is whats keeping me pulling the trigger on the 8500H.

I believe it will be in the line 2 more years. There will be an x8500ha and the only difference will be an 8k input. If I'm not mistaken, the x8500 still has the better DAC in comparison to the SR8015 (AK4490 vs AK4458). The only thing the newer SR8015 can do that the X8500 can't is store an Audyssey configuration internally. With the X8500 you would have to use the app, or a USB drive which will take a little longer to change.
I wouldn't be concerned at all with the older X8500 at all as it will be in the current line for a few more years. Also if you end up needing 8K you can send it to Denon to upgrade it to 8K which would make it an X8500HA.
DJ7675 posts on September 20, 2020 11:18
masrtin Gillespie, post: 1419628, member: 81219
The remote is inexcusable on a 3 grand AVR, Audyssey app is also the biggest waste of money ever, I would also wish they got rid of the porthole its useless at a distance, now I have short listed this as a replacement for my 7012 and MM7055 set up but wonder if the Denon 6700 or 8500H might be a better buy, I'm on the fence. Brilliant review by the way.

My thoughts:
-X8500H is better money spent in my opinion as well. For the same price you can get an X8500 for $3k (open box full warranty).
-Audyssey app is the best $20 spent. I would not have purchased the X8500 if the app wasn't available. Just being able to limit EQ to below a chosen frequency is worth it. Using Audyssey full range with the default reference or flat curve can sound pretty bad from my experience.
masrtin Gillespie posts on September 20, 2020 11:12
snakeeyes, post: 1418418, member: 85468
Great review!!!

Only a couple comments on best AVR. First I'm not a fan of removing center spread from DSU either (2nd set of AVR settings for music listening with center down 6dB may mitigate that and Dolby is to blame, not Marantz).

I'm also not impressed with the idea of having to use the TV for 8K HDMI switching and eARC for audio to AVR. (Single 8K HDMI Port is the reason). The 2nd issue is the concern at this price point. This probably could push some buyers to wait for the next model. I also hear the Yamahas coming out this year will support several 8k HDMI ports so this functionality is just around the corner it would seem.

To make matters worse the Denon 10 anniversary AVR still has only one 2.1 input, when Yamaha are doing Multiple on there entry level AVRs, Sound united has missed a trick here.
Post Reply