Denon AVR-X8500H Configuration & Conclusion
Denon AVR-X8500H Configuration & Conclusion
Setting up the Denon is a very straightforward and thoroughly enjoyable process. Allow me to state that Denon (and sister company Marantz) may very well have the best setup process in the home theater world. The graphics and setup menus are identical between the two. The team in charge of the user interface (UI) design deserves credit and commendation.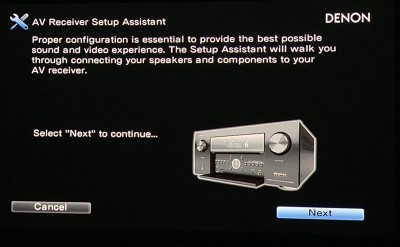 Denon's setup assistant takes you step by step and is perfect for the novice or expert installer.
When you power up the AVR-X8500H for the first time, it takes you step by step with animated menus. The setup covers everything: stripping speaker wire; connecting each channel; choosing the speaker layout that matches your setup; and finally running Audyssey.  Even though I've setup several Denon and Marantz units, I didn't find the detailed menus tedious. Advanced users can easily skip through sections they know well.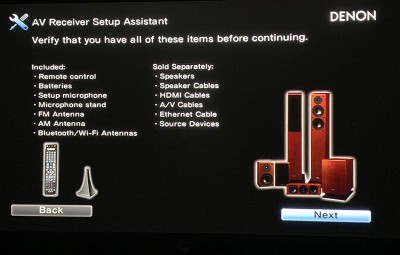 Denon's setup assistant tells you exactly what you need before you get started.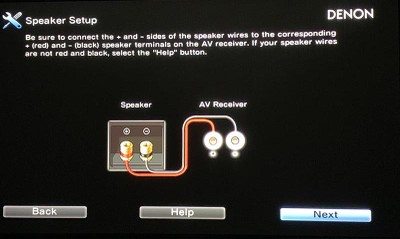 The Denon's graphical setup and help sections are suitable for the novice or the seasoned installer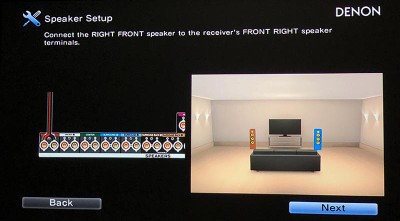 The setup shows you visually which terminal connects to each speaker.
Smart Home Integration with Amazon Alexa, Siri, Google Assistant, and Josh.ai

The X8500H supports both Amazon Alexa, Google Assistant, Siri (via AirPlay2) and josh.ai on high-end smart home automation systems. I tested Amazon Alexa.
Alexa setup was straightforward.
With the X8500H connected to the HEOS app I went to the skills menu in the Alexa mobile app and added the Denon skill to my Alexa account.  The Denon skill lets Alexa know how to execute voice commands on the AVR.  I suggest renaming the X8500H to an easy to use name. I used "Theater." There's a suggested list of Alexa-friendly names you can use.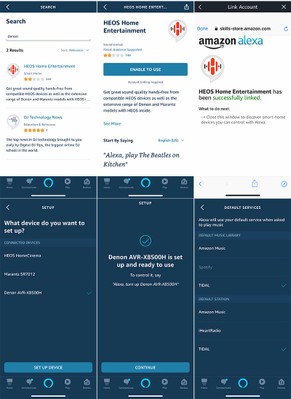 Setting up Amazon Alexa with the Denon AVR-X8500H was easy and straightforward
My sentiments about smart assistants haven't changed since my Marantz SR7012 review. I find them very useful for basic remote control commands: Power, volume, input, mute, etc. I had no problems with these commands.
Likewise, I had no trouble playing music via Amazon Alexa with one exception. Amazon Alexa defaults to Amazon music, which plays lossy files at low bitrates. I wanted to use my Tidal account instead. I loaded the Tidal skill into my account and manually changed the default music service from Amazon Music to Tidal. When I used voice commands such as "Alexa play U2 in the Theater.  I got errors that it could not play back music. I never got to solve why this wouldn't work.
Audyssey MultEQ XT32 Set Up

Audyssey's top-of-the-line MultEQ XT32 room correction suite is built in. With so many channels to run, a calibration can take up to 45 minutes. Mine did.
I think it's worth repeating that you want to take time to set up your speakers properly. Any room correction should be used as a tool to address anomalies—not as compensation for poor speaker placement.  In fact, you'll only get the best performance out of room correction solutions when you've spent the time placing your speakers correctly.
I highly recommend—in fact, mandate—that any user who purchases the Denon X8500H use Audyssey's MultEQ Editor calibration app for iOS and Android instead of the receiver's built-in calibration setup. The app will cost you $19.99 and it's the best $19.99 you'll spend.  Using the Audyssey MultEQ Editor app adds a bit of time to the calibration since the app and X8500H need to sync the results after each sweep.
Running Audyssey via the AVR is straightforward but the MultEQ Editor app adds key features: You can save multiple calibrations and upload any one to the AVR in seconds; change the EQ curve on a speaker-by-speaker basis; set midrange compensation; see detailed graphs of the room correction before and after graphs; and perhaps most importantly, adjust the filter frequency range.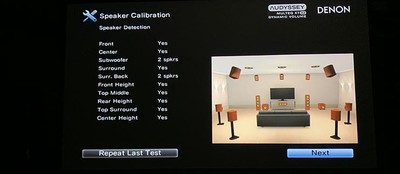 I configured Audyssey for 15.2 channels to drive a full Dolby Atmos, DTS:X, Auro-3D, and IMAX Enhanced setup.
This last feature is critical. In my personal experience, I've never found Audyssey to be 100% satisfying with music. I feel that Audyssey makes music sound a bit artificial in its default setting.  If you feel the same way, then limiting Audyssey's frequency response to either the room's Schroeder frequency or below about 5000Hz (like Anthem's ARC) produces a far more natural sound. In case you're unfamiliar, a room's Schroeder frequency (typically between 200Hz and 250Hz in most residential rooms and falls in line with Dr. Floyd Toole's recommendations) is named after German Physicist Dr. Manfred Schroeder, not the Peanuts piano player, like most people think. The Schroeder frequency is the crossover frequency at which your room stops resonating sound and starts reflecting/diffusing it.
One should remember that Audyssey also addresses time domain errors in addition to standard EQ. For that reason, you may or may not find some benefit to Audyssey at slightly higher frequencies.
Using the Audyssey app, I tested the X8500H with both a default Audyssey calibration and lowered to 1006Hz and 249Hz.  The X8500H with Audyssey set to either 1006Hz or 249Hz sounded better with music—more natural in the midrange—than letting Audyssey run with its default, full-range calibration.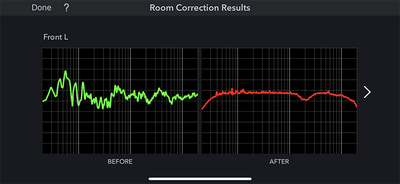 The Audyssey mobile app gives you more control over your calibration.
There are still three items I'd like to see Denon and Audyssey work together on: First, the Audyssey MultEQ Editor App should allow you to use your smart device's built-in microphone to perform a calibration. Anthem's ARC does that.
Secondly, I should be able to apply independent Audyssey EQ calibrations to both Zone 2 and Zone 3.  I have multiple zones in my home and it's amazing what EQ can do to in-ceiling or in-wall speaker setups.
Finally, I should be able to run two or three different calibration sweeps and apply them to different inputs. The reason for this last point is that some enthusiasts have both flat panel displays and pull-down screens in the same setup. It would be nice to be able to apply different EQ curves to different inputs for such situations. As a work-around, at least the Editor app allows you to load different calibrations somewhat quickly.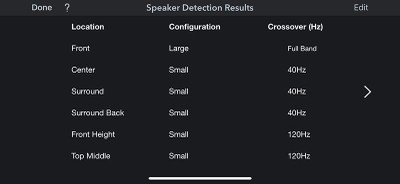 Here's what Audyssey calculated for crossovers for the SVS Ultra and Beale Street speaker setup as shown via the mobile app.
Associated equipment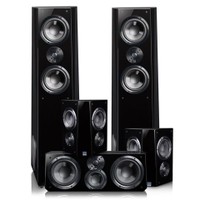 I configured my review setup as a 7.2.6 Dolby Atmos; a 7.2.4 DTS:X and IMAX Enhanced (DTS:X only supports 11 channels); and a 13.2 Auro-3D. I'll reiterate the important note from above: I connected the Denon AVR-X8500H to a dedicated 20A circuit. Connecting to a 15A circuit could rob this AVR by 10% (or more) of its output! See our article: AC Wall Power Considerations for your Home Theater System for more details.
I used SVS Ultra Towers for the fronts, an SVS Ultra center channel, and SVS Ultra Bookshelf speakers for the side and rear surrounds. Eight Beale Street Audio in-ceiling speakers handled the height channels including the Voice of God overhead speaker. Dual SVS SB13-Ultra subwoofers anchored the setup.
Sources included an Oppo UDP-203 4K/UltraHD Blu-ray player; Roon Media server (played via the Oppo); and an AppleTV 4K with the Dolby Atmos firmware update. JVC's DLA-X570R projector handled the display.
Listening tests
Wow! There's absolutely nothing wimpy in the way Denon's X8500H presents music and movies. Right away, I felt as though the X8500H had more power and dynamics than the X7200WA. It was as though the X8500H had gobs more power in its tank (see comments earlier in this review about 20A vs. 15A circuits). The X8500H's sound is big and bold. This is a reference piece for music and movies.
Two channel music
For two channel music listening tests, I turned Audyssey off and set the Denon either to "Direct" or "Pure Direct" mode. The latter mode turns off the main display and analog video circuitry to suppress any noise that could affect sound quality. It's worth repeating that here at Audioholics, we perform two-channel listening tests in reviews with room correction turned off.
The X8500H served up two-channel music beautifully. The Denon swooned to female vocals. The X8500H delivered Natalie Merchant's velvety vocals on "Ladybird" and "Maggie Said" in wonderful fashion.  The Denon conjured up a deep and wide sound stage on "Texas" with Ms. Merchant's vocals dead center in front of drums and a full-bodied guitar solidly placed right of center. The same was true of Adele, Norah Jones' breathy vocals, and the 192-kHz/24-bit ALAC version of Alexis Cole's sweet sound on Dazzling Blue. The Denon reveled in its ability to resolve fine nuances effortlessly.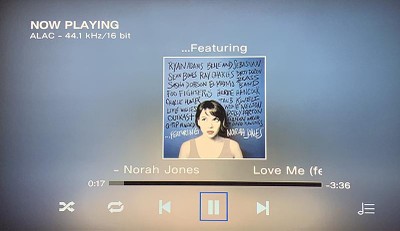 The X8500H reveled in its reproduction of Norah Jone's album, ...Featuring.
I thoroughly enjoyed experiencing Imagine Dragons Origins through the Denon. The X8500H and SVS one-two punch delivered chest-pumping midbass on "Bad Liar," "Machine," and "Boomerang" with excellent articulation. Notes started and stopped on a dime, snapping with whip-like precision. The Denon knew how to float like a butterfly and sting like a bee.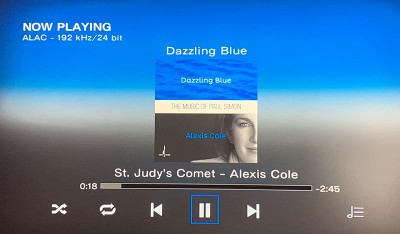 Alexis Cole's Dazzling Blue offered as a 192-kHz/24-bit ALAC from Chesky Records sounded amazing.
Dolby Atmos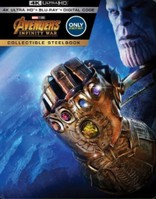 Dolby Atmos 4K/UltraHD Blu-rays supported my full 7.2.6 setup. I noticed the sonic slam right away with the opening of X-Men Apocalypse. When the sun's rays hit the top of Apocalypse's pyramid in ancient Egypt, the sun illuminates a circuit board-like grid of light that travels down the pyramid's interior. The X8500H firmly controlled all the audio objects with a precise attack. Powered by the dual SVS SB13-Ultra, my room and chair shook when the pyramid collapsed—giving me the sensation that rocks were falling all around me.
The Denon X8500H brought out the utmost in the Dolby Atmos August 2018 demo disc. I think Dolby should provide every Dolby Atmos-enabled AVR with this disc or provide the "Nature's Fury" and "Amaze" tracks as free downloads on iTunes.  I was awe-struck with the Denon's take-no-prisoners performance. The 3D audio bubble was seamless.  The Denon's own amplifiers, complemented by the SVS subwoofers, unleashed sonic depth charges with unchallenged control and sophistication.
"Amaze" takes you through various nature scenes with thunder overhead. The Denon served as a virtual maestro, commanding every sound. During this track, a bird takes flight from the left and flies 360-degrees around. I could track the bird flying at every point around my head. It was pinpoint perfect. And when the thunder strikes, it roared in my theater area with the fury of a grizzly.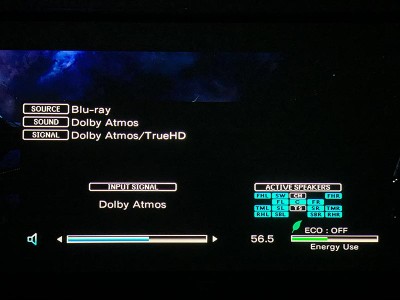 The AVR-X8500H rendered the Dolby Atmos track of 4K/Ultra-HD Blu-ray of Avengers Infinity War as a 7.2.6 utilizing the side height speakers.
On the softer side, the Denon has me melting to the voice of soprano Isabel Bayrakdarian singing "Mother of Light: Armenian hymns and chants in praise of Mary." Bayrakdarian's voice was anchored dead center. The supporting chorus emanated from a seemingly endless and deep soundstage. At certain points in the work, what sounded like incense-carrying censors, used in Orthodox Christian liturgical worship services echoed all around me highlighting the ambiance of the space.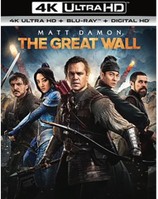 The Great Wall is audio and visual eye candy. During the movie's climax, Matt Damon is in a stained-glass tower. As the mythical monsters, the Tao Tei, attack the tower, breaking through the colorful stained glass, I heard the stained-glass break all around me down to the finest chards hitting the floors. And, as Matt Damon attempts to destroy the Tao Tei's queen with an explosive-laden arrow, the shot seamlessly passed from front to back and then deflected to explode top right.
You may be wondering if adding middle height channels makes a difference. Absolutely! The side height surrounds in the 7.2.6 setup made a difference vs. my previous 7.2.4 setup. The middle surrounds were actively engaged on several scenes, creating a more intense and detailed height experience.  For example, in X-Men Apocalypse the scene where cyclops's eye beams burst open the bathroom stall and cut into the ceiling sending debris everywhere was the most realistic I've ever heard from any Atmos-enabled AVR.
Of course, I had to augment my Dolby Atmos experience by throwing in some Mission Impossible: Fallout in 4K/Ultra-HD Blu-ray  It goes without saying that this is a superb reference disc with outstanding dynamics and strong overhead effects and the Denon didn't disappoint in the least. This Denon's performance on this disc showed why this AVR is a true cinematic reference piece. It's not just the helicopter scene that the Denon commanded, but every nuanced sound with dynamics to die for. The nightclub scene pulsated to the music, transforming my theater space into this vast scene half a world away. 
Reader Beware: If you crave ultimate action and high flying adventure, once you experience the Denon AVR-X8500H with its 13 channels fully active, you'll find other products leaving you wanting. As a nod to Morpheus in the Matrix, once you take the Denon's proverbial red pill, you won't be able to go back to believing whatever you want to believe.
DTS:X
The DTS:X mix on the 4K/UltraHD Blu-ray Jurassic Park 25th Anniversary Collection is non-stop home theater aficionado demo material. For the Denon, neither the immersive audio format nor the sonic muscle required mattered much. Like a conductor effortlessly going from one composer to another, the X8500H whitened its knuckles and took firm, unyielding control of the audio landscape.
Jurassic Park 4K/Ultra-HD Blu-ray with DTS:X is a reference by any measure.  The Tyrannosaurus Rex scene with rain and sporadic claps of thunder created a surreal sensation overhead. There was no longer any ceiling above me, just the sensation of open sky.  As I noted, DTS:X can't yet control the middle height channels. I can't wait for an update to come, since I feel it will further enhance this disc's presentation.  When the Tyrannosaurus Rex finally announced its presence, the Denon had no problem controlling the Tyrannosaurus' terrifying roar.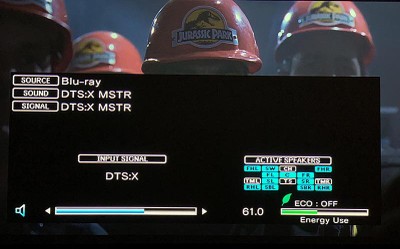 I played the 4K/UltraHD Blu-ray of Jurassic Park with its DTS:X mix to the maximum 11-channel, 7.2.4 speaker configuration.
I also popped in various discs from the Harry Potter series with DTS:X in 4K/Ultra-HD Blu-ray. Once again, the Denon weaved a seamless tapestry of sound transporting and immersing me into the world of Harry Potter.
For kicks, I popped in the DTS:X 2016 demo disc. That disc made it easy to pull up the Last Witch Hunter airplane scene with it's deep rumbling and 360-degree ambient sounds and the simply mind-blowing DTS:X mix of Imagine Dragons "I Bet My Life."
But it was the DTS:X mix of "Cymatics" by Nigel Stanford (check it out here in 2-channel version) that stole the show. I don't know if there is any way to describe in words the jaw-dropping experience of this track in DTS:X. The Denon rendered the music in an electrifying, pulsating, three-dimensional soundscape in near-perfect fashion. And when the song unleashes a series of depth-charge-like bass glissandos beginning at the the 3:20 mark my reflexes kicked in: my eyes pressed shut, my jaw dropped open, and my mouth exclaimed "Wow!" The Denon commanded the dual SVS SB13-Ultra subs to pulsate intense, rippling bass notes in my room with precise definition and unwavering control. Oh yes, you know all too well I reveled in the opportunity to replay this experienced many times over!
IMAX Enhanced
The first two IMAX-enhanced discs came out during my review period. I purchased A Beautiful Planet in 4K/Ultra-HD Blu-ray for this review. The Denon's display changed to IMAX DTS:X indicating it was playing an IMAX-enhanced source. The IMAX-enhanced DTS:X presentation was superb, blowing out my walls and ceiling as though I was in an open area. The disc, narrated by Jennifer Lawrence, is a documentary. It doesn't contain any LFE channel or overtly dynamic elements.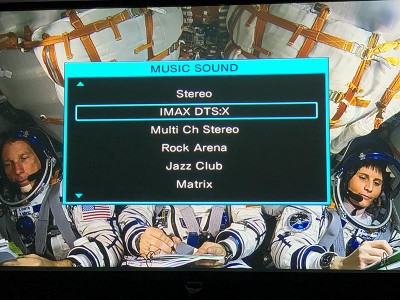 IMAX enhanced uses a special variant of the DTS:X codec.
Most of the sounds were at the front with the immersive elements being primarily ambiance and, when the astronauts go for a spacewalk, a few overhead and side sounds tracking here and there. It was therefore difficult to gauge any significant differences between this disc and an ordinary DTS:X track. I look forward to taking either Venom or Alpha for a spin when they are released this year with IMAX Enhanced treatment.
Auro 3D
the AVR-X8500H is the first AVR I've tested that I'd put up against separates.
Switching to Auro-3D was seamless. Finally, no switching amps or speakers or changing configurations! I can't tell you how happy this feature made me!  Switching to Auro-3D reiterated why the overhead Voice of God (VOG) speaker is an absolute must. It's a game changer. As good as they are, Dolby Atmos and DTS:X couldn't come close to the realistic, overhead sounds Auro-3D's VOG speaker created. Helicopter, airplane and discrete flyovers were far more realistic.
I popped in the Auro-3D demo disc and played the 11.1 Rise of the Guardians demo. The Guardians' battle in the sky against Pitch Black proved the point. Santa and his sleigh passed realistically overhead with the VOG engaged actively at several points. Swooping, whirling sounds seamlessly enveloped me as the speakers in my setup completely disappeared, leaving me in a bubble of seemingly endless space.
If you think multichannel music is a gimmick, pop in the Auro-3D 8.0 mix of Toccata, BWV 565 in D minor. Listening to the organ play was like physically sitting in the cathedral performance space. The low-end dynamics were outstanding. The organ came across with fullness, energy, power, emotion, depth. Listen to this track and then dare tell me immersive audio isn't the real deal!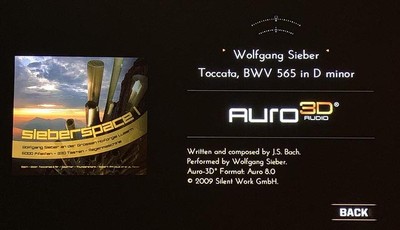 Music mixed in Auro-3D was simply divine.
I turned to a scene from Turbo, mixed in Auro-3D 11.1 that the Denon upmixed to 13.2.  Turbo is wishing upon a star as an airplane passes overhead. The airplane literally passed right over me. I played the scene several times and with my eyes closed I could track the plane precisely as it flew directly above me.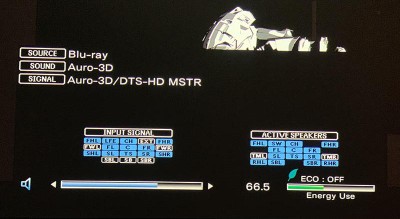 The Denon AVR-X8500H upmixed Auro-3D signals to their full 13.2 channel output including the voice of god top speaker with its internal amplification.

I lived with the X8500H for several months playing countless 4K/UHD Blu-rays. From Avengers Infinity War to Gladiator at every step the Denon AVR-X8500H left me awe-struck. Its performance is worthy of a flagship product.
Conclusion: A Worthy AVR of the Year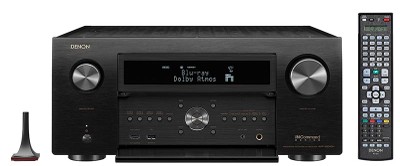 I've fallen in love with Denon's AVR-X8500H.
I don't know what to say. I can write another ten pages on this AVR and still not do it justice. But it doesn't take lots of space to say this: I've fallen in love with Denon's AVR-X8500H. Denon's AVR-X8500H is a beast of a receiver and it puts the world on notice. Denon's reference AVRs are back as a force to be reckoned with. In the AVR-X8500H, Denon has addressed nearly every shortcoming I found their previous flagship, the X7200WA (though I still wish I could run Audyssey on Zone 2 and Zone 3 and have native Roon support!).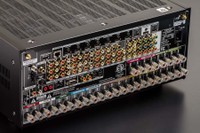 While you might initially look at the $3,999 price tag and balk, this is a massive value. And, $3,999 is a lot less in 2019 dollars than Denon's 58xx AVRs were 10 years ago. Think about what you're getting: An AVR with an audiophile design featuring independent ICs for volume, input, and output; 13 real, beefy, assignable, on-board amplifiers and 15 speaker terminals; concurrent support for every major immersive audio format: Dolby Atmos, DTS:X, Auro-3D, and IMAX Enhanced; one of the most technologically-advanced AVRs on the market with support for hi-res audio and every major streaming service that matters; three independent zones; 8 HDMI inputs and 3 HDMI outputs; full 4K/UHD feature support; an upgrade path to the full HDMI 2.1 spec; voice assistant integration; robust IP, IR, and RS-232 support; and the list goes on! The cost of 13 outboard amps alone easily makes Denon's X8500H a truly remarkable Hi-Fi bargain. And to boot, the sound of these amps is so good, its the first AVR I've tested that I'd put up against separates.
And speaking of separates, if you feel the on-board amplification isn't enough for you, take advantage of the Denon's superb preamp section and simply mate your favorite multichannel amp or monoblocks to any of the Denon's pre-outs and drive any speaker you want.
If you're serious about music, movies, and immersive audio, you urgently need to take this AVR for a spin. From performance to power, It's worth every penny.
How good is the Denon AVR-X8500H? We gave it our AVR of the year award. But that's not all.  I'm going to pay Denon the ultimate compliment: The AVR-X8500H has now become my reference AVR. Highly and enthusiastically recommended.
The Score Card
The scoring below is based on each piece of equipment doing the duty it is designed for. The numbers are weighed heavily with respect to the individual cost of each unit, thus giving a rating roughly equal to:
Performance × Price Factor/Value = Rating
Audioholics.com note: The ratings indicated below are based on subjective listening and objective testing of the product in question. The rating scale is based on performance/value ratio. If you notice better performing products in future reviews that have lower numbers in certain areas, be aware that the value factor is most likely the culprit. Other Audioholics reviewers may rate products solely based on performance, and each reviewer has his/her own system for ratings.
Audioholics Rating Scale
— Excellent
— Very Good
— Good
— Fair
— Poor
| Metric | Rating |
| --- | --- |
| Multi-channel Audio Performance | |
| Two-channel Audio Performance | |
| Network Features | |
| Video Processing | |
| Build Quality | |
| Fit and Finish | |
| Ergonomics & Usability | |
| Ease of Setup | |
| Features | |
| Remote Control | |
| Performance | |
| Value | |
Confused about what AV Gear to buy or how to set it up? Join our Exclusive Audioholics E-Book Membership Program!
Recent Forum Posts:
PENG posts on April 18, 2022 08:06
Verdinut, post: 1353439, member: 80194
@PENG,
So, on any AVR without disconnection of internal amps, when an internal amplifier starts clipping, since it would also affect the performance of the preamp section driving that power amp, doesn't that impairment of the preamp circuit performance add to the power amp's THD and stability? But I've never heard of a reference to that preamp effect. I guess that it would be almost impossible to measure it?

I may be wrong but I would guess the answer is Yes and no.. By the time the preamp's distortion would increase to that level, any more distortions due to the power amp clipping should be insignificant relative to the power amp's distortions resulted from severe clipping. This, imo can be fixed easily and we already know the SR8015 preamp is not affected by the power amp clipping effects any more. Also, keep in mind whatever the power amp's distortions is, only a small portion would be fed back to the amp's input, that is obviously connected to the preamp output.
I am not an amplifier designer but the feedback principle should be easy to understand. Take a look of the linked article below that I just Googled:
Note: I am not saying that this is exactly how the pre outs of the D+M AVRs distortions happened due to the power amp clipping, but you can see that it could happen this way.
Amplifiers Feedback (tutorialspoint.com)
Principle of Feedback Amplifier
A feedback amplifier generally consists of two parts. They are the
amplifier
and the
feedback circuit
. The feedback circuit usually consists of resistors. The concept of feedback amplifier can be understood from the following figure.
https://www.tutorialspoint.com/amplifiers/images/feedback.jpg
From the above figure, the gain of the amplifier is represented as A. the gain of the amplifier is the ratio of output voltage Vo to the input voltage Vi. the feedback network extracts a voltage Vf = ? Vo from the output Vo of the amplifier.
This voltage is added for positive feedback and subtracted for negative feedback, from the signal voltage Vs. Now,
Vi=Vs+Vf=Vs+?VoVi=Vs+Vf=Vs+?Vo
Vi=Vs?Vf=Vs??VoVi=Vs?Vf=Vs??Vo
The quantity ? = Vf/Vo is called as feedback ratio or feedback fraction.
scottyb70 posts on April 17, 2022 18:24
Can I use my Pioneer Elite plasma with this unit?
anthonyrizzo84 posts on December 08, 2019 09:24
Hi there, got this amp as well and love it.
I have the audyssey app as well and i am not to sure how to set it up like you explain in your review.
Could you help?
lovinthehd posts on December 03, 2019 16:02
anthonyrizzo84, post: 1353918, member: 89233
Hi Guys, any tips on how to set up audyssey properly on this amp, i have the app as well.

Thanks for your help

Lots of good setup guides out there if you do a search, including a decent one in the manual. Basically place mic at ear height, use all 8 positions with the first being your MLP-main listening position and group the other positions around that (I use about a 2ft radius from MLP using a mic boom). I'd recommend turning off Dynamic Volume if enabled at the end but would suggest you do experiment with using DynamicEQ and Reference Level Offset for various content. It may also set some speakers to full range rather than use a crossover, but that's Denon rather than Audyssey's recommendation when using subs.
anthonyrizzo84 posts on December 03, 2019 15:43
Hi Guys, any tips on how to set up audyssey properly on this amp, i have the app as well.

Thanks for your help
Post Reply