Denon AVR-X5200W Dolby Atmos AV Receiver Measurements and Analysis
Denon AVR-X5200W Dolby Atmos AV Receiver Measurements and Analysis
All measurements were conducted using our
Audio Precision APx585 8 Channel HDMI Audio Analyzer
following our rigid
Amplifier Measurement Test Protocol

Preamp

The AVR-X5200W has plenty of grunt via the preamp outputs to use in conjunction with virtually any separate amplifier should you desire more power.  I measured unclipped output of 4.5Vrms from every channel.  We like to see at least 2Vrms and the Denon met this with over 6db of margin to spare.
In Direct mode, I measured a ruler flat frequency response with a -3dB point of 65kHz.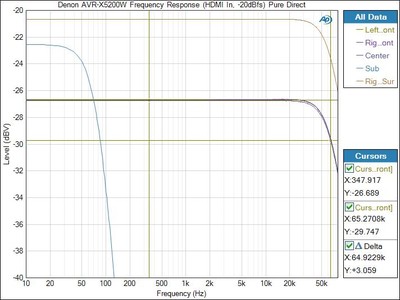 Denon AVR-X5200W Analog Frequency Response Direct Mode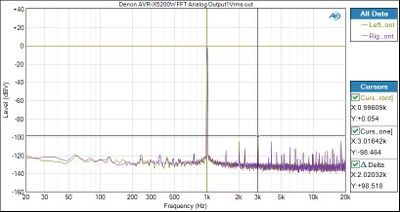 Denon AVR-X5200W Analog Out FFT Distortion Analysis (1Vrms)
In analog Direct mode, the AVR-X5200W exhibited an excellent noise floor.  The dominant odd order distortion product was 100dB below the fundamental which is excellent.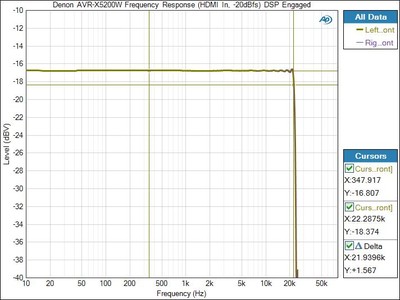 Denon AVR-X5200W Frequency Response DSP Engaged
I was a bit surprised to find the AVR-X5200W downsampling to 48kHz, thus limiting the high frequency bandwidth to just over 20kHz once the DSP was engaged.  I confirmed with Denon that the receiver does this to conserve MIPS given all the processing power needed for Dolby Atmos and Audyssey.  Audio purists will want to engage Direct mode for recordings with sampling rates higher than 48kHz as long as they don't mind giving up Audyssey EQ and Atmos for purity of signal. Direct mode and Pure Direct mode will still allow you to enjoy the full resolution of Dolby TrueHD and DTS-HD with no downsampling.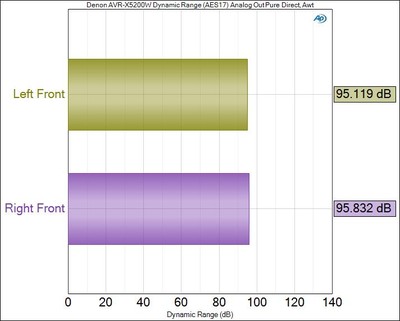 Denon AVR-X5200W Signal to Noise Ratio (Direct Mode) 
With the receiver in Direct mode bypassing the DSP and 100mVin, and 1 Vrms output, the AVR-X5200W exhibited an excellent SNR of 95dB with the AES17 filter engaged.  With no filter, it dropped down to 88dB, which is still an excellent figure.  Because of the digital processing and clocks, with DSP engaged, the noise floor went up to 77dB with no filter engaged.  Overall, these are very good results.  The preamp is quiet when it should be.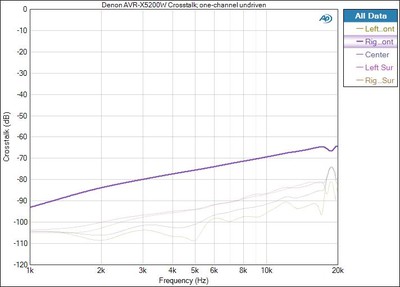 Denon AVR-X5200W Crosstalk Tests (One Channel Undriven)
The crosstalk sweep tests I ran on the AVR-X5200W produced very good results.   Driving all channels but the one under test is the worst possible crosstalk test you can run, producing figures up to 10dB worse than just activating one disturber channel at a time. At 1kHz the channel-to-channel isolation was better than -90dB and –60dB at 20kHz. I consider anything less than -40dB @ 10kHz acceptable and the AVR-X5200W beat that with a whopping 30dB to spare.
Bass Management
Denon has always had some of the most flexible bass management options of all the A/V receiver manufacturers and the AVR-X5200W proved to be no exception.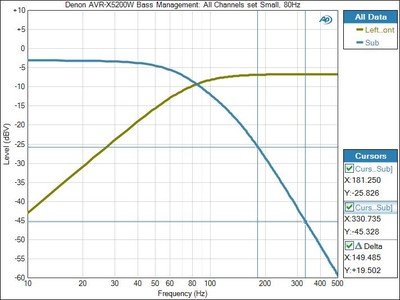 Denon AVR-X5200W Frequency Response with Bass Management Engaged
With all speakers set to small and an 80Hz crossover point, I measured the outputs and crossover slopes.  With a standard "small" 80Hz setting for all channels, the high pass filter (HPF) for the satellite speakers maintained the correct 80Hz -3dB pt with a 12 dB/octave slope.  The sub out did not maintain the 24dB/octave slope we've been accustomed to seeing with Denon A/V receivers and THX certified products in general.  Instead, I measured --8dB at 80Hz with a 19dB/octave slope.  I'm a bit at odds that the sub out is a little off, but this is not a THX product and the slight difference is likely inaudible for most installs and is academic. 
Power Amplifier Measurements
The AVR-X5200W was tested on a dedicated 120V / 20A line.  Unless otherwise stated, all power measurements were done with the default 8 ohm impedance setting.
We tested power using three methods all of which were taken at < 0.1% THD + N:
Continuous Full Power Bandwidth (CFP-BW) from 20Hz to 20kHz into 8 and 4-ohm loads
1kHz Power Sweep vs. Distortion (1kHz Psweep)—popularized by the print magazines, this is an instantaneous power vs. distortion test at 1kHz. The problem with this test is it often masks slew-related and or frequency response problems some amplifiers exhibit at the frequency extremes, and thus inflates the measured power results. It does provide an instant gratification number for consumers to argue over on the forums, so we are now incorporating this test to please the masses.
Dynamic PWR - 1kHz CEA-2006 Burst Method testing. This is a dynamic power measurement adopted from the car industry similar to IHF method, only a bit more difficult for an amplifier and more representative of real musical content.
Keep in mind most review publications don't do continuous power measurements and they usually publish power measurements into clipping at 1% THD+N. Our measurements are very conservative since we use a dedicated 20A line with no Variac to regulate line voltage.  We constantly monitor the line to ensure it never drops more than 2Vrms from nominal, which in our case was 120Vrms. 
For more info on amplifier measurements, see:  The All Channels Driven (ACD) Test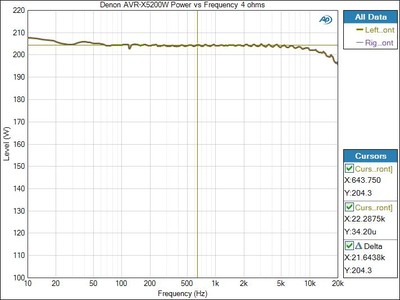 Denon AVR-X5200W Full Power Bandwidth Continuous Sweep (205wpc, 4 ohms)
The AVR-X5200W produced respectable output on the continuous sweep tests.  For 8 ohms, two channels driven output was around 145 watts/channel and 205 watts/channel for 4 ohms under 1% THD+N. 
Denon AVR-X5200W 1kHz Power Sweep Test
Top Pic: 8 ohm load, 7CH;  Bottom Pic:  4 ohm load, 2CH
The Denon AVR-X5200W did better on the all channels driven test than I anticipated as you can see in the seven channel power tests above which produced 78 watts/channel at 01.% THD+N into 8 ohm loads and about 194 watts/channel for two channels driven into 4 ohms at 0.1% THD+N.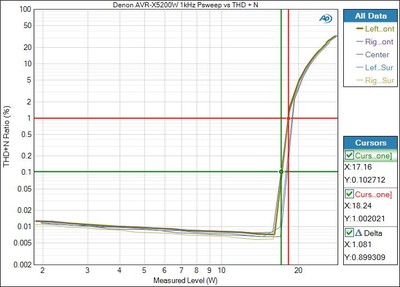 Denon AVR-X5200W 1kHz Power Sweep Test – Low Impedance Mode
NEVER USE THIS SETTING!
NEVER use the low impedance setting regardless of your speakers impedance!

Congratulations to Denon for making the world's worst impedance selector switch of all time.  With the low setting engaged, no matter how many channels were driven, the output was limited to about 25 watts/channel with one channel driven and significantly less with all channels driven (18 watts for seven channels driven).  Denon jumped on the impedance switch bandwagon to get the UL 4 ohm rating, but severely choked off performance in doing so.  This is likely due for two reasons, inadequate heat sink area to keep the receiver running cool enough for the rating, and an overzealous and cautious safety engineer that took things just a little too far.  Regardless of whatever speaker impedance you have, under NO circumstance do I EVER recommend using the low impedance setting.  Just leave it at the default 8 ohm setting and forget there is even an option to change it.
For more information see:  Setting theA/V Receiver Impedance Selector Switch
Denon AVR-X5200 Dynamic Power Test (1kHz)
Top Pic: 8 ohm load, 7CH;  Bottom Pic: 4 ohm load, 2CH
The CEA-2006 burst tests simulate musical program material.  The AVR-X5200W produced respectable results with two channels driven but showed power supply limitations with seven channels driven yielding power numbers only slightly higher than the 1kHz sweep tests.
| | | | | |
| --- | --- | --- | --- | --- |
| # of CH | Test Type | Power | Load | THD + N |
| 2 | CFP-BW | 140 watts | 8 ohms | 1% |
| 2 | CFP-BW | 205 watts | 4 ohms | 1% |
| 2 | 1kHz Psweep | 140 watts | 8 ohms | 0.1% |
| 2 | 1kHz Psweep | 145 watts | 8 ohms | 1% |
| 2 | 1kHz Psweep | 193 watts | 4 ohms | 0.1% |
| 2 | 1kHz Psweep | 206 watts | 4 ohms | 1% |
| 5 | 1kHz Psweep | 97 watts | 8 ohms | 0.1% |
| 5 | 1kHz Psweep | 101 watts | 8 ohms | 1% |
| 7 | 1kHz Psweep | 78 watts | 8 ohms | 0.1% |
| 7 | 1kHz Psweep | 82 watts | 8 ohms | 1% |
| *1 | 1kHz Psweep | 24 watts | 8 ohms | 1% |
| *7 | 1kHz Psweep | 18 watts | 8 ohms | 1% |
| 2 | Dynamic PWR | 200 watts | 8 ohms | 1% |
| 7 | Dynamic PWR | 85 watts | 8 ohms | 1% |
| 2 | Dynamic PWR | 300 watts | 4 ohms | 1% |
Denon AVR-X5200W Power Measurement Table 
* Impedance switch was set to low (4 ohm setting) for these particular tests.

Denon rates the AVR-X5200W as follows:
140 watts  < 0.05% ; 20Hz to 20kHz 8 ohm load, unspecified channels driven

160 watts (8 ohms, 2CH) and 250 watts (4 ohms, 2CH) dynamic power
Our test results validate Denon's power specification at least for two channels driven.  In fact we were even able to validate their 250 watt sticker slapped on the front panel, but only for one channel driven at 1kHz into 10% THD +N.  They could really do away with that sticker but more POWAH sells, especially to less informed consumers, which is who they are targeting with this claim.
Confused about what AV Gear to buy or how to set it up? Join our Exclusive Audioholics E-Book Membership Program!
See also: