Denon AVR-X5200W Dolby Atmos Considerations and Conclusion
Denon AVR-X5200W Dolby Atmos Considerations and Conclusion
Despite the claims otherwise, Dolby Atmos is NOT the greatest breakthrough in audio in 20 years for the home theater.

If you're able to add two or four in-ceiling speakers to supplement your current 5.1 or 7.1 speaker system, then Dolby Atmos is definitely a worthwhile upgrade.  Is Atmos the greatest breakthrough in audio in 20 years?  I don't believe so, especially if you're already running a high quality Dolby TrueHD / DTS HD setup. The benefit of Atmos (at least the way it's currently implemented in consumer products) is subtle, especially if your surround speakers are already in an elevated location on your side and back walls.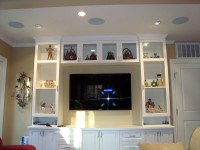 Dolby Atmos is best appreciated by employing discrete ceiling speakers, which the majority of people are incapable of incorporating into their living rooms.  But, if your primary speaker system is already all in-ceiling like I unfortunately often see in Florida homes (right pic courtesy of mwhomewiring.com), now is your chance to re-purpose those for Atmos height channels and install some box speakers at or near ear level to greatly improve the fidelity for all of your five or seven main/bed channels.
The only minor gripe I have with the AVR-X5200W is the fact that it downsamples all digital signals to 48kHz (unless you're in Direct or Pure Direct Mode), which I'm certain is a compromise many new A/V receivers are making for the inclusion of Dolby Atmos while also retaining advanced room correction software.  I feel the Atmos technology was rushed into the consumer marketplace as evident by the lack of software support, and the somewhat convoluted and incompatible speaker layout options between competing and existing formats.  I don't believe most people will be willing or able to lower the physical height of their side and surround channels to slap elevation modules on top of them.  If you're buying this receiver to experience Dolby Atmos and Auro in all its glory, but cannot accommodate height speakers on or near the ceiling, just realize there are many compromises with the alternative Atmos elevation speakers as discussed in the listening portion of this review.  In addition, you're going to be playing the waiting game for Atmos and especially Auro content.  In the meantime you're stuck with demo discs and Transformers 4 to hold you over, or just using the DSU to expand the soundstage of your existing Blu-ray collection.
Conclusion
The Den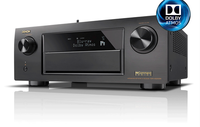 on AVR-X5200W has just about every feature consumers could ever want in a $2k A/V receiver.  Dolby Atmos inclusion will likely be a draw to early adopters wanting the next generation surround codec, and the recent Denon announcement for an Auro-3D upgrade (fee required) coming this December should sweeten the deal.  Although I suspect the majority of users buying this receiver won't utilize the Atmos height or Dolby elevation speakers, the AVR-X5200 has some of the most flexible speaker and amp assignability features we've seen. This is particularly important in case you want to repurpose some of those unused nine amplifier channels for other zones or non-discrete height or width channels.  You could do 5.1 in the main zone and have two additional zones of independent audio (one with HDMI support), meaning you've got a whole home solution in one box.
The Denon AVR-X5200W is one of the best Atmos AV receivers currently available in its price class.

If you're looking for a moderately priced networking A/V receiver that's a jack of all trades and will accommodate all of your A/V processing needs for the foreseeable future including expansion into a Atmos or Auro-3D speaker configuration, the Denon AVR-X5200W is one of the best options currently on the market in its price class.  It has ample power to satisfy most home theater enthusiast needs and great setup flexibility and room correction to fine tune your sound.
 Denon AVR-X5200W Atmos AV Receiver Review1
The Score Card
The scoring below is based on each piece of equipment doing the duty it is designed for. The numbers are weighed heavily with respect to the individual cost of each unit, thus giving a rating roughly equal to:
Performance × Price Factor/Value = Rating
Audioholics.com note: The ratings indicated below are based on subjective listening and objective testing of the product in question. The rating scale is based on performance/value ratio. If you notice better performing products in future reviews that have lower numbers in certain areas, be aware that the value factor is most likely the culprit. Other Audioholics reviewers may rate products solely based on performance, and each reviewer has his/her own system for ratings.
Audioholics Rating Scale
— Excellent
— Very Good
— Good
— Fair
— Poor
| Metric | Rating |
| --- | --- |
| Frequency Response Linearity | |
| SNR | |
| Measured Power (8-ohms) | |
| Measured Power (4-ohms) | |
| Multi-channel Audio Performance | |
| Two-channel Audio Performance | |
| Network Features | |
| Video Processing | |
| Bass Management | |
| Build Quality | |
| Ergonomics & Usability | |
| Features | |
| Remote Control | |
| Performance | |
| Value | |
See also:
Confused about what AV Gear to buy or how to set it up? Join our Exclusive Audioholics E-Book Membership Program!