Aperion Verus Grand Bookshelf Overview and Measurements
Aperion Verus Grand Bookshelf Overview and Measurements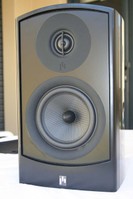 The Verus Grand Bookshelf speakers are very small and compact weighing in at 14 pounds each and measuring 13" H x 7.5" W x 9" D. The most stunning part of the Verus Grand Bookshelfs is how small they are. This should make placement very easy. The foot options on the Verus Grand Bookshelf speakers are limited to sticky rubber pads you can place on the bottom. The back has a flared port at near the top and dual pairs of binding posts with a bar connecting them. There are two rubber covers on the back and one on the bottom that can be removed to reveal threaded inserts for connections to wall mounts. This type of placement may cause a problem with bloated bass response from the rear ports so you'll want to be careful if you go this route.  A simple solution for such installations would be to either plug the ports or bass manage (recommended) the speakers via your A/V receiver.  We recommend an 80Hz crossover setting which will provide the best integration to your sub(s) while also increasing system dynamic range by diverting the stressful bass frequencies away from the little woofers in the Verus bookshelf speakers.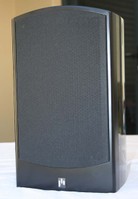 The Verus Grand Bookshelves, unfortunately, were reduced to mostly playing a support role as surround speakers. While I did give them a listen individually, they spent most of their time behind the couch positioned for surround sound. For surround duties, I felt that these speakers were sorely under taxed and underutilized. They did manage, for the most part, to blend in but occasionally, I couldn't help but notice them. I've never been a huge fan of using bookshelf speakers as surrounds, preferring the less localizable performance of a dipole speaker. With speakers as nice as the Verus Grand Bookshelves, it almost seems a crime not to feature them in your setup for main front channel duties.
Aperion rates the Verus Grand Bookshelves down to 59Hz at -3dB and 54dB at -6dB. My listening impressions easily confirmed this. While you might get away for a while without using a sub for music, you'll definitely notice the upgrade in bass depth when you add one. The lower extension means you'll have no problems crossing over the Bookshelves at the THX recommended 80Hz. I measured the Aperion Audio Verus Grand Bookshelf speakers in room at one meter on axis.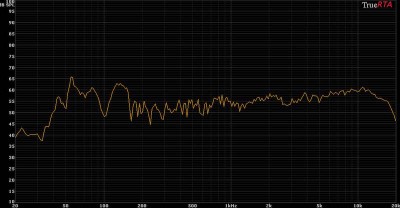 Verus Grand Bookshelf 1 Meter On Axis (1/24 resolution)
Note - this is NOT a one watt/meter measurement
 Like the Verus Grand Towers, the Bookshelf speaker measured very well in room. We see the same dropoff  around 17Hz and a near ruler flat response down to 55Hz. This is phenomenal performance for a bookshelf speaker only 14 pounds and just over a foot tall. While you are paying a premium for the added bass and output of the Towers, the Verus Grand Bookshelves should perform very well in smaller rooms especially paired with a sub.
Again I asked Aperion to send me their in house measurements and again I was astonished to find just how similar the two graphs were. The other physical difference (other than the room) between the two measurements is that Aperion measured with the grilles on and I did them with the grilles off.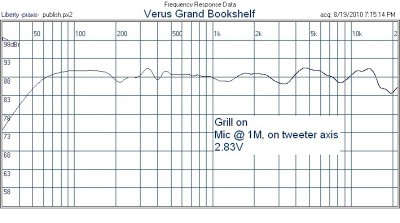 Aperion Verus Grand Bookshelf Measurement from Manufacturer
Again these graphs look eerily similar. You can see that, when compared to the Aperion in house measurement, our in room one tracks pretty closely. The bass response is a mess because of the room but the overall shape is nearly identical from the slightly increased energy on the top and bottom end and the drop off around 15kHz.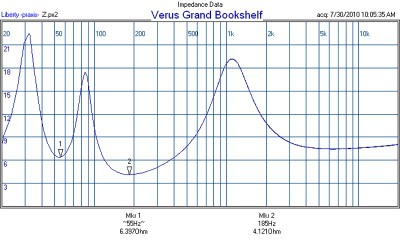 Aperion Verus Bookshelf Impedance Measurement
The Aperion Verus Bookshelf speaker appears to be tuned in the 55Hz region as indicated by the saddle point between the two impedance maximas.  Towards DC, the system impedance measures above 8 ohms though Aperion rates these speaker at 6 ohms.  Be mindful of the 4 ohm dip in the 100-150Hz region when mating an amp with these speakers.  Feed them quality from an amp rated down to 4 ohms and you will be rewarded.  These speakers deserve quality amplification, even if being crossed over above 80Hz. 
Confused about what AV Gear to buy or how to set it up? Join our Exclusive Audioholics E-Book Membership Program!