Paradigm Persona 5F Loudspeaker Listening Tests
Paradigm Persona 5F Loudspeaker Listening Tests
In my approximately 24' by 13' listening room, I set up the speakers with stand-off distances between the backwall and sidewall, and equal distance between speakers and listening position, with speakers toed-in toward the listening position but not directly facing the listening position. Listening distance from the speakers was about 10 feet. Paradigm recommends the Persona 5F to be listened to with a moderate toe-in, and with the tweeters at ear level, and a 3-meter distance from the speaker. Equipment used was an Anthem MCA225 amplifier (named for its 225 watts per channel at 8 ohms) and Anthem AVM 60 processor. The Persona 5Fs were used in direct mode and also with Anthem's ARC equalization. A Hsu Research VTF-15h mk2 subwoofer with an 80 Hz crossover frequency was used to supplement the bass on a few occasions, but the Persona 5F speakers are capable enough in bass reproduction that subwoofers are not at all required.
Music Listening
One recording that I found whic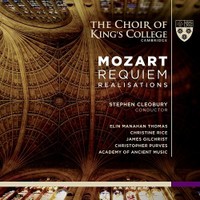 h would seem to be a good match for the capability of the 5F speakers is 'Mozart Requiem Realizations' as performed by The Choir of King's College at Cambridge and a host of highly-regarded soloists. Mozart's monumental but unfinished work gets a royal treatment by the Choir of King's College which performs the popular Sussmayr version of Requiem along with some other realizations that take this music in different directions. This SACD recording is exquisite and fitting of these sublime pieces of music.
The Persona speakers gave this beautiful music and superb recording its deserved reception. The speakers were like transporter devices from Star Trek; it was as if they beamed me to the Chapel Of King's Choir where this work was recorded. The vocals of the choir and soloists were crystal clear as was the orchestral accompaniment. This is not a recording where the choir gets washed out in a blur of reverb. The Persona speakers keep their fidelity intact, despite the many vocals which occur simultaneously. Mid-range fidelity is crucial to this recording, and Persona 5F speakers proved to be a perfect match. I can find nothing to fault in the Persona 5F's execution of 'Mozart Requiem Realizations.' They were lucid, precise, dynamic, and well-balanced.
The Persona 5Fs can do a large recording, but how about something more intimate and focused on a single instrument? A single instrumental can be a good demonstration of a speaker's fidelity since a large ensemble may be able to hid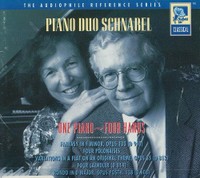 e imperfect reproductions of a single instrument. For this reason, a simpler recording can sometimes be more revealing of a speaker's shortcomings. I selected the disc 'One Piano Four Hands' by the Piano Duo Schnabel, which is the team of world class pianists Karl Ulrich Schnabel and Joan Rowland. The compositions are an assortment of duets for piano by Franz Schubert. The recording is from the esteemed recording label Sheffield as a part of their 'Audiophile Reference Series,' and, as one would expect from Sheffield, the sound quality is outstanding.
The Persona 5F reproduced 'One Piano Four Hands' with utmost clarity, and it had the impact that a true piano reproduction should have. A live piano performance can have a startling dynamic range at times, but those who only hear the piano in smooth jazz or new age recordings would never know this. 'One Piano Four Hands' as played on the Persona 5F speakers and Anthem MCA225 amplifier did not miss the lifelike punch and power of the expressive performance of the Piano Duo Schnabel on a mighty Hamburg Steinway Grand Piano. Accented notes had pop, but soft notes were not at all lost, so nuance was as clear as the visceral force of the performance. A lesser speaker system might have blended the notation of these complex performances, but none of the dense chords or intricate harmonies were lost in the presentation by the Persona speakers. I spoke of the Persona speakers acting as a transporter device which brought me to the King's College Chapel for the recordings of Mozart's Requiem, but now they have transported the performers and Steinway piano into my home theater room. For this ty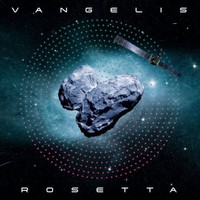 pe of recording, they have brought the performance to me rather than delivered me to the performance.
An unexpected delight came late last year with the release of 'Rosetta', the first studio album by Vangelis in a long time. 'Rosetta' is an album that celebrates the Rosetta Space Probe which landed on a comet in 2014. The music itself is made using an array of synthesizers. It has the expansive, cinematic sweep of Vangelis' operatic film scores but also the playful use of synths that were a mark of his studio albums from the 70's and 80's. The soundstage is enormous and all-enveloping at times, with some instrument sections getting a grand-scale treatment as though they occupied all of the heavens where others have a well-defined position. This is an album that does not shy away from deep bass or very high treble as well; the bass can be thunderous at times and the bells can hit some startlingly high pitches.
The Persona 5F speakers ably conveyed the cosmic scope of 'Rosetta' without any compromise that I could hear. Low frequencies were not absent and high frequencies were not dulled. The sound seemed to emanate anywhere from a 180-degree angle in front of me which I would attribute to the wide dispersion of the speaker design. These speakers can sound big and were a fitting match for a larger-than-life composition such as 'Rosetta.' Vangelis's synths soared and his percussion rumbled with an astonishing veracity. It was a pure pleasure to listen to 'Rosetta' on the Persona 5F speakers, and I hope that this is not the last new studio album from Vangelis that I get to hear on such a fine set of speakers.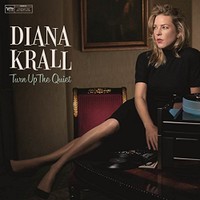 I wanted to see how the Persona 5F speakers would do for a singular vocal, so I queued up Diana Krall's latest release which would surely be a good example of that. 'Turn Up the Quiet' is the smoothest album of blues and jazz that I have heard in a long time, and Krall's rich voice takes center stage. Some people describe Krall's voice as 'smokey', but it is too smooth for that adjective. It is mellow, perhaps a bit earthy, and a perfect match for the classic jazz compositions selected for performance on 'Turn Up the Quiet.' The recording of the vocals and instrumentals were exemplary, as is usual for productions with Mrs. Krall.
The Persona 5F speakers recreated Mrs. Krall's voice with meticulous clarity. Imaging was superb, not just with Krall's voice anchoring the music with a strong center image but with well-defined instrument positions of her backup players flanking her voice at various distances. The Persona 5F speakers gave the presentation a palpable sense of depth as well as breadth. At times, the album shifted focus to the instruments, which had the vibrancy and detail of Diana's voice, and the speakers gave them a sonic replica as vivid as I would imagine that any speaker would be capable of. It was a top-notch reproduction, and I believe anyone interested in high-fidelity sound would be pleased with the sound of these speakers.
Movie Watching
For movie watching, I used the Persona pair as the front left and right speakers in a 7.1 system. One movie I viewed with the Persona 5F speakers was the new science-fiction film 'Life.' I was hoping for a sound mix similar to that of the film 'Gravity,' and it did convey those effects in moments, but it was a more conventional sound mix for the most part. 'Life' is about scientists examining some micro-organisms from the Martian soil aboard the International Space Station. Since this is a movie, and since movies need drama, bad things end up occurring. There was quite a bit of expository dialogue, and the Persona 5F speakers had no trouble with intelligibility, even on scenes where dialogue occurred in the midst of a lot of action. I cranked the movie at moments to hear the dynamic range of the speakers, and the Persona 5Fs proved to be very capable, especially during the tumultuous climax. 'Life' has a good sound mix but not extraordinary one, and the Persona 5F speakers showed themselves to be as able at film sound mixes as they were with music. As an aside, I am really hoping for a sequel to this movie!
Another new release that I watched using the Persona 5F speakers was the fantasy epic 'Kong: Skull Island.' I figured that a big-budget film about giant monsters would have a heavy-duty sound mix, and I was correct. There are a variety of large-scale action set pieces, and the sound mix appropriately reflected the magnitude of the on-screen events, whether it's King Kong versus the U.S. military, or King Kong versus some other gigantic monster, or the U.S. military versus some other gigantic monster. The action was supported by Henry Jackman's grand orchestral score. The Persona speakers were able to convey the enormity of the havoc depicted in 'Kong: Skull Island.'  Monstrous footsteps and the creature's deafening roars were belted out with verve. It was in this movie that the addition of a subwoofer was used to reinforce the lowest frequency content. The Persona 5F speakers are very capable down to 30 Hz, but 'Kong' had passages where they just are not able to match the output of a beefy subwoofer. Still, if you want to surpass the bass performance of the 5F speakers, you will need a serious subwoofer. An entry level subwoofer is not going to be a match for them. While the Persona speakers couldn't quite catch the deepest registers of the 'Kong' sound mix, they were a great match for the tremendous dynamic range of this massive romp. It should be noted that full-range speakers that do have strong bass in the deeper frequency spectrum of 25 Hz and below would have to be much larger than the Persona 5F speakers by physical necessity.
Confused about what AV Gear to buy or how to set it up? Join our Exclusive Audioholics E-Book Membership Program!
Recent Forum Posts:
Cos posts on July 07, 2021 18:32
Pogre, post: 1492832, member: 79914
Funny you guys bumped this thread tho, as I recently discovered the Personas are available in vanta black. I wonder if they're truly vanta black? That'd be pretty cool. You could have 2 speaker shaped black holes in your living room!

Vanta Black Gloss, so shinny black holes. Problem is that the Vanta Black come with the Silver Metal work standard, before they would charge you to change metal work, but I just spec'd it out and they don't anymore. Either way they are very nice color. I do like my carbon black Metalic ones
Pogre posts on July 07, 2021 17:59
Funny you guys bumped this thread tho, as I recently discovered the Personas are available in vanta black. I wonder if they're truly vanta black? That'd be pretty cool. You could have 2 speaker shaped black holes in your living room!
Cos posts on July 07, 2021 17:13
Eppie, post: 1492642, member: 94526
It's nice that we finally get to see some measurements. I'll cross-post in the Paradigm owners thread if it hasn't been already.

LOL I meant to post it there
Eppie posts on July 06, 2021 23:31
Cos, post: 1492638, member: 14477
Speaker Measurements for Founder 100F look Pretty decent. Not a huge spike after 10k

SoundStageNetwork.com | SoundStage.com - NRC Measurements: Paradigm Founder Series 100F Loudspeakers

It's nice that we finally get to see some measurements. I'll cross-post in the Paradigm owners thread if it hasn't been already.
Cos posts on July 06, 2021 23:08
Speaker Measurements for Founder 100F look Pretty decent. Not a huge spike after 10k

SoundStageNetwork.com | SoundStage.com - NRC Measurements: Paradigm Founder Series 100F Loudspeakers
Post Reply