REL Acoustics HT/1510 Predator II Subwoofer Conclusion
REL Acoustics HT/1510 Predator II Subwoofer Conclusion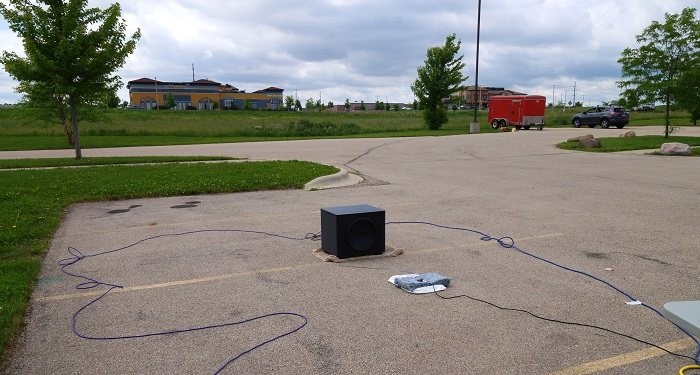 Testing on the REL Acoustics HT/1510 Predator II was conducted with the microphone facing the woofer at a 1-meter distance with measurements scaled back to a 2-meter distance by subtracting 6dB. The temperature was recorded at 49F degrees with 70% humidity. The subwoofer's gain was set to maximum and the low pass filters were set to their maximum range.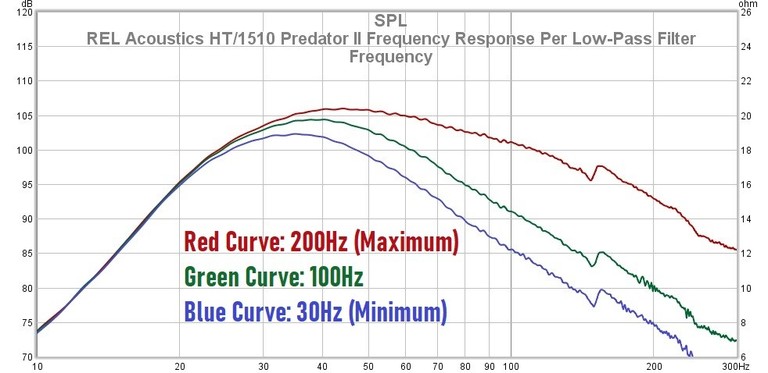 The above graph shows the measured frequency responses for the REL Acoustics HT/1510 Predator II subwoofer per its low-pass filter settings. Unlike most other subwoofers, it doesn't have a switch that defeats the low-pass filter, so, as we mentioned before, this setting should be left to 200Hz, the maximum low-pass filter setting, for anyone using external bass management. The responses shown here do not have the typical flat response that we see so often but rather have a greater resemblance to the driver's natural response in this enclosure. This isn't all that surprising given REL's philosophy of minimalist filters, so there isn't much intervention in the response with filters. The response with the low-pass filter set to 200Hz is relatively flat in that it adheres to a +/-3dB window from about 25Hz to 110Hz. Some people might think that not having a flat response here would lead to an inaccurate sound, but the reality is that the room acoustics will inevitably mangle the response badly, so those manufacturers that give us a ruler flat response pretty much only do so for academic purposes rather than because there is any real-world benefit for that.
The low-end roll-off holds the classic 12dB/octave slope inherent in a natural sealed loudspeaker, even though not many commercial sealed subs actually use that since most manufacturers use a high-pass filter to protect the sub from over-excursion. The benefit of this gradual roll-off is that it will take greater advantage of the acoustic gain that almost all normal home audio spaces have, and this will shore up the low-end of the response more than normal. That means users can expect more deep bass in practice than what is seen on this graph. I would guess a strong response down to 20Hz could be had in a normal room with this sub and even deeper bass in a small room.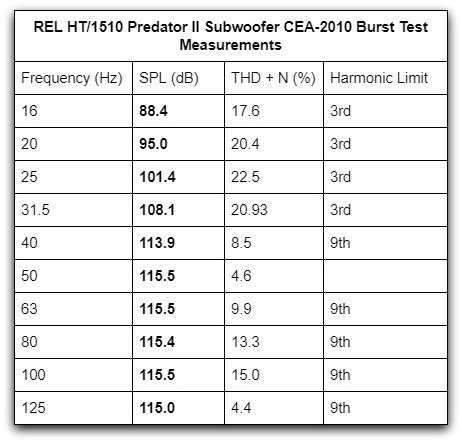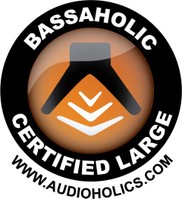 The above CEA-2010 measurements are short-term bursts that show the subwoofer's clean peak SPL before heavy distortion sets in. Our measurements have been referenced to 2-meter RMS, which is 9dB down from the standard requirement for the measurements to be shown at 1-meter peak. However most publicly available CEA-2010 measurements are shown at 2-meter RMS, so we followed that convention. The HT/1510 posts a good showing here with the highlight being major mid-bass output of 115dB at 50Hz and above. Its deep bass is nothing to sneeze at either, with over 101dB at 25Hz. This sub can hit hard. Due to REL's relaxed limiters, it is distortion-limited at all frequencies except 50Hz which looks to be a system resonance. One unusual feature is that the limiting harmonic for the mid-bass band is the ninth harmonic; normally it is a lower harmonic. The overall measurement set here nets our Bassaholic Room Rating on the higher end of the 'Large' Room Size Rating meaning that it should be able to remain powerful in a room of up to 5,000 cubic feet
For information on how the room ratings are determined, please read our article "Bassaholic Subwoofer Room Size Rating Protocol".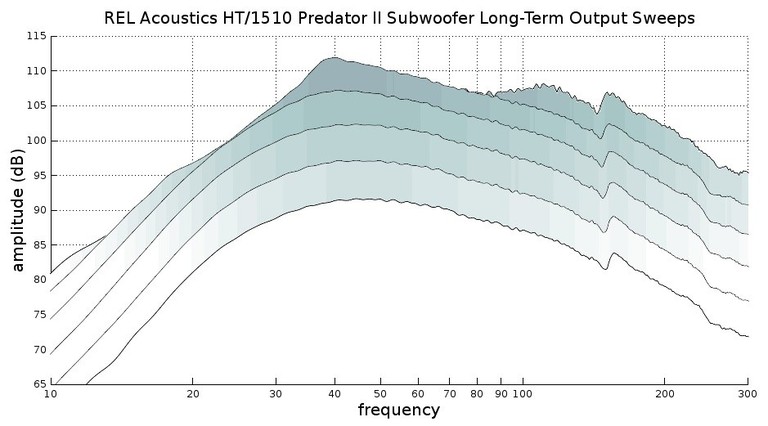 Testing for long-term output compression was done by first conducting a 20-second sweep tone where 50Hz hit 90 dB with the subwoofer 2 meters from the microphone. We then conduct further 20-second sweeps by raising the gain by 5dB until no more output could be wrung out of the subwoofer. These tests show us the long-term continuous headroom that the subwoofer is capable of. The HT/1510 maintains its response shape until the last 5dB when it starts to run out of gas. It tops out at over a continuous 110dB at 40Hz which is pretty dang loud. From 30Hz to almost 150Hz it can maintain over 105dB continuously. One odd thing we see in the absolute highest drive level is that there more mid-bass in the response from 90Hz and above than at nominal levels, and I would guess that is due to a filter being over-ridden at the high drive level.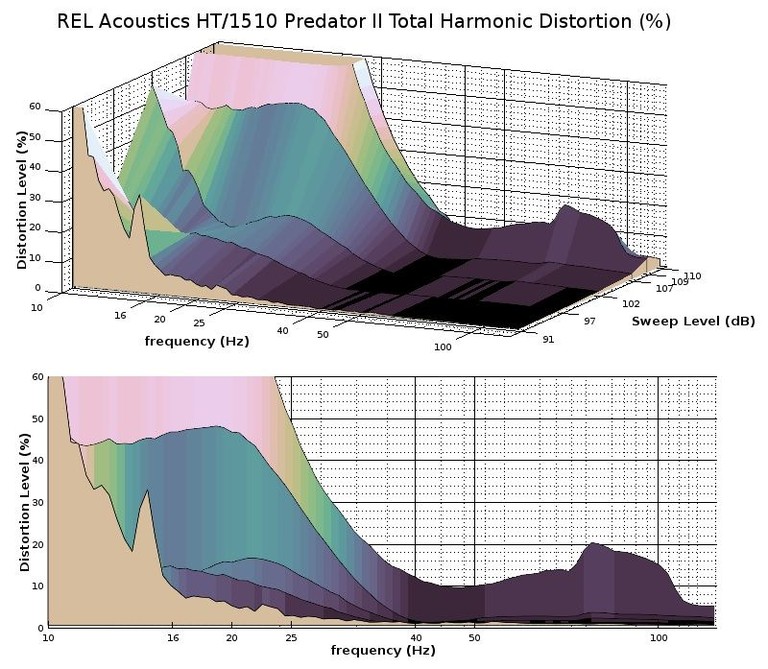 The above graphs show the corresponding total harmonic distortion to the long-term output graphs. Essentially, they depict how linear the subwoofer remains for the corresponding drive level seen in the long-term sweeps. The quantity being measured is how much of the subwoofer's output is distortion and is shown here as a percentage. At the highest drive level, the HT/1510 can be pushed into some heavy-distortion, but I don't want that to overshadow how extremely low-distortion the performance is at lower levels. At 40Hz and above, this sub maintains less than four percent total distortion unless you blast it as hard as it can possibly go. At nominal levels of 100dB for our reference 2m, it maintains relatively low distortion down to 16Hz. At the 90dB level, much of the distortion that I was measuring wasn't coming from the sub but rather the background noise of the testing environment, and even that would not break 1% THD above 40Hz. With its relaxed filters and limiters, it can be pushed into heavy distortion at a high enough drive level, so those who push their audio equipment really hard shouldn't be surprised if they start hearing their HT/1510 complaining especially in deep bass. It didn't bottom out or make any mechanical rattling noises in my tests so I think it's well protected against damage from high drive levels, but it obviously is not very happy at full throttle below 30Hz- but then again, few subs would be.   
The above graphs depict measurements of the constituent harmonics from the long-term output sweeps and are what the total harmonic distortion measurements are composed of for the 2nd and 3rd harmonics. These individual harmonics can give us a clue as to what might be the cause of some quirk or non-linearity. We are only showing the 2nd and 3rd here because they more or less reflect the higher even-order and odd-order behaviors, although higher-order harmonics tend to be much further down as a percentage of distortion compared to the second and third.
The HT/1510's odd-order harmonic distortion is very much what we would expect from a typical sealed sub except perhaps for how extraordinarily low it is above 40Hz. Almost all of the total harmonic distortion that this sub can produce above 40Hz is even-order, but only at the highest drive level. That means at the highest drive level, there is something inhibiting only one way of travel of the moving assembly. It could be the suspension hitting some kind of tension limit for one of the directions of the driver's stroke or perhaps the magnetic field of the motor isn't completely symmetric out to that far of an excursion level. The good news is that second-order harmonics are the most difficult to perceive, so even the relatively high levels of harmonic distortion in mid-bass might well be inaudible or very difficult to hear.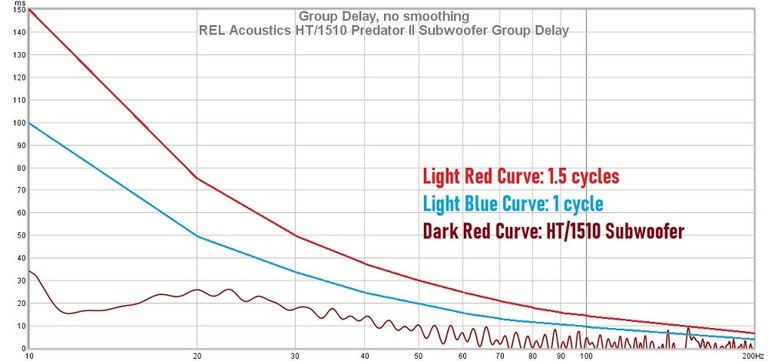 Group delay is the measurement of how much time it takes for individual frequency bands of an input signal to be produced by the speaker. It can indicate that some frequency components are developing slower than others or are taking longer to decay. It is generally thought that 1.5 sound cycles are needed for group delay to be audible at bass frequencies, although there is an argument that group delay should remain under 20ms to be completely unnoticeable, but that is likely meant for mid and upper bass frequencies.
This is an extremely low amount of group delay and a superb showing in the time-domain. Indeed, this is one of the top subwoofers that we have seen for this measurement. This shows what REL's light use of filtering is all about. On average, group delay stays well below one cycle, and keeps its head low in the low frequencies where most subs blow up in group delay due to high-pass filters. This sub isn't going to have any overhang or laggy bass. There is a cost in that the HT/1510 can be pushed into some heavy distortion in deep bass with a large signal, but the reward is this near-pristine time-domain performance. 
Conclusion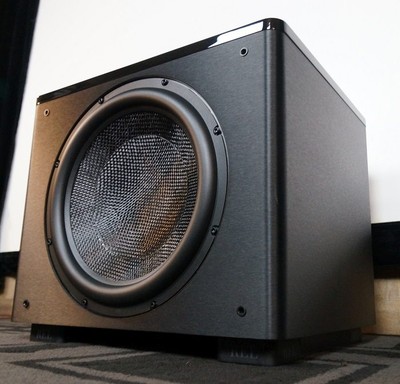 Before bringing this review to a close, let's first go over the strengths and weaknesses of the product under evaluation, and, as usual, we will start with the weaknesses, since I am the kind of guy who wants the bad news first. The only aspect I would complain about of the HT/1510 also happens to be responsible for one of its strengths, so this is a trade-off that each prospective buyer will have to decide is worthwhile for themselves. The mild filtering used to shape the response and protect the sub will enable it to get into some heavy distortion when driven very hard. Other manufacturers can use fairly strict limiters to keep the drivers on a tight leash, so they can't be made to produce much distortion at any drive level except in extremely deep frequencies. Or, some manufacturers allow moderate levels of distortion, but not a whole lot. REL is very relaxed about these limiters. Although the HT/1510 isn't allowed to beat itself to death, it will strain audibly if pushed very hard.
This probably won't be a significant issue with most buyers because most people would rarely if ever push their subs that hard- especially a subwoofer with as much headroom as the HT/1510. This might be a deal-breaker for some buyers who demand perfection at all drive levels, but it shouldn't be a big deal to anyone else. Indeed, it wasn't an aspect that bothered me in my own listening since I hardly ever pushed it that hard, and I am probably harder on subs than most people.
This leads to one of the HT/1510's strengths: its time-domain performance. This sub has extremely low group delay across the entire bass frequency range, and that means it doesn't allow the reproduced sound to last much longer than the input signal at all. Bass notes will not linger longer than they are supposed to with the HT/1510. This has always been an important performance criterion for REL Acoustics, but I don't regard it as a serious problem so long as it is kept under a certain level, and most competently engineered subs are able to keep it below a level where it could become an audible problem. For this reason, I regard this more as an academic achievement rather than one that brings practical, real-world benefits. I think many instances where the bass is heard to be laggy or boomy are due to room acoustic setup problems rather than the decay times of the subwoofer itself. In my view, it is the frequency response problems that come from room modes that are usually the source of any perceived lack of "quickness" or "tightness" (for more information about this issue, Audioholics has multiple articles that cover this problem in our room acoustics article category). Nonetheless, if you want a subwoofer with excellent group delay, the HT/1510 is a great choice.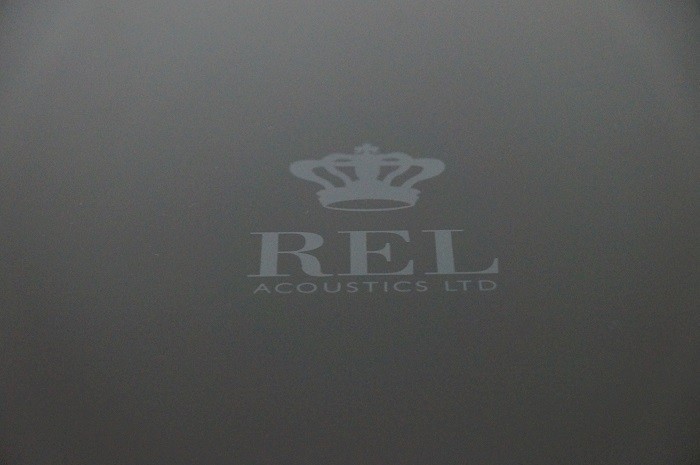 Along with its superlative time-domain performance, the HT/1510 also has very good dynamic range performance, as would be expected from a beefy 15" driver mounted in a healthy-sized enclosure and driven by a thousand-watt amplifier. As was said before, that is a recipe for massive bass, and the HT/1510 delivers it. A stack of these things, as we see in REL's array system, would provide an insane level of output, and that would make me afraid for the structural integrity of my home (but would still be very cool to have). 
Aside from the HT/1510's performance, it has a very respectable level of build quality. Its near 100 lbs. weight comes largely from the solidly built enclosure. While I have dealt with heavier subwoofers in the past, it was still very much a two-person job to pick up and move around. It looks nice too, and the gloss black top adds a touch of luxury that suits the REL brand. The glass fiber cone looks much slicker than most matte cones. The feature set has all the basic controls, but not much else, and most of the extra control features that other subs have such as equalization is usually done outside of the sub anyways and so can be extraneous.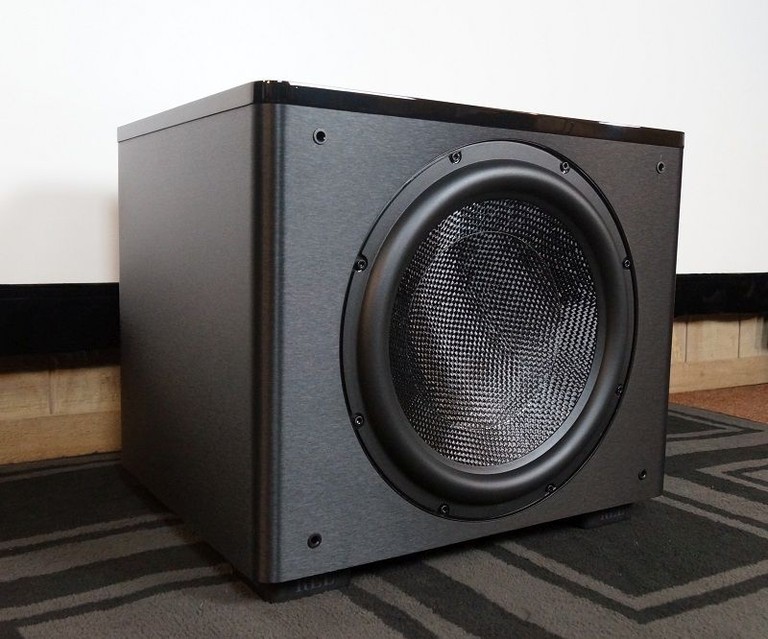 In the end, I found the HT/1510 to be a very good addition to my audio system that took care of the low frequencies beautifully. At $1.9k, it's not the cheapest sub out there, but it's not tremendously expensive either. Given the performance, build quality, and aesthetics, I would say it is very fairly priced. Anyone looking for a solid, well-rounded 15" subwoofer has a great option in the HT/1510. The good news for those who are interested is REL will give buyers a 60-day in-home trial with free shipping both ways for anyone who wants to return it for any reason. That says a lot about the confidence that REL has in making the end-user happy, and after spending time with the HT/1510, I think they are correct in doing so.
The Score Card
The scoring below is based on each piece of equipment doing the duty it is designed for. The numbers are weighed heavily with respect to the individual cost of each unit, thus giving a rating roughly equal to:
Performance × Price Factor/Value = Rating
Audioholics.com note: The ratings indicated below are based on subjective listening and objective testing of the product in question. The rating scale is based on performance/value ratio. If you notice better performing products in future reviews that have lower numbers in certain areas, be aware that the value factor is most likely the culprit. Other Audioholics reviewers may rate products solely based on performance, and each reviewer has his/her own system for ratings.
Audioholics Rating Scale
— Excellent
— Very Good
— Good
— Fair
— Poor
| Metric | Rating |
| --- | --- |
| Bass Extension | |
| Bass Accuracy | |
| Build Quality | |
| Ergonomics & Usability | |
| Features | |
| Dynamic Range | |
| Fit and Finish | |
| Performance | |
| Value | |
Confused about what AV Gear to buy or how to set it up? Join our Exclusive Audioholics E-Book Membership Program!
Recent Forum Posts:
TankTop5 posts on September 09, 2022 23:53
Just watched a Rel demo on YouTube, I love what Rel says about their Subs right around the 8:50 mark… "we have the fastest electrical output of any subwoofer and the only way you can achieve similar results is using DSP". Well now we have lots more powerful subwoofers and pretty much everyone is using DSP. I guess there's no point in putting down the extra money for an inferior subwoofer. Thanks Rel for clearing that up for us.

I4KPfVu3toU
gene posts on September 09, 2022 18:37
jtUt3iwa6AU
Clownaphobia posts on September 09, 2022 16:55
I run Hsu ULS 15's…as far as I can tell from reviews (Shady's) they easily outperform the Rel's…they also have much lower distortion numbers… And cost half as much. Rel makes a nice product. I've heard many Rel subwoofers, but not this one in particular. In MY opinion…It's not exactly the cost of these …but the cost vs competition that is a turn off.
luis1090 posts on September 08, 2022 18:44
Prolix, post: 1572188, member: 95128
I mean, it's something like 30% greater volume and is 26" deep vs 19.4". I'd say that's a big difference in how something looks in a regular domestic space.

You're right by my numbers roughly 32% greater volume. I have the room and location for that size increase. So with that part of the equation settled lets talk about performance and here the PB 3000 is over 10db ahead down low (20-30hz) and still 2-4db in the midbass. I won't even mention the SVS app but I'm not a purist so I'm willing to try it. The $300.00 difference is a nice steak dinner.
3db posts on September 08, 2022 12:48
I think one can do a lot better for $1900 and I don't buy into the musicality aspect of the sub. I have 2 ported Rythmiks and 3 ported PSBs and I have dialed them in for music just right.
Post Reply