Equipment & Product Recommendations - P2
Equipment & Product Recommendations - P2
The Seats: Berkline 090
Price: $2500 (for 3 chairs)


Your Cinema should be a relaxing place. You, your family, and your guests will have to sit in one spot for two or more hours when viewing a movie. With this in mind, you better have a comfortable place to sit during the movie; and, hey, a place to put your drink would be nice, so you don't have to hold it for two or more hours. Taking this into consideration, we need to find a chair that will be comfortable, provide that WOW effect, and fit in our budget. Here is a chair that will give you instant WOW effect even before you turn on your new Cinema. It will build excitement and set the mood and atmosphere for viewing in your new Cinema. Berkline 090 Leather Match (everything that touches you is leather, sides and back are vinyl) with Auto Recline. These chairs are very comfortable. They look cool, have cup holders, and they have electric recline to provide you with that all important WOW effect. These chairs only need 4" of wall clearance so they are very flexible for placement.
---
Power Conditioner/Surge Suppressor: APC AV C5 10-outlet
Price: $129.99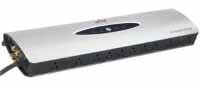 We recommend some kind of protection for your electronics. Tripp Lite is well-known for their excellent power protection products and this unit in particular presents a tremendous value in comparison to other name brand power conditioners that cost twice as much for essentially the same thing.
Useful Features



3570 joules of protection with automatic voltage regulation
Excellent build quality
10 outlets with isolated EMI/RFI noise filtering and transformer spacing

Triple digital cable & HDTV-compatible low-loss coax filters
RJ45 and RJ11 line protection
12V DC trigger
Lifetime product warranty
Alternate: APC H10 Power Conditioner/Voltage Regulator ($299)
---
Tools: Avia Guide to Home Theater

Price: $50


This is a must have tool and will teach you how to set up your system correctly and how to do a first time calibration on your system. It is very easy to use and covers all the basics. For more advanced calibration or to get your system performing at its absolute best you'll need measurement equipment you can't buy at your local hardware store. For that kind of tweaking we recommend finding an ISF-certified technician or installer in your area to come out and do a full calibration on your most commonly used video inputs.
Alternate: Digital Video Essentials ($16-21)

---
Tools: Radio Shack Analogue SPL Meter (Cat# 33-4050)

Price: $40
This is another must have and will allow you to calibrate your system's speaker levels.It's easy to use and its use is covered in Avia Guide to Home Theater.
---
Interconnect Cables and Wiring


Here is another product category that will garner lots of praise or criticism. We are not going to recommend exotic cables for this system. We are looking for the best Bang for the Buck to meet our budget and performance goal. We want cables that are well-shielded to prevent RF ingress and we want our cables to be flexible and reliable as well as solidly constructed so that they can be connected and reconnected without fear of wearing out or becoming unreliable. We want all this and we don't want to pay a lot for them.
Blue Jeans Cable represents one of the best deals on the market for A/V cables (and they feature some of the best customer service in the industry.) Their products are derived from Belden (one of the largest cable manufacturers in the world) and are time tested and built on proven designs based on valid science and engineering practices. They use Canare terminations which are some of the highest quality and ergonomically friendly on the market.
1 set of 6CH 1 meter analog interconnects (Belden 1505F with Canare RCA Plugs) - $75
1 Belden 1694A 1 meter digital coax cable - $12
1 Canare LV-77S: 5 meter subwoofer cable - $25
1 single male to 2-female Y-adapter - $2
1 Belden 7710A: 7.5 meter component video cable - $96
*Note: Your component video cable may need to be longer or shorter depending on where the audio rack and the projector are located. Other cables may be necessary to terminate existing audio/video components such as VCR's, Tivo's, and HDTV receivers.
Speaker Cables
For this budget system we recommend two (2) 12AWG 100' rolls of Sound King (Part# 100-155) 12 Gauge High Strand count OFC speaker wire. Cost is just $72. Feel free to review our DIY Speaker Cable article for more information on how to build your own quality speaker cables and terminations.
---
Total System Price: $11,993 (including cables)
A good shopper can certainly manage to take at least another 10-15% off the MSRP prices we have listed here. This will put you well under the $12,000 budget and you now have a completed Home Cinema that will rival other mega systems and will WOW you, your family, and your friends! You also have a cinema system that the average "Joe 6-pack" will not have in his living room. As always you can invest a little more money when your budget allows. You can add a second subwoofer, invest in some acoustical panels for your room or purchase a nice 5 channel amp and use the receiver as a preamp. However, right now you have a killer system that will thrill you! The only thing left to do is figure out how much you are going to charge for admission on movie night!
Brand
Model
Description
Info Links
Price
Epson
Home Cinema 1080UB

LCD Front Projector
review
$2999




Projector Mount


$150
Carada

Criterion

Brilliant White 92" Screen
review
$690
Marantz
SR7002
Home Theater 7.1 Receiver
website

$1399
Samsung
BD-P1400
Blu-ray Player
website

$400
Mordaunt-Short
Avant 906
Tower Speakers
$3400
Avant 905C
Center Speaker
Avant 902
Back Surround Speakers
Avant 903S
Bipolar Surround Speakers
Avant 909W
Subwoofer
Berkline
Berkline 090
Cinema Chairs (3)
website
$2500
Tripp Lite
HT10DBS
Power Conditioner/Surge Pro
website
$80
Avia
Guide to HT
A/V Calibration Disc
website
$50
Radio Shack
33-4050
Analogue SPL Meter
website
$40
Blue Jeans
Various
Interconnect Cables
website
$210
Sound King
100-155
200' 12-2 Speaker Wire
website
$75
Enjoy!
Confused about what AV Gear to buy or how to set it up? Join our Exclusive Audioholics E-Book Membership Program!