JVC DLA-X570R Projector Video Performance
JVC DLA-X570R Projector Video Performance
After installation and calibration, I was ready to go. Electronics and speakers associated with the JVC review setup included a Denon X7200WA receiver with a Monprice Monolith 7 amplifier driving my floorstanding speakers. Speakers were SVS Ultra towers, Ultra Center,  Ultra bookshelf, and dual SB13-Ultra subwoofers. Beale Street Audio in-ceiling speakers took care of Dolby Atmos and immersive audio tracks. An Oppo UDP-203, 4th Gen Apple TV and Roku Premiere+ rounded out much of the sources.
In a nutshell, the performance of JVC's X570R at this price point is out of this world. I tested the JVC on a variety of sources including Blu-ray discs, OTA (over-the-air) HDTV, a 4th generation Apple TV, a Roku Premiere+, and a host of UltraHD Blu-ray discs. I'll break out my impressions into 1080p and Rec. 709 sources and 4K/UHD sources with HDR.
Rec.709 and HD sources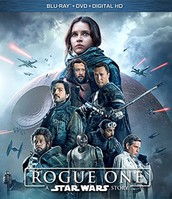 Blu-ray, HDTV, and 1080p streaming sources were nothing short of spectacular on the X570R. I fired up Star Wars: Rogue One on Blu-ray.  In the opening scene, Commander Orson Krennic, lands on the desolate planet, Lah'mu, looking for Galen Erso, a brilliant scientist who had been responsible for the development of the Death Star. When Krennic's Delta-class T-3c shuttle passes over the planet, the earthy-color pallet of the barren ground and hills basks in blacks, dark greys, and subtle dark shadows. 
The JVC's ability to render these darks was superb. When Krennic lands his shuttle and walks across the landscape with an accompaniment of Death Troopers, Krennic's light grey attire beautifully pops on-screen. The Death Troopers' all-black armor maintained its menacing feel without becoming washed out or lost against the black earth of Lah'mu.  Close-up scenes of Krennic showed nearly infinite detail. I could easily see detailed water droplets shimmering on his commander's uniform.
I was fortunate enough to have the JVC X570R during the NHL's playoffs through the Stanley Cup finals (alas, my Boston Bruins didn't get past the first round this year). I watched the playoffs on the NBC Sports app on the AppleTV and via an over-the-air HDTV antenna.
The X570R had no problem rendering the details of ice surfaces while also pumping out the deep black accents of the Pittsburgh Penguins' uniforms. The JVC's excellent motion processing also eliminated the overwhelming amount of motion blur during fast moving plays, making any hockey action easy to enjoy.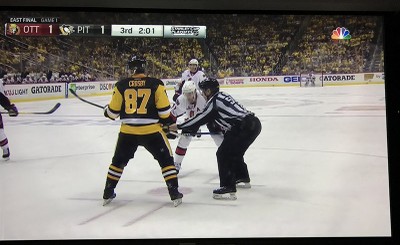 Watching the NHL playoffs, NBA playoffs, or any sport for that matter was thoroughly enjoyable on the X570R.

Blacks were deep, colors were vibrant and tough shots, like hockey rink ice, were always spot-on.

UltraHD and HDR sources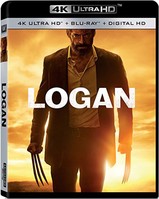 As good as high-definition sources were, switching to UltraHD was a knockout. That's not to say that we still don't have HDR problems. And there are still situations where HDR-graded content without dynamic metadata can still seem too dark; but all in all, videophiles rejoice! We have lots of great stuff to look forward to.
Even without displaying the full DCI-P3 color gamut within a BT.2020 container, UltraHD Blu-rays reveled in rich, lush colors complemented by subtle hues. While the JVC certainly won't pump out anything close to the brightness of today's 4K/UHD LED displays, it didn't take away my enjoyment or the heightened experience of HDR 10 graded content. In fact, I had more than one person remark how bright HDR-graded content was when I'd bring people in to give me their reactions on the JVC.
Let me offer some concrete examples. First, I fired up the UltraHD Blu-ray of X-Men Apocalypse. In the opening chapter, Apocalypse's outdoor procession in Egypt basks in sunlight. Dark scenes were wrapped in deeper shadows and bright scenes or highlights captured your attention. Elements like Psylocke's telekinetic katana (her glowing purple blade of psychic energy) also took on a vibrant glow on-screen. Did the JVC enhance my movie experience? You bet.
Next, I fired up Pacific Rim on UltraHD Blu-ray. All I can say is wow! The entire tone of the film is dark and the JVC captured deep, dark blacks and fine shadow details with ease. The stark contrast between bright and dark elements made the film a visual spectacle. Bright lights, explosions, and highlights just popped. The JVC mastered battle scenes between Jaegers and Kaijus. They were intense.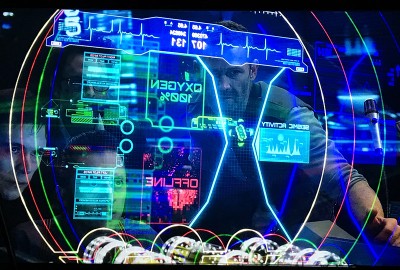 Scenes in Pacific Rim with lights and control panels just popped wonderfully in HDR.
The way the X570R conveyed the masterful play of darkness and light really drew me into the movie. What really made for visual eye candy were the three-dimensional computerized displays inside the Jaegers or in the main control room. I compared these scenes on the Blu-ray edition via a Panasonic ZT60 plasma and it's just no contest, the UltraHD version came alive through the X570R.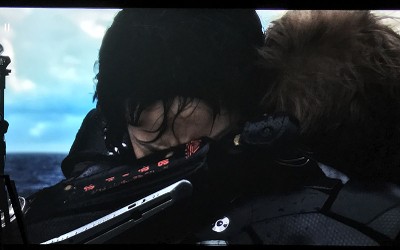 As you can see in this scene from Pacific Rim, the X570R had no problem rendering deep blacks and different shades of black and deep grey—even when set against a bright background.

The UltraHD version of Logan came with the black and white Logan Noir edition. Don't try playing Logan Noir with a projector that's a black-level wimp. Thankfully, the JVC isn't such a projector. The nuanced gradations of the all-black and white rendition were superb. Whether it was the opening scene with Logan fighting off would-be car robbers in the middle of the night or bright desert scenes outside the fallen water tower, the JVC didn't blink. Now, was the X570R the absolute last word in dynamic range or black levels? Of course not, but it certainly didn't leave me wanting.
Finally, I'll simply note that if you have an HDR-capable streaming device, then upgrade to Netflix with HDR support. Shows such as Iron Fist or DareDevil will take on a whole new level of realism. I switched back and forth between HDR and non-HDR versions and once again, the HDR-graded content always won the day.
Confused about what AV Gear to buy or how to set it up? Join our Exclusive Audioholics E-Book Membership Program!
Recent Forum Posts:
osupike99 posts on October 16, 2017 10:50
Which color profile is REC.709 in the PJ?
nathan_h posts on September 07, 2017 10:22
Gunny, post: 1207261, member: 19518
How much 4K content even exists at this time? By the time it is available in sufficient quantity perhaps native 4K projectors will be reasonably priced. Until then I'll stick with my current 1080P projector.
Not a bad choice. Most Hollywood releases these days come out in UHD day and date with their Blu-ray counterpart. But if you are more into indie, foreign, and or catalog titles, then the pickings are MUCH slimmer.
Hopefully that changes before long with things like iTunes and AppleTV getting UHD etc. We may never see a huge rush to release catalog titles on UHD disks, but streaming and download services may provide the lower overhead that make it possible for that content to see the light of day.
nathan_h posts on September 07, 2017 10:19
Chad works magic with JVC projectors.
http://www.hdtvbychadb.com/tours.html
ritechie, post: 1208714, member: 81403
Todd
Let me start by noting a few things. I've just replaced my LAMP and it has required a significant amount of re-"calibrating" using my Disney WOW disk and further modifications by eye. Your lamp is unlikely to have 100 hours on it. Your screen (120"Silver Ticket), B-R Player (OPPO), distance (12') and room lighting will all be different. Bottom line: I would NOT suggest reading anything into my settings.

I switch between 3 different USER MODES, all based on the CINEMA setting. I've modified my initial calibration so that my "MOVIE" MODE is as natural as possible, my "SciFi" MODE slightly emphasizes BLACKS (higher DYNAMIC CONTRAST, etc), and a "3D" MODE to maximize brightness and take advantage of "HIGH" lamp power. In all 3 MODES, my CMD is OFF and CLEAR BLACK is OFF . . . . in all my settings.


nathan_h posts on September 07, 2017 10:17
Very true. In fact, for the price of the entry level model, one can get last year's "step up" model – which has full DCI P3 coverage, which makes a difference with quality UHD sources, like the new remaster of Blade Runner.
Note, if I was shopping today, I'd wait a short while until the 2018 models, just announced at IFA and being shown at CEDIA, hit the street, and pick up a 2017 model – the RS520 – for the price of the 2018 entry level model.
I would avoid the 2016 model, the RS500, just because it doesn't have a proper built in gamma curve for HDR. One can create one with custom software and measurement, and do as good or better than the built in HDR gamma on the 2017 models like the 520. But it's not for the faint of heart, imo.
Schrodinger23, post: 1206445, member: 81322
While the JVC seems to perform very very well in just about every area, I think if one is interested in HDR, they should step up to the X770R or the X970R. Both, have 100% coverage of DCI-P3:

http://www.highdefdigest.com/news/show/JVC/Projectors/4K/Ultra_HD/hdr/wide-color-gamuts/THX/3D/eshift4/price/ces-2017/jvc-details-new-4k-eshift4-projector-lineup-with-hdr-support/37796

I think that color gamut is what we need to aim to hit for HDR. Also, these higher end JVC's don't have the same problem as the Epson's with color filters where it severely limits the light output, where you would have to choose between speculator highlights or wider color gamut.

http://hometheaterreview.com/jvc-dla-x970r-d-ila-projector-reviewed/?page=2

DCI-P3 is the color gamut most films up to this point have been mastered for and even most films that are coming out now. There are only a small number of films that try to expand the colors past DCI-P3: Inside Out, for example, had one scene where they put the colors out to the edges of Rec. 2020. With the current technology I don't want to go out past DCI-P3 if they are using narrow-band primary colors (like with lasers or quantum dots). Getting out to the edges of Rec. 2020 in this way results in "metamerism", where different people perceive colors differently, even on the same display. For this same reason I can't see a big push for Hollywood to start color grading films past DCI-P3, if they know that each person might perceive images drastically different.

Hopefully in the next gen JVC projectors we will see either the performance of the X770R come down to the replacement for the X570R, or the price of the replacement X770R to drop below $5,000. That is when I will be ready to jump in. If they have that, I can see it being a good projector for several years, whereas if we jump in with the X570R we will be looking to upgrade much sooner.
nathan_h posts on September 07, 2017 10:14
Funboy, post: 1206419, member: 45148
If the calibration meter faces the projector, aren't all the settings incorrect for the different screens? Figured it would skew the results - especially for grey screens. Or does it simply not matter as much as I'm thinking?
It matters. JVC lets you tell it what kind of screen you have. They have a long list of types, and then it has an offset or correction built in. Problem of course is that is a generic correction, and your particular screen might not be in their database.
So the pros do the autocal facing the projector, as designed, and then touch up the results by measuring off the screen. Heck, you want to do that touch up even if you have a neutral white screen, since autocal only gets you 90% of the way there.
Post Reply