JVC DLA-X570R Projector Calibration
JVC DLA-X570R Projector Calibration
With the setup issues out of the way, it was time to turn towards calibration. If you buy the JVC and want the best "out of the box" settings, you should select "natural." In my tests, "natural" was very, very good but green and red were oversaturated. To really get the best out of the X570R, you want to get it professionally calibrated or take the time to do a calibration yourself with the right equipment. JVC offers its own calibration software, which runs only on Windows. The JVC Projector Calibration Software was at version 9 during my review period and I found it to be excellent.
I typically use CalMan for all my calibrations. In this case, I wanted to use JVC's software because it is the only way to edit certain gamma settings and the PQ curve on the projector.  Another upside to JVC's software is that it auto-calibrates, which can be a real time-saver.  The downside with JVC's software is that it only works with two meters, DataColor's entry-level Spyder and the far more expensive (but excellent) X-Rite's i1 Pro2 meter.  The meter I typically use, X-Rite's i1, wasn't compatible, so I purchased the entry-level Spyder5 for this review to give it a try.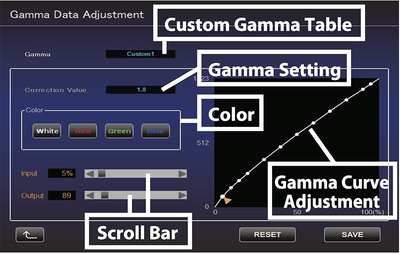 JVC's free Windows-based software gives you the ability to fine-tune the projector's gamma curve.
Performing the auto calibration with JVC's software was very easy and relatively painless.
To use JVC's calibration software, you must connect the X570R via Ethernet to your network.  There's no other option. You then type in the IP address of the X570R in the JVC software to connect to the projector.  The software won't auto-discover the projector on the network.
Once you connect the software with the projector, you choose which of the two meters you have. You're then presented with all the projector's profiles.  You chose which profile, gamma setting, and projector lamp setting you wish to calibrate.
In my setup, since I have both a 90-inch 1.1 gain white screen and 119-inch 0.8 gain grey screen, I performed two calibrations. For purposes of this review, I'll be referring mostly to the calibrated 1.1 gain screen as reference.
Using JVC's Projector Calibration Software
If you are using the Spyder meter, you point the meter directly at the projector, not the screen.  If you're using the X-Rite i1 Pro2, then you take your measurements off the screen.
When you fire everything up, the JVC Calibration Software will take a light measurement and present you with an orange rectangle.  You need to place the meter at a distance from the projector where it lands within the orange rectangle. If the meter is too close to the projector, it will get oversaturated and yield incorrect readings. Everything updates in nearly real-time so you'll know if you need to move the meter closer to the projector or closer to the screen. The best practice is to put the Spyder about one foot in front of the screen.
Performing the auto calibration with JVC's software was very easy and relatively painless. It will do both SDR Rec. 709 and HDR.BT2020 calibrations. You do need to run a separate calibration for each.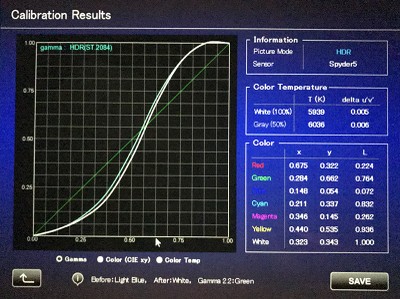 The JVC's Projector Calibration Software did a decent job of getting me a decent PQ (Perceptual Quantizer) Curve post-calibration for HDR.

I checked my results with R. Masciola's HDR 10 patterns and noted that post calibration, the X570R was graded to show content up to 1,000 nits peak brightness.
Taking measurements is lightning fast. On average, it takes only about seven and a half minutes to perform a full SDR or HDR calibration.  There's no need for you to supply external patterns. All the patterns you need are generated by the projector itself.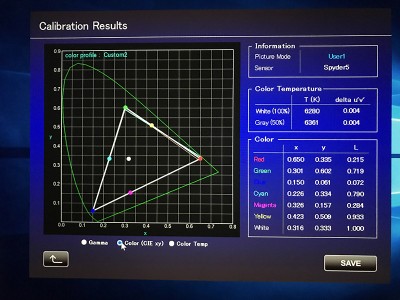 The JVC did a decent job of giving me a good Rec. 709 calibration for HD content.
What I liked most about the JVC software is that it measures and sets your gamma and PQ curve. Measurements were generally excellent but weren't always spot-on. I sometimes had to perform a calibration twice to eliminate obvious anomalies post-calibration.  The good news is performing a second calibration typically fixed any issues.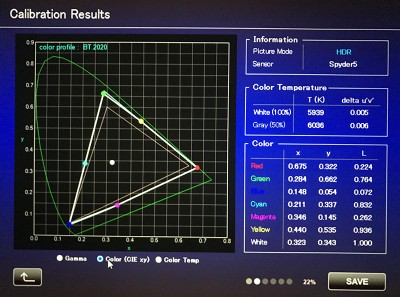 The results of one of the calibrations of the BT2020 profile using a Spyder5 with JVC's Projector Calibration Software.

In the BT.2020 profile, JVC told me that the X570R will cover slightly beyond the Rec. 709 color gamut but doesn't cover either the full DCI-P3 or BT.2020 color gamuts.

Out of curiosity, I fired up CalMan 5 with the X-Rite i1 meter to double-check my settings. With some JVC models, you can set CalMan to auto calibrate the projector in the same way that the JVC software does.  A full auto-calibration doesn't work with the X570R unfortunately.  You can, however, communicate with the projector to generate its internal patterns.  To do so, you'll need to communicate with the projector via a null modem RS-232 cable.  Using a Kensington USB to RS-232 adapter and parallel cable, I connected to the projector and I was on my way.
For HDR calibration, I used Ryan Masciola's HDR10 patterns. Ryan's patterns have a CalMan 5 HDR workflow included. I loaded the HDR patterns on a USB stick and displayed them via the Oppo UDP-203's USB media port.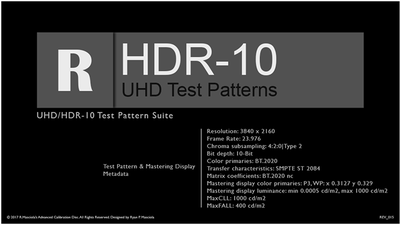 I used R. Masciola's HDR 10 patterns with Calman to check my HDR calibration settings.
The X570R's brightness was very good. I measured just over 29fL in low mode and over 35fL in high. With HDR calibrations, I measured over 37fL. JVC told me that these readings were right in line with what I should expect with my setup.
So that I don't prolong this aspect of the review, I'll note that Calman 5 does not support HDR projectors. In fact, when you take readings, all readings will be below target—even though the picture looked very good post calibration. This initially drove me crazy until SpectraCal referred me to this thread. This correlates exactly with my measurements. In summary, you need to adjust CalMan by a factor of four to get the right HDR readings. Just to be sure, I sent my calibration results to JVC, who confirmed this to be the case and they recommend a factor of four when they do their training with partners who use CalMan. Needless to say, this made me feel far more at ease. From that point on, it was time to see what this projector could do.
R. Masciola's HDR 10 UHD test patterns had just about everything I needed to see the results of a calibration.

Confused about what AV Gear to buy or how to set it up? Join our Exclusive Audioholics E-Book Membership Program!
Recent Forum Posts:
osupike99 posts on October 16, 2017 10:50
Which color profile is REC.709 in the PJ?
nathan_h posts on September 07, 2017 10:22
Gunny, post: 1207261, member: 19518
How much 4K content even exists at this time? By the time it is available in sufficient quantity perhaps native 4K projectors will be reasonably priced. Until then I'll stick with my current 1080P projector.
Not a bad choice. Most Hollywood releases these days come out in UHD day and date with their Blu-ray counterpart. But if you are more into indie, foreign, and or catalog titles, then the pickings are MUCH slimmer.
Hopefully that changes before long with things like iTunes and AppleTV getting UHD etc. We may never see a huge rush to release catalog titles on UHD disks, but streaming and download services may provide the lower overhead that make it possible for that content to see the light of day.
nathan_h posts on September 07, 2017 10:19
Chad works magic with JVC projectors.
http://www.hdtvbychadb.com/tours.html
ritechie, post: 1208714, member: 81403
Todd
Let me start by noting a few things. I've just replaced my LAMP and it has required a significant amount of re-"calibrating" using my Disney WOW disk and further modifications by eye. Your lamp is unlikely to have 100 hours on it. Your screen (120"Silver Ticket), B-R Player (OPPO), distance (12') and room lighting will all be different. Bottom line: I would NOT suggest reading anything into my settings.

I switch between 3 different USER MODES, all based on the CINEMA setting. I've modified my initial calibration so that my "MOVIE" MODE is as natural as possible, my "SciFi" MODE slightly emphasizes BLACKS (higher DYNAMIC CONTRAST, etc), and a "3D" MODE to maximize brightness and take advantage of "HIGH" lamp power. In all 3 MODES, my CMD is OFF and CLEAR BLACK is OFF . . . . in all my settings.


nathan_h posts on September 07, 2017 10:17
Very true. In fact, for the price of the entry level model, one can get last year's "step up" model – which has full DCI P3 coverage, which makes a difference with quality UHD sources, like the new remaster of Blade Runner.
Note, if I was shopping today, I'd wait a short while until the 2018 models, just announced at IFA and being shown at CEDIA, hit the street, and pick up a 2017 model – the RS520 – for the price of the 2018 entry level model.
I would avoid the 2016 model, the RS500, just because it doesn't have a proper built in gamma curve for HDR. One can create one with custom software and measurement, and do as good or better than the built in HDR gamma on the 2017 models like the 520. But it's not for the faint of heart, imo.
Schrodinger23, post: 1206445, member: 81322
While the JVC seems to perform very very well in just about every area, I think if one is interested in HDR, they should step up to the X770R or the X970R. Both, have 100% coverage of DCI-P3:

http://www.highdefdigest.com/news/show/JVC/Projectors/4K/Ultra_HD/hdr/wide-color-gamuts/THX/3D/eshift4/price/ces-2017/jvc-details-new-4k-eshift4-projector-lineup-with-hdr-support/37796

I think that color gamut is what we need to aim to hit for HDR. Also, these higher end JVC's don't have the same problem as the Epson's with color filters where it severely limits the light output, where you would have to choose between speculator highlights or wider color gamut.

http://hometheaterreview.com/jvc-dla-x970r-d-ila-projector-reviewed/?page=2

DCI-P3 is the color gamut most films up to this point have been mastered for and even most films that are coming out now. There are only a small number of films that try to expand the colors past DCI-P3: Inside Out, for example, had one scene where they put the colors out to the edges of Rec. 2020. With the current technology I don't want to go out past DCI-P3 if they are using narrow-band primary colors (like with lasers or quantum dots). Getting out to the edges of Rec. 2020 in this way results in "metamerism", where different people perceive colors differently, even on the same display. For this same reason I can't see a big push for Hollywood to start color grading films past DCI-P3, if they know that each person might perceive images drastically different.

Hopefully in the next gen JVC projectors we will see either the performance of the X770R come down to the replacement for the X570R, or the price of the replacement X770R to drop below $5,000. That is when I will be ready to jump in. If they have that, I can see it being a good projector for several years, whereas if we jump in with the X570R we will be looking to upgrade much sooner.
nathan_h posts on September 07, 2017 10:14
Funboy, post: 1206419, member: 45148
If the calibration meter faces the projector, aren't all the settings incorrect for the different screens? Figured it would skew the results - especially for grey screens. Or does it simply not matter as much as I'm thinking?
It matters. JVC lets you tell it what kind of screen you have. They have a long list of types, and then it has an offset or correction built in. Problem of course is that is a generic correction, and your particular screen might not be in their database.
So the pros do the autocal facing the projector, as designed, and then touch up the results by measuring off the screen. Heck, you want to do that touch up even if you have a neutral white screen, since autocal only gets you 90% of the way there.
Post Reply