JVC DLA-X570R Installation & Setup
JVC DLA-X570R Installation & Setup
I set up the JVC approximately 24 feet from my two screens. I placed the projector just below the ceiling.  Using JVC's granular menus and feature set, I was able to get the projector spot on.
I appreciated the JVC X570R's lens memory feature. I have both a 90-inch 1.1 white gain and 119-inch 0.8 gain grey screen (one screen is immediately behind the other). I created two lens profiles with custom settings for size and focus. I could switch to either lens memory setting at the press of a button on the excellent remote. Once set, the X570R kept fairly consistent memory settings between the two screens that didn't require constant readjustment.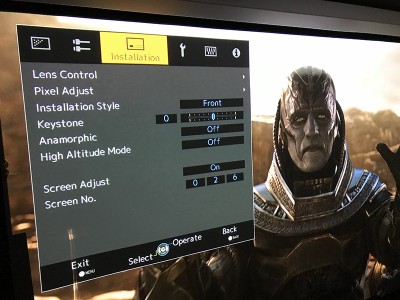 The JVC X570R provides lots of options to dial the projector into your room.

One feature is a screen adjustment option where you reference your screen's manufacturer and model and enter in a screen number so that the projector can make adjustments.

Here, I am entered in screen number corresponding to my Draper 0.8 gain grey screen.

Because the projector's approximately 24-foot throw from the back of my room created an image slightly larger than 90-inches, I used the projector's built-in masking tools to trim the edges for a perfect fit when I was evaluating content on the 90-inch screen.
A great remote
It's very rare that I'll comment on a review unit's remote control, but JVC's deserves special mention. The backlit remote is smartly laid out and never buried me in useless buttons. As with any good remote, I was able to navigate it without looking. The feature that I loved more than anything, however, was the backlight option.
The backlit remote is smartly laid out and never buried me in useless buttons. As with any good remote, I was able to navigate it without looking
It didn't turn on with the slightest accidental movement. If you need to refer to the remote in the dark, the backlight button has an ever-so-subtle glow to let you know where it is.  When you depress it, the remote lights up and all the buttons are clearly and intelligibly lit. I wish more remotes had this very simple yet incredibly helpful cue.
Beware HDMI 2.0b and HDR headaches
Users be warned, if you thought that we had reached a relatively stable HDMI plateau, you're going to get your world rocked. When I set up the projector, I did my normal routine, where I have some HDMI sources plugged directly into my Denon X7200WA receiver and the remaining media sources fed via an HDBase-T matrix switcher. Boy, was I in for some unexpected pain.
The JVC X570R rendered incredible detail on both Blu-ray and 4K/UltraHD Blu-ray sources.
First off, I couldn't get HDR to work at all from sources fed via my HDBase-T HDMI switcher. I emailed the vendor who told me that current HDBase-T extenders don't support any flavor of HDR and they won't be able to be firmware upgraded either.  That meant I needed to move the Oppo UDP-203 and connect it directly to the Denon X7200WA.  So far, so good…or so I thought.
Sooner or later, all of us are going to have to look at our home theater equipment and make sure we have HDMI 2.0b-compliant devices to avoid problems.
Next, I had some quirky issues where the Oppo UDP-203 sometimes made UltraHD Blu-ray titles with HDR look very dark and reddish. For those of you with a background in design, it's like someone had jacked up Photoshop's "burn" filter to high and applied it to the screen.  I also noted very sporadic issues where it apparently wasn't always sending the right color space. To be fair, I cannot confirm if this was disc-related or the Oppo UDP-203. Nevertheless, once Oppo updated their firmware, things fell right in line and I never had those problems again.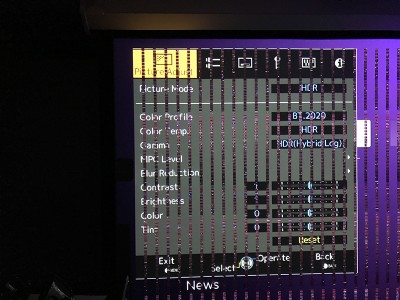 On two occasions I experienced what JVC described as a synchronization error when I opened up the projector menu.  Each time it went away when I closed the menu and never experienced it during movie content.

But wait, there were a few more surprises.
I tried to enable 4K/UHD with HDR on the Roku. The Roku confirmed all these capabilities in my signal chain but then I'd get a purple screen and nothing more. Long story short, I couldn't get the Denon X7200WA and Roku to play nicely together. In order to get the Roku to work, I had to plug it directly into the JVC.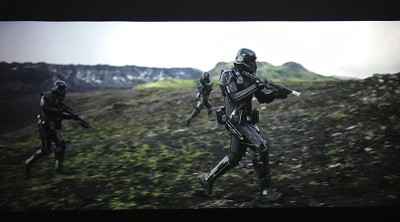 The JVC X570R's black levels were superb. With Rogue One on Blu-ray, the X570R displayed deep blacks and fine shades of grays.
As part of all this debugging, I also found out that Denon won't have an HDMI 2.0b upgrade for the X7200WA. Yes, I've spent an inordinate amount of time relating some of these issues because most (if not all) will be way beyond the technical ability of a typical user to debug. I note them because we are going through another turbulent HDMI and display technology period. If you are going to be using sources with HDR in general or HLG HDR, in particular, make sure you are able to pass things through an end-to-end HDMI 2.0b signal chain. Put another way:  Sooner or later, all of us are going to have to look at our home theater equipment and make sure we have HDMI 2.0b-compliant devices to avoid problems.
Just so there's no mistake, Let me be crystal clear that none of these issues are a knock on the X570R.
Confused about what AV Gear to buy or how to set it up? Join our Exclusive Audioholics E-Book Membership Program!
Recent Forum Posts:
osupike99 posts on October 16, 2017 10:50
Which color profile is REC.709 in the PJ?
nathan_h posts on September 07, 2017 10:22
Gunny, post: 1207261, member: 19518
How much 4K content even exists at this time? By the time it is available in sufficient quantity perhaps native 4K projectors will be reasonably priced. Until then I'll stick with my current 1080P projector.
Not a bad choice. Most Hollywood releases these days come out in UHD day and date with their Blu-ray counterpart. But if you are more into indie, foreign, and or catalog titles, then the pickings are MUCH slimmer.
Hopefully that changes before long with things like iTunes and AppleTV getting UHD etc. We may never see a huge rush to release catalog titles on UHD disks, but streaming and download services may provide the lower overhead that make it possible for that content to see the light of day.
nathan_h posts on September 07, 2017 10:19
Chad works magic with JVC projectors.
http://www.hdtvbychadb.com/tours.html
ritechie, post: 1208714, member: 81403
Todd
Let me start by noting a few things. I've just replaced my LAMP and it has required a significant amount of re-"calibrating" using my Disney WOW disk and further modifications by eye. Your lamp is unlikely to have 100 hours on it. Your screen (120"Silver Ticket), B-R Player (OPPO), distance (12') and room lighting will all be different. Bottom line: I would NOT suggest reading anything into my settings.

I switch between 3 different USER MODES, all based on the CINEMA setting. I've modified my initial calibration so that my "MOVIE" MODE is as natural as possible, my "SciFi" MODE slightly emphasizes BLACKS (higher DYNAMIC CONTRAST, etc), and a "3D" MODE to maximize brightness and take advantage of "HIGH" lamp power. In all 3 MODES, my CMD is OFF and CLEAR BLACK is OFF . . . . in all my settings.


nathan_h posts on September 07, 2017 10:17
Very true. In fact, for the price of the entry level model, one can get last year's "step up" model – which has full DCI P3 coverage, which makes a difference with quality UHD sources, like the new remaster of Blade Runner.
Note, if I was shopping today, I'd wait a short while until the 2018 models, just announced at IFA and being shown at CEDIA, hit the street, and pick up a 2017 model – the RS520 – for the price of the 2018 entry level model.
I would avoid the 2016 model, the RS500, just because it doesn't have a proper built in gamma curve for HDR. One can create one with custom software and measurement, and do as good or better than the built in HDR gamma on the 2017 models like the 520. But it's not for the faint of heart, imo.
Schrodinger23, post: 1206445, member: 81322
While the JVC seems to perform very very well in just about every area, I think if one is interested in HDR, they should step up to the X770R or the X970R. Both, have 100% coverage of DCI-P3:

http://www.highdefdigest.com/news/show/JVC/Projectors/4K/Ultra_HD/hdr/wide-color-gamuts/THX/3D/eshift4/price/ces-2017/jvc-details-new-4k-eshift4-projector-lineup-with-hdr-support/37796

I think that color gamut is what we need to aim to hit for HDR. Also, these higher end JVC's don't have the same problem as the Epson's with color filters where it severely limits the light output, where you would have to choose between speculator highlights or wider color gamut.

http://hometheaterreview.com/jvc-dla-x970r-d-ila-projector-reviewed/?page=2

DCI-P3 is the color gamut most films up to this point have been mastered for and even most films that are coming out now. There are only a small number of films that try to expand the colors past DCI-P3: Inside Out, for example, had one scene where they put the colors out to the edges of Rec. 2020. With the current technology I don't want to go out past DCI-P3 if they are using narrow-band primary colors (like with lasers or quantum dots). Getting out to the edges of Rec. 2020 in this way results in "metamerism", where different people perceive colors differently, even on the same display. For this same reason I can't see a big push for Hollywood to start color grading films past DCI-P3, if they know that each person might perceive images drastically different.

Hopefully in the next gen JVC projectors we will see either the performance of the X770R come down to the replacement for the X570R, or the price of the replacement X770R to drop below $5,000. That is when I will be ready to jump in. If they have that, I can see it being a good projector for several years, whereas if we jump in with the X570R we will be looking to upgrade much sooner.
nathan_h posts on September 07, 2017 10:14
Funboy, post: 1206419, member: 45148
If the calibration meter faces the projector, aren't all the settings incorrect for the different screens? Figured it would skew the results - especially for grey screens. Or does it simply not matter as much as I'm thinking?
It matters. JVC lets you tell it what kind of screen you have. They have a long list of types, and then it has an offset or correction built in. Problem of course is that is a generic correction, and your particular screen might not be in their database.
So the pros do the autocal facing the projector, as designed, and then touch up the results by measuring off the screen. Heck, you want to do that touch up even if you have a neutral white screen, since autocal only gets you 90% of the way there.
Post Reply