2015 Audioholics Christmas Gift Guide
2015 Audioholics Christmas Gift Guide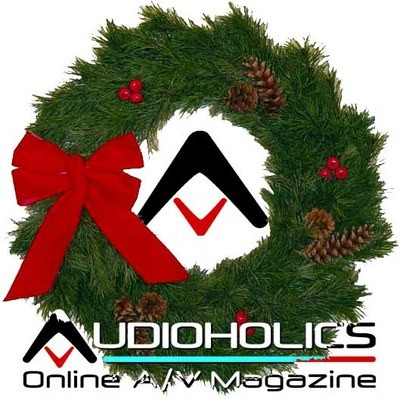 Audioholics 2015 XMAS Gift Guide
It's that time of year again.  This year instead of giving the same ole boring dress shirt, or glamour tie, how about giving your loved one the gift of audio  to spread the holiday cheer that will last the whole year?  Nothing says I love you like a brand new shiny subwoofer to rattle the house, or some really kick ass headphones to transport your loved one into sonic bliss without disturbing less appreciative nearby audiophiles.  With all of the great deals happening between now and the end of the year, this just may be the best time for you to upgrade your own home theater system and use the excuse of gifting to your significant other so you can both reap the benefits. 
With that, we put together a little AV electronics holiday gift guide of relatively affordable audio gear and accessories that can really enhance your enjoyment of your favorite music and/or movies.  Whether you're shopping for a new AV receiver, speakers, or Star Wars stuff, we've got you covered.
SVS Prime 5.1 Sub/Sat System (left pic); Paradigm PW600 Play-Fi Wireless Speaker (right pic)
SVS Prime 5.1 Sub/Satellite System
MSRP: $999 (shipped) | Preview | Buy Now
SVS dazzled us with their Ultra Series speakers a little over a year ago.  They took that technology and passed much of it down to a more affordable package, hence the Prime Series was born.  SVS is packaging this already superb high value system with their SB1000 compact, but potent, 12" sealed 300 watt subwoofer to save you big money while delivering big sound.  The Prime satellite sports a 4" midbass driver with butyl rubber surround and cast basket and a 1" aluminum dome tweeter.  With an 85 dB (2.83V @ 1 meter) and a -3dB pt of 69Hz, these mini satellites will blend perfectly with their SB1000 sub.  The SB1000 sells for $500 on its own so it's like you're getting the Prime Satellite speakers for a cool $100 bucks/each.  Best of all, you'll have identically matched speakers for ALL of the channels for the best acoustical blend.  At this price, we don't believe you can do much better in a small sub/sat system and if you don't agree, SVS offers a risk free 45 day trial period with free shipping both ways, though we doubt you will use it.
Paradigm PW600 Play-Fi Stereo Speaker
MSRP: $599 | Preview | Buy Now
Paradigm teamed up with MartinLogan to unveil a whole series of Play-Fi wireless speakers which can be controlled via the Play-Fi app and accept wireless streams at up to 24-bit/192kHz over an existing wireless network. Unlike other wireless platforms, Play-Fi is open, meaning that users can mix and match Play-Fi products from across brands.  Best of all, the PW600 sports dual 1" aluminum tweeters and a single 5" bass driver with a 1" voice coil for greater power handling.  The speaker can be configured in stereo and comes equipped with a total of 200 watts of Anthem Class D amplification along with their proprietary ARC room correction and external calibrated microphone to better dial in the sound to your room acoustics.  Portability, high resolution wireless networking, and legendary Paradigm sound, what else could you want in a product like this? It's a perfect audio solution for a college dorm or to get some high quality tunes in the kitchen when making all of that great holiday food.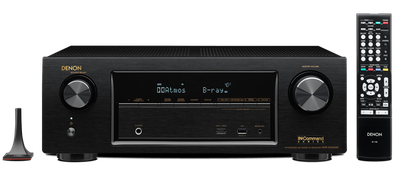 Denon AVR-X1200W Atmos/DTS:X AV Receiver
Denon AVR-X1200W  Atmos AV Receiver
MSRP: $599  | Preview | Buy Now
Who would have thought getting into a Dolby Atmos AV receiver would be a reality at under $600 someday?  Well Denon obviously envisioned it when they unveiled their 80 watt x  7 AVR-X1200W.  Not only can it support a 5.1.2 Atmos configuration (5 ear level speakers, 1 sub, 2 height speakers) but it's also armed with the latest technologies to support HDMI 2.0a/HDCP 2.2 which means its fully ready for UHD video resolution too.  It's also got built in WiFi so you can do music streaming and its firmware upgradeable to DTS:X immersive surround sound should DTS ever finally release the code to support it.  There's never been a better time to update that aging AV receiver and Denon has a solid, affordable product line to get you there.  Best of all, the AVR-X1200W can be had for under $450 which makes it quite a bargain!
RBH EP-3  Noise Isolating In-Ear Headphones
MSRP: $179 (on sale for $99) | Review | Buy It Now 
RBH has introduced the mid-range EP3 Noise Isolating Earphones that showcase just how good affordable, portable audio can be.  In an age where headphones can be purchased for a little as the price of a happy meal, or as much as the cost of a used car, RBH's EP3 earphones clearly hit the sweet spot in value for high-performing headphones at a low price.  At the introductory price of $99/pair, these simply can't be beat.  Check them out!
Emotiva Big Ego USB DAC
MSRP: $179 | Preview | Buy Now
Let's face it, the soundcard in most computers suck.  If you just invested in a nice set of headphones or desktop speakers and you want to get the most out of them, you'll want to bypass your soundcard and get an external DAC to improve the fidelity.  Emotiva's Big Ego supports the very highest sampling rates (384kHz) and bit depth (32 bit) of today's high resolution audio and has plenty of juice to properly drive your headphones or powered desktop monitors.  You won't believe you ears how much better your desktop system will sound with a device like this.
Emotiva Big Ego DAC (left pic); Roku HDMI Streaming Stick (right pic)
Logitech F710 Wireless Game Pad

MSRP: $49 | Buy Now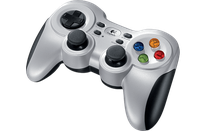 Are you a gamer?  Then you simply can't live without a top of the line wireless game pad controller.  The Logitech F710 operates at 2.4GHz for a reliable and long range wireless connection.  It features a classic layout popularized by the XBOX game controller employing a 4-Switch D-Pad, more buttons that you'll probably use for all but the most sophisticated games, dual vibration motors to let you know when you're getting beaten on by a foe.  It also works with Android TV.  Whether you're playing those lovable 80's games online, or the new Star Wars Battlefront game, the Logitech F710 will handle all of your gaming needs and more.
Roku HDMI Streaming Stick

MSRP: $49 | Buy Now
Roku's new HDMI Streaming Stick  can plug into any HDMI port to instantly turn an ordinary HDTV into a SmartTV.  So plug one into your HDTV, provide external power via either USB or a conventional wall plug, and you've got a very powerful A/V streaming solution ( to handle YouTube, Hulu, Netflix, Pandora, etc)  that's easily hidden and readily transported.  Roku also supplies an RF remote but you can download the App for even more control.  Best of all, the price!  For under $50 you've got yourself the best stocking stuffer for the Technogeek.


Star Wars - Force Awakens Figurine Playset
Star Wars Force Awakens Figurine Playset
MSRP: $38.99 (on sale $22.89) | Buy Now
The force is strong in all of us this year as we await the new Star Wars movie Force Awakens.  What better way to prepare for this blockbuster movie by getting the official figurine playset which includes all of the new major characters?  Whether its for a child or a grown adult child who enjoys adding these to his/her "collection", this Star Wars playset is sure to bring a smile to even the face of a Sith. 
Of course, we are still wondering where Luke Skywalker is.  Do you know?
Adele 25 on 180G Vinyl (left pic); Holiday Harmonies: Essential Voices USA (right pic)
Adele: 25 on Vinyl
MSRP: $21 | Buy Now
According to Nielsen Music, Adele busted all sales records for female artists by selling a whopping 3.38 million copies of her latest album titled 25 in the first week.  This isn't surprising to us given the popularity of this artist, but it's refreshing to know the masses still gravitate towards an artist that isn't a sell out.  Adele has the voice of an angel and the heart and soul of an R&B singer.  Her style of music is so refreshing in a day and age of over produced, talentless hacks that use an auto-tuner just to make their voice passable.  We preferred the less compressed sound of her last album 21 on Vinyl compared to CD, so we are banking on a similar experience with 25.  We recommend getting this on 180G vinyl for the best fidelity and longevity.  This is music you want to sit and savor, not flip around on your harddrive or music server.
Holiday Harmonies: Essential Voices USA - Jamie Barton, Maureen McKay
MSRP: $15.99 | Buy Now
If you're an audiophile that enjoys orchestral/choral music and in need of some holiday cheer, you're gonna want to pick up a copy of this CD.  Essential Voices produced new vibrant arrangements of seasonal favorites with beautiful vocal arrangements that are sure to send chills down your spine.  It's not in Sono Luminus DNA to produce anything less than a stellar sounding recording regardless of format (CD, SACD, Blu-ray, etc) and this CD doesn't disappoint.  So pour yourself some Eggnog while you nestle up with your significant other with the excuse of spending quality time to get your audiophile fix on while getting into the spirit of the holiday.
Amazon High Speed HDMI Cable
MSRP: $5 | Buy Now
Whether you just got a new gaming console or a Blu-ray player, you're going to need an HDMI cable to transmit your HD audio and video.  We see a lot of snake oil around analog cables and HDMI is no different.  For short lengths, almost any HDMI cable will suffice and this particular cable from Amazon will fit the bill nicely.  A 2 meter cable for just under $10 dollars is a great deal.  So don't waste your money on an exotic cable that will promise you the moon but deliver cheese.  Get one of these and save your $$$ to buy the new Halo 5 or Star Wars Battlefront games for the XBox One and PS4, respectively.
Merry Christmas From Audioholics
Well there you have it.  That's our list.  We hope you find at least one item that will help fulfill your shopping list.  If you alternative suggestions please feel free to post them  on the forum.  Most importantly, we hope everyone has a great holiday season enjoying the spirit of Christmas surrounded by family and friends.