Napster Flubs Major DRM-free Shot at iTunes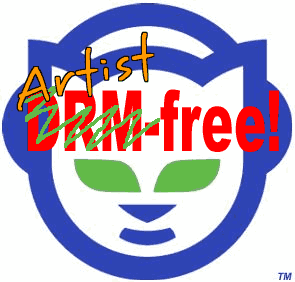 You may be DRM-free, but you got no tunes!
Napster is serving notice on iTunes... sort of. The music-pirate-turned-legal company has switched gears from being exclusively a legal subscription service to also including a "fully-stocked" music download store. The catch? All Napster's music is DRM-free and still priced at around $0.99/track or $9.99/album. It will also be compatible with Apple's popular iPods as well as all other MP3 players on the market. They feature 6 million tracks according to their marketing. The only question remains: how did they convince the big four labels to ditch DRM on all their music? Or is this all some sort of marketing stunt?

How is this possible, you ask? Well if you listen to Napster tell the story, the major music labels, after suffering massive drops in sales of CDs, have decided that DRM isn't exactly "of the devil" after all. Without DRM music can be freely used on all portable devices, regardless of brand - something that is not possible with iTunes, which currently controls 70 percent of all downloaded music. The new site boasts the following:
Explore the world's largest MP3 catalog of 6 million songs
MP3s can be transferred to almost any MP3 player or music phone
All MP3s come with high-resolution album art
The MP3s seem to all be 256k and indeed DRM-free. We did a brief survey of the site and attempted to locate albums from all of the big four labels to see how they were treated. On more than occasion some snags seemed to pop up with some labels more than others, indicating that at least some writers, etc,still have issues with DRM-free music. For example, we randomly selected Korn to represent EMI, and found that on the Evolution album the title track could not be purchased for download, preventing us from grabbing the entire album. Here's what it said:
Sorry, at the copyright owners' request, the following track(s) are not currently available for purchase. Click "Continue" to view available tracks and proceed with your purchase.
Their latest album, however, seemed to do just fine. When I pulled up Britney Spears (for Sony BMG) it turned out all tracks from her In the Zone album were not available for purchase, and this seemed epidemic of all her tracks.

There are other snags as well, but likely due to the recent launch and something that will be worked out over time. I had initially thought that the "unable to load page" message, which frequently popped up during my browsing was a safeguard against overloading the servers, however it seemed that it represented albums and information that had yet to be entered into the system. Of the random tests I did, Sony BMG artists' album purchasing information seemed to either not be in the system, or protected from sale by way of copyright request. After poking around, the only conclusion is that the major players from Sony/BMG are not being sold on Napster for now.
I next tried Universal Music Group by selecting the Bee Gees (hey, it's a reasonable choice!) I encountered the same proliferation of error messages and eventually found a Greatest Hits Special Edition album that alerted me to the fact that "14 of your 27 tracks are not available for purchase." Pulling up Godsmack I found several album errors and then a compilation album that alerted me to the fact that all 16 tracks were unavailable for purchase due to copyright issues. I guess we can scratch Universal Music Group from the list of "we really trust DRM-free music" labels as well.

For Warner Music Group I selected AC/DC and got nothing but error messages. I double checked with Disturbed and found that on their Ten Thousand Fists album, none of their 14 tracks were available for purchase.
So, the early conclusion to this new label is that Napster, while bragging about "coming out of this DRM cloud" (according to CEO Chris Gorog), is fully hamstrung by the music industry, with 3 out of 4 labels refusing to "play ball" with DRM-free music - at least according to our spot checks. So where are the 6 million albums coming from? Who knows - I don't have time to count.

As of now EMI seems to be leading the pack again - but even they have reservations on at least some of their artists' tracks. For those of you eager to learn more, feel free to update us with any additional info, especially if one or more labels suddenly has a change of heart or you find additional evidence that suggests some artists are available from particular labels suspected to be holding out. DRM seems to be bad for the industry as a whole (just ask anyone who wants to move their songs off iTunes or their iPod) and it seems only a matter of time until the record industry gets a clue... we hope.

allargon posts on May 25, 2008 09:02
So, Napster is trying to catch up with Emusic *and* Itunes. Fortunately for Emusic (Itunes is too tightly integrated with the Ipod to feel threatened anytime soon), Napster doesn't have its act together.
jeffsg4mac posts on May 21, 2008 11:17
Clint DeBoer, post: 414477
You spelled her name wrong. OH MY GOODNESS I CAN'T BELIEVE I JUST SAID THAT!
LOL ahh haa now we know the turth
efzauner posts on May 20, 2008 18:31
Not in canada eh!

Well napster.ca is still drm… canucks get screwed again. Typing in Napster.com redirects me to a collector site!!

They still just dont get it!! I would love to download legal music and pay give them lots of my money! They don't seem to want it!
Audioholics posts on May 20, 2008 16:08
You spelled her name wrong. OH MY GOODNESS I CAN'T BELIEVE I JUST SAID THAT!
jeffsg4mac posts on May 20, 2008 15:09
All I want to know is why oh why were you trying to download Brittney Spears music Clint?
Post Reply