Rumors of Laser DLP from Mitsubishi Surface for CES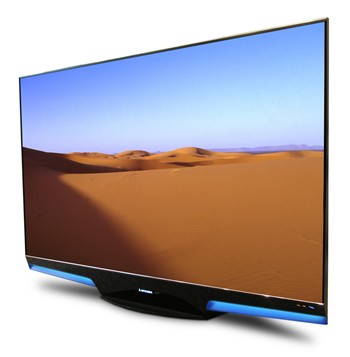 Laser TV... ...cool.
After several years of trickling out details, Mitsubishi announced plans at the iSupply Flat Information Displays (FID) 2007 conference for a private preview of a laser based DLP rear projection set at the upcoming Consumer Electronics Show in January 2008.
Current DLP televisions are based on a mercury arc lamp reflected off the DLP chip and focused through a color wheel to the screen. Laser based DLP sets would use red, blue, and green lasers directly, eliminating the need for the color wheel while improving color performance drastically from present levels.
Vague details of the laser based set have been around since at least late 2005 suggesting a late 2007 release, but to date, no actual preview has occurred.
It been rumored that previous demonstration delays stemmed from the existence of only one functioning prototype that was unsightly enough for Mitsubishi to hesitate showing it, opting to show only a more cosmetically appealing but non-functioning mockup.
Mitsubishi's announcement for CES now has additional weight with statements made by other companies at FID. A representative from Novalux, a firm involved in developing laser lighting technology, says that laser lighting is nearing commercial release.
So, what is the big deal about laser based projection TVs, other than the cool laser part?
The benefits are many:
Lower cost of manufacturing
Lower energy usage
Extended color gamut with improved intensity
Truer blacks
Shallower cabinet profiles
Greater light source longevity
Novalux estimates that the bill of materials for laser based TVs can be decreased by $50 to $200 per set, depending on size of the set in question. DLP sets already hold a cost advantage for the consumer with the largest sets as little as half the price of flat panel sets of the same resolution in the 60"+ range. For sets smaller than 60-inches you'd have to really want to go with DLP since flat panels have all but matched rear projection pricing.

Large DLP televisions also presently hold a power saving advantage over equivalent sized plasma and LCD displays, again with the largest sets using 275 watts total power or less. With the introduction of laser backlighting, unlike lamps that are constantly powered up, the lasers will intermittently turn off when not required. Overall, this could reduce power consumption by up to one third compared with current sets, making this greener technology greener still.
The laser shut down is also responsible for improved black performance. No light is black.
Using lasers, the high intensity collimated light would provide a more precisely controlled color source allowing for more accurate color reproduction, greater color intensity, and a sharper screen image. Speculators are suggesting picture quality from laser-based sets may eventually exceed film sources. High frequency modulated lasers will also eliminate the rainbow effect which has gotten better over time and doesn't affect all consumers.
While Samsung has introduced LED-based DLP rear projection televisions, the majority are based on a high intensity mercury arc lamp for backlighting. The mercury lamps typically have a life span of 6000 to 8000 hours before replacement. Laser backlighting is anticipated to have a longer lifespan, perhaps as long as the life of the set. There would also be no color deterioration over time as occurs in both plasmas and LCDs.
While standard cabinets for DLP television have been making strides with depth, with 12" possible in a 60 television and 16" for a 65" television, Mitsubishi has suggested depths of as little as 10" for the 60"+ screen size range. While still not shallower than flat panels, stand mounting for sets of this size requires a base that is at least as deep as current DLPs for stability.
Personally, I have owned three DLP sets, from all the current major manufacturers, Toshiba, Samsung, and Mitsubishi, and I have always been very pleased with the picture quality. Sharp picture with no motion blurring and indefinite longevity, aside from the lamp, which returns color performance to new anyways, I have found few disadvantages.
Every TV technology has its pros and cons for picture and other factors, but if laser backlighting works as well as current speculation, it may move large format rear projection from inside the pack to out in front.
You decide it the pun was intended.
See also:
Recent Forum Posts: