LED Backlight Display Technology
LED Backlight Display Technology
Technology Overview & Description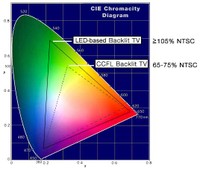 A new technology player was in town this year at the 2006 CES. LED technology debuted as a future digital display backlight option that promised intensely saturated colors, the end of bulb replacement for rear projection displays, and increased color reproduction for direct view LCD televisions . It will also make you chicken soup if you are sick (OK, we added that part.) While the life expectancy of the LEDs was not fully addressed to my satisfaction (to convince us that bulbs will truly be a thing of the past), the color saturation does indeed look to be very impressive. The Sanyo model we saw, for example was absolutely stunning and boasted displaying 120% of the NTSC color gamut. Currently there are models being shipped by some (Sony's QUALIA 005 for example), and prototyped by others - including Samsung, Sanyo, HP, JVC, Akai, Mitsubishi, and InFocus, and others have indicated upcoming use of this technology as well. Texas Instruments is excited about it and mentions the technology on their DLP website. Do you get the feeling that this LED thing is taking off? We'll see. For one, their color extension claims are dubious at best. Not many panels that I've seen demonstrate 75% coverage of the NTSC chromacity spectrum - more like 90%.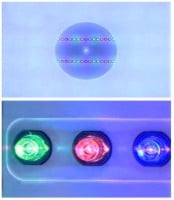 What's truly impressive about this technology is that it promises to do several things very well. One, it works with multiple rear projection technologies, including rear projection DLP, LCD, LCOS/D-ILA/SXRD and even palm-sized front projectors. Secondly, it promises to eliminate bulb replacement (100,000 hour LED life claimed - though we guess real world is more like 20-40,000) while providing better color reproduction at the same time. Thirdly, it eliminates warm up time and color instability since LEDs are pretty much instant on. It also functions, in Direct-LED systems, as a replacement for the fluorescent backlight in LCD flat panels. These features alone are worth the price of admission - which looks to be high for now, but only until volume sales begin sometime in 2007 (according to our sources). Samsung seems to be at least one of the companies leading the way on this.

What's Next?
DLP TVs will almost invariably go the route of LED technology as it eliminates the color wheel and one more moving part. As for other technologies it's a no-brainer that increases the shelf life of the backlight system and improves color - making products more competitive. I would suspect that even many LCD flat panels wil be replacing their fluorescent backlight systems with LEDs once the panel depths get better and the technology gets more affordable through mass production. Look for manufacturers to start bragging about color instead of contrast next year as this easily marketable feature takes off during 2007.
LED Backlight Technology Advantages
Exceeds NTSC color gamut
Excellent life expectancy (replaces typical 6000 hour bulbs in lamp systems)
Replaces color wheel on DLP displays
When used as LCD backlight, allows for execptional black levels
"Instant-on" systems with almost no warm-up time.

LED Backlight Technology Disadvantages
Expensive as "new technology" though expected to drop in price once it ships in quantity
Panel depth for flat panel systems is a tad large at present in order to allow for combining of red, green, blue LEDs to make white.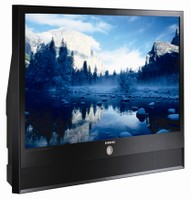 Samsung HL-S5679W LED-based DLP Display
Confused about what AV Gear to buy or how to set it up? Join our Exclusive Audioholics E-Book Membership Program!