Samsung Slim LED-driven DLP
Samsung Slim LED-driven DLP
Filed under: Televisions & Displays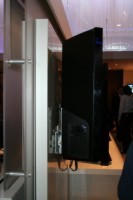 Both DLP and Samsung booths were showing off the new Samsung HDTV with a "hang-on-the-wall" slim design and featuring solid-state LED illumination and full-HD 1080p resolution. This first-of-a-kind product concept is enabled by a new .65" 1080p DLP chipset that is optimized to drive solid-state LED arrays to drastically increase contrast performance beyond 100,000 to 1 (stated).
The 10-fold contrast improvement provides for a better viewing experience in almost any ambient room lighting situation. Additionally, LED illumination increases the color saturation to nearly 140% of the NTSC TV standard and delivers a color refresh rate of up to 48x the standard TV frame rate when combined with the inherent speed of DLP technology. LED illumination also provides "Instant On/Off" functionality and replaces a conventional lamp with a long-lasting (lifetime) light source.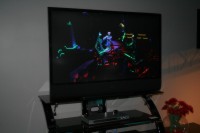 Slim DLP products provide a big picture in a smaller space by utilizing an ultra-thin bezel that maximizes the viewable screen while also being the thinnest freestanding display at their screen size. At approximately half the weight of plasma TVs, these innovative DLP HDTVs can be placed almost anywhere within the home, including easy shelf mounting without requiring expensive heavy duty wall brackets. Samsung's 2007 DLP line-up includes additional slim DLP HDTV offerings and other manufactures are also expected to introduce slim models in 2007.
For more information, please visit www.dlp.com or www.samsung.com .