DLP DarkChip4 Technology - First Impression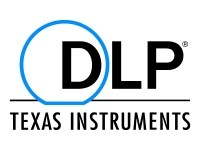 DLP Darkchip4
Summary
Product Name:

DarkChip4

Manufacturer:

Texas Instruments

Review Date:

September 19, 2007 20:00

First Impression:

Pretty Cool
Increased contrast ratios (up to 30% higher than Darkchip3)
Darker wafer
Advances in mirror design lithography
Proprietary process advances

Executive Overview
We investigated the newest DLP technology from Texas Instruments which included their latest DarkChip4 chips. On location at CEDIA during our visit was a DLP projector from SIM2. This was a 3 chip, 1080p DLP projector featuring the new chipset producing trillions of colors combined with a native contrast ratio of 15,000:1. Additionally, there was a static demonstration of a DLP HDTV with DarkChip 4 and LED illumination with a stated contrast performance of 100,000 to 1. DarkChip 4 makes modest improvement to Darkchip3 such as a darker wafer that is reported to deliver a 30% higher contrast ratio "depending upon the application" (is that vague enough for everybody?) All DLP product lines, including DLP HDTVs, DLP 1-chip projectors and DLP 3-chip projectors currently feature products with various chipset iterations of DarkChip technology. The new DarkChip4 will be available in a number of products in 2008. Among the companies taking advantage of the new technology are SIM2 and Samsung, though more are certain to come.

This is definitely an incremental version rather than a complete upgrade as the visual advances seem minor (the 30% higher contrast ratio seemed a bit inflated based on what we saw - which, while good - was hardly mind-blowingly superior to DarkChip 3 systems we had seen to date.

The DarkChip 4 process was originally developed for the high brightness and contrast picture quality requirements of the digital cinema industry. The contrast improvements from DarkChip 4 are achieved by advances in mirror design lithography and other proprietary process changes. The mirror tilt ratios are the same as DarkChip3.

For more information, please visit www.dlp.com.
Confused about what AV Gear to buy or how to set it up? Join our Exclusive Audioholics E-Book Membership Program!
Recent Forum Posts: