Dirac Launches 'Intelligent Audio Platform' for Cars, Introduces New Upmixing Technology
Dirac Launches 'Intelligent Audio Platform' for Cars, Introduces New Upmixing Technology
Dirac Intelligent Audio Platform for Automotive
Regular readers will know that we're fans of Dirac Live, a state-of-the-art room correction system that optimizes sound with respect to both frequency response and impulse response over the listening area. By addressing the time domain in addition to frequency, Dirac is very effective at digitally reducing room impact and enhancing the performance of an audio system, whether it's a simple two-channel rig (built around the reasonably-priced, Dirac-equipped NAD M10v2 integrated amp, for example), or a no-holds-barred, 24-channel home theater with the Storm Audio ISP Elite MK2 at its core. But the Swedish company Dirac Research doesn't just focus on home audio. Dirac has also developed digital audio solutions for pro audio, for headphones, for laptops and mobile devices, and for the highly lucrative automotive audio market. In fact, Dirac can already be found in cars from BMW, Volvo, and even Rolls Royce. Now Dirac is poised to penetrate the car audio market even further with the launch of the company's new Intelligent Audio Platform — a modular, cross-platform software solution for improving automotive sound. A key element of this platform is the Dirac Virtuo spatial audio solution, which aims to deliver "immersive experiences to everyone, everywhere… by creating a spacious, natural soundscape beyond the physical confines of your sound system with accurate sound localization." Dirac's Virtuo spatial audio solution for cars was designed to address several fundamental requirements for good sound, including the following:
Cabin sound optimization. Not unlike Dirac Live, Dirac Virtuo aims to deliver a reduction in cabin-induced coloration, and higher loudspeaker performance.
Soundstage widening. Dirac Virtuo reportedly delivers a wider front stage, even without separate door speakers.
Target sound management. Dirac's signature sound is natural, easeful, and consistent from seat to seat.
Center image optimization. Dirac Virtuo boasts improved imaging and sound localization thanks to a stable phantom center-channel for every listener in the vehicle.
Surround sound. Dirac Virtuo promises an unbeatable immersive surround sound experience with a very small DSP footprint.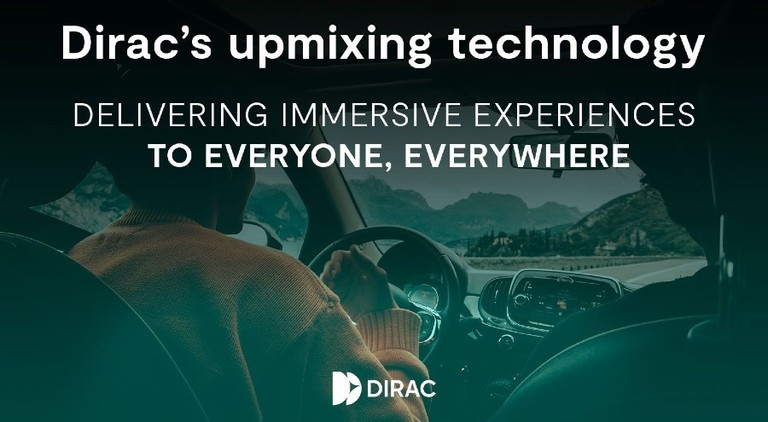 The newest, and perhaps most significant, feature in Dirac Virtuo's bag of tricks is the company's proprietary "intelligent upmixing technology," which reportedly transforms ordinary 2-channel content into immersive, multichannel audio. The Dirac upmixing technology analyzes the stereo signal in real time and breaks it down into a number of component parts. These individual parts are then grouped together according to "spatial attributes." Finally, the upmixing technology reassembles the sound components into a new multichannel mix of the content, all without the need for an additional surround sound processor. The new multichannel version of the content is then handed off to the multichannel-capable sound system, which itself will have been optimized by other features in the Dirac Virtuo suite of technologies. The company claims that, unlike competing multichannel processing solutions from the likes of Dolby and DTS, Dirac's intelligent upmixing technology does not create significant audible distortions and artifacts that were not part of the original stereo recording. Dirac says that its new, patent-pending algorithms are designed to minimize these artificial-sounding effects, resulting in an immersive multichannel experience that sounds more natural. (Audioholics founder Gene DellaSala has indeed observed some artifacting in his own listening using current upmixing technology from Dolby and DTS, and looks forward to hearing what Dirac's solution can do.) Meanwhile, Dolby has been making its own efforts to get Atmos-capable immersive sound systems into more new cars. But Dolby has focused largely on offering support for Dolby Atmos music — music that has been professionally mixed in the Atmos format, and then delivered to the user via a streaming service, such as Apple Music or Tidal. Dirac's approach recognizes that, for now anyway, 99% of the world's recorded music is still only offered in stereo, and that any transition toward the acceptance of more immersive music formats will probably start with upmixing 2-channel content.
With Dirac's intelligent upmixing technology, creators no longer have to reengineer their content in immersive formats for consumers to enjoy an immersive experience. By leveraging Dirac's expertise in signal processing, we are able to — in real time — create a new multichannel experience from existing stereo content while maintaining the high-fidelity sound of the original recording. The ability to upmix stereo content so that it sounds like a true multichannel recording — while still staying faithful to the intent of recording artist — further strengthens the value of our automotive audio solution. We are pleased to introduce this new capability and expect it to help create new immersive experiences that many more consumers can enjoy.
— Mathias Johansson, Chief Product Officer at Dirac
The Car Market for Audiophiles is Ripe

Dirac knows that the number of potential customers in the automotive market is far greater than in premium home audio or pro audio, both of which are niche markets compared to the vastness of the auto industry. Automotive sound can be a make-or-break opportunity for high-end audio companies facing an uncertain future. So it makes perfect sense that Dirac's new upmixing technology will make its debut in the automotive market, and it's crucial that the Dirac Virtuo spatial audio solution find its way into as many new cars as possible. To that end, the company has launched the Dirac Intelligent Audio Platform (IAP), which is a modular, cross-platform software solution for "perfecting automotive sound." The IAP is a software foundation for improving sound without costly hardware upgrades, and is designed to be easy for car manufacturers to incorporate into their OEM sound systems. Dirac says that the IAP works seamlessly with leading third-party audio hardware, and can be customized to work with all types of car models at various price points. The Dirac Intelligent Audio Platform contains a full signal chain and offers a number of patented optimization and spatialization solutions, along with easy tuning and measurement, according to Dirac. Car manufacturers interested in adopting the IAP can choose from three pre-configured tiers, offering different levels of performance appropriate for different classes of vehicles.
The Performance tier provides a cost-effective way to upgrade the audio performance of entry-level car sound systems without expensive hardware upgrades. This basic solution is powered by Dirac's magnitude response correction technology.
The mid-priced Premium tier of the IAP is the most popular so far among Dirac's current automotive partners. This solution is powered by Dirac's magnitude and time domain correction technology.
The Professional tier is Dirac's most advanced solution for ensuring superior sound at all seating positions within the vehicle — perfect for a Rolls Royce, for example, in which the sound quality in the back seat must be at least as good as in the driver's seat. The Professional tier is powered by Dirac's patented MIMO (multiple-input and multiple-output) mixed phase correction technology, which "allows all speakers to work together for sound field control and cabin sound optimization, (something) previously possible only in theory," according to Dirac.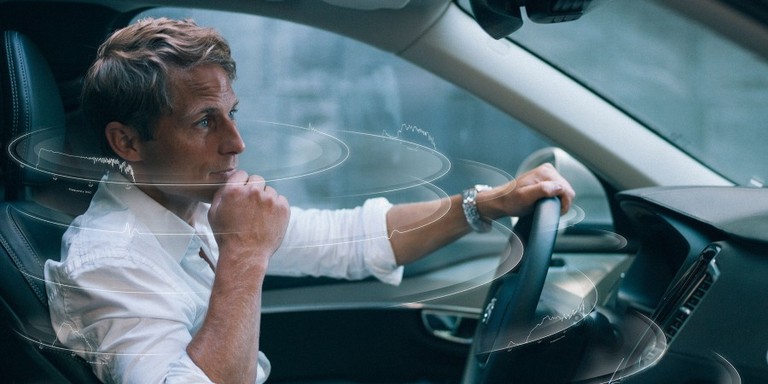 Why the Dirac IAP Platform is Unique
The new upmixing technology will be available as an add-on to the Premium and Professional tiers, beginning in the second quarter of 2022. Dirac says that its Intelligent Audio Platform is unique for a number of reasons. First, it offers the company's proprietary technology for sound optimization and spatialization, including measurement and tuning tools, and a unified interface that can accommodate any type of speaker layout, from the most basic to the most advanced. Second, the system is "fully data-driven," meaning that approximately 70% of the tuning work can be done remotely, after measurements are taken in a test vehicle. And because the software is compatible with the industry's most common chipsets and frameworks, the IAP can be used by almost any car manufacturer in the world. Finally, the IAP benefits from Dirac Opteo, the company's measurement-based digital optimization solution that "maximizes the sound performance of any sound system by addressing acoustical issues caused by hardware limitations."
Providing great sound in cars has never been more crucial and challenging. With modern cars capable of more than ever before, and including ever-more speakers and features, it's important to deliver better sound while also allowing passengers to hear better. Dirac's Intelligent Audio Platform offers software-driven sound perfection so car manufacturers can more easily, quickly, and cost-effectively deliver the in-car experiences consumers love.
— Lars Carlsson, Head of Business Development of Automotive Audio for Dirac
I imagine that many Audioholics readers care a great deal about achieving excellent sound while on the road, and having research-based audio companies like Dirac invested in car audio can only improve upon the booming car audio business. But it's also tempting to imagine what Dirac's new upmixing technology could do for multichannel music playback in other environments. Headphone enthusiasts may not have long to wait — Dirac Virtuo for bluetooth headphones is already a going concern, and the technology can be seen at work inside the recently-launched Cleer Audio Alpha headphone. Will we see a version of Dirac's Virtuo upmixing tech in AV receivers and processors next? Share your thoughts in the forum below.
Check out this video for more information about Dirac's Intelligent Audio Platform.

Dirac automotive intelligent audio platform Youtube Overview
Recent Forum Posts:
Agiletiger posts on May 31, 2022 21:47
Yeah, they don't mention if it's for aftermarket or not. I assumed aftermarket since there are new cars that offer Dirac. I'm very much interested if there is a way to add it aftermarket. I know miniDSP has a hardware implementation of Dirac, I believe.


Sent from my iPhone using Tapatalk
lovinthehd posts on May 26, 2022 19:30
Plus you need a head unit that can deal with it….how would it do with my four left and four right speakers up and down the length of my van? My head unit is just 2ch altho has multiple amp/preouts to use….and will you set it for the driver or passenger or in between?
jeffca posts on May 26, 2022 19:18
The biggest challenge to mobile audio is having speakers that don't suck that are properly installed in places where they won't suck.

As much as I respect Dirac, they can't fix that.
mns3dhm posts on May 24, 2022 11:04
There is serious money for audio companies in partnerships with automobile manufacturers. They see auto as the most significant revenue growth opportunity in years. The list of audio businesses chasing this is impressive - Harman (Revel), Bowers & Wilkins, Burmester, Krell, etc. Not sure how applicable EQ developed for cars will transfer to home environments where every room is different but I'm hopeful.
gene posts on May 24, 2022 04:32
The Swedish audio company Dirac Research has launched a modular, software-based audio platform designed to help car manufacturers deliver better performance from their OEM car sound systems. One key feature is Dirac's new "intelligent upmixing technology," which reportedly transforms ordinary stereo content by analyzing the signal and creating natural-sounding multichannel mixes in real time. Can Dirac outperform similar upmixers from Dolby and DTS? Will this new tech find its way into the home audio environment?
56223
Read:
Dirac Intelligent Upmixing Technology
Post Reply