Audi's Q4 e-tron Electric SUV Features The First Sonos Car Audio System
Audi Q4 e-tron
As I touched upon briefly in my recent article about the Dolby Atmos system in a new electric car called the Lucid Air, automotive audio represents a big business opportunity for companies that manage to get their gear audio installed in popular cars. And it's not hard to imagine why inking such a deal can be a make-or-break moment for a high-end audio company with a relatively small customer base. The number of people who are interested in spending thousands of dollars on a home stereo system will always be tiny in comparison to the number of people who shell out big bucks for a luxury car. Most non-audiophile car buyers may never even consider buying home audio gear from Bowers & Wilkins, Revel, Mark Levinson, or McIntosh, but they certainly might drive off the lot with an upgraded car audio system — especially if it's sold as part of a "technology package" that also includes additional driver-assistance tech, a larger display on the dash, massage seats, and so on. (My Dad's friend Peter had never heard of Burmester when he bought a new Mercedes equipped with an impressive sound system built by the German high-end audio company.) The car infotainment business is so lucrative that it may have played a large part in Samsung's decision to acquire Harman back in 2016. According to Harman, "more than 5 million vehicles on the road today are equipped with Harman premium audio systems and connected technologies, covering 35% of the world's cars." Of course, it's not only esoteric high-end audio companies that have benefited from the car audio business; well-known consumer audio companies like Bose and JBL (a Harman company) have been making car audio systems since at least the 1990s. Sonos, which is one of the most successful new consumer audio companies of the last two decades, is now ready to get in on the action with its first car audio system, arriving in the 2022 Audi Q4 e-tron electric SUV, and its slightly sportier sibling, the Q4 e-tron Sportback.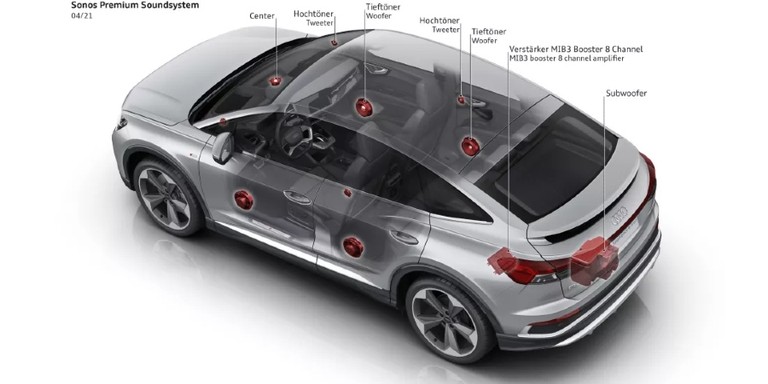 The Q4 e-tron made a brief debut in concept form at the 2019 Geneva Motor Show, but only recently has it become ready for prime time, going on sale in Europe this summer for the equivalent of about $50,000 in base configuration. Though not cheap by most standards, it is so far the least expensive member of  Audi's growing e-tron family of electric vehicles. The Q4 e-tron and its Sonos audio system should arrive at American dealerships this Fall, with prices TBA. In the past, Audi buyers wanting something better than a no-name factory-installed sound system could upgrade to Bose in the automaker's less expensive cars, while the higher-end models could be had with a Bang & Olufsen system, complete with motorized tweeters that rise out of the dash. Audi has not commented on the state of its relationship with these longstanding brand partners — and I wouldn't expect a Sonos-branded system to replace the B&O speakers in a flagship A8 sedan — but we do know that the Q4 e-tron and Q4 e-tron Sportback will not be the only models to feature a Sonos audio system; future A1, Q2, and Q3 models will also get the Sonos treatment.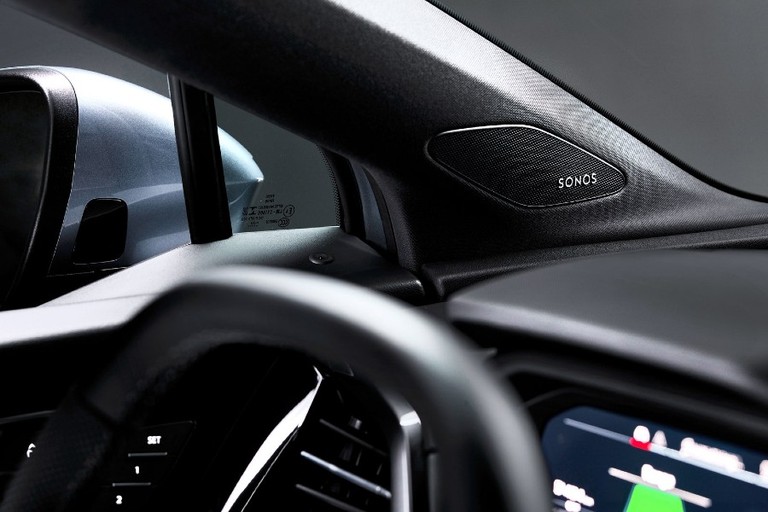 Audi is calling the Sonos package a "premium sound system," and in Europe it's not included in the base configuration of the Q4; instead it's part of an optional "Comfort and Sound" package that also includes adaptive cruise control, a reversing camera, and ultrasonic parking sensors. The Sonos system includes 10 "high-performance" Sonos loudspeakers, including a center-channel speaker and a subwoofer. The center speaker and the four remaining tweeters are powered by a dedicated amplifier built into Audi's 3rd-generation Modular Infotainment hardware, while the four woofers and the sub are driven by a separate eight-channel "booster" amplifier. All together, the Sonos system is rated to deliver 580 watts.
At the start of our collaboration, we are presenting a few exciting new features: for the first time, people can use familiar sound settings to make tonal changes in the timbre that will create more emotionality in the interior. The back seat can have more bass and be filled with louder sound while the driver and front seat passenger can listen at half the volume and a more neutral balance so they can concentrate more on traffic – or spare their nerves.
— Dr. Tobias Gründl, head of Sound and Acoustics Development at Audi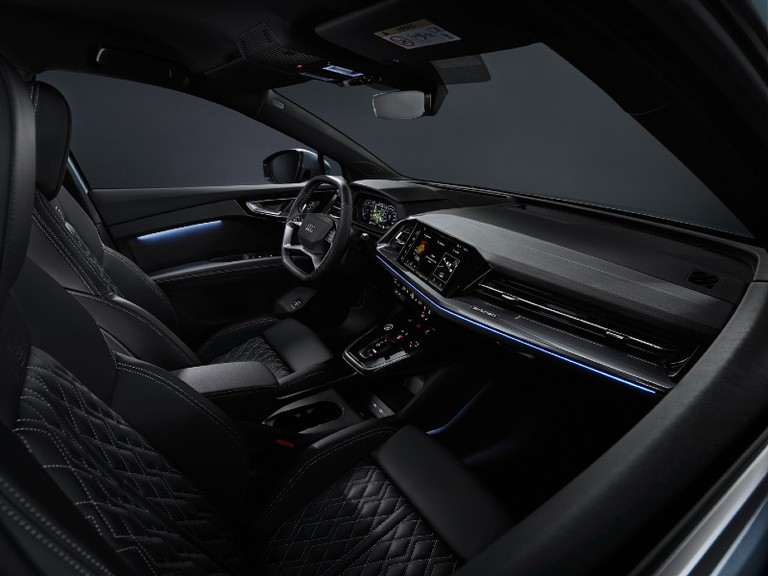 Rather than tuning to system to sound best in one specific sweet spot (such as the driver's seat), Audi and Sonos have designed the system to intelligently place different sounds in different places around the cabin to create a virtual soundstage that works well for all passengers. Audi's in-house audio software, called soundCUBE, works in conjunction with the Sonamic Panorama algorithm, developed by the Fraunhofer Institute in Germany, to process audio signals and distribute them appropriately across the system's 10 speakers. According to Fraunhofer, the Sonamic Panorama algorithm "separates the individual sound sources from a stereo recording, evenly distributing them in a U-shaped soundstage that surrounds the passengers," in order to produce "a virtual surround sound that makes you feel like you are standing on the stage with the band." The algorithm is said to allow all passengers to "appreciate details that otherwise would be imperceptible in the pure stereo signal," and also reportedly rejects noise from poor digital reception, as well as from FM radio.
Our ambition is to be the world's leading sound experience company. That means giving listeners the ability to experience great sound wherever they go. We've found in Audi a partner that shares our vision and approach — a company that values innovation and design in the same way Sonos does. We are proud today to introduce this Sonos-tuned premium sound experience in the cabin of the Q4 e-tron.
— Sonos CEO Patrick Spence
SONOS User Experience Gone Missing?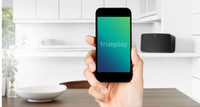 When Audi and Sonos announced that the first Sonos-branded automotive audio system would be appearing in the futuristic Q4 e-tron, I imagine many Sonos fans hoped and expected that the company's software expertise would make the car feel like an extension of a Sonos-based home audio system. Thanks to its incredibly user-friendly interface, the Sonos ecosystem of powered speakers is packed with fan-favorite features. A universal search allows for you to search for music across multiple streaming services (much as Roku does in the world of video streaming). You can also make playlists that span multiple streaming services, or tune into Sonos Radio HD to hear something new. As Simon Cohen points out in a recent article on Digital Trends, the Q4 e-tron's audio system appears to be missing many of Sonos's best features. For example, wouldn't it be cool if the company's Trueplay automatic room-tuning software could be used to adjust the system's frequency response depending on how many occupants were in the car, whether the windows were up or down, or how much road noise was entering the cabin? It would be, but Trueplay is absent from the features list entirely. Wouldn't it be great if you could transfer your listening session from your Q4 e-tron to your Sonos Roam speaker when you arrived at your destination? Alas, that feature is not supported. But surely, you will be able to tune into Sonos Radio HD using the Q4 e-tron's infotainment screen? Nope. It's a shame that Sonos's contribution to the Q4 e-tron's sound system doesn't appear to translate much of the company's winning user experience from the home audio environment to the automotive environment. It's possible that future software updates might expand the feature list, just as last year's S2 operating system update did for many existing Sonos products. But for now, we can only wait and see what Audi's Sonos system is like when the Q4 e-tron hits American roads later this year. How much does a car's audio system influence your purchasing decisions? Share your thoughts in the related forum thread below. 
Confused about what AV Gear to buy or how to set it up? Join our Exclusive Audioholics E-Book Membership Program!