Apple iPhone Goes 3G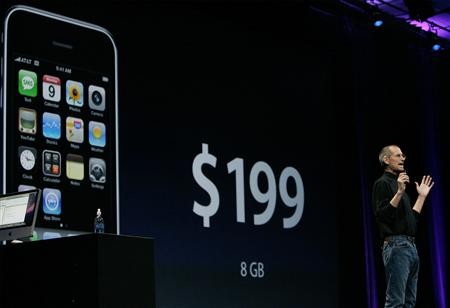 Image courtesy of Reuters
Apple had their WWDC (WorldWide Developer Conference) today and unveiled the next-gen iPhone with faster Internet access. It runs on advanced 3G wireless networks, has GPS support and the cost of entry is now just $199 for the 8GB model. This makes the entry level iPhone $100 cheaper than the equivalent 8GB iTouch.
Shares of Apple stock, which have soared since the second quarter, fell almost 4 percent - literally during the time CEO Steve Jobs monologued about the new phone. We have no idea who these stock traders are, but they need to get out more.

"It's amazingly zippy," Jobs said. Er, according to reports the entire keynote bounced between mildly interesting and downright boring. The biggest news was the price break and introduction of the fast 3G tech - but aside from that not much else was on display aside from a few new application demos and Jobs touting that the iPhone has a 90% customer satisfaction rating. What's that? Fully 10% of all iPhone owners are dissatisfied??? That IS news. Actually the new iPhones do have another added benefit thanks to the new software and hardware - increased battery life. Revised battery life estimates rate the phone at 300 hours for standby, 2G talk at 10 hours, and 3G talk of 5 hours. Break that down and you also get around 5-6 hours of browsing, 7 hours of video, and 24 hours of audio. Not bad.

Apple also launched MobileMe, a new service that they dubbed "Exchange for the rest of us." MobileMe replaces .Mac and stores your data online and synchronizes all of your data. It works wirelessly and is supported by Mail, iCal, and Address Book on Mac OS X. It even syncs with Outlook on Windows. The new service offers 20GB of storage for $99 per year and has a 60-day free trial. It will launch alongside the iPhone 2.0 software in July. Current .Mac subscribers will be rolled over to MobileMe without additional fees.
The new 8GB iPhone will cost $199, compared with the $399 price of the older-generation EDGE-based phone with similar memory. A 16GB model will cost $299 and go on sale in 22 countries on July 11. They plan to eventually hit over 70 countries.

In addition to running on 3G wireless networks the new 2.0 firmware includes GPS satellite navigation capability. According to Jobs, Apple has sold 6 million iPhones and analysts say the business could eventually match the size of its Macintosh computer or iPod media player businesses.
See also:
Recent Forum Posts:
majorloser posts on June 10, 2008 09:06
Every time I see this thread title I keep thinking it's just another spam thread….
Wayde Robson posts on June 10, 2008 08:20
jvgillow, post: 421843
Say what?

Must be a 3-seater…
Did I mention it's the Batmobile ? The B-man has all the toys, but not much time for girlfriends
jvgillow posts on June 09, 2008 23:49
Wayde Robson, post: 421825
…while he's sitting in the back seat with your girlfriend.
Say what?
Must be a 3-seater…
Wayde Robson posts on June 09, 2008 22:55
Apple still hasn't stiffled my dour complaints.

I have to hand it to Apple. The $199-$299 price point wasn't expected, of course it's price is subsidized by AT&T with a two-year plan.

Apple had to take one on the chin from AT&T to get the low price because AT&T relinquishes kick backs to Apple for data usage. Lack of a $599 price tag for iPhone 3G gives me one less thing to complain about.

But it would be nice if Apple would learn what MMS is all about. I can't think of a cell phone that doesn't have Multi-media messaging capability. If I had an iPhone I couldn't text someone who had a phone with MMS only.

No video recording, still no copy/paste … it's JUST copy/paste It calls itself a mobile computer ? Couldn't Windows 1.0 copy and paste?

But worst of all… still no bluetooth stereo. Streaming music wirelessly from iPhone would be really, really cool. I wonder if all those companies that invested in iPod ports have something to do with the stereo-bluetooth lockdown at Apple? I smell a conspiracy!

Newer Alpine head units can do Bluetooth stereo - works great with 99% of the media-Smartphones out there…now you can wirelessly stream media from buddies HTC Touch while he's sitting in the back seat with your girlfriend. Oh, that same head unit also has iPod compatibility for your iPhone.

What isn't included in the product marketing blurb is that iPod compatibility requires a pricey add-on box you'd install inside your dash. Now your iPod or iPhone can connect via a cable… A CABLE! that is just soooo 2004.

I smell a conspiracy to keep stuff from being too cool!
Post Reply