3 New iPhone Features We Want to See
3 New iPhone Features We Want to See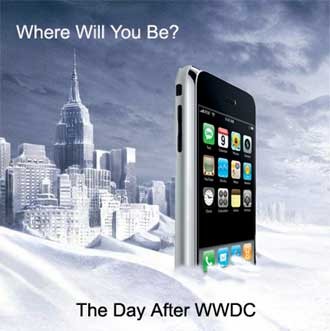 It's only four days and a wake up before Steve Jobs gives his address at Apple's Worldwide Developers Conference. It's widely expected we'll hear all the hub-bub about the new version of iPhone they're already calling iPhone 3G. But while the blood of the Apple faithful runs hot this time of year, it leaves many of us in the cold. Here are three features we'd like to see included in the new iPhone but probably won't.
1/ User Battery Replacement: Sure, by keeping the customer's hands off the batteries iPhone comes up with an ultra-thin design at only 11.6mm thick. But somehow HTC's Touch Diamond is able to come up with an 11.35mm thickness with a user replaceable battery. It's evident that Apple uses the battery as means of keeping a short leash on users. If your battery runs out on the current iPhone you'll have to send it back to the manufacturer for an expensive and hassle-ridden battery replacement experience.
2/ SD Memory Card: Sony is known for the same closed nature as Apple when it comes to a variety of aspects of their consumer electronics product line, notably memory. The rest of the world uses SD Memory because it's popular, cheap and widely available. But Sony devices prefer its proprietary Memory Stick format. Sony and its darned formats aren't limited to the Home Theater market.
But at least Memory Stick can be upgraded and replaced by the user. Apple on the other hand has built a pricing hierarchy around built-in storage capacity that users cannot upgrade at any time. A simple SD Memory slot on the new iPhone would be a convenience even the most banal cell-phones offer, but not iPhone.
3/ Bluetooth Stereo: Whether you love or hate the current state of music mobility, the era of a library in the palm of your hand is here to stay. To answer that call Apple is surprisingly deft at providing decent electronics to get the job of sound reproduction done. For the iPhone, as well as many of its iPod MP3 players, Apple has wisely chosen the Wolfson WM8758 DAC to decode your digital tracks. It does a better job than many run-of-the-mill CD and DVD players.
Bluetooth has been primarily aimed at the business crowd. The lightweight, voice activated earpiece is quickly turning the suit and tie executive into a kind of briefcase toting cyborg. But despite the power of hands-free he'll still cut you off at the intersection in his shiny new sports-car. But Bluetooth isn't just for him, it can also be used to power up stereo headphones.
Bluetooth stereo headphones are great for the other crowd, you know – the students who ride the bus carrying books and need to fish for that pass at every stop. Being able to pause, skip, play through your headphones with no wires is a great boon for joggers - but not with an iPhone.
Apple decided that iPhone's Bluetooth wasn't for students or joggers but rather for the power-lunch crowd. If that were the case you'd think Apple would have released iPhone with a Software Development Kit so Mr. Corporate could sync with Exchange. But stereo through Bluetooth is a no-go on iPhone - it outputs Bluetooth in mono only.
Of the three it's possible we'll see the last one granted in iPhone II. But the first two wishes for iPhone are what makes Apple a divisive organization. Either you love their products or see them merely as amusing toys, hardly worth spending the money asked to obtain.
Confused about what AV Gear to buy or how to set it up? Join our Exclusive Audioholics E-Book Membership Program!
See also:
Recent Forum Posts: