1 Million Xbox360 Netflix Users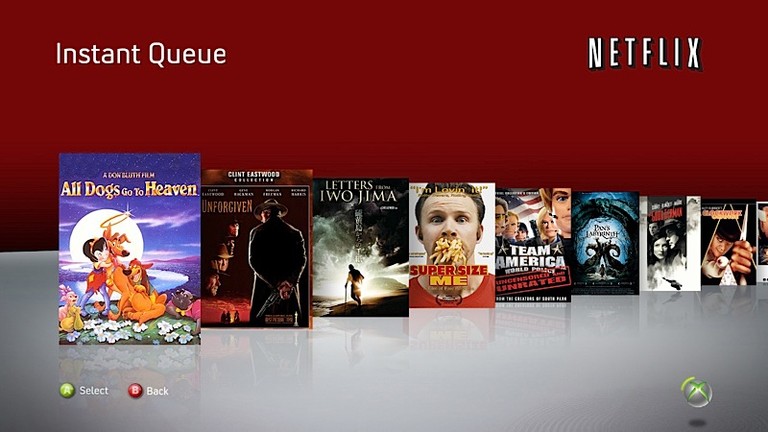 Xbox360 and Netflix seems to be a good fit
REDMOND, Wash., and LOS GATOS, Calif. - Feb. 5, 2009 - Microsoft Corp. (Nasdaq: "MSFT") and Netflix Inc. (Nasdaq: "NFLX") today announced that 1 million Xbox LIVE Gold members have downloaded and activated the groundbreaking Xbox LIVE application from Netflix since the alliance launched last November. In less than three months the Xbox LIVE community has watched instantly 1.5 billion minutes of movies and TV episodes.
The Netflix application offers Xbox LIVE Gold members the ability to instantly watch movies and TV episodes from Netflix on a television via the Xbox 360 video game and entertainment system. Xbox 360 is the only gaming and entertainment console that lets viewers instantly watch movies and TV episodes streamed from Netflix. Xbox LIVE Gold members who are also Netflix unlimited members can instantly watch movies and TV episodes streamed instantly from Netflix on Xbox LIVE for no additional fee.
"Adding Netflix to our ever-growing library of 30,000 movies and TV shows makes Xbox 360 the best value in home entertainment," said John Schappert, corporate vice president of Interactive Entertainment, LIVE, Software and Services Business at Microsoft. "With over 1 million activations and 1.5 billion minutes watched to date, Netflix is a great win for Xbox living rooms nationwide. These families are getting more entertainment from Xbox 360 than from any other device connected to their TVs."
"Netflix continues to provide its 9.4 million subscribers unprecedented convenience, selection and value," said Netflix Chief Marketing Officer Leslie Kilgore. "With more than 100,000 titles on DVD and 12,000 movies and TV episodes available to watch instantly, there's no better way to enjoy movies than Netflix. As these strong results on Xbox demonstrate, Xbox LIVE is a terrific way for Netflix members to enjoy watching movies instantly on their TVs."
In addition to Netflix in the United States, Xbox LIVE Video Marketplace offers over 17,000 pieces of standard and high-definition (HD) content to the Xbox LIVE community. From December 2008 to January 2009, Xbox LIVE Video Marketplace downloads have grown 174 percent year over year.
More than 12,000 movies and TV episodes are currently available to watch instantly from Netflix, with more on the way. A growing percentage of choices that are available to watch instantly are also available in HD.
The library of movies and TV episodes available to watch instantly from Netflix via Xbox 360 includes scores of Academy Award winners and nominees; a number of popular, currently running and classic TV episodes; more than 20 of the movies rated by the American Film Institute among the greatest ever; and access to the Starz Play service.

bigcizzle90 posts on May 01, 2009 11:44
I have heard a lot of the content is kinda choppy though…but its a great idea if they can fix that
domdom posts on April 23, 2009 06:07
If it isn't WoW it doesn't count
vizionut posts on April 08, 2009 19:18
Midcow2, post: 519358
My son is doing it and likes it very well upstairs in his media/game room

Call me old-fashioned but i like the physical DVD or BD through my den HT system

Thanks!

MidCow2

Step1 : Tomorrow the Salamander Hampton 339 is being delivered

Step 2 : recable/reinstall HT equipment with new locking Banana plugs
add APC H-15

Step 3 : Bonus … end of February

Step 4 : Purchase and add Pioneer PRO-151FD

Step 5 ; clean-up den for picture taking, take pictures, post on the best Aduio Video forum ever :

Audioholics
just call me old!!!! I myself would like to have the dvd myself!! how are those banana clips??
Tom Andry posts on April 08, 2009 18:23
With SD I've had almost no problems, with HD I've run into a few stutters here and there. Weekend nights are the worst as there have been times I couldn't even log on. Sucked.
Audioholics posts on April 08, 2009 12:18
1-2 minutes tops. I don't like to jump around as it has to re-acquire, but once it starts it stays on.
Post Reply