Rethinking Specialty AV Retail: Getting Out Of The Box and The Store
Rethinking Specialty AV Retail: Getting Out Of The Box and The Store
by
Jerry Del Colliano
—
October 10, 2021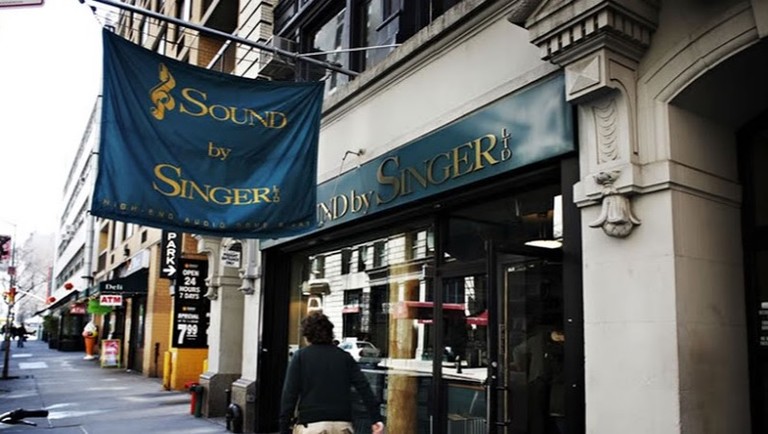 Sound by Singer
For decades, specialty audio/video retail has been on a decline, but that hasn't changed the historical significance of the types of business, demos and just overall ogling that goes on in stereo stores. These holy places of audiophilia are often as much labors of love as they are centers of profit. And sadly, in increasing numbers, they are going away. In Manhattan, the expense of ground-floor retail space is so high that many of the best audiophile retailers in the Big Apple have been forced to move to higher, non-ground-floor locations, as well as adapt to an "appointment only" model. This compounded phenomenon virtually takes the "walk-in" factor out of the sales equation, thus leaving the retailers to sell to people who pretty much already know what they want to purchase, and we all know how unscrupulous audiophiles can be when it comes to actually buying gear. In way too many cases, audiophiles have proven that they aren't exactly loyal to their local dealers, as proven by them traveling (or even just calling) to another state to save 10 percent in tax, or buying a "used unit" (that perhaps isn't that used) on Audiogon.com or eBay.com, which helps promote the business/hobby in no meaningful way.
Perhaps it is time to fully rethink what a specialty AV store is?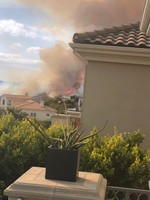 The first issue that comes to mind is that the hobby was built, grew, and now is dying with the Baby Boomer generation. How many more $20,000 preamps can you sell a 74-year-old client going forward? Not very many. The hobby needs new blood, and badly. They are out there, too, but they just might not be opening the doors of the traditional stereo store. People with money still buy luxury goods, but do they know that they need $40,000 in stereo gear, or is that Sonos system that they actually did see advertised on the Super Bowl "good enough"? Most just pick the Sonos system and never think about it again. Dealers make Jack-Squat in profit on such a transaction, and the bleeding edge of audio gets a little duller. Don't get me wrong: Sonos is very cool, but it isn't pushing the limits of music reproduction, which is the stated goal of the hobby.
A few months back, my family was enthusiastically encouraged to evacuate our home here in Los Angeles, thanks to a second fire started by a recently released convicted arsonist being released (early, I believe) from prison. He came to our neighborhood and started one fire, which the Los Angeles Fire Department put out in a hurry. He hid in the brush overnight until he started another, bigger fire that is still burning more than a week later. The inspiration to leave was when all of our iPhones rang loudly with a caustic Amber Alert suggesting that perhaps it was time to go. Not everybody left, but we did. My mother-in-law and son went to Orange County to stay with Uncle Joe, while my wife and I went to The Ritz Carlton in Marina Del Rey to use the last of my formerly 1,000,000 stash of Marriott points.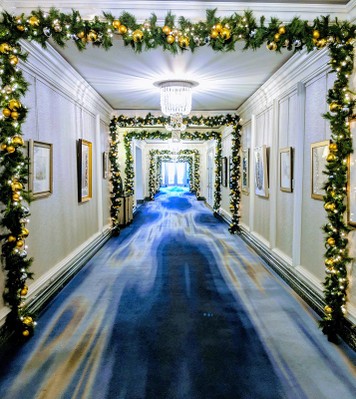 While at the Ritz (which was amazingly only 10,000 points per night less than the Marriott down the street), I noted that there was art for sale all over the hallway. Picassos, Miró's, Warhols. Very 20th Century, very mainstream, very well-known stuff. They had a virtual tour that you could do for a more COVID-friendly experience, as if you were in a museum. Unlike in a museum, these (pretty overpriced) objects of of art were actually for sale. Think about how smart this model is. How many rich people have been to an art gallery since COVID started over a year ago? Not many. But people are now packing California high-end resorts with pent-up demand and clearly lots of money to spend. Why not sell them a Picasso print for $12,000? Or a custom skateboard from Venice Beach? Or perhaps an audiophile system? How hard would it be to rent some space in the lobby area, so that you could play music for people on a real AV system? Would the Ritz do a revenue share? You could always ask them. Even if you had to pay for some space – look at the demographic. These people have money and are willing to spend it. They likely wouldn't go for that messy "cables everywhere look" that you see at audiophile shows, but a slick, elegant AV system running music from an iPad using a cool interface, or even spinning a little bit of vinyl, could be a conversation starter. And again, how many of the best stereo stores in Los Angeles (or any major city) have the kind of qualified foot traffic that the Ritz does? That would be none.
Another out-of-the-box idea that I heard of from a dealer in the South is to outfit a Mercedes Sprinter van with a full complement of audiophile gear, speakers, cables and whatnot, and actually DRIVE the components to the consumer's home. With financial prequalification, they might have two or three amps to play with, or a new DAC to AB with their current unit – all delivered to THEIR music room – not an audiophile store. I can get Nobu and Spago delivered to my front door these days, thanks to increasingly popular food delivery services. Why can't I have Krell and Wilson Audio delivered the same way? Just a thought.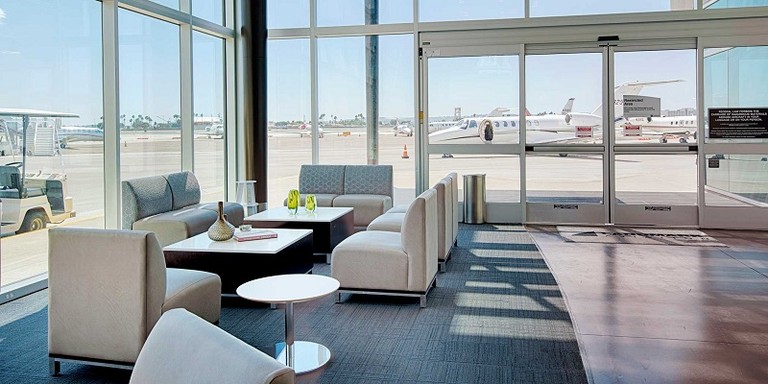 If the rent is too expensive at the Ritz, but one was looking for perhaps an even better demographic – how about setting up an audiophile system at your local FBO? What is an FBO, you ask? It stands for Fixed-Based Operator and it is basically the airport terminal for private jets. If somebody has the money (or is lucky enough to get invited to fly along) for private aviation, they can afford the audiophile hobby. The question is: do they know that they are missing out on the joy of listening to the world's greatest music at home? If you set up a display of, say, 10 to 20 of the most exotic, high-end headphones, you likely could offset your costs of being at the FBO in terms of rent. I've seen art people do this at the Van Nuys Airport's many FBOs, and the people don't even need to be there. Customers will take the art home with them on the jet if they like it. How easy was that $40,000 sale? Could you do the same with, say, some Bowers & Wilkins or Focal headphones? I could see an entire Gulfstream full of rich people buying new headphones for their trip. How many audiophile stores can pop 12 pairs of $1,000 headphones in a day? That would again be … none.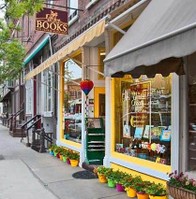 If I were an audiophile company looking to grow, I would do it the way that we always did, as distribution channels have changed massively (think: Circuit City and Twitter bankruptcies, the rise of Amazon for AV and so much more). My father and stepmother absolutely love going to this swanky resort called Twin Farms near Woodstock, Vermont. It is a step back in time, but very fancy nonetheless. Expensive is an underpowered word to describe this all-inclusive getaway. Their service is five-star and 24/7/365, as they cater to some pretty heavyweight clients looking for some peace, quiet, and tranquility. Years ago, while walking through the village in the town of Woodstock, my Dad and stepmother found an old fashioned book store called The Yankee Bookshop. It has been there for decades, but a Gen X couple, who formerly worked for the Barnes and Noble book retailer, recently bought it from the original owner. They hand-curate the book collections, which their national clientele likes. They also sell pricey but high-quality puzzles which my stepmother especially likes. Recently, they have added vinyl and some modest yet boutiquey audio gear. And why not? There are a dozen brands of small audiophile companies that I could stock this store with just off the top of my head. Headphones would be a good addition, too. Historically, people like these store owners wouldn't have been able to afford the opening order for, say, Bowers & Wilkins, or Polk, or Denon, but rules were meant for breaking. Imagine what 100 of these new, offbeat, small distribution points would mean for the future of the audio business? Think about how many of us started in the hobby with a NAD component, or saw that first McIntosh amp at the PX before leaving for Vietnam. Decades later, we've owned it all and loved every step of the way. This new way of looking at selling audio in new places could be a 2.0 version of that success story.
Is a Lack of Awareness The Problem with Specialty AV?

The problem that the business/hobby of audiophilia has isn't really a lack of demand – it is a lack of awareness of the category. The issue is that the Powers That Be (specifically the Elders from the print magazines) promote the way it always has been, with little regard to the way things are today. Right now, if we are honest with each other, even modest AV gear is stunningly high-performance and remarkably affordable. Look at what a $2,000 pair of speakers look like and sound like in today's marketplace. It is simply incredible. Any of us can easily buy a gleamingly awesome, 85-inch 4K UHD-TV with a mount, cables, tax and installation, and have basically a video wall at home for about $2,000. That's crazy. Seven years ago, a non-HDR, thicker version of the same-sized set was $10,000.
People, especially Millennials, love music more than ever before, and in very large demographic volumes. How we reach them with our technologically extreme hobby is the question. I can assure you that they don't read print magazines. They also aren't very likely to randomly walk into a traditional retail AV shop. We have to work harder to find the right clients.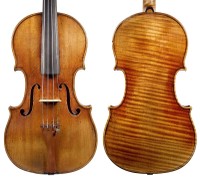 My mentor, Mark Levinson, was one of the best audio salesmen ever who, back when I worked with him in the mid-1990s, used very creative ways to make massive audiophile sales. For example, he would see in the New York Times that Mrs. So-and-So, who lives in a penthouse overlooking Park Avenue West, just bought an ultra-rare Stravari violin that she's gifting to some superstar student at Juilliard. Mark, though his network of contacts and creativity, would find a way to reach her with a private invite to have the benefactor, the performer, and a few of the benefactor's friends over to his Upper East Side audio salon. He would (close mic, so it would sound really impressive) record the young woman playing, and then play back the two-mic recording in 24-bit (rare in that era) reel to reel on the Cello Reference System in a room with incredible room treatments, studio doors, and ultra-expensive windows that block out the sound of Manhattan. And you know what happened next, all the way back in the mid-1990s? The benefactor might just pop for $1,000,000 in audio. Full retail. Boom. Nobody else was at this level then (or perhaps even now), but they could be. Mark also had a little outpost three hours away that was what we would call a "pop-up store" in the toney beach community of East Hampton. Why? Because rich New Yorkers summer in the Hamptons, and this is the epicenter of where people come to eat, shop and just stroll around. Why not pop in and listen to music at a little boutique, right?
Reinventing the way high-performance audio is sold isn't impossible, unless you adhere to the poisonous thought that things shall never change and you fight all new technology. One of the most successful women in the audiophile business, who was arguably my best client for over 20 years, came to me and said basically just that once. Stop that and do things "the way they always have been." We amicably agreed to part ways after doing quite a bit of business over 20-plus years. A retailer friend of mine closed down a 10,000 square-foot audiophile salon with a very right history to open a 2,500-square-foot hybrid retail location that was as good at selling Crestron, Control4, and Savant as it was B&W 800 Diamond speakers, Transparent Cable and Audio Research electronics. He was doing both. One of the most well-thought-of speaker companies in the audiophile business, without notice, cut him off as a dealer. They didn't have a backup plan. They just reacted out of fear of things new. This is the audiophile plague. But it can be beaten by people who love and live music, audio, and technology. It just takes some creativity, and the future can be a much brighter place for audiophilia.
Confused about what AV Gear to buy or how to set it up? Join our Exclusive Audioholics E-Book Membership Program!