Today's Home Theater Stores Are Missing Out On The Gaming Boom
Today's Home Theater Stores Are Missing Out On The Gaming Boom
by
Jerry Del Colliano
—
July 02, 2021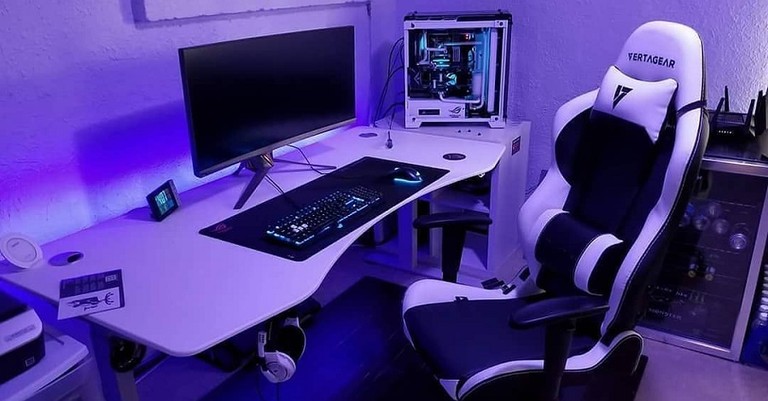 Gaminng Setup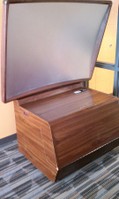 When was the last time you walked into a traditional "stereo store" and saw them embracing video gaming? When I was 10 years old, my father took me to the local Echelon Mall in Voorhees, New Jersey (not far from where my beloved Philadelphia Flyers practice still to this day), where he went crazy in a store called Video Concepts. That day, he bought a front-folding projection TV, a $2,000 first-generation VCR that was built like a tank, a few $300 VHS movies (yes, they cost that much back then) that were mainly for retail, but the true gem of that day back in the early 1980s was the acquisition of an Intellivision game system complete with some of rudimentary games like Hockey, Baseball, Soccer and others. I don't know if I can remember what that level of simplistic joy feels like today. In the past, I wrote about me, later in life, buying literally every Intellivision game from an early eBay.com and bringing it back to my West Hollywood condo, plugging it into my Faroudja LD-100 "line doubler" that fed my pathetically dim Sony seven-inch CRT projector, and having my childhood memories smashed. Sadly, Intellivision games, such as Micro Surgeon, didn't hold up well over time. What has done better than anyone could have ever predicted was the video game industry.
While the economy is fraught with problems having to do with COVID-19, where I live in West Los Angeles is going through a boom, powered in big part by the "Silicon Beach" tech-entertainment sector. Streaming is a big part of the boom from the likes of my wife's former employer, Amazon Studios, or companies like Netflix, Disney (+), Hulu, and others, but to discount the "en fuego" video game business is to miss the real engine behind the boom. Riot Games, Activision, and EA Sports are only the start to the major campuses in Santa Monica, Playa Del Rey, and West Los Angeles that are powering this economic boom. For players of all ages, video games can be as hot a commodity right now as a Moderna or Pfizer vaccine in your arm.
Global revenues from the video game business is expected to be up 20 percent by the end of 2020 to nearly $180,000,000,000. Say that out loud… "one hundred eighty BILLION dollars," and try to not sound like Austin Powers. I am personally a Pokémon Go addict, having reached not just the magic Level 40 but making it past that towards the seemingly impossible goal of Level 50 (I am at Level 41 as I type). Niantic, the company behind Pokémon Go (a game that pivoted brilliantly from a walking-and-interacting-with-people app to one more mindful of COVID) did over $1,000,000,000 one one game in one year (2020). Niantic is over $4,000,000,000 in total lifetime sales. That's just one game. E-sports like Riot Games' League of Legends often trend three to four times harder on Twitter than, say, the National Football League on Super Bowl weekend. Fortnite, while having blown their gameplay by adding a "random element," was a worldwide sensation for a few years. Counter Strike: GO, League, and others make up actual team sports that people like Michael Jordan (NBA GOAT, NBA team owner, NASCAR owner, golf course developer, major Nike share holder) are investing eight figures into. Good luck, even after Christmas, finding a Sony Playstation 5 for your kid, as they are beyond Cabbage Patch Kids-popular months after the holidays. Video games of all sorts, be it on a gaming PC, on a game console, phone apps like Pokémon Go, and beyond are simply huge business.
What does this mean to the specialty AV business? It means a whole lot. While the COVID-19 global, viral pandemic has made home entertainment more and more relevant over the past year, video games at one level or another represent a whole new demographic for specialty, performance-based audio/video. What is so important about this market is that buyers are very tech-savvy, and they are willing to pay for the nth degree of performance, like audiophiles were in their heyday. One of the main reasons that I sold my industry-leading home theater magazine in December 2019 was because, in general, the products had become too good, but then again too cheap. Do you need the fastest refresh rate OLED TV for $8,000, when you can get a bigger, thinner, brighter 85-inch 4K UHD television set for $1,600? You do, if you are a gamer.
If I was consulting a traditional stereo store or chain today, I would have them reworking their showrooms to fully and enthusiastically embrace gaming at a number of levels, because there will be a time when customers come back through the doors, and we would want to be ready for them.
My advice for Specialty AV Retailers Regarding Gaming Would Be:
• Install game consoles like Sony Playstation 5 and Microsoft Xbox to match with the likes of a DirecTV receiver, a Roku, and/or an Apple TV.
• Open a line of vintage video game consoles from the arcade era. I would buy a Pole Position machine for $795 for its pure kitsch factor. Put Pac Man on that list, too, and I might buy that. Restored pinball machines could also go on this list, as they sell for more than $5,000, depending on the machine. Top AV dealers should sell fun and entertainment, more than just pure technology.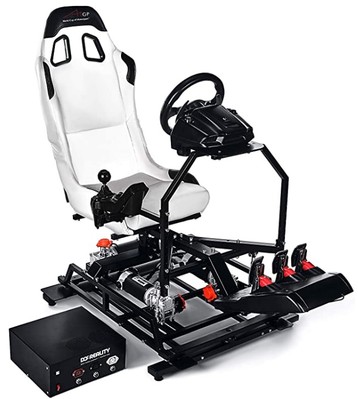 • Open a line to sell race car simulators and have an active system in your showroom. I've tried these multi-monitor rigs. They are incredible, and can cost anywhere from around $1,000 to upwards of $30,000, depending on complexities. These simulators have tactile race elements, realistic race seats, removable F1 (or like NASCAR) steering wheels, and so much more. I wanted to take one of these home right off the floor of CES. I've sold my fair share of expensive preamps, but this would be an even easier sale.
• While not a traditional game, but bringing the whole family together around a game room, more than a traditional theater room – how about install a high-end karaoke system? A custom installer friend of mine sold (ironically, to one of the biggest names in the video game business) his second $25,000 karaoke machine, complete with all of the best songs and accompaniments loaded and ready to go. Again, selling fun and entertainment is going to transform the overall AV experience past just watching movies, which today's youth can do with an iPad and some earbuds, while thinking that the experience is "just fine."
• Research what makes up a true gaming PC rig including but not limited to a fast-refresh monitor (or two), an ultra-fast computer, a gaming mouse, a specific gaming chair, and a standing desk designed for gaming over long periods of time. Kids are getting actual degrees in e-sports. This isn't a trend. It is a multi-billion-dollar industry, and the AV dealers should have this level of ultra-high-performance gaming on display, along with movies and music.
There is no stopping the video game industry at this point. Kids are raised on games. Older Gen Xers like me are also fond of gaming at some level or other, be it vintage games, mobile games, or today's most cutting-edge titles. The main issue facing the specialty AV industry is that movies and music have become fully ubiquitous. The gear needed to play them back effectively isn't as expensive (or profitable) at it once was a decade or two ago. New companies have such high barriers to entry in the high-end, non-audiophile market that there just aren't many new players in the space. Gaming doesn't have this problem. The audiophile hobby was created by Baby Boomers, and continues to cater to them, despite the generation's decreasing spending as they age into their 70s. It is time to cater to a new audience that loves high-performance, bespoke technology, as well as high-energy entertainment that is outside the scope of a soundbar and TV from Costco, or what an iPad and a set of Beats can do. Gaming is the answer, and the timing is right now.
Confused about what AV Gear to buy or how to set it up? Join our Exclusive Audioholics E-Book Membership Program!
Recent Forum Posts:
Trell posts on July 24, 2021 14:41
allargon, post: 1495427, member: 26737
Umm.. Have you not heard of the HDMI 2.1 receiver fiasco?

Sent using Tapatalk

You mean the HDMI 2.1 fiasco like all the previous fiascos?
Excreted using Buttatalk
Cos posts on July 24, 2021 09:42
Late to this post, but Interesting read of 12 pages. I am in the mindset that HT should 100% embrace the Gaming Industry for a variety of reasons.
@
Auditor55
IMO comparison of LG OLED vs Sony OLED is a weak example of milenials etc choosing inferior product because of gaming

The LG TV is reccommended for gamers because of faster response times, VRR features that work and ready to go. The TVs are so close in picture quality.

Both TVs use the same OLED LG Pannels, the only separation is color reproduction and image processing, which sony gets the SLIGHT nod.

LG is reccommended for gamers because Sony has yet to update most of the TV firmware to support VRR, and given the fact LG has embraced gammers with additional picture settings, they are winning the sales battle. The Sony A90J is not worth 1.5K more for a slight improvment in picutre quality vs C1

New TV innovations helps drive TV sales, HDMI 2.1, VRR newer features, help bring consumers to buy new product. I have an A8G, if not for newer features and larger screen size, I probably wouldn't have updated to a A80J OLED 77in. I agree with you Sony picuture quality is slightly better, but not by a huge margin.

I remember your earlier posts about Dolby Atmos not surviving and its not supported by the major streaming servcies. Fast Forward now, and pretty much every major streaming service supports Atmos.

I agree it's not easy for a majority of people to implement ATMOS at home, I speak from expereince, even with a new home build. What can not be denied is that people are buying equipment for it, and gaming is 100% having an impact of the sales of Atmos because both new consoles make it a point to support it.

A vast majority of the AAA games coming out will have support for it, so gamers want it. That drives more conent for it, and I enjoy the beneifts on my setup.

I would say streaming services are having more of a negative impact on overall quality of HT then gaming. Using compressed audio/video has esentially killed physical media or the need to have an player outside a gaming console.
Gaming benefited my desire to get better equipoemnt. In my case when I purchased a Xbox 360, I bought the HDDVD drive which lead me to buy a physical Blu-Ray player. When those players were over 1k, getting one on a console for a few hundred dollars was a bargin and influenced my decision to get something better.
Point being without rambing on more. Gaming will drive revenue for the HT market.
Companies need to make money. Yes there will always be the entry level stuff that people will buy.

It's those products that drive the majority revenue for these companies.

Without that revenue, they can't invest in R&D, make improvments and offer a premium end line.

Gamers probaby buy more OLED TVs then HT enthusiasts at this point.

At the end of the day, some gamers may buy low end equipment, a lot, like myself (though not a huge gamer anymore) don't. Gaming will generates a signficant amount of revenue for HT companies. They need the money to survive and grow. Having a TV with slighly better picture than the previous year will not generate enough sales. The same can be said about a variety of other HT products, but you get the idea
Eppie posts on July 22, 2021 09:44
Eppie posts on July 21, 2021 11:33
panteragstk, post: 1492863, member: 61217
You'd be surprised how much your original PS3 might go for. A truly universal player for it's day.

I still rely on my PS3 for blue-ray/DVD playback, Plex and Netflix. If it had Roon support I would drop the Pi and use it for that as well. Skipped the PS4 as they were too slow releasing DLNA support. My only gripe is how slow the response is with DLNA. Browsing libraries can be painfully slow. No issues with Netflix, though, that still works great and gets updates (knock on wood). Will probably look at moving to the PS5 when I make the upgrade to 4k but for 1080p the old PS3 still does a fine job.
Trebdp83 posts on July 21, 2021 11:32
Optical means nothing if one is interested in getting lossless multichannel/atmos audio to the receiver from a console. MS and Sony both
[email protected]
#ked up. I put a bit more blame on Sony as they put two HDMI outputs on their UHD players but not the PS5. For all of their technical marvel, the XBOX and Playstation have never gotten it right when combining state of the art audio and video in a single generation. Check the specs on their consoles up to today. Anytime they managed to get one thing right, something else went very wrong. I'm not touching either of them again until each are half the size they currently are and have two HDMI outputs. So, I guess that means I'm done gaming when my XBOX 360 dies. The PS3 is already in a casket.
Post Reply