Is It Time For AV Enthusiasts To Rack Mount Their Gear?
Is It Time For AV Enthusiasts To Rack Mount Their Gear?
by
Jerry Del Colliano
—
May 06, 2021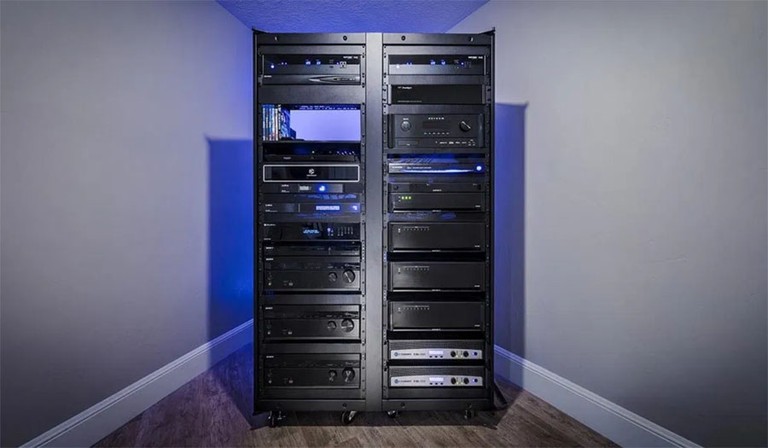 AV Racks
If a stranger walked up to your wife and told her that she had a "nice rack," you might just punch him in the face. If that same person came over to experience your home theater or audiophile system and said the same thing, you might just take it as a sincere compliment. I have never understood the part of the AV hobby that promotes having very expensive audio video systems installed in an abjectly messy fashion, as if Motley Crue had just finished an all-night recording session, and the fourth engineer (aka the kid who picks up sandwiches and the last remaining ping-pong balls at the studio) hasn't been by to clean up properly. Poorly designed and installed AV systems are simply lame. They are especially off-putting to women, who have been ignored by the consumer electronics industry for far too long. They don't add value to your home whatsoever, when with a little thought, effort and a modest investment, they could. Most importantly, poorly installed systems don't help your gear last longer or perform better, which is the stated top priority of people who play at the top of our game.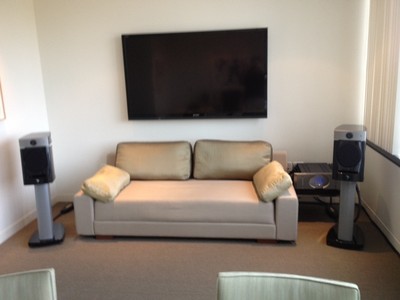 From an audio performance standpoint, having gear piled between your left and right front speakers is a great way to meaningfully malign your center imaging. Removing items like coffee tables and equipment racks from the middle of your speakers is one of acoustician Bob Hodas' best free acoustical tricks. Moving your electronics to another part of the room, or taking over a nearby closet, is a great way to not just make your system sound better, but also have it deliver better performance. Simply rack-mounting your system avoids the idea of the cleaning lady banging your Dyson vacuum off of your lust-worthy Audio Research monoblock amps, thus preserving their condition, which obviously adds to their long-term value. Installing your gear in a well-thought-out custom or store-bought rack can provide better ventilation, better cable management, better AC power options, and so much more.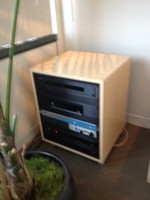 The inspiration for this article comes from finding a drawing that my architect, Bobby Rees from Rees Studios, did for a system that I built years ago for both my old office and a condo that I moved into while we looked for a bigger home. The design is simply and, in my case, easy to double in width for more home theater applications, as I had done in my rented Brentwood condo. Any suitable carpenter or cabinet maker can build such a cabinet without tremendous costs (likely $1,500 to $2,000 all-in, without the rack parts). Basically, the design is a rectangle that is vented on the bottom, with fans. You can put doors on the front of the rack with little cost. You can pick any shade or variety of wood to match your décor. I chose a maple for my office, as it matched my existing desks, and went with the beachy, Santa Monica-adjacent vibe that we had there. Inside the rack went a Middle Atlantic frame, which is standard custom AV or recording studio fare. Any suitable AV installer, retailer, and any number of places online sell not just the frame, but also the shelves, as well as a nearly endless amount of rack faceplates that match the needs of your system, be it something large like a Kaleidescape (no faceplate needed), or something small like an Apple TV, a Roku, or an Internet router. These well-engineered and affordable parts are a DYI installation and have little brackets that hold consumer-grade products inside of the rack space perfectly. What if they don't have a component faceplate that you want? They will make you one if you will be a little patient, as well as provide Middle Atlantic with the exact dimensions.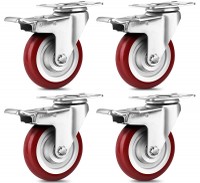 Below the rack go "hospital grade casters" that are wheels big enough to deal with the pending gross weight of the rack. These casters can (and should) be locked when in use, but come with rubber wheels, so as to not mark your hardwood or other flooring. On the back of the rack, you can install POE (Power Over Ethernet), which allows you to replace all of your AC power cords with low-cost, high-quality, short-yet-flexible options, thus reducing your cable clutter by a large margin. The rack frames have useful loops and holes designed for cable management. In the past, we have used plastic wire ties, but they tend to be messy when you need to make system changes, thus for DYI home theater and audiophiles, I would suggest an Amazon buy of Velcro wire ties, which easily tie cables down, but also easily release as needed. You could put a TV on top of such a rack, depending on your needs, but I am a believer that it is better (and safer) to mount your flat TV to your wall using a "clock outlet" which recesses the AC power outlet into the stud bay of your wall. There are some cool yet very affordable storage cabinets that you can use to run HDMI and AC power into the wall behind your TV, while also stashing small source components, like satellite receivers, tiny cable boxes, AppleTV, Amazon Fire, Roku, and whatnot, without breaking the plane of drywall behind your TV. Touching on power one more time, for well under $1,000, you can bring a meaningful UPS (uninterruptable power supply) to the bottom of your rack, thus plugging in your POE strips, which run neatly up and down the back of your rack, for 30 to 60 minutes of off-the-grid power. This helps you safely power your system down in the event of a power outage, without the "gotcha moment" when the power goes off, which can be hard on your electronics. Moreover, the quality of power from a battery backup might just please those with golden ears, as it is a little purer than the brown-out, crappy power that we get here in the big city. Lastly, if you wanted to go to the nth degree with my rack design, you could talk with your cabinet maker about getting a piece of real or synthetic stone for the top of the rack. Yes, it will add weight and cost to the rack, but manmade "stone" like Caesar Stone (or any number of other variants on the market today) is affordable, durable, and looks simply fantastic. Maybe your wife will compliment your rack – and wouldn't that be nice for a change? Could making your AV system look more like a part of a finished home than a recording studio give you a little more latitude when it comes to that next upgrade, which might push the family budget a little bit? See what I am getting at here, guys?
By no means do you have to go fully custom for a rack install, as there are countless, very well-thought-out equipment rack options, which include adjustable rack shelves, possibly custom rack shelves, ventilation, AC power options, and creative solutions for small components, plus cable management perks. $1,000-ish gets you into the game with these products. Again, I don't like installing big TVs on top of said racks, as opposed to solidly securing said 4K UHD televisions to the wall for safety issues. Nevertheless, there are some ways to secure a TV to these racks that is safer than rolling the dice. Design-wise, the options are amazing, as you can find options from extremely modern to fully traditional. They can be built by you and installed by you on a DIY basis, or can be completed by a local dealer, Task Rabbit, or someone with furniture building skills.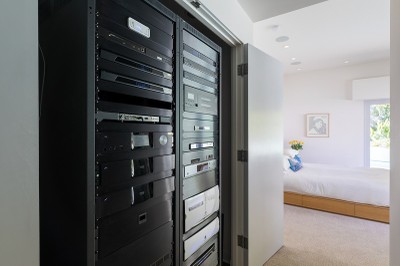 Taking Your Home Theater to Next Level of Enjoyment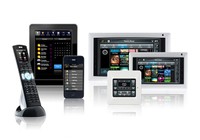 Personally, I have taken to the concept of commandeering a closet for a "mechanical room," as I have done in my last two homes. Professional rack companies like Middle Atlantic have larger format racks that will remind you more of a computer server farm than a traditional AV system, but that's what makes them look and act so fantastically. There are options like rack-mounted pull-out lights, and built-in drawers that are perfect to store your remotes. Cable management is even easier in these big racks, as you can fish in your cables from above, and neatly secure them to your rack. Power Over Ethernet is almost essential in these solutions. Getting your gear out of your room and elsewhere has many advantages, including heat, ambient sound, reflected sound, and more. This much more advanced solution does come with much more cost, as you are likely punching up much of the walls of your home, where the earlier solution doesn't need too much messy drywall patching and painting work. If you go the more complex route, you likely will want to look into some form of home automation, like a 4K Crestron DM distribution system for video, paired with RF remotes that can control everything in your theater, audio and other rooms, ranging from shades, lights, HVAC, security camera, projector screens, and, of course, your AV gear. I don't expect many enthusiast readers to jump to this level of sophistication, but I will warn you that, once you decide to make your home theater or audiophile system look as good as it sounds – you might just get hooked.
Embrace the performance improvement, elegance, and overall simplicity that comes from taking your audiophile or home theater system to the next level. The concept of a gorgeous equipment rack is perhaps the biggest point of pride for the CEDIA custom-install market, and you should have your taste of it, too. As Frank Thomas says in those Nugenix commercials that I can't seem to avoid it on TV, "… and SHE will like it, too," but I won't wink at you like he does, because that's just weird.
Confused about what AV Gear to buy or how to set it up? Join our Exclusive Audioholics E-Book Membership Program!