Skin Effect Relevance in Speaker Cables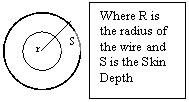 Some so called "exotic" Cable Companies enjoy spreading the fallacy that Skin Effect can cause deleterious effects on your audio performance. While Skin Effect is a real world problem in high frequency applications such as RF Power and Transmission, it is negligible at audio frequencies as I will demonstrate in this article based on fundamental engineering and scientific principles.
Skin Effect is a real problem in high frequency E&M; transmission but does it matter in speaker cables at audio frequencies? This article explores that very topic.