Ask Dr. A! Of Projectors and 1080p
Ask Dr. A! Of Projectors and 1080p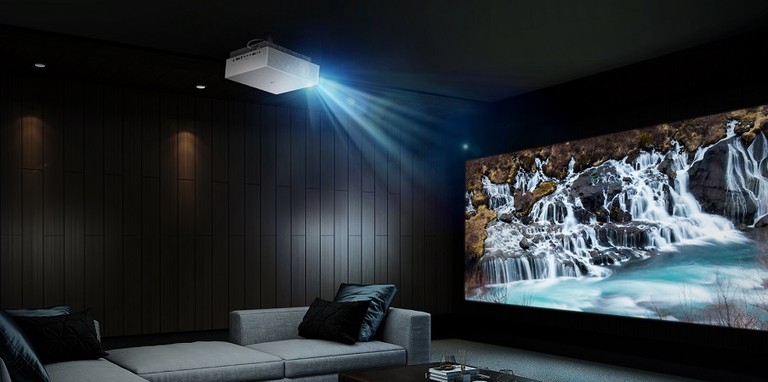 We get a lot of questions from our readers regarding building home theaters and setting up various pieces of equipment. Well, we like to answer as many of those reader questions as possible so we've hired on some help. "Dr. A" has graciously agreed to jump in and respond to various questions throughout the week - doling out his advice and making the whole process fo tweaking your home theater easier and more efficient. He loves music and movies and has tons of industry experience to share with as many readers as he can keep up with. Send your questions to Dr. A via [email protected] . Without further ado, here is this week's first question from "Chris" in Collegeville, PA:
Chris: Dear Dr. A,
I have been looking for a nice, affordable projector for some time and came across some reviews on Audioholics. The Sanyo Z4 seems like a real steal in terms of bang for the buck. With the dangling carrot of 1080P out there I am concerned that my investment in this projector may be short lived. If I did purchase a Blu-ray disc player, would the images look any better on the Sanyo versus an upscaling player like the Denon 2910? I know the sound would improve but what about the image?
I'm thinking that the Bluray would have to down convert the signal in order to be displayed on the native 720P of the Sanyo. My fear is if I get this projector it won't be giving me all that I would paid for in the Bluray... I was thinking maybe the Denon would be a great match with this projector... I just don't want to have to upgrade in a short period of time.
A few more details that may help you help me... This is my first front projector. I currently have a 53-inch Sony rear projection TV which is about 6 years old. So I have never watched HD anything in my home. Heck, I haven't even watched anything in progressive scan either. My Finished basement is 3700 cubic feet which is open to the stairway coming down from the first floor. I can control the light pretty well with shades. I currently sit about 17 feet from my TV which can be moved an additional 2 to 3 feet back. I want to do a hidden drop screen in front of the TV (I plan to use the projector for HD viewing, DVD movies and video games.) Regular TV watching will be done on the old Sony.
My budget for the projector and screen is about $4K...
Here are my formal questions:
Which DVD player would be a better match for the Sanyo (in terms of image quality)... The Denon DVD-2910 or a new Blu-ray disc player?

Which type of screen do you recommend (my room won't be 100% dark but will have very, very little ambient light.) The Stewart Studiotek 130 or Grayhawk RS? What size? I am looking for that real cinema feel... My thought is between 100 and 130 inches?

Should I just wait for the newer (budget) projector models which will accept 1080p? I know there are some out there already but they fall above the budget category (Sony's $8-$10k Ruby comes to mind).
Thanks, Dr. A - I really appreciate and look forward to your feedback.
Sincerely,
Chris in Collegeville, PA.
- - - - - - - - - - - -
Dr. A: Hi, Chris,
Thanks for the interesting and thorough question. While I may not be able to address everything on your list I can certainly toss you some helpful information. First off, if you are looking for 1080p in front projection for under $4k you will probably have to wait a bit - at least until after the next phase of announcements due at this year's CEDIA Expo in September (and possibly up to a year or so for actualy models to come out and prices to fully drop. Factor in the screen price and you're out of your budget for at least two years). That Sanyo Z4 looks awfully appealing to me.
Blu-ray Disc players, while high resolution, will not be as significant if you are sitting far enough away from the screen. What I mean is that if you are 17' back and viewing on a 110" screen, the differences between 720p and 1080p will not be as significant as you think. Try sitting around 12' away and now you have a compelling case for holding out... So enjoy the distance your room gives you and bask in the freedom of not necessarily having to extend your budget for 1080p just yet. Well-mastered DVDs stil look pretty darn good.
With digital projectors and some light control I would still recommend a gray screen with an LCD projector. Da-Lite and Stewart both make some excellent drop down screens with high contrast options. Electric is very nice and tensioned is a step above that. Both will cost you quite a bit, but if you stick to a 720p projector (perhaps even "last year's model") you can possibly get away with leaving yourself $2k in the budget for a good screen (shop around). Another thing to consider is having an installer put in your screen. You may be able to still get a decent price and also have someone involved to handle any potential warranty issues and guarantee a good install.
An additional note is that projectors that accept 1080p and downconvert to 720p will not look any better (on average) than a solid 720p projector taking a downconverted signal form a 1080p source (Like a BD player). What this means is that you can still buy the BD player if you really want to be an early adopter, even though you'll be sending 720p or 1080i out of the unit to a 720p projector.
I hope this helps - have fun and enjoy!
Confused about what AV Gear to buy or how to set it up? Join our Exclusive Audioholics E-Book Membership Program!