Pioneer VSX-94TXH First Impressions & Build Quality
Pioneer VSX-94TXH First Impressions & Build Quality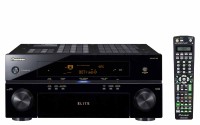 Pioneer's flagship AV receiver (we're not counting the delayed-but-impending SC-09TX which debuted at the 2007 CEDIA) is simply beautiful. The receiver has a piano gloss finish and, unlike the competition, places the annoying requisite technology logos across the top edge of the receiver instead of the front panel. This leaves the receiver clean and beautiful - definitely a visual step-up from other designs we've seen. Like most receivers, the input selection knob is on the left and the heavily-weighted master volume is located on the right. The detents on the input selector are solid and I really liked the way both knobs felt when turned. The Master Volume only increases in 1dB increments, however I don't see this as an issue for most users. With the front panel door closed, there are only six buttons present in addition to the Standby/on function. There is no hard Power Off switch on the Pioneer; you'd need to unplug it to take it out of Standby mode.
The clean front panel opens smoothly to grant users access to various features such as the Video/Game 2 input and menu controls. You can also control some tuner functions, connect headphones and a USB storage device, and of course the MCACC microphone. Multi-Zones can be activated and deactivated here and you can control the Signal type for each input (important for insuring you route the correct audio to the selected source.)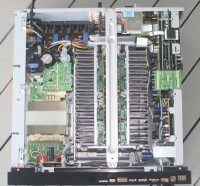 Cracking open Pioneer's flagship receiver I immediately noticed the gigantic EI Core transformer that dominated the side of the unit, joined by a couple of 15,000 uF capacitors. The power supply is clearly large enough to drive the amplifier section of the receiver to its rated specifications. Once I made it past the robust power supply, I couldn't help but be drawn to the two rather cheap-looking and thin aluminum heatsinks that ran down the center of the receiver. While it appeared to do the job, it certainly didn't look like something I expected to see on a flagship product. Typically, you will see a thicker aluminum heatsink like that which I just witnessed on another manufacturer's receiver I reviewed this past week which costs about $400 less than the VSX-94TXH. This isn't a big deal, but flagship products like this command a particular aesthetic from users that needs to be met.
Confused about what AV Gear to buy or how to set it up? Join our Exclusive Audioholics E-Book Membership Program!
See also:
Recent Forum Posts:
TheFactor posts on May 08, 2008 02:56
Wow thats a bummer, I think my surge protector has a in and out for cable and figured I didnt need it and was afraid it might effect the picture but after what you said I might be looking a little closer at that. I think the warranty might be a good idea after all.
Thunder18 posts on May 07, 2008 23:40
No problem. Great feedback on the receiver by the way.
In my experience i've always bought the warranty and the only time I used it is when my receiver was electrocuted. The warranty covered that replacement and several other warranties covered my TV, PS2 and powered subwoofer that all received the power surge from the receiver. (Surge came over the cable line, traveled to my receiver via the s-video cable which subsequently sent it to all my other equipment) The only item that didn't have a powered subwoofer and Circuit city fixed it for a nominal charge. This is all because I didn't have a surge protector that protected the 2 coax inputs going to my cable box.
TheFactor posts on May 07, 2008 22:45
Thanks again Thunder18 For posting that link review for me on my original thread and your input had a lot to do with my Decision and I couldnt be happier. Thanks again
TheFactor posts on May 07, 2008 22:37
Now I just have to decide if I want to spend another 149 dollars for a four year if they cant fix it they'll replace it warranty. Im a little gun shy sorta speak from previous receivers so I might get it just for a peice of mind .
TheFactor posts on May 07, 2008 22:31
Thunder18, post: 410217
Congrats. Did the audioholics review sway you any? I really like that receiver, but I just can't seem to stand the remote ;-p
Ah well, from the looks of the other post, it looks like you're happy with it. Good luck with this one. I've had 4 Pioneer receivers and none of them have ever had a lick of trouble save the one that was electrocuted.
Thanks and actually the review made me lean towards it more, I like the power it has and how cool it runs. I put it and my paradigms threw some tests for sure by that I mean listening to it louder than I normally would, im in a house so I can crank it up when im in the mood and probably dont tick off to many of my neighbors lol im pretty considerate though after 10 but anyway my point is after a 2 hour movie with the volume loud enough to were I was reaching for the remote so I wouldnt go deaf and the 94 was just warm. All my other receivers were pretty hot by then especially above the receiver on the audio rack was toasty hot with others but not the 94 it was just warm. Im very impressed with the sound quality and picture to. I think what sold me on the review was the statement at the end " if you want a powerhouse look no further " I think with out going seperates this reciever should should keep me happy for a long time and it makes me even happier to know your pioneers have been good to ya actually im getting use to the remote its not that bad and im learning were all the important buttons are on it like for quick access for speaker level ect, thx, adv surround and so on can easliy be navigated in the dark movie mode now : ).
Post Reply