T.H.E. Show Part 2: Von Gaylord Audio, Evolution Acoustics, and RSL
T.H.E. Show Part 2: Von Gaylord Audio, Evolution Acoustics, and RSL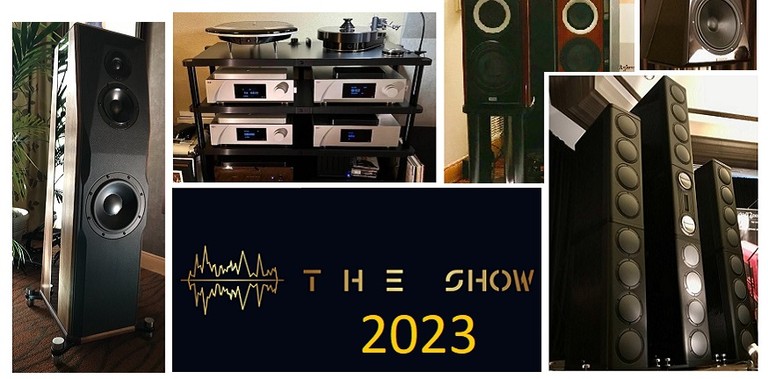 T.H.E. Show 2023
My friend Aaron is not an audiophile and had never been to an audio show before he tagged along to T.H.E. Show 2023 with me. We've been friends since we were 3 years old, and it was a fun opportunity to hang out and introduce him to the (sometimes bizarre) world of high-end audio. Since he doesn't know his TAD from his NAD, I enjoyed seeing how he responded to the different rooms with no preconceived notions about what he'd be hearing. Of course, most audiophiles went into the show already knowing which brands are famous, and which gear is super expensive. So it was interesting to me that Aaron's favorite room at the show wasn't from a well-known brand, and that the gear we heard was considerably less expensive than most of the stuff at the show. That room belonged to Von Gaylord Audio, a relatively small boutique manufacturer of speakers and electronics from California, started by Von Gaylord and Ray Leung back in 1994.
Von Gaylord Audio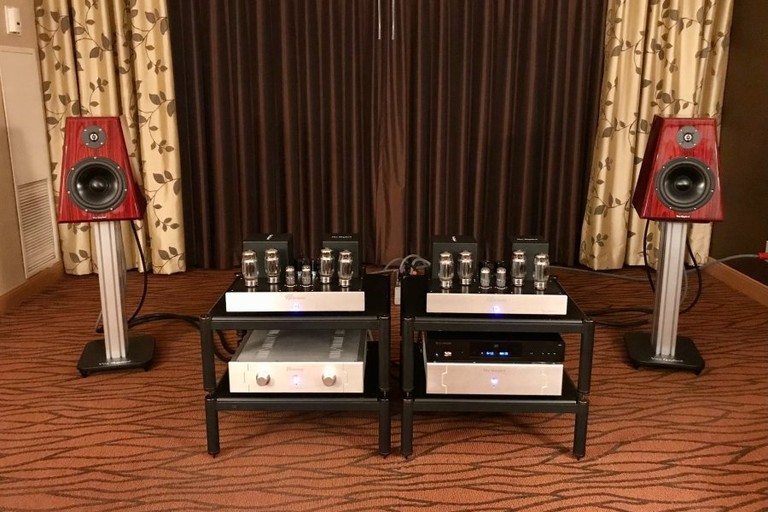 I had seen Von Gaylord Audio in passing at a few other shows over the years, but didn't really know what to expect when Aaron and I entered the room and saw some attractive tube amps powering a pair of stand-mounted speakers with an interesting trapezoidal silhouette and a mahogany high-gloss finish. I later learned that the speakers were Von Gaylord's VG-18 ($6,900/pair), and that the electronics included the company's Sweet-preamp/DA ($4,500) being used as a DAC, the Harmony preamp ($5,000), and the Nirvana Signature Mono Amps ($10,500/pair) running Tungsol KT120 tubes. The system delivered crystalline clarity on "The Tennessee Waltz" by the Holly Cole Trio, with the harmonica in particular sounding arrestingly present. At first I thought the system might have been exaggerating the sibilance in a way that I found disagreeable, but after hearing that same track on two other systems, I am convinced that the sibilance issues are present on the recording. Just goes to show the dangers of drawing conclusions based on unfamiliar recordings! (As a side note, I have always been a fan of "The Tennessee Waltz" in general, but don't particularly care for the Holly Cole version. Check out the album Vol. II by Watkins Family Hour to hear a version that's more to my liking.)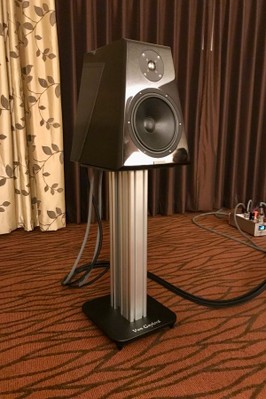 Because Aaron and I both enjoyed the Von Gaylord Audio room so much, we went back the next day and got to hear a different system based on the less expensive VG-8 MKII speakers ($2900/pair), finished in gloss black. The system also used the Sweet-preamp/DA DAC and Harmony preamp, this time with a pair of Von Gaylord's smaller, 50-watt Triode Mono Amps ($6500/pair), which use Psvane KT88 tubes. As before, a Cambridge Audio CXC CD transport ($599) was being used to play CDs. This system would win my "Best Value" award, if such a thing existed. The overall character of the sound was very similar to the more expensive system from the previous day. On selections from the 1976 album Jazz at the Pawnshop from recording engineer Gert Palmcrantz, Arne Domnérus's alto sax sounded natural, with just the right amount of reedy buzz in the transients, and Lars Erstrand's vibraphone reverberated and decayed in a way that felt right. Von Gaylord's speaker designer, Ray Leung, explained that his aim was to build stand-mount speakers that sound like small floorstanders and therefore don't require subwoofers. Leung believes that integrating subs into a two-channel system is more trouble than it's worth. Whether you agree with that or not, there was no denying that the bass guitar on "Somewhere, Somebody" by singer Jennifer Warnes sounded full and deep in a floorstander kind of way. Both the percussion and vocals had good transients, and the overall sound was easygoing and inviting. I heard this system about 24 hours after the first Von Gaylord system, with a few dozen other systems in between, so I hesitate to draw comparisons. But the less expensive system didn't seem to give up much to the first one. If pressed, I might say that the first system had slightly higher resolution overall, and the soundstage might have been a few inches bigger in every dimension. But considering the price difference, the $2,900 VG-8 MKII loudspeakers would be hard to pass up. Given how nicely they played with tube amps of modest power, I can imagine pairing them with something like PrimaLuna's EVO 100 integrated amp ($2,795) and being very happy for a very long time.
Evolution Acoustics and darTZeel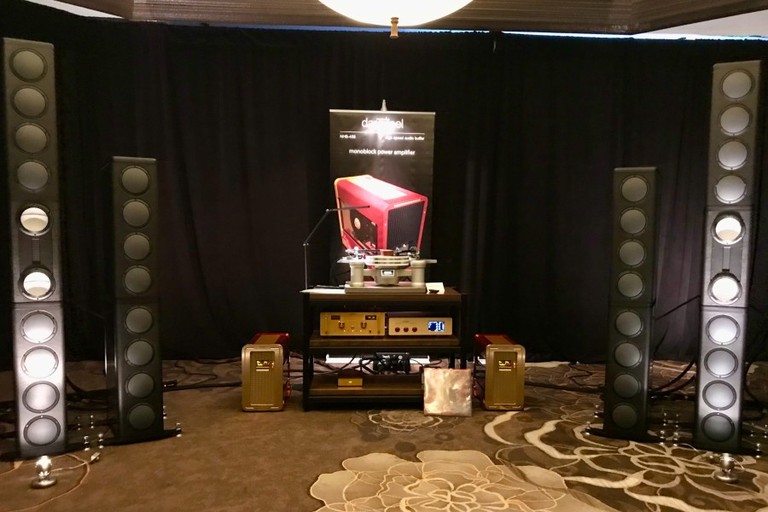 Moving on from one of the more affordable systems at the show, we come to what was probably the most expensive system I heard all weekend. The American speaker company Evolution Acoustics always makes great sound when paired with the beautiful, red and gold electronics from Switzerland's darTZeel. It's been a while, but the last few times I saw these two companies at an audio show, the speakers on demo were the small and sleek Evolution Acoustics MicroOne stand-mounts ($5,000/pair). When powered by pricey darTZeel amplification (which looks exactly like something Tony Stark might use), those little speakers sound incredible. But I don't know how they'd sound with more affordable gear, and that uncertainty was just barely enough to enable me to control myself when I learned that the MicroOne was being offered for $1999/pair, including stands and shipping, if purchased during T.H.E. Show. My wallet managed to escape unscathed, but I'm still not sure I made the right choice. I have heard many impressive demos of the MicroOne in years past, but it was only on passive display this time around. The demonstration system at T.H.E. show involved something very different, and MUCH bigger, from Evolution Acoustics.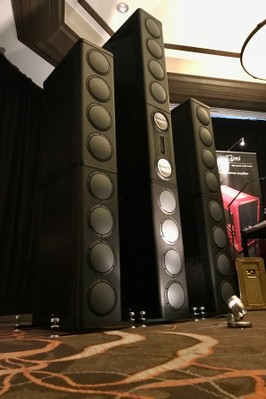 The Oregon-based company took advantage of T.H.E. Show for the world premier of its new super-high-end modular speaker system, appropriately called SYSTEM (Select Your Speaker Through Exact Modularity). I love tortured acronyms, so this stupid name did not discourage my interest any more than the astronomical prices did. Evolution Acoustics describes SYSTEM as "a statement product providing audiophiles the ability to custom tailor world class reference loudspeakers to their specific needs." Whether you have low-power single-ended triode amplifiers in a small room, or solid-state kilowatt monoblocks in a listening room the size of Versailles, Evolution Acoustics says there's a SYSTEM configuration that will work for you. There are three module types that make up the system. SYSTEM CORE ($35,000 or $38,000 each, depending on crossover) is the module housing the midrange drivers and silk diaphragm air motion transformer tweeter. These are crossed over to a bass unit using either a two-way EXACT crossover ($35,000 — best suited for low-power/tube amps) or a three-way EXACT crossover ($38,000 — best suited for high-power solid state amps like the darTZeel amps used here). There are two kinds of bass modules that can be used. The SYSTEM AMP ($22,500 each) is an active woofer module designed to be matched with the two-way EXACT crossover. It can also be used as a standalone subwoofer, providing deep bass response down to 10Hz. The SYSTEM BASS ($18,500 each) is a passive woofer module designed to be matched with the three-way EXACT crossover. Various configurations of these modules result in speaker systems of different sizes, suited to different rooms. Evolution Acoustics says that the overall sound of the various configurations will be the same, though adding the active woofer modules is recommended for truly full-range performance. The SYSTEM CONNECT ($5,000 each) provides isolation, connection, and stabilizing accessories to convert multiple individual modules into towers.
The enormous demonstration system, sponsored by the LA-based high-end audio store The Audio Association, included three SYSTEM towers per side. The center tower on each side was composed of two SYSTEM BASS modules sandwiching a SYSTEM CORE module in a D'Appolito configuration. Flanking the center tower were two bass towers, each made of two SYSTEM AMP modules stacked together. That means each side had one tweeter, two midrange drivers, and no fewer than 24 woofers, for a total cost of $360,000! And that's just for the speakers. Electronics included the darTZeel LHC-208MKII integrated amplifier ($25,500 — being used as a network player and DAC), the NHB-18NS MKII Preamp ($61,000), and the NHB-468 monoblock power amps ($245,000/pair). Although I listened to digital audio, there was also an analog rig, which included a Wave Kinetics NVS Reference direct drive turntable ($45,000), a Durand Tosca LE tonearm ($31,400), a Durand Phono Cable Level 3 ($4500), and a phono cartridge from darTZeel's new Founder Series (price not given). I couldn't escape Holly Cole at the show, but I didn't mind hearing "Train Song," with its persistent percussion patterns, on this ridiculous system. The upright bass was reproduced with incredible power and effortless depth, though it sounded a bit exaggerated down in the gut-rumbling region. Santana's "Oye Como Va" sounded huge, vibrant, and like it was recorded yesterday. There are certainly worse ways to spend a million bucks than on this massive, over-the-top audio system.
RSL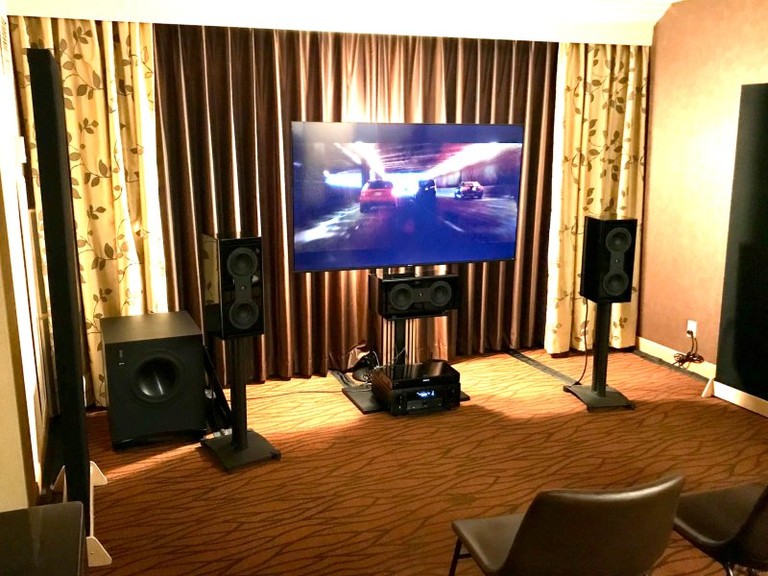 At the total opposite end of the price spectrum were two rooms by RSL. The first featured a simple but effective home theater setup, including a pair of the company's new Speedwoofer 12S subwoofers ($799 each), which my friend Alap just added to his home theater. The rest of the system included seven CG25 stand-mount speakers ($425 each) powered by a Denon receiver. A Panasonic Blu-ray player served as the source. During my brief listen, the system delivered strong LFE reproduction from the Speedwoofer subs, and satisfying sound overall, despite some room issues. Next door, RSL had a room featuring 2.1-channel systems allowing listeners to compare the company's CG5 stand-mount speakers ($350 each) to the less expensive CG3M ($105 each) and CG23M ($149 each). All speaker pairs were reinforced by RSL's fantastic Speedwoofer 10S MKII sub ($449 each). All three speakers sounded good, with the CG5  making a strong case for paying extra if you can. My friend Aaron was encouraged to discover that, even on a college professor's salary, he could afford real musical enjoyment. If, like Aaron, you're currently listening to music on a laptop or a single bluetooth speaker, these RSL systems might blow your mind. Making its first public appearance at T.H.E. Show was a new, miniature integrated amplifier from RSL, which was powering all three 2.1-channel systems. The ia255.1, which will sell for just $110 when it's released "within the month," features built-in bass management and a subwoofer output. Exact power specs were not provided, and sadly, I failed to get usable pictures of this room, but our friends at ecoustics have me covered.
Stay tuned for more show coverage, including my unofficial, largely meaningless awards for "Most Impressive Demo" and "Room I'd Most Want To Box Up And Take Home."