T.H.E. Show Part 3: Gryphon, YG Acoustics, and Upscale Audio
T.H.E. Show Part 3: Gryphon, YG Acoustics, and Upscale Audio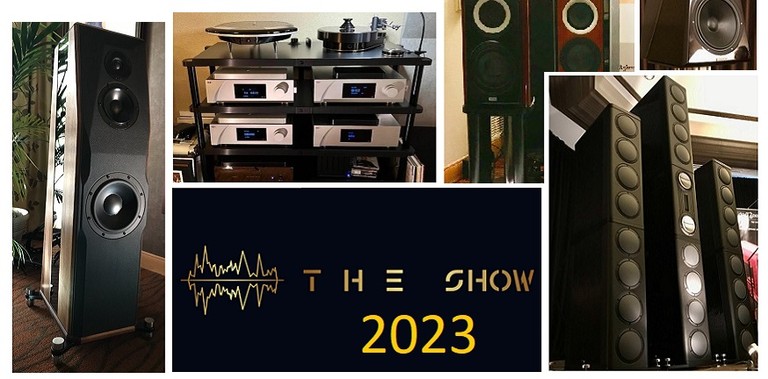 T.H.E. Show
In the US, we have plenty of companies making big, expensive, high-tech loudspeakers — Wilson, Magico, YG, Rockport, Von Schweikert, and so on. These companies only make speakers, and they're really good at it. But interestingly, in Europe there are many manufacturers in the super-high-end space that make entire systems, including source components, amplification, speakers, and even cables. We have a few companies that do this — McIntosh and PS Audio come to mind — but the most expensive American stuff comes from specialized companies that focus on one area. Much of Europe's best stuff seems to come from diversified outfits like MBL, Tidal, and Burmester, which make everything.
Gryphon Audio Designs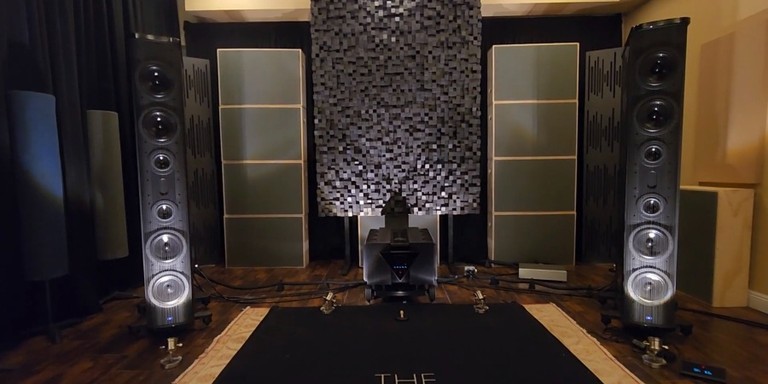 For T.H.E. Show 2023, my "Most Impressive Demo" award goes to one such company, Denmark's Gryphon Audio Designs. This was a 30-minute closed-door demonstration hosted by Joseph Cali of Joseph Cali System Design in West Hollywood. I appreciated the more formal atmosphere of the closed-door approach. Because show-goers had to sign up for a specific time slot and couldn't enter in the middle of a demo, there were fewer distractions and almost no conversation among the listeners. Before getting into the details of the gear, I need to applaud Joseph Cali and his team for the incredible job they did treating the room with free-standing absorption panels, tube traps, Vicoustic diffusers, and thick curtains covering the walls and floor-to-ceiling windows. I heard someone say that the room we were in had previously been used as the hotel's hair salon, but it sounded like a purpose-built listening room.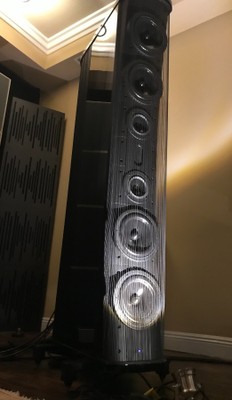 The imposing system on demo included the massive, 445-pound Gryphon Apex stereo amplifier ($103,500), which sat between a pair of Gryphon Trident II loudspeakers ($139,500/pair). Just one step down from the company's $400,000 flagship, the 3-way Trident II combines an AMT tweeter with two 5.5-inch midrange drivers and four 8-inch woofers in a tower standing over 6 feet tall. The bass section is powered, while the passive midrange and tweeter section has a sensitivity of 95dB. Also at work was the two-piece Gryphon Commander preamplifier ($67,000), Gryphon Commander PSU ($29,000), and Gryphon Ethos CD player ($39,800). The analog rig included a Gryphon Legato Legacy phono preamplifier ($23,000) and a Galder-Odin Signature turntable (price not given) from another Danish manufacturer, Bergmann. There were also Gryphon audio racks, and some very expensive-looking Gryphon Vanta cables. Gryphon's Global Sales Director and CEO of the company's North American operation, Rune Skov, gave a brief spiel about the cables and their use of a silver-gold alloy that never oxidizes. Audioholics founder Gene DellaSala would have raised a skeptical eyebrow, but I was entranced by Skov's meticulous suit, unflappable demeanor, and cool Danish accent, which made him appear more like a Bond villain than an audio salesman (and I mean that as a compliment). Rounding out the system were an Innuos Statement Next-Gen Music Server (starting at $21,700, depending on storage), an Innuos Network Switcher ($3,495), an MSB Reference DAC ($54,000), and MSB's new Reference Digital Director ($24,500), which is a fascinating piece of gear. According to MSB, it "enhances essential DAC functions, externally manages digital audio sources, and provides unmatched noise isolation and digital filtering." It uses a proprietary ProISL laser fiber optic connection to eliminate noise coupling into the DAC from any digital source, while offering increased processing power to allow MSB's digital filtering algorithms to achieve "a new level of realistic and accurate analog reproduction." But I digress. Power conditioning for the Gryphon system was provided by a Shunyata Everest ($9,900) and Shunyata Typhon T2 ($5,500).
We heard 5 pieces of music, spanning a variety of genres and using all three source components: streaming from the Innuos into the MSB, CDs on the Ethos CD player, and vinyl. First we heard a streamed bass guitar solo by Zander Zon. In my listening notes, I simply wrote that it sounded as if the guy had plugged the pickup from his instrument directly into the Gryphon speakers. On vinyl, the Sonny Clark Memorial Quartet's "Voodoo" sounded organic and dynamic, with the cymbals and toms on drummer Bobby Previte's kit sounding especially lifelike. The highlight of the listening session for me, a lifelong a cappella nerd, was a track called "Brinner Av Längtan" by the Swedish vocal group Riltons Vänner, played from a CD. Contemporary a cappella is mixed more like pop music than like choral music, so this wasn't about the system's ability to reproduce the sound of singers in an acoustic space; it was all about making the track sound huge, clear, and really fun to listen to. Next we heard Dvorák's Symphony No.9 in E minor, performed by the Vienna Philharmonic Orchestra under conductor Istvan Kertesz. The sound was soft and smooth, almost syrupy at times. But the wide dynamics were out of this world. I know there are folks who will tell you that vinyl lacks dynamic range, and while I understand the technical reasoning behind such statements, this LP blew me out of my seat. Unfortunately, it was not immune to the ticks and pops that can make listeners who are used to digital audio run for the hills. Finally, we heard a song called "Pneuma" by Tool, also on vinyl. As a drummer, I enjoyed the thwack of the kick drum, but I felt that the bass overall lacked the last word in depth, and that a subwoofer would have been welcome. Nevertheless, this system delivered remarkable sound, even compared to other high-dollar systems at the show.
YG Acoustics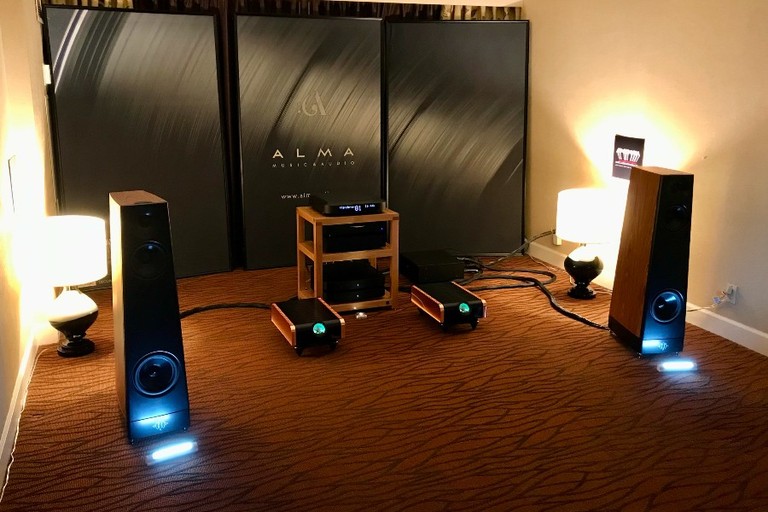 Even if you handed me a blank check, I couldn't buy a system as large and visually intimidating as the Gryphon system described above. I don't have the space, and it doesn't exactly blend in with the decor. But the room featuring the $19,500/pair YG Acoustics Ascent loudspeakers, hosted by Alma Music & Audio, was exactly the kind of system I'd like to take home. All of the components were attractive and relatively compact, and they're all from brands that I am very familiar with, so I am confident that the glorious sound coming from this system wasn't a fluke. Of the three floorstanders in YG's less expensive Peaks Series, which I had been wanting to hear in action since I wrote about the new series last year, the 3-way Ascent loudspeakers are the Mama Bear model, sitting between the 2-way Talus and larger 3-way Summit. Standing 40 inches tall, the Ascent's wood-clad cabinet and milled aluminum baffle had both the right proportions and the right aesthetic to get the thumbs up from my girlfriend, Hannah. (I showed her pictures. Now I just need 20 grand.) The superb sound that I heard on Henry Mancini's theme for The Pink Panther made sense in the context of a very expensive system, comprising an Innuos server ($16,700), MSB's top-of-the-line Select DAC ($115,000), and a pair of D'Agostino Momentum M400 monoblocks, being offered at the show for a mere $49,900/pair, since they are not the newly upgraded MxV models. Power conditioning was provided by an IsoTek Mosaic Genesis ($4,995 if purchased at the show, normally about $12K). Pricing was not provided for the Kubala-Sosna Realization cabling, but the Pink Panther's famous sax melody had a "reach out and touch it" realism that I found utterly beguiling, so perhaps there was some realization taking place inside those thick lengths of garden hose. Seriously, though, this system was clearly curated and set up with great care and skill.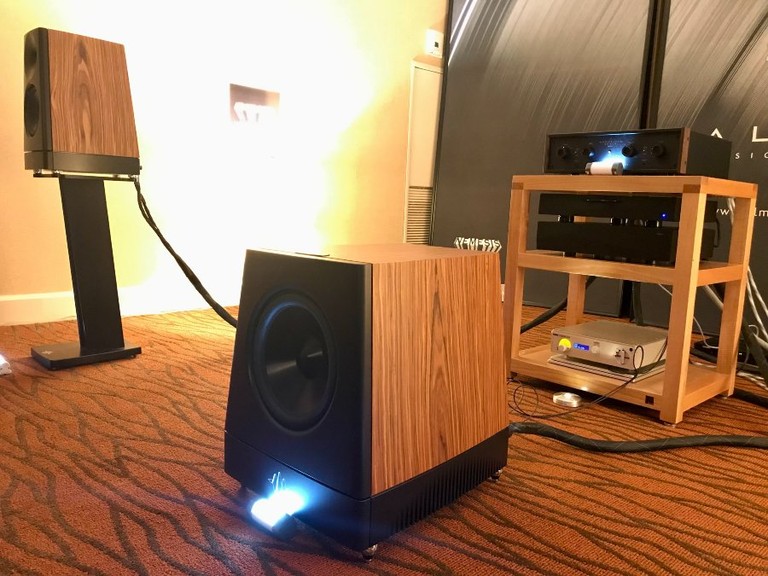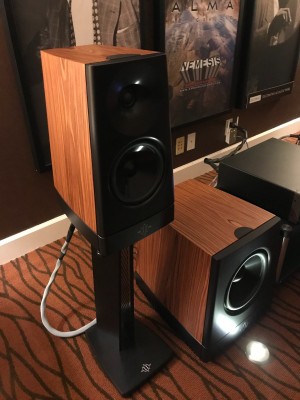 I enjoyed this room so much that I returned the next day to hear a smaller, less expensive system featuring the YG Tor ($10,500/pair), the larger of two stand-mount speakers in the Peaks Series. These were supported by the small but apparently mighty YG Descent subwoofer ($7,800 each). Power came via a Moonriver 404 Reference integrated amp ($5,544). Also at work in the system were an Innuos server, a Nagra Classic DAC II ($18,500), a Gigawatt PF-2 EVO power strip ($1,550), and Kubala-Sosna Temptation cables. A song called "Constructive Interference" by Canadian singer Dominique Fils-Aimé sounded a bit veiled, but it's a song I'll definitely be returning to. The violin on "Theme from Schindler's List" by Anne-Sophie Mutter & The Recording Arts Orchestra of Los Angeles sounded sweet and clear, but "Sixteen Tons" by the incredible bass singer Geoff Castellucci (from the a cappella group VoicePlay) once again gave the impression that something was amiss. I really would have liked to hear the Tor speakers using the same electronics from the larger system, so as to compare apples to apples, but alas, that wasn't possible. I can't know for sure, but I had a suspicion that the amp was holding the speakers back. I was excited when the gentleman running the room asked for requests because hearing familiar recordings is the only way to even begin to get a sense of what unfamiliar gear can do. But he then talked — loudly — through the entirety of the Nickel Creek track that I wanted to hear, so I had no choice but to move on.
Upscale Audio

Upscale Audio's huge 10,000-square-foot showroom is located just a few minutes away from my friend Aaron's house. It's also one of the best places in the world to buy tubes. Unbeknownst to Aaron, his introduction to audio isn't over yet, and I plan on taking him to the store as soon as the new GoldenEar Technology T66 speakers are available to audition. Upscale had three rooms at the show, plus a booth with a variety of headphone gear. I briefly auditioned the Dan Clark Audio Stealth headphones, which I'd been curious about since their 2021 launch. Sadly, they didn't quite fit comfortably for me — I have a small head and big ears (it doesn't look as weird as it sounds, I promise).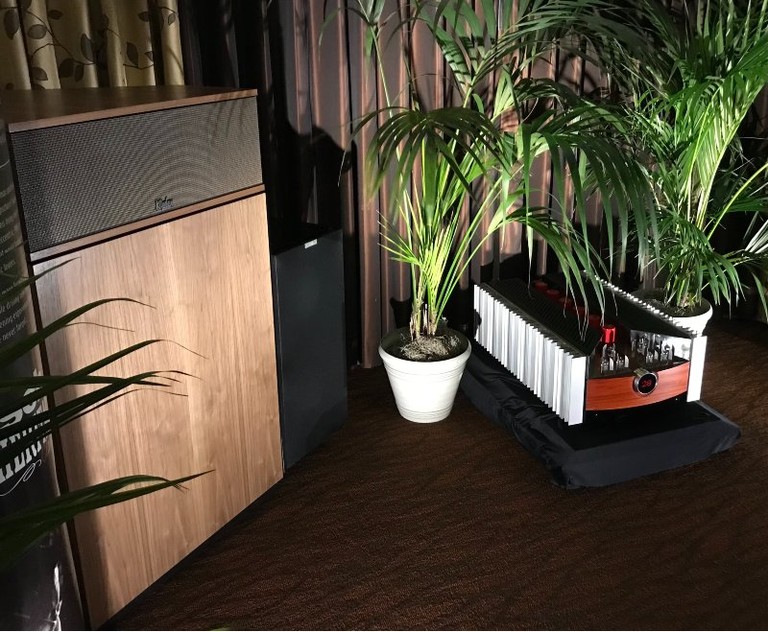 My small head wasn't the problem in the store's 2nd-floor demo rooms, however. The lively conversation and cool hangout vibe contributed to an overall impression that Upscale is an unusually hip and unstuffy operation, but it made listening pretty much impossible in the room containing the tiny Cabasse Rialto powered wireless streaming speakers ($3,395/pair), which offer eARC HDMI connectivity, touchscreen control, and automatic room calibration in a package just 10.2 inches tall.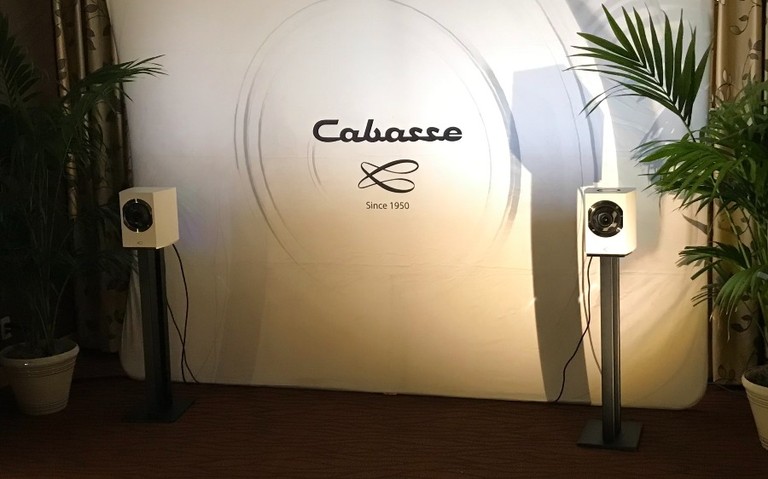 It's a tri-amped 3-way bookshelf speaker with a front-facing, strangely protruding coaxial tweeter and 5-inch midrange driver, plus a rear-facing 6.7-inch woofer. It definitely made a lot of bass for its size. Things weren't much better, listening-wise, in the room containing the big Klipsch Klipschorn AK6 Floorstanding Speakers ($16,498/pair) powered by the gargantuan Pathos InPol Legacy Integrated Amplifier ($49,995).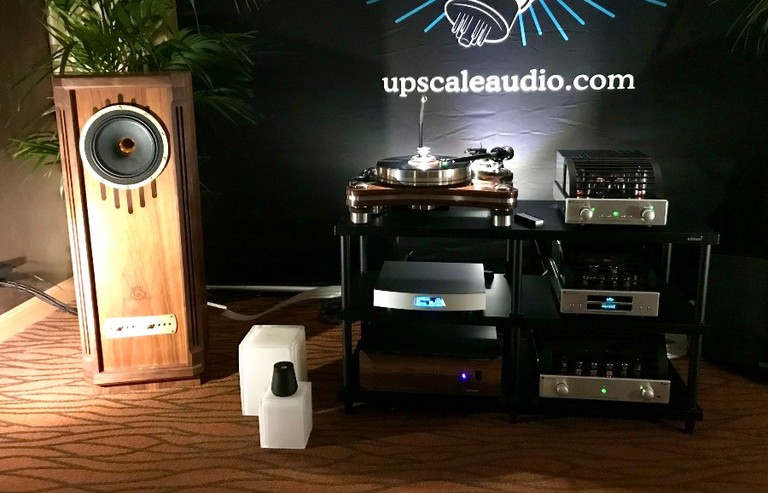 Next door, I did have a chance to enjoy the stately Tannoy Kensington loudspeakers ($19,790/pair) in a system that included the PrimaLuna EVO 300 Hybrid Tube Integrated Amp ($7,295), the PrimaLuna EVO 100 Tube Phonostage ($3,695), the PrimaLuna EVO 100 Tube DAC ($3,395), the Lumin U2 Digital Transport ($5,000) and a VPI Signature 21 turntable ($10,250) fitted with a Soundsmith Hyperion ES MKII Moving Iron Cartridge ($7,999). A REL S/812 subwoofer ($3,299) added low-end extension and heft. Power conditioning was provided by an AudioQuest Niagara 5000 ($5,900), and all cabling was by Cardas. When Upscale Audio's Kat Ourlian played Sade's "Hang On to Your Love," I was immediately struck by the super-tight and punchy kick drum. (I swear, those REL subs can do magic.) In my experience, Tannoy speakers can have a tendency to sound strident up top if not mated with the right electronics, but here the sound was effortlessly smooth while still being engaging and giving a sense of high resolution. A handsome and sonically successful pairing, if you ask me.
Stay tuned for the exciting conclusion to my T.H.E. Show coverage, in which I complain less about all the talking that went on during the demos, and more about sound leakage between rooms and the fact that there was no bathroom fan in my room at the Hilton.