Page 3: The Loudspeakers of AXPONA 2014 Continued & Summary
Page 3: The Loudspeakers of AXPONA 2014 Continued & Summary
Salk SoundScape 8 and Exotica 3
SalkSound is a highly regarded manufacture-direct brand of loudspeakers. The leftmost pair of speakers pictured above is the SoundScape 8s, and the right pair is the brand new Exotica 3s (no product page as of this writing). During my time there, we listened to the Exotica 3s, which sounded fabulous, and lived up to Salk's reputation for outstanding sound performance. The Exotica 3s are built around the SEAS high-sensitivity Exotic line of woofers and tweeter, with an 8" mid woofer and 35mm tweeter. The bass drivers are from Rythmik Audio's new DS800 8" driver line. The Exotica 3's look was as pristine as its sound. This speaker is very easy to listen to. Base price is $12,000 per pair, and must be ordered from Salk directly.

Scaena Iso-Linear Line Array
Scaena's Iso-Linear Line Array Model 3.2/12 was the only line array I saw at AXPONA, but they put up a great exhibit. The Model 3.2/12 uses twelve 3" mid/woofers, nine planar tweeters, and two 12" subwoofers. The line array theory: when you place enough identical drivers in a row with a certain distance between them, they will project more coherent sound forward along a horizontal axis and much less along a vertical axis. To put it more simply, more energy is directed at the listener and less at the floor and ceiling. What's more, when you have a whole bunch of drivers doing the task that ordinarily one driver would do, the collective drivers need to work a lot less to achieve that result, and, consequently, distortion is dramatically reduced.

Theory is nice and all, but how did the Iso-Linear Array sound? It sounded terrific. The clarity was razor sharp, and the bass was tight, punchy, and clean. The sound was great everywhere, and there wasn't a bad seat in the room. I could easily live with this setup, but sadly I didn't have the $40,000 on hand needed to purchase this model. One thing which was neat, but not easy to get a picture of in the dim room, was the subtle marble finish of the enclosure. This speaker was a lot better looking in person.    

SeatonSound Catalyst and Submersive subwoofers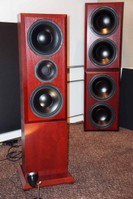 Pictured here is the Seaton Catalyst 12C powered loudspeaker and behind it is the Submersive F2+ and F2 slave subwoofer stack. The Catalyst is self-powered with a 2kW amplifier, which uses two 12" bass drivers and a coaxial 8" mid/woofer with an inner 1" compression tweeter. As you might imagine, the Catalyst packs a punch. Dynamic range is nearly limitless with the Catalyst, and the Seaton room was fortunate in that they were seemingly exempt from the 85dB limit in place in other parts of AXPONA where the rooms were much closer together. Filling in the low end were several Submersive subwoofers. The Submersive is based around two 15" drivers and comes in a handful of different configurations. The Submersive F2+, as seen above, mounts both drivers in a front-firing form factor. The amplifier in the '+' models can also be used to drive a passive Submersive, which is stacked on top in this photo.
The Seaton Sound room was one of the few at AXPONA with a surround sound setup. Bass heavy movie demos drew in crowds and made the Seaton room tremendously popular. I could hear the deep bass from the Submersives even when I was two rooms away. In the Seaton room, three Catalyst 12Cs comprised the front stage, two Catalyst 8Cs served as surround speakers, and four active and two passive Submersives provided the low end. The Seaton Catalyst 8C, as seen above, is simply a scaled down version of the 12c, using 8" bass drivers instead of 12"s, and a 1 kW amplifier instead of a 2 kW amp. In any other room, the 8C would be a beast, but in the Seaton room it was the little guy. The base cost of the Catalyst 12C is $3,800 and the 8C is $2,800. The base cost of the Submersive is $2,700, but as shown in the F2 model, $2,900. The passive 'slave' sub base cost is $1,200 but for the pictured F2 version, $1,400. Shipping and finer finishes are added charges. None of the models have a dedicated product page as Seaton's website is still under construction, but more information can be seen on this product information page. Seaton is an internet direct manufacturer, and orders can only be placed by contacting Seaton Sound directly.

Sonist Audio speakers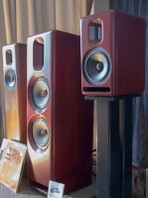 Going from left to right, the speakers pictured above are the Sonist Audio Recital 3 tower speaker ($2,400/pair), Sonist's flagship Concerto 4 tower ($5,900/pair), and the brand new Recital 2 bookshelf speaker ($1,900/pair). During my visit, we listened to the Recital 2 which was a pleasure to hear. Sonist Audio concentrates on higher-than-average sensitivity speakers, but not ones so large you need a forklift to move them. The front baffle is made from 1.75" thick poplar wood, with waveguides carved into it. The advantage of poplar is it's less resonant than most other hardwoods, and it also does not have a specific resonant frequency, so its resonant modes are distributed evenly throughout the audio bandwidth. A further effort was made to reduce resonance by tapering the inner sidewalls. Bass drivers all use treated paper cones which are time-aligned with ribbon tweeters that extend up to 40kHz. The Recital 2 sounded terrific from my seat, and projected a very well defined soundstage on the Samba-esque music we listened to. Bass was surprisingly strong for a bookshelf speaker, to the extent that I was looking for a subwoofer. The Recital 2 does not have a product page yet, but Sonist does have a simple website. 

Soundfield Audio
Unlike many of the other exhibitors, the Soundfield Audio room had little in the way of acoustic panels or treatments of any kind, yet system still sounded great. This is a point of pride for Soundfield Audio, which designs their speaker's sound to accommodate the room, as opposed to speakers which require an acoustically friendly room to sound good. The speakers seen above are the brand new Variable Soundfield Tower 3 (the VSFT-3) on the outside, and the Monitor 2 bookshelf speakers on the inside. The VSFT-3s were jamming during my visit, with a sound of crystal clarity and a superb soundstage.

The VSFT-3 is a four-way speaker with a somewhat complex driver arrangement. The bottom 12" open-baffle Peerless subwoofer and sealed Dayton Ultimax 10" sub driver above it are both powered by their own individual 300 watt amplifiers, and a rear-firing planar tweeter on the upper back of the speaker is also active, powered by a 60 watt amplifier. The 6.5" mid/woofer, 9.5"x6" horn-loaded planar mid tweeter, and 0.5" slot-firing super-tweeter are all passive. The crossover for such a spread of drivers must have been considerable, with points at 250Hz, 1.2kHz, and 16kHz. Sensitivity is rated at 92dB, and a nominal impedance of 8 ohms, so any amplifier can drive this speaker with no problem. You might expect the sound from such a spread of different drivers to be a tad jumbled, but the sound was singular; the VSFT-3 presented as cohesive of a soundstage as you could have wanted. The VSFT-3 is a terrific speaker which is priced at $8,500 and only available directly from Soundfield Audio.

Sound Lab Majestic 845PX
Queue "Thus Spoke Zarathustra", and approach these great black pillars in wonder and bewilderment. Although the Sound Lab Majestic 845s aren't the doorways to other dimensions as they appear, they do have a transportive effect by bringing the listener to the concert hall, studio, or whatever setting the recording was made in. The soundstage was tangible and just as big as the speakers. The Majestics are electrostatic speakers; unlike traditional cone woofers creating pressure waves of air (sound), electrostatic speakers use a large, magnetic membrane to vibrate the air.

There are several advantages to electrostats. The membrane is very light and low mass, so it is much more responsive than a cone. In addition, the entire membrane moves simultaneously, unlike a cone which is pushed from the center. A cone's centered thrust can cause a lag or a bend in the outer edges of the cone which spoils the sound; this is called 'break up'. Traditional cone speakers also are usually placed in cabinets, and the sound generated by the cone can cause resonances in the cabinet which also ruins the sound quality. Electrostatic speakers avoid this problem by having no cabinet. The disadvantage of electrostatic speakers is they must be very large to produce a full, loud, sound, like these nearly 8' tall 198 pound Majestic speakers. They will turn your room into their room, but the sound is spectacular. The Sound Lab Majestic 845PXs are priced at $35,840 a pair.

TAD Compact One Reference
TAD had their vaunted Compact Reference speakers on exhibition, seen here driven by their mighty, 200 pound TAD M600 monoblock amplifiers. The Compact Reference Ones use a coaxial driver configuration for their tweeter and 6.5" mid/woofer, and the tweeter is seen here resting inside of the mid/woofer, using the cone as a waveguide. The tweeter and mid/woofer cone are made of beryllium. The 8" bass driver takes frequencies below 250Hz, and the tweeter takes over above 2kHz, leaving the mid/woofer with everything between. In an effort to reduce resonance, the Compact Reference One has a very heavily built cabinet which uses a 1" thick aluminum base, and altogether weighs 101 pounds. That is very heavy for 'compact' speakers, and you can imagine that so much mass in such a small space should be very effective in lessening resonance through massive bracing and thick paneling. The sound was excellent, even in the less-than-ideal listening position I ended up with in the crowded and very popular TAD room. List price: $37,000 for a pair.

Tyler Acoustics Highland H4 and Insight loudspeakers
Tyler Acoustics showcased their brand new Insight tower speaker at AXPONA, shown here in a 'Green Tiger Maple' finish. Between the Insights were the Highland H4s, which I did not have an opportunity to hear. The Insights are a high-efficiency, full-range speaker with a 95dB sensitivity rating, and is perfect for lower wattage tube amps. Two 12" bass drivers are given their own sizable enclosure, which allows the Insights plenty of punch. A custom 8" mid/woofer and an AMT tweeter are utilized to keep up with the dynamic range of the bass drivers. The result is a speaker that can do everything well, but, with that kind of muscle, yearns for something dramatic. We didn't have it cranked up during my time there, but what I did hear was an all-around great sound. The Insight speakers would be just as much at home with a piano sonata as they would with an action movie. Tyler Acoustics can make these in almost any finish you would want. The Highland H4s are priced at $3,800 and the Insights are $5,500.

Volti Audio Alura
Another entry in the huge and high sensitivity category, the Volti Alura speakers resemble sonic weapons more than high fidelity loudspeakers, though they sound very much like the latter. Still, being in a small hotel room with these things, it felt almost like being stuck in a cage with a couple lions. As much as I wanted to crank these things up, I had to remember that high sensitivity and huge dynamic range isn't just about getting loud, it's about extremely low distortion and zero compression at more modest volume levels, and it's about accessibility for lower wattage amplifiers, like the 40 watt Quicksilver tube amps seen above.

The Alura uses a 1" compression driver for the tweeter in the elliptical top horn, and a massive compression driver with a 3.5" voice coil and 2" throat for the mid horn- that large, gaping maw. The bass is taken care of by a high-sensitivity 15" woofer in a large, vented cabinet. This all adds up to a 98dB sensitive powerhouse of a speaker. Robust cabinet construction, a carefully thought-out and extensively tested crossover, and precisely planned horn geometry make it just as suitable for critical listening as it is for headbanging. The Alura is a manufacture direct speaker and sells for $15,900.


Summary
That wraps up our coverage of AXPONA. Keep in mind that in this report we only covered a sampling of the speakers there, and there were many more great speakers on display. We just don't have the time or space to cover them all, worthy though they may be. AXPONA was a lot of fun, even though it is also the cause of a great deal of envy. I would love to have taken home almost any of the systems I saw there, and I am sure I wasn't alone in that respect. Overall, the show was a great opportunity to talk to many industry experts, and learn more about audio straight from the masters. If you get the chance to go to AXPONA, I highly recommend it.
Confused about what AV Gear to buy or how to set it up? Join our Exclusive Audioholics E-Book Membership Program!
Recent Forum Posts:
oppman99 posts on May 31, 2014 15:22
I just don't understand the appeal of vinyl. IMO digital sounded better in every room that had both vinyl and digital sources. I thought the sq was much better at last year's show as well.
shadyJ posts on May 28, 2014 20:44
I think $73k for an amp is dumb. You could take a monster pro-amp like a powersoft digam k10, have it modified, and hire a guy to put it in an ultra fancy custom case for a lot lot lot less than $73k. I still think the Burmester is cool, but it's just a poor value.
haraldo posts on May 28, 2014 16:54
7
shadyJ, post: 1033282
13541
That big shiny thing at the bottom of that stack is the Burmester 909, it's a 600 watt x 2 @ 4 ohms amplifier. It also has a 1,250 watt x 2 @ 1 ohm spec. Burmester claims it is stable for a 1 ohm load. It costs $73,500. It's stupid and I want one.
What's stupid about that?
I'd like to buy a Goldmund amp … that makes the Burmester 909 look like a bargain … but I will never be able to afford it …. not even in my dreams ….
FozzieT posts on May 20, 2014 22:17
So, why the photo of the gorgeous Monitor Audio speakers, but no review? Did they suck?
shadyJ posts on May 19, 2014 23:58
13541.vB
That big shiny thing at the bottom of that stack is the Burmester 909, it's a 600 watt x 2 @ 4 ohms amplifier. It also has a 1,250 watt x 2 @ 1 ohm spec. Burmester claims it is stable for a 1 ohm load. It costs $73,500. It's stupid and I want one.
Post Reply