Capital Audiofest 2013 Show Report
Capital Audiofest 2013 Show Report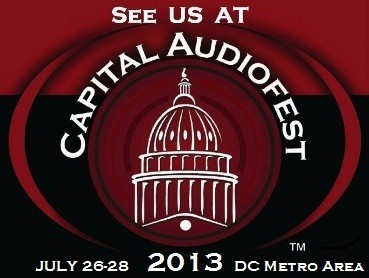 Capital Audiofest 2013 is the audio event of the Washington D.C. area.
For those who don't follow the audio show circuit, Capital Audiofest is the Washington D.C. area's annual event. Originally started up in 2010 and moving to a new location at the Sheraton hotel in downtown Silver Spring, MD for 2013, CAF offered more than 40 separate displays for guests to browse through. The products featured ran the gambit from massive fully horn loaded loudspeakers to diminutive mini-monitors, top tier solid state gear to esoteric tube amplifiers & preamplifiers, and "high end" speaker cables and power cords down to basic 16AWG wire from Parts Express. Overall, it was a fun experience, and while my B.S. meter was regularly on high alert, listening to music through a wide variety of systems isn't a half bad way to spend an afternoon or two.

Naturally with such a wide array of systems to choose from, there were some displays I felt to be outstanding, and some that were…less so. On the bright side, you've got several small shops building loudspeakers that are astonishingly good; conversely, there were also several systems which made wonder about the overall competence of the designer, both in objective terms of a quick glance at the design as well as in my subjective impressions. So who did I like? In no particular order…
Legacy Audio
The Legacy room was on the first floor of the hotel, and as a result, the Aeris was the first speaker I heard of the show, and one of the last. While Legacy had several other speakers on hand, including the Whisper XD and Focus HD, all three times I swung by their room, the Aeris' were playing, powered by Coda amplification fed by a simple Oppo Blu-Ray player. Priced at $15,900, these aren't exactly inexpensive speakers, and my expectations were very high. Fortunately, I was not disappointed. Just looking at the Aeris, you expect big sound with a robust low end, and that much held true without a doubt. Even played to spirited levels in a fairly large conference room, the Legacies were just loafing along.

Objectively speaking, I did actually have one concern about the design after reviewing a spec sheet I was provided. The big detail that caught my attention was that the Aeris is crossing over their AMT tweeter section over to a fairly large 8" midrange driver at 2.8kHz, which is well into the beaming range of a driver of that size. However, the speaker is open in the back, resulting in a dipole dispersion pattern which may mitigate the issue, and I certainly can't claim to have heard anything subjectively wrong.
For a little more information on the Aeris, I would also refer you to our
Legacy Aeris preview article
on the speaker.
The Legacy Aeris driven by CODA electronics and fed by an OPPO Blu-ray player.

SVS
The SVS room on the 4th floor of the Sheraton was undoubtedly the life of the party every time I stopped by (or even happened to be going up & down the stairs and could hear the ruckus emanating from their room). With the room hosted by CEO Gary Yacoubian, as well as Dan Marks and Mark Mason, it was a fun opportunity to meet and greet with some great guys and listen to some top notch gear. Speaking of the gear, there were two separate setups present, one for home theater, and one for 2.0 channel music. The theater setup was pretty unique as far as I could tell from my time floating around the floors, and consisted of their 5.0 Ultra Tower setup ($3699 for the package) with a pair of SB13-Ultra subwoofers ($1599 each; $3000/pair) adding their low end power to the mix. Unsurprisingly, the setup was right at home playing a Tron demo (which shook the rest of the floor); on the unexpected side, SVS was also demoing the theater setup with a German opera on Blu-ray which also sounded fantastic.

On the two channel side, SVS had both a pair of their Ultra tower speakers ($2,000/pair) as well as a pair of the Ultra bookshelves ($1,000/pair) backed by a massive Mark Levinson amplifier; the setup did also notably feature some light acoustic treatment. I found the performance of the towers most impressive, particularly in light of their affordable price tag. What caught me a little off guard was how well the much smaller bookshelves kept up with their big brothers in terms of extension while not really giving up anything in overall sound quality (though I would presume as the volume levels eek up, those differences might become much more apparent). Anybody that looks at the big tower knows they're going to get a fairly full range sound; a fairly compact bookshelf speaker, not so much. 
I recommend reading Marshall Guthrie's SVS Ultra Series Speaker System review if you want to learn more about them.
SVS' 2 channel rig featuring both their Ultra towers and bookshelves, driven by Mark Levinson amplification.

Soundfield Audio
OK, we've covered SVS to death and we've covered Legacy products in the past, but Soundfield Audio is a name that might be new to some Audioholics. Based in Florida and founded by Ammar Jadusingh, better known simply as "A.J.", Soundfield had what I'd qualify as some of the best sound in the entire show. This was extra impressive in my view given that the room A.J. was working in could have possibly been mistaken for a shoebox. The speakers fielded by Soundfield at CAF were their $3,500/pair VSFT-1 towers, which boast active dual opposed 12" drivers in an open cabinet, and a passive array consisting of dual 8" woofers in a sealed cabinet covering 60Hz-1kHz, a large horn loaded planar mid/tweeter covering 1kHz-14kHz, and a ribbon supertweeter to cover 14kHz on up. The VSFT-1's also offer a rear firing 2" dome driver which can be disabled if desired depending on user tastes and placement limitations, however it was omitted on the product sample present at the show.

As one might guess from the specs alone, the sound was dynamic with strong, well defined low end extension, and a crystal clear high end. I also found the overall balance to be very good which can be tricky for some speakers in a smaller space. I would expect the controlled dispersion afforded by the horn loaded top end paid big dividends here, though I'd like to see (or rather hear) how it compares in a larger space, particularly with the rear firing driver in operation. 
Soundfield Audio's VSFT-1 floorstanding loudspeakers.
Philharmonic Audio
Philharmonic is a company that has generated a lot of forum buzz over the last few years, and with good reason. The man behind the company is Dennis Murphy, who is notable for working with Jim Salk on a number of his designs, particularly the popular Salk SongTower. For CAF, Dennis had a trio of speakers on hand, his flagship Philharmonic 3s ($3,300/pair), a pair of Philharmonitors ($850/pair), and a pair of his new tower loudspeakers, known in the forums as the "Phil Slims" ($2,700/pair). At the top of the range, the Philharmonic 3s are a fairly large floorstanding speaker boasting a ribbon tweeter and planar midrange in an open back cabinet, as well as an 8" woofer in a separate transmission line enclosure. The new "Phil Slim" varies the formula slightly, substituting a conventional 4" cone midrange driver for the planar midrange, and utilizes a smaller 6.5" woofer in a much more compact cabinet. Last but not least, the Philharmonitor is a more typical two-way bookshelf speaker utilizing a less costly ribbon tweeter and a 6.5" mid/woofer in a slot ported cabinet.

So how did they sound? As you might guess, I found them all to be solid all round performers. I was particularly impressed by the Philharmonitors given how little they gave up when compared with their bigger brothers. Part of this was no doubt due to the small size of the room. If I were to compare the Philharmonic 3s to the Philharmonitors in the much larger Legacy room, the added ambiance from the dipole mid/tweeter configuration and low end capability would have presumably played a much larger role.
Philharmonic Audio's display, including their Philharmonitors, Philharmonic 3's, and "Phil Slim" Towers.
ProAc
The ProAc Tablette Anniversary ($2,200/pair) is an interesting loudspeaker: measuring a fairly compact 10.6" H x 6" W x 9.8"D, just looking at it you wouldn't expect much. In this case, looks are very deceiving as this half pint speaker delivered a full gallon of sound. Bass extension is rated to be good down to 35Hz, and by my ears, that's not an outlandish claim. What's more, even at fairly spirited volumes, these speakers showed no overt signs of cracking. Some of my opinion will likely be due to the fairly small room and my proximity to the speakers. Still, I have to admit to being duly impressed with what ProAc achieved from such a small, and (relative to some of the other items present) reasonably priced speakers.
ProAc's Tablette Anniversary mini-monitors.

Salk Sound
 Last but not least in my little who's who of Capital Audiofest's vendors is Salk Sound. They're a brand most Audioholics should be familiar with as we've (gushingly) reviewed their SongTowers and Veracity HT2-TLs previously. For the show, Jim Salk brought a pair of Veracity ST's ($4,200) as well as a pair of Soundscape 8's ($8,000). The Veracity STs are effectively a jump over the Supercharged version of the SongTower, and feature a pair of 6" Seas mid/woofers and a RAAL ribbon tweeter in an MTM array. The enclosure, like the Philharmonic speakers, utilizes a transmission line to extend bass response down to a rated 34Hz (-3dB). Next to the Veracity ST, the Soundscape 8 looks like a monster, boasting a RAAL ribbon tweeter, Accuton ceramic midrange, and a pair of 8" woofers augmented by two 12" passive radiators to cover the low end. From my standpoint, subjective performance was (as expected) excellent all round, with the main difference between the two being low end grunt. 
Salk Sound's display at Capital Audiofest. Good sound meets beautiful craftsmanship.

Summary
Just in case you didn't pick up on it, I had quite a bit of fun making the rounds at Capital Audiofest this year. It was nice to meet up with a couple of the fellow forum members (Swerd & STRONGBADF1), which made going from room to room much more enjoyable. I was also able to get a lot of one on one time to chat with some of the vendors about their design decisions which made things a lot more interesting than just shuffling from room to room (Mark Mason @ SVS & A.J. @ Soundfield get a special mention for spending way more time than they had to in talking to me). Overall, it was a great experience that I'd certainly enjoy repeating next year.