AXPONA 2014 Coverage Part Two: Amplifiers, Preamplifiers, and DACs
AXPONA 2014 Coverage Part Two: Amplifiers, Preamplifiers, and DACs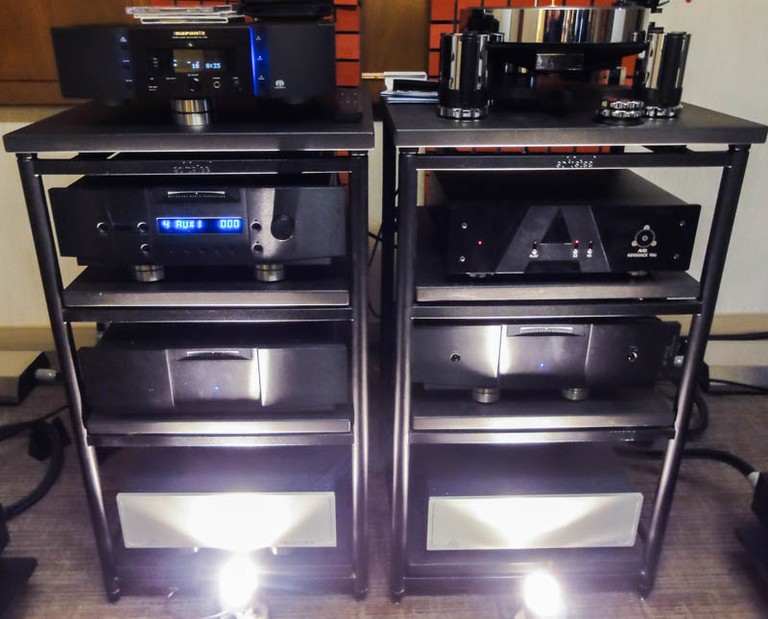 A rack full of electronics at AXPONA.
To continue our coverage of AXPONA (you did read part one, didn't you?), we will look at some of the amplifiers, preamplifiers, DACs, and other assorted electronics sitting between the source and the speakers which were on exhibit. There is a wide range of devices which fall into this category, which gives rise to many different system configurations. We will contain our coverage to recently released components as well as a few of the more eyebrow-raising systems. Let's start part two of the drool-fest by looking at some DACs...


DACs
Dedicated digital-to-analog converters will exist as long as there are analog purists who do not want their delicate analog preamplifiers contaminated with modern digital circuitry. However, digital-to-analog conversion is such a natural role for a preamplifier that my feeling is that the number of standalone DACs will diminish; the reality is that the function is performed by other components such as computer audio interfaces, preamps, integrated amplifiers, not to mention modern A/V receivers. With that in mind, let's take a look at some of the DACs in displayed at AXPONA...

Ayon Stratos
Ayon's top-of-the-line reference DAC, the Stratos, was released last year and hasn't had time to accumulate as many glowing reviews as the company's other products; however, the critical reception it has received thus far has been favorable. As with other Ayon components, the Stratos is a mix of tube technology and powerful digital processing in an attempt to bring you the best of both worlds. Native 192 kHz PCM and DSDx128 conversion are combined with a fully analog tube output stage. As you would expect at this price point, the highest quality components are used throughout construction, and an example of this is the gold-plated industrial PCB board using the shortest possible signal path with single-ended class A circuitry. Needless to say the Stratos is not cheap: $14,000.
Benchmark DAC2 L and AHB2
If you want a simple way to turn your computer into a powerful music source, or if you just want a capable DAC and amplifier in a convenient form factor, Benchmark has you covered with the DAC2 and brand new AHB2 amplifier. Shown here is the DAC2 L model, which differs from the HGC model by the exclusion of a headphone amplifier. The DAC2 is great not only for professional use, but audiophile use as well with the addition of DSD conversion. Processing and conversion is done in 32 bits- the performance of which Benchmark claims "exceeds the measurement limits of today's state-of-the art test equipment." XLR and RCA analog outputs are joined by a slew of different digital inputs. A remote control can be included for an extra fee. Seen underneath the DAC2 is the AHB2 amplifier which uses a "Bi-polar class AB output stage" which Benchmark claims has superior distortion performance to class A amplifiers and superior efficiency over conventional class A/B amplifiers. The AHB2's power output is rated at 100 watts @ 8 ohms and 170 watts @ 4 ohms for two channels, and 300 watts bridged mono @ 8 ohms. Base cost of the DAC2 L is $1,800 and the cost of the AHB2 is $3,000. 
B.M.G. PureDAC
Released less than a year ago, the PureDAC by newcomer B.M.G. brings with it a list of features which belie its surprisingly affordable $1,700 price tag. It supports an incredibly high 32 bit/ 384 kHz sampling rate over asynchronous USB, which is far beyond what is humanly perceivable; DSD64 and DSD128 capability is on board as well. A heavy-duty 1.7W @ 100 ohm headphone amplifier is included, which should be capable of driving almost any set of headphones. The headphone amp has its own volume control. B.M.G.'s alphabet-soup of proprietary feature acronyms is also onboard: CI, DIGM, and LEF. Connectivity on the PureDAC is not bad, with balanced and unbalanced analog outputs, as well as a handful of the usual variety of digital inputs. The PureDAC looks like a passable value proposition for its functionality as a regular DAC, but a great value for sound systems based on computer audio and headphones.
Denon DA-300USB
The Denon DA-300USB DAC was the only Denon product found among over a dozen Marantz components in the Denon and Marantz room. Audioholics previewed the DA-300USB recently, so we will quickly run through a few of this product's many features: High-Precision 32 bit, 192 kHz digital to analog conversion, DSD over PCM (a rare feature at this price point), Advanced AL32 Processing, circuit blocks isolated on separate circuit boards, isolator chips employed to protect against digital noise transfer between critical stages, separate headphone amplifier block using dedicated buffer and gain stages, headphone amp compatible with a wide range of headphone models including low impedance types, touch control OLED display, and so on. As you can see, there is a lot packed into a little package, especially when compared to much more expensive DACs, and it lists for only $549 ($499 if you buy direct from Denon).
Thrax Maximus DAC
The Thrax Maximinus is a DAC that looks like it belongs in the Batcave, and with its $33,000 price tag, you'd need Bruce Wayne's bank account to afford one as well. One reason for that cost may be the approach that Thrax takes to the conversion process: instead of using an off-the-shelf chip for processing, Thrax uses a bed of resistor arrays controlled by fast switching logic. Each resistor is a high quality type said to cost 12 Euro apiece. Before the data stream hits the DAC, it can get upsampled to a 32 bit 384 kHz resolution. Separate power transformers for the myriad of internal components are used to achieve full galvanic isolation. A number of other measures are taken to reduce noise and maintain the highest fidelity signal possible. How well does it all work? All I can say the system in which the Maximinus was used sounded very good. 
Preamplifiers
The preamplification stage could be argued to be the beating heart of any hi-fi sound system. All of the source signals come together in the preamplifier, and there it is decided what will pass to the amp and how it will be played back. Now that I think about it, the preamplifier sounds more like the brain rather than the heart. But if that is the case, which component would take the role of the heart? Perhaps the preamplifier is more like the skeletal system? Or maybe likening a sound system to human anatomy is just a bad analogy. But moving on, let's look at what preamps AXPONA had to show us.

Accustic Arts Tube PreAmp mkII
A recent offering on display from Accustic Arts is the Tube PreAmp mkII. This is a hybrid preamplifier which is intended to combine the advantages of solid state transistor technology with the advantages of tubes. By using the voltage amplification of tubes with the current capacity of transistors, the Tube PreAmp mkII attempts to achieve low resistance yet high current output. The Tube PreAmp II mk2 is fully balanced with four separate amplification stages from input to output, each divided into an inverting and non-inverting signal path per channel. It has three pairs of XLR and two sets of RCA inputs; outputs consist of two pairs of RCA and two XLR connections. Each of the balanced and unbalanced pairs comes in AC coupled and DC coupled varieties. The Accustic Arts Tube PreAmp II mk2 is priced at $10,750.
Octave Jubilee Preamp
The $35,000 Jubilee preamp is a two piece unit with a separate power supply chassis (not shown here). The Jubilee uses a hybrid tube/solid state design, and a quintuple-shielded transformer keep stray magnetic fields at bay. Outside of its extremely over-built chassis and internals, the Jubilee doesn't have a whole lot of features, which isn't so strange considering it is a bit older; it doesn't even come with a remote control. The Jubilee is a simple but high quality and overbuilt preamp.
Peachtree Audio novaPre
The Peachtree Audio novaPre is a nifty hybrid tube preamp with DAC functionality. That strange blue light next to the volume knob is a tube glowing through a small window. One neat feature on the novaPre is the headphone amp can be run through that tube buffer for those who want a warm analog sound through their headphones. The novaPre doesn't have the mass of inputs and outputs on pricier preamps, but its connectivity should suffice for most conventional systems. Although it does lack a phono preamp, it makes up for that with an asynchronous USB input. The novaPre handles resolutions up to 192/24 for all inputs except for optical toslink. MSRP: $999.
Thrax Dionysus
The Thrax Dionysus preamplifier looks like a brute, but the system that I heard it in sounded lovely. This $22,000 preamplifier heralds from Bulgaria, and features a fully tube-based single-ended circuit. Multiple high quality transformers are used in the input stage, volume control, and output stage, which may help to explain the price. Stylistically, one interesting thing to note is there are no markings or labels anywhere on the unit. Inputs and outputs are not labeled, nor are any of the buttons on the front panel. The chassis is milled from aircraft grade aluminum and is assembled in a manner such that no screws are visible. It looks like a solid aluminum block. There is something vaguely sinister about this preamplifier…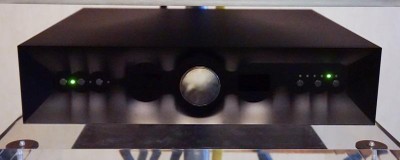 Page 2: Integrated Amplifiers at AXPONA 2014
Integrated amplifiers are better known as the hi-fi component which sane people use. By combining the preamplifier with the amplifier, and often weaving in DAC functionality, a phono stage, headphone amplification, and even digital file playback from network sources, integrated amplifiers can consolidate a whole lot of space and save a whole lot of money for those who just want to listen to music without obsessing over the minutia of gear. In my more lucid moments I envy those people, but then the madness takes hold again and it's back to cursing my separate line stage module for not having more balanced pre-outs…

Jeff Rowland Continuum S2
The Continuum S2 is an integrated amplifier released late last year from Jeff Rowland Design group. It uses a class D amplifier which has an output capability rated at 400 watts per channel @ 8 ohms and 800 watts @ 4 ohms. There are a handful of upgrade options including DAC functionality and a phono stage. For base connectivity without the upgrades, you have two pairs of XLR and RCA inputs, and a single pair of XLR and RCA outputs. It has a lot of features for which there isn't space to talk about fully here, but which you can read about on the Continuum S2 product page. For all the features this integrated amp has, it keeps the weight to a manageable 35 lbs. List price for the base model is $9,500.
Marantz PM-14S1 Integrated Amplifier
A recent addition to the Marantz Reference family is the PM-14S1 integrated amplifier, priced at $3,000. The PM-14S1 is fully analog, and the input signals remain in the analog domain the whole way to the headphone and speaker outputs. Circuitry is kept separate for each amplifier stage, and high current power output devices provide compatibility with a wide range of speaker impedances. The PM-14S1's power output is rated for 90 watts per channel into 8 ohms, and 140 watts per channel into 4 ohms. The massive 650 VA toroidal transformer with oxygen free copper secondary windings is electromagnetically sealed from the environment by an aluminium screening cap so no mains radiation can escape to harm the audio signals passing through the amplifier. The PM-14S1 also has a dedicated headphone output which can handle a wide range of headphones including low-impedance models.
Music Hall A15.3 Integrated Amplifier
Successor to the popular A15.2 integrated amplifier, Music Hall released the A15.3 last year with a price of $550. For the modest price you get a very reasonable feature set, including built-in phono preamp, five pairs of gold-plated analog unbalanced inputs, front panel headphone output, front panel ⅛" line in, and a remote control. Power output is rated at 50 watts per channel @ 8 ohms and 75 watts per channel @ 4 ohms. Simple, direct, and affordable; this is a very likable integrated amp.
Sony TA-A1ES integrated amplifier
Sony's new TA-A1ES was seen on passive display in their room. This $2,000 integrated amplifier has a class A amp rated for 80 watts per channel at 8 ohms. Since class A amplification is so inefficient, Sony has setup the amp with a bias control which tracks the volume and the power supply delivers only as much power as is needed. Supposedly this greatly improves efficiency. The TA-A1ES design is a dual mono layout for the best signal balance. Connectivity isn't overwhelming, and the TA-A1ES only has four pairs of unbalanced inputs and one pair of balanced inputs. One nifty feature is a dedicated-circuit headphone jack with selectable impedance, so it should drive any set of cans with ease.
Constellation Audio Argo
Making its debut at AXPONA, the Argo is a brand new integrated amplifier from Constellation Audio. It combines the technology developed for Constellation's Virgo and Altair preamps with their massive Centaur amplifier. Much like the Jeff Rowland Continuum S2, the Argo is designed to easily incorporate upgrades such as a phono board and a DAC slated to be released later this year. The Argo's 125 watt per channel amplifier uses a balanced bridged modular concept in a unique configuration which achieves class A/B type dynamics and power using single ended circuits. Connectivity is adequate, but not amazing: two pairs of both XLR and RCA analog inputs, and one pair of XLR outputs. It also has a headphone amplifier capable enough to drive even the most demanding headphones. The Argo costs a mere $20,000.
Stereo Amplifiers
Good old-fashioned stereo amplifiers are a great way to power two speakers with one component. It should have remained as simple as that, but audiophiles have a way of complicating things, so now we have a thousand different ways to accomplish the same task, with advocates of each method claiming to have the greatest advantage. Since I don't have a doctorate in electrical engineering, I can't say whose approach is the best; however, none of the systems I heard sounded constrained by their amplifiers, so I think it would be difficult to make an outright wrong choice among the many upscale amps displayed  at AXPONA.

McIntosh MC275
While not a new product, the McIntosh MC275 50th Anniversary Limited Edition amplifier makes a remarkable visual impression which deserves a mention if only as an excuse to show what a looker it is. Re-released at various times since the original model in 1961, this striking amplifier is rated for 75 watts per channel @ 4, 8, or 16 ohms. One thing to note is the green lights aren't actually tube plasma, they are LEDs. Green lit LEDs mean the tubes are in good working order, but they will turn red if a tube failure is detected, so the green lights are more like status monitors. Price: $4,500.
Simaudio MOON 760A amplifier
On passive display was the brand new MOON 760A two channel amplifier. The 760A is a class A/B amp rated for 130 wpc @ 8 ohms, 260 wpc @ 4 ohms, 500 wpc @ 2 ohms, and can be run in bridged mono at 500 watts. It shares many of the features of the 880A including Class A output to 5 watts. This Class A output to 5 watts could be especially useful since class A designs are thought to be the best for sound quality, and most of the music playback of the amplifier would fall under 5 watts. By shifting to A/B only above 5 watt power levels, the 760A spends most of its playback time delivering the highest quality sound reproduction. The 760A is priced at $8,000.
Van Alstine FET Valve 600R Hybrid stereo amplifier
With its clean-cut and reserved appearance, the FET Valve 600R won't turn any heads or be a conversation piece, but as its purpose concerns sound rather than sight, I would say its priorities are in order. The FET Valve 600R is a hybrid amplifier in that it uses the best of tube and solid state technologies: tubes are used for voltage amplification and high power MOSFETs are used for current amplification. In the FET Valve hybrid design, each is used for its own strength while avoiding their respective weakness. Regulated power supplies play a big role in the 600R, which has five regulated power supplies in each channel: three for the tube, one for the output circuit, and one for the high-current MOSFET. The FET Valve 600R is rated for 300 watts per channel and costs $3,200 for the black faceplate model and $3,500 for the silver faceplate.
Aragon 8008 Dual Mono Amplifier
Aragon is an audio company audiophiles will remember from the nineties but had laid dormant for much of the 2000's. They relaunched in 2013 and one of their new flagship products is the 8008 mkIII dual monoblock amplifier which carries the stylistic signature crevice through the chassis top from the older 8008s. The 8008 can put out 200 watts @ 8 ohms, 400 watts @ 4 ohms and even has an ethernet connection. Its network capability lets the user control and monitor the status of the 8008 from a web browser. The 64 pound 8008 comes in black and silver cases with a satin anodized finish and laser etched logo; priced is $4,400.
Balanced Audio Technology Rex II amplifier
A large and expensive beast of a tube amplifier, the Balanced Audio Technology REX II can be run in either 80 wpc stereo or a 160 watt bridged mono configuration. Though it doesn't quite have the heft, price, or opulence of some of the more extreme amplifiers at AXPONA, it is no lightweight in any of those categories at $20,000, 100 lbs, and three rows of softly glowing tubes. Its fully symmetrical design can be thought of as two single-ended amplifiers per channel, with their waveforms summed at the output transformer. Supposedly the advantage of this approach is it "allows the output transformer to be a truly wide bandwidth design, while reducing low frequency distortion." One neat feature of the REX II is that it can be daisy-chained with other REX II amps in the event that you want more power, so you can string two together for 320 watts of output if needed.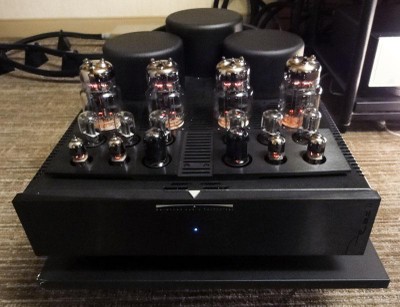 Page 3: Monobloc Amplifiers at AXPONA 2014
If for some reason you cannot tolerate more than one channel of sound being amplified within a single chassis, mono amplifiers are just the thing for you. And since there is no shortage of insanity amongst audiophiles, there is a wide variety of mono amplifiers to choose from. Only the truly mad need apply, with bonus crazy points for those like myself who feel a strong, irrational desire for monoblocks exceeding 100 lbs.

AVM MA8.2 
One of the largest and most demanding speakers exhibited at AXPONA, the gigantic German Physiks Emperor IIs, needed a serious amp to drive them with their 300 watt minimum amplification on 4 ohm resistance. The amp chosen was the AVM MA8.2 monoamplifier, which certainly looks brawny enough for the task; within the large aluminum chassis it can muster 1100 watts @ 4 ohms, so the MA8.2s are an excellent match for the aptly named Emperor speakers. The 2 X 1000VA power transformers are mounted in their own shielded case within the amp to prevent electromagnetic interference from affecting any other onboard electronics. The MA8.2 is a bridged design, and twenty 200,000 µF lay capacitors on both sides of the case for the two internal amps. Each amp uses 24 output-FETs are are able to permanently deliver 180 amperes if needed. That is a lot of amp for the money, or to be more specific, $7,800  for the 92 pound unit.
 Atma-Sphere MA-2 mk3.2
The newly improved Atma-Sphere MA-2 mk3-2 monoblock amplifier is an intimidating piece of audio hardware with a price to match at $20,800. This is OTL amplifier, which means it does not use an output transformer, which has the advantage of reduced distortion, as transformers are a major source of distortion. It uses 26 tubes and can output 220 watts at 4, 8, or 16 ohms before clipping. The pair I heard drove some huge electrostatic speakers which filled a large room with ease. Its power consumption versus power output exhibits the typical lower efficiency of class A amplifiers, but the sound itself is first class. If you want to enjoy high quality music playback whilst saving money on heating bills, the MA-2 is a great choice.
Simaudio MOON 880M Reference Mono Amplifier
Dynaudio's immense flagship Evidence speakers were being being positively animated with some Daftpunk tracks courtesy of Simaudio's MOON 880M monoblock amplifiers during my visit. The $21,000/apiece 880M were not out of place with the rest of the high end components used in that system, with respect to price or performance. With a rated power output of 800 watts into 8 ohms and 1600 watts into 4 ohms, there are no speakers that the 880M can't handle. Among many features this amp has to offer: proprietary Lynx circuitry which is a "no overall feedback" design, a massive oversized power supply, a high damping factor, a capacitor-free signal path, stability with any known speaker impedance, and "Class A" output to 10 watts for great sound quality and good efficiency.
Pass Labs XA100.5
Pass Labs' signature rounded, double-framed meter make their products some of the more stylish high end amplifiers out there. This attractive unit is the XA100.5 monoblock amplifier. It is a class A amplifier that can shift to a class A/B mode when driven past 100 watts. As such, it is only rated for 100 watts at 8 ohms but is capable of much more. Not shown in this picture are some very large heat sinks protruding from the sides, which are needed to keep the amp cool as class A amplification is inefficient and generates a lot of heat. The XA100.5 uses a balanced circuit topology whereby the signal is split in two identical matched circuits. When the signal is summed into opposing phase for the output stage, the noise and distortion which was generated in phase is cancelled out. The end sound, as was heard on the Magico S3 speakers, was outstanding. The XA100.5 monoblocks are priced at $16,500 per pair.
Venture V200 A+
These Venture V200 A+ monoblock amplifiers have a rated output capability of 200 watts, a considerable amount for a pure class A design. Details from the brochure and the web product page are pretty sparse, but they seem to be using some premium parts such as Mundorf capacitors and Jensen 4 pole electrolytic capacitors. A strange aspect of their operation, copied from their product page: "The VP100L preamplifier is able to put the V200A+ in normal or stand-by position with the remote control or manually with the switch, gaining immediate access to its highest level of musicality, with a short warm up time of 15 minutes instead of the usual 4 hours needed to reach operating temperature." The V200 A+ amplifiers cost a whopping $120,000 per pair.


And, to finish this segment of our coverage, how about a headphone amplifier?
In recent years a growing trend among is audio electronics manufacturers is taking headphone amplifiers seriously instead of slapping in the cheapest possible headphone jack just to tick off a checkbox in a list of perfunctory 'features'. Nowadays you see a lot more high performance headphone amplifiers installed in A/V receivers, integrated amplifiers, computer audio interfaces, preamplifiers, soundcards, and so on. Nonetheless, one does not achieve the status of "true headphone devotee" unless one uses an outboard headphone amplifier. Here is an example of one of those at AXPONA …

Woo Audio WA22 Headphone Amplifier
This formidable headphone amplifier, the WA22, is a fully tube driven and fully balanced class A design. It can handle a headphone impedance of 8 to 600 ohms, so it will work with any set of cans. It has balanced and unbalanced inputs, and 3 pin, 4 pin, and ¼" headphone outputs. The right knob functions as a high / low impedance switch and also as a power switch. The WA22 base cost is $2,000 and can be ordered with a variety of different tube upgrades. A Sennheiser HD800 was used to demonstrate them, and the resultant sound was terrific with the brief orchestral and rock music samples that I heard.


AXPONA Part 2 Coverage Conclusion

Of course, our coverage only touched a few of the many amplifiers, preamplifiers, and DACs which were on display. When money becomes less of a consideration, the systems can become fairly exotic with a mixture of old and new technology, ideas, and aesthetic. There is a near infinite combination of components from which everyone who wants a hi-fi sound system can choose to make the perfect setup for their circumstances. As with so many other hobbies, the extravagance of a sound system is limited only by the extravagance of capital one is willing or able to invest. Stay tuned for next and final segment where we dive into my favorite component: loudspeakers!