AXPONA 2014 Coverage Part One: Analog and Digital Audio Source Devices
AXPONA 2014 Coverage Part One: Analog and Digital Audio Source Devices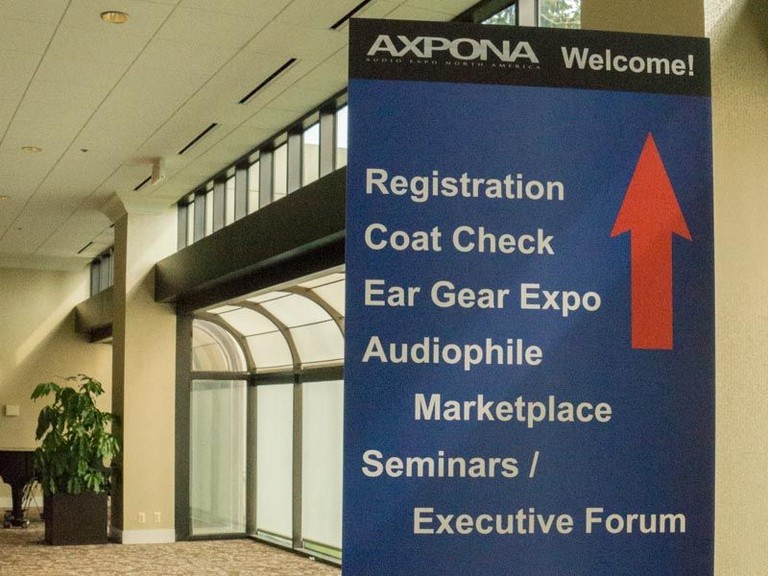 Welcome to AXPONA!
AXPONA (Audio Expo North America) is an annual high end audio show which has been held in different cities over the years, including New York City, Atlanta, and Jacksonville. The last couple shows have been held in Rosemont, Il (a northwest suburb of Chicago), and since it was nearby, we decided to pay a visit and report back on some of the more noteworthy exhibits. We will break our coverage up into three segments; in this first part we cover transports and media playback devices such as CD players, turntables, and digital file players. In the following report, we will cover amps, preamps, and DACs, while our final segment will look at loudspeakers. So what did AXPONA have in store for us?


Turntables
Vinyl's great comeback has shown no signs of slowing down at AXPONA. I noticed a lot more records than CDs there, even though CDs still outsell vinyl by a ratio greater than ten to one in the US (per Nielsen SoundScan). While I rarely use my record player these days, I can still understand the appeal of vinyl - there is a sense of solidity to the format which the vapory bits and bytes of mere data files will never be able to replicate. The nostalgia for vinyl must be intense, as some of these turntables were so grandiose that they resemble shrines. There is something special about vinyl in particular though, and it is not just a rebellion against the intangibility of digital files; I doubt the same passion and craftsmanship for turntables will ever be shown toward cassette players or eight-track cartridges. For our coverage we will look at just a few of the many remarkable turntables which were on display at AXPONA.
Acoustic Signature Triple X
The new Triple X turntable from the German manufacturer Acoustic Signature made its debut at AXPONA this year. Despite its name, the Triple X has a tasteful and reserved appearance, boasting a thick metal platter. The Triple X is available in a selection of different colors individually for the plinth and top plate, so the appearance has some degree of customization upon ordering. This hefty 55 pound turntable will set you back $7,000 for the base model.   
AMG Viella V12
The widely praised V12 from AMG (Analog Manufaktur Germany) was the turntable of choice in multiple rooms at AXPONA, which speaks to its quality and performance, not to mention its sleek but not over-the-top appearance. While it looks quite heavy, it weighs in at a manageable 25 pounds thanks to its CNC cut, aircraft grade aluminum construction. The base model, which costs $15,000, comes in a black aluminum finish but is shown here with a natural wood skirt, a $1,500 upgrade.
Artisan Fidelity Achates Lenco Idler Drive
Artisan Fidelity is a four year old company which turns existing turntable platforms into finely engineered works of art. The above pictured Achates Lenco Idler Drive, which uses the Lenco L75 motor platform and drive geometry with a new modular inverted bearing and platter system, will set you back $12,895, a more than reasonable sum for the superb aesthetic statement made here. Artisan Fidelity had other models on display which were equally gorgeous. I found these to be the classiest looking turntables of the show.
Avid Ingenium
Introduced last year, the $1,300 Ingenium turntable from Avid was one of a handful of turntables at AXPONA which didn't cost as much as an automobile. This is Avid's most affordable offering, and the cost is partly achieved through a minimalist chassis which is isolated from the platter to reduce vibrations. This is in line with the design principles from Avid's higher end models, and a high quality but affordable turntable is built from filtered down technologies developed for earlier and much costlier turntables. The lack of a large and heavy chassis will let the Ingenium fit in tighter spaces, and isn't likely to clash with modern decor.
Clearaudio Master Innovation
Clearaudio's Master Innovation turntable was a sight to behold. This recent release from Clearaudio will set you back $30,000 for the base model, and it looked every penny of the cost. One of the more far-out features of this turntable is that the top platter is partly suspended in air by magnetic repulsion from a lower platter, so those lower platters do more than just make the setup appear monumental. The upper platter's lack of contact to a lower surface makes it that much easier to control, since the upper platter is 'resting' on air and thus is less affected by friction. To keep the platters aligned, another magnetic system uses attraction to hold the platters in place but without enough force to override the repulsing magnets. Another feature of the Master Innovation is that the rotation of the top platter is constantly monitored by an infrared sensor, and any deviation from the expected speed is compensated for by a feedback mechanism. Yeah, turntables have come a long way since I was a kid.
Acoustic Solid - Solid Machine
The Solid Machine from Acoustic Solid was another turntable which blurred the line between functionality and art. Although not cheap, it is not as expensive as one would guess, being priced at $6,700. One of the key features of this beauty is a massive 60mm thick, single piece aluminum platter which must be a major contributor to the formidable 66 pound weight of the unit. It is driven by a separate motor which is unconnected to the chassis in an effort to reduce vibration. Other efforts to dampen vibration include a layer of leather under an acrylic disc that serves as a platter mat, which also contributes to its stylish appearance. 
Funk Flamenca
Unveiled late last year to critical acclaim, the relatively affordable $1,500 Funk Flamenca was not overlooked at AXPONA, even among far costlier turntables. The Flamenca is more like a 'thread' driven turntable instead of a belt driven turntable, as the 'belt' here is a mere 0.15mm thick. For some perspective on that, the average thickness of hair from a human head is 0.1 mm. The pickup arm uses threads as well; two threads are used to control the bias instead of a traditional ball bearing. Given the praise this unit has received, these departures from the norm of turntable design appear to be quite successful.
Kronos Sparta
The recently unveiled Sparta turntable, which debuted at CES in January, made its way to AXPONA and enraptured a full room of listeners through a pair of Legacy speakers. The Sparta is the successor to the original Kronos turntable, and implements the core technology used in the more expensive Kronos but in a simplified form. The Sparta uses two belt driven platters and two motors. The lower platter is not actually connected to the upper platter and is driven in an equal but opposing rotation in an effort to simply cancel out vibration to the chassis structure. The dual platter vibration cancellation is the most prominent feature of the Sparta, but it is only one of a number of engineering feats in this sophisticated $21,500 turntable.
Kuzma Stabi XL2
The approach which Kuzma takes to vibration reduction in the Stabi XL2 is obvious from a single glance: brute force mass. The aluminum/acrylic platter alone weighs nearly 50 pounds, and the entire table clocks in at almost 170 pounds. Two opposing motors and two belts are used to further reduce vibration by cancelling out the pull of a belt from a single direction. The massive brass tone arm tower can accommodate different tone arms and allows for an 80 mm range of adjustments with each turn of the knob representing 0.1mm precisely. Price with tone arm: $36,000.
McIntosh MT5
McIntosh's new MT5 turntable, which debuted at last year's CES, has received glowing reviews ever since its introduction. Speaking of glowing, the luminous 1.5" thick platter is invariably the first thing noticed upon viewing, but it is more than just a pretty light; this 5 pound silicon acrylic platter is magnetically suspended by using two opposing neodymium magnets. The platter is driven by a servo controlled DC motor which has been isolated from other electronic components. Magnets are also employed in in the tone arm's anti-skating feature in order to reduce motor noise. This hypnotizing, high performance turntable is priced at $6,500. 
TriangleART Signature
There is no shortage of polished chrome finishes on high end audio devices for the simple reason that it is pretty. The TriangleART Signature pulls no stops in this regard and maximizes its chrome finish for the effect of pure opulence. The Signature uses sheer mass to dampen vibrations from effecting record playback, and at over 200 pounds, it's fair to say nothing was held back in this respect. The plinth and the platter are each single, solid metal pieces; setting one up must have been an arduous task. The motor, base, and tone arm are in separate modules for the purpose of customizability in the setup. This lets you keep the motor on a separate platform for reduced vibrations during playback, and it also lets you use any length of tone arm that you wish. While the TriangleART Signature is not cheap at $15,990, it is priced a good deal less than I would have guess given its regal appearance.
TriangleART Symphony
Next to the TriangleART Signature, the Symphony might seem diminutive, but at 120 pounds, what it's lacking in size is made up for in weight. The vast majority of its mass comes from the plinth, which is essentially a solid aluminum block, and, like the Signature, the sheer mass is intended to reduce vibration. The Symphony costs $6,000 and comes with a tone arm pre-installed.
VPI Nomad
VPI's new Nomad turntables were also seen at AXPONA. The Nomad still seems to be in pre-order status at the moment, and does not yet having a product page. The Nomad is a 'ready-to-go' record player and needs little of the setup typical of traditional turntables. Among the conveniences of the Nomad is a built-in preamp, a built in headphone amplifier, and a pre-installed Ortofon 2M Red cartridge. As soon as you receive it, you can connect it directly to your amplifier and you are ready to spin your records. Thanks to its built-in headphone amplifier- a rare feature among turntables- you do not even need a preamp or an amp to enjoy music with the Nomad if you have a set of headphones. The Nomad looks like a great solution for those who want a simple and easy way to get into vinyl. It is priced at $995.