Velodyne EQ-Max 15 Subwoofer Review Conclusion
Velodyne EQ-Max 15 Subwoofer Review Conclusion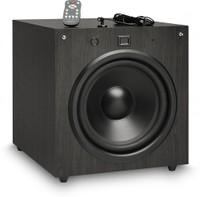 The Velodyne EQ-Max 15 attempts to offer a glimpse of their top of the line Digital Drive series feature set and performance at a much more affordable price and give subwoofer hunters with more modest budgets access to Velodyne products. A goal well met for the most part. I was fond of the finish on the review unit. The dark brown wood grain being a welcome departure from the endless parade of black cubes. Build quality was good as well, as was parts quality, although it seems like more performance could possibly be coaxed out of the system with a heavier duty driver as the current one did seem to be over-exerted at times. The measurement session shows the EQ-Max 15 to have strong basic performance including high output headroom over theimportant 40-80Hz octave and great distortion performance above 30Hz. Looking at the measurements it does not surprise me at all that subjectively the EQ-Max 15 did very well with most any type of music I happened to throw its way. On the opposite side of that coin the modest extension and output below 30Hz showed up subjectively with a less strong performance with bombastic movies which contain a lot of heavy lifting in this area. It does do well with movies, just not as well as it does with music which was really impressive. Even without the extreme extension offered on some other subwoofers, the EQ-Max 15 offers a lot of value for the money and some features not offered on most other subwoofers in this price range, like remote control operation, EQ pre-sets and the auto EQ system. Not to mention a generous warranty term and the backing of a long established audio manufacturer. If you haven't heard recently Velodyne has started to offer their products for sale online, which has been somewhat controversial, but means that where previously if you happened to live in a remote area you may not have had access to a reasonably close B&M Velodyne retailer, you should now be able to have a factory authorized Velodyne shipped to your door no matter where you are in North America. In the case of the EQ-Max 15, which might be the best current value in the extensive Velodyne product catalog, that can only be a good thing.
The Velodyne EQ-Max 15 receives the Audioholics Bassaholic Medium Room rating, which means that this sub is recommended as maintaining adequate headroom in rooms or spaces of 1,500-3,000 cubic feet and/or for users who usually listen at low to moderate volume levels. For further information in how we make these recommendations see the full article here.
See: Audioholics Subwoofer Room Size Rating Protocol
Velodyne EQ-Max 15 Review
velodyne.com
Toll Free: 866-243-0789
MSRP: $879
The Score Card
The scoring below is based on each piece of equipment doing the duty it is designed for. The numbers are weighed heavily with respect to the individual cost of each unit, thus giving a rating roughly equal to:
Performance × Price Factor/Value = Rating
Audioholics.com note: The ratings indicated below are based on subjective listening and objective testing of the product in question. The rating scale is based on performance/value ratio. If you notice better performing products in future reviews that have lower numbers in certain areas, be aware that the value factor is most likely the culprit. Other Audioholics reviewers may rate products solely based on performance, and each reviewer has his/her own system for ratings.
Audioholics Rating Scale
— Excellent
— Very Good
— Good
— Fair
— Poor
| Metric | Rating |
| --- | --- |
| Bass Extension | |
| Bass Accuracy | |
| Build Quality | |
| Fit and Finish | |
| Ergonomics & Usability | |
| Features | |
| Dynamic Range | |
| Performance | |
| Value | |
See also:
Confused about what AV Gear to buy or how to set it up? Join our Exclusive Audioholics E-Book Membership Program!
Recent Forum Posts:
Craigslist Joe posts on March 06, 2012 15:18
Velodyne quality costs lots of rubles, comrades.
ack_bak posts on February 28, 2012 12:00
zhimbo, post: 868077
Remember the room rating includes home theater use, so bass <32Hz is important. That's the qualifier - If you don't much care about <32Hz (and not everyone does), the numbers favor the Velodyne.

Quoting John:
Exactly. While I would take the SVS over this on because I am more of a home theater guy, I am sure there are lots of people that care more about the mid bass region and the Velodyne beats the SVS there and would most likely preferred for music. Velodyne is also known for giving your lots of features on their subs (like remote controls) and that may appeal to some.
But for the price, there are other ID subs I would take over the Velodyne.
kini posts on February 28, 2012 10:55
Pretty disappointing performance for a 15" sub. I'd bet the Cadence 15 would out perform it for less than half the price.

Hopefully the Klipsch SW115 will be better.
zhimbo posts on February 28, 2012 10:53
its phillip, post: 868081
Guys, his name is Josh
D'oh!
My apologies to Mr. Ricky.
Ricci posts on February 28, 2012 10:01
The EQ-Max-15 misses the large room rating by virtue of it's 25Hz and 31.5Hz performance which is part of the minimum criteria.

The PB12-NSD does better at those 2 bands so it meets the criteria.

And yes…My mother gave me the name Joshua.
Post Reply