Velodyne EQ-Max 15 Subwoofer Review
Velodyne EQ-Max 15 Subwoofer Video Review
Summary
Accessories: Mic, mic stand, remote control

Amplifier: 1500 watts Dynamic/750 watts RMS Power

Auto On/Off: Yes

Cabinet Design: Extended Excursion Down-firing port

Color: Black Vinyl

Dimensions: (H/W/D): 21.5" x 19" x 21" (54.6 x 48.3 x 53.3 cm)

HiPass Crossover: 80 Hz, 6 dB/octave

LoPass Crossover: 40 - 120 Hz adjustable (12 dB octave, 24 dB ultimate)

Phase Control: 0, 90, 180, 270 Degrees

Removable Grille: Yes

Shipping Weight: 75 lbs. (34 Kg)

Warranty: 3 years (electronics) 5 years (drivers)

Executive Overview
I've had a lifelong struggle with subwoofers. Sometimes I've been impressed with smaller subs that perform well for their size. And certainly I can appreciate a small sub that plays low. But... if you really want the most performance you're going to need a big sub... or two or three. Today, we're looking at one of Velodyne's newest subs - the EQ-Max 15 - and it's big. As the name suggests, it's a 15-inch subwoofer that, while larger than most of the products you'll find that try and cater to the "less-is-more" crowd, this sub actually puts it all out there, unashamed. Kinda like Lady Gaga... except... square... Anyway, the driver is a 15-incher - and what makes that a big deal is that, other than Velodyne's Digital Drive series, this is the only other 15-inch sub they make.
So what's under the hood. Well, it has a 750-watt digital amplifier which can hit 1500-watts of dynamic power. And just as a side note, that's 525-watts more power than the next model down, the EQ-Max 12, so if you sitting on the fence as to which one to buy... for an extra $240 you get a lot more power and slam. Now power is a large factor in subwoofer performance, but the EQ-Max also reaches down to 23Hz +/-3dB, which doesn't seem very low until you notice that the full spec has it reaching 14Hz at its lowest. Cranking up the ole' SPL meter and a test disc we measured it going down well below 20Hz in-room. We'll have a much more detailed measurement report that should be publishing shortly after this video review. The output of this sub is pretty impressive, and it has two ports that fire out the bottom of the sub via two flared openings. Inside we noted a lot of dampening material but no internal bracing apart from what appeared to be very well glued seams and corners. That's an area that could use some more polish, particularly given the size of the enclosure.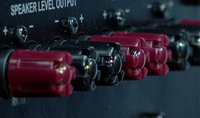 On the back you've got your connections, which includes speaker level inputs and outputs, so you can use the subwoofer as your crossover. This is perfect for integrated amplifiers or two-channel systems as well as satellite speakers that would benefit from the 80Hz 6dB-per-octave crossover. Of course there are also stereo RCA line inputs and outputs as well as the variable high pass crossover control. But volume is handled by a couple of pushbuttons to send it up or down as needed. Now I say that, but really I'm just talking about on-board controls because the EQ-Max subs come with a remote control... and a microphone. And while you can't sing Karaoke with it (why did I just say that?) what you can do is set the mic up at your listening position and hold down the "EQ" button on the remote. This runs twelve 20-150Hz "sweep tones" from the sub and calibrates the internal 5-band digital EQ to compensate for peaks and dips in the frequency response due to the room and subwoofer placement.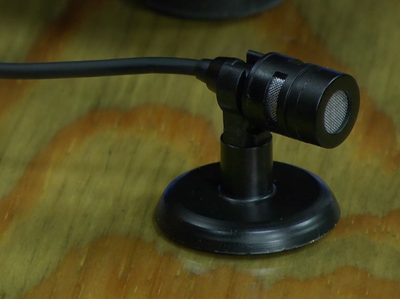 The process is super simple and there is a blue LED screen on the front of the sub that gives status as well as indicating the current volume level. It was at this point that we noticed something missing - namely a bypass feature for the EQ. Now, most people won't need to do anything other than perhaps re-run the EQ for a new location, but we wanted to flatten out the sub's EQ before doing any measurements. We called tech support and they told us that to reset the EQ, you use the Preset buttons on the bottom of the remote. Pressing 1,2,3,4,4,3,2,1 will reset it back to factory standards. It worked.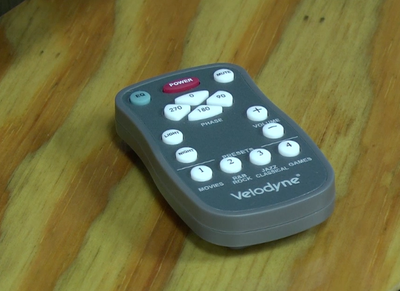 Some of the lowest bass frequencies we hit were with tracks from Switchfoot's Beautiful Letdown album where "This is Your Life" absolutely slammed our listening room when the low bass synth notes kicked in during the intro of this track. Then we queued up Yello The Eye and dialed in the first track, "Planet Dada". At this point the output of air from the subwoofer began to far exceed the amount issuing forth from the ceiling fan above me in the room. This was chest-thumping bass - clean and clear and not at all boomy, but more akin to San Francisco earthquake intensity - it's the kind of bass that makes you wonder if your heart might be starting to beat in sync with the sub. And the volume was only at 25... It goes to 80.
We also watched a bunch of movies to see how well the EQ-Max did with film soundtracks. As you'd expect, a sub that does fairly well with music isn't typically going to drop the ball on explosions, gunfire and film scores. For our testing, we cranked up oldie-but-goodie scenes like the "100 Mile Dash" chapter in The Incredibles, and also newer movies like Harry Potter and the Deathly Hallow's: Part 2. The depth and percussive nature of this sub was really impressive. We can't say enough about the EQ-Max 15 sub. It's deep, powerful, musical and competitively priced at $899*. If you're sub-shopping you'll want to put this one on your short list to consider.
Listen, if you liked this video review please hit the 'Like' button in YouTube and subscribe to our channel so we can be sure to bring you more great reviews. Also reach out to us at Facebook.com/audioholics or via Twitter at AudioholicsLive.
*Note that the priced dropped since we recorded this video.

Unless otherwise indicated, this is a preview article for the featured product. A formal review may or may not follow in the future.
Confused about what AV Gear to buy or how to set it up? Join our Exclusive Audioholics E-Book Membership Program!