Denon DHT-S217 Promises Dolby Atmos from a 2.1 Soundbar?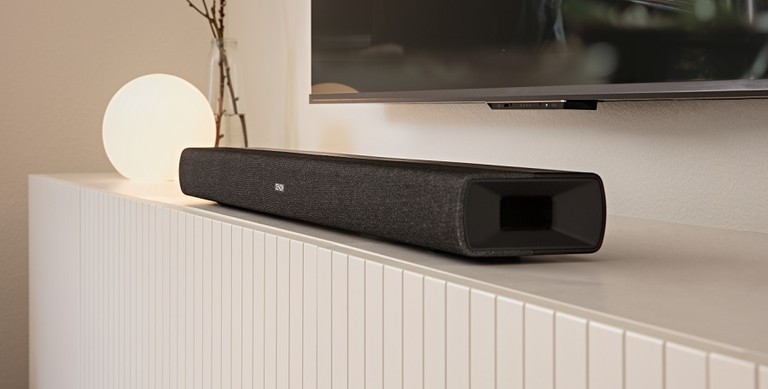 Denon DHT-S217 2.1 Soundbar
Summary
Acoustic System: 2.1 (6 drivers)
HDMI eARC: Yes
Digital Optical Input: Yes
Analog Input: Yes
HDMI input: Yes
Subwoofer Output: Yes
Dolby Atmos: Yes
Dolby Digital decoding: Yes
Denon Dialog Enhancer Yes
Drivers
Left/Right Tweeter: 2x 1" (round)
Left/Right Midrange (W x H): 2x 3.5" x 1.6" (racetrack)
Subwoofer: 2x 3" (round)
Dimensions (in): 35 x 4.7 x 2.6
Weight: 8lb
Executive Overview
Working for Audioholics for the last 16 years has given me an opportunity to see some amazing products. I've had very good experiences with Denon receivers and always look forward to their new releases. In 2020, Denon released the industry's first 8K-ready line of AV receivers including the AVR-X3700H. Based on the successes over their 110+ year span, Denon expanded their offerings to include items like soundbars, like the Denon HEOS soundbar, noise cancelling wireless earbuds, and wireless HEOS speakers. Now, Denon has introduced the Dolby Atmos Enabled DHT-S217 Soundbar with built in subwoofers.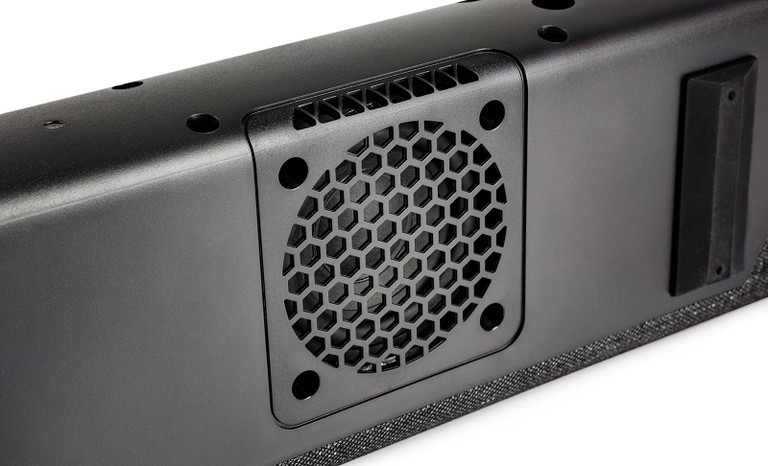 The low-profile DHT-S217 features two 3" built-in down-firing subwoofers, two 3.5" x 1.6" midrange drivers, and two 1" tweeters. The two 3" subwoofers don't seem like much, but I've reviewed budget built in subwoofer soundbars before, like the $99 Vizio V21d 2.1 Soundbar and was impressed with the sound. Although the extreme bottom end was lacking, it was a big improvement over the built in TV speakers. I've also seen budget soundbars with small wireless subwoofers that ended up distorting the dialogue to the point where speech was almost unintelligible.  
If you're looking to vastly improve your TV's built-in audio, look no further than our DHT-S217 sound bar. The DHT-S217 transforms any TV into a complete home entertainment system thanks to its built-in subwoofers that pack a deep punch and powerful 3D surround sound, all at an accessible price point.
--Trip Randall, Denon brand President
The DHT-S217 is labeled as Dolby Atmos certified, but with just a single midrange and tweeter for each side of the speaker, I would be hard pressed to believe this without hearing it. Denon says that the DHT-S217 comes with an "unmatched immersive 3D audio experience".  That seems like quite an embellishment to say the least. But there are laptops now claiming Dolby Atmos sound these days so  the name has become a bit watered down to broaden product inclusion.
The unit is labeled as a 2.1 sound bar with Bluetooth and integrated down-firing subwoofers so at least Denon has labeled it for what it is.
The DHT-S217 incorporates Dolby Atmos 3D audio technology for a lifelike, cinematic surround sound experience sure to elevate the performance of the latest 4K TVs.
--Denon
Simple Set Up Path to Better Sound
One reason that soundbars have become so popular is their ease of setup. The DHT-S217 should connect to most TVs using the supplied HDMI or Optical cables. The new Denon soundbar does come with 4K HDMI connectivity along with eARC which we are seeing in most new soundbars. This should allow you to control your volume using your TV remote instead of having multiple remotes for both the TV and the soundbar.
At a scant 2-inches in height, the Denon DHT-S217 can be placed in front of the TV without obstructing the bottom edge of the display or it can be easily wall mounted. It's pretty cool that Denon created an affordable, easy to set up, one box solution to improve your HDTV sound. This product seems well suited to supplement the sound in a bedroom or dorm system or for a vacation rental home.
Although the DHT-S217 doesn't come with a manual equalizer, it does offer a choice of four sound modes (Movie, Night, Music, and Pure). The Pure Mode bypasses all surround processing and other adjusted characteristics for, as Denon puts it, "the most audiophile listening experience".
People already familiar with Denon products will appreciate the Denon Dialog Enhancer feature. The dialogue enhancer improves dialogue clarity with three different modes. Denon designed the Dialogue Enhancer for you to adjust the dialogue level without affecting overall program volume.
The new Denon DHT-S217 will be available in May with pricing at $250 USD from Denon's website and authorized Denon retailers.
For more information, please visit www.usa.denon.com/us.

Unless otherwise indicated, this is a preview article for the featured product. A formal review may or may not follow in the future.
Confused about what AV Gear to buy or how to set it up? Join our Exclusive Audioholics E-Book Membership Program!