Polk Expands Their MagniFi Line With the Immersive Mini AX Soundbar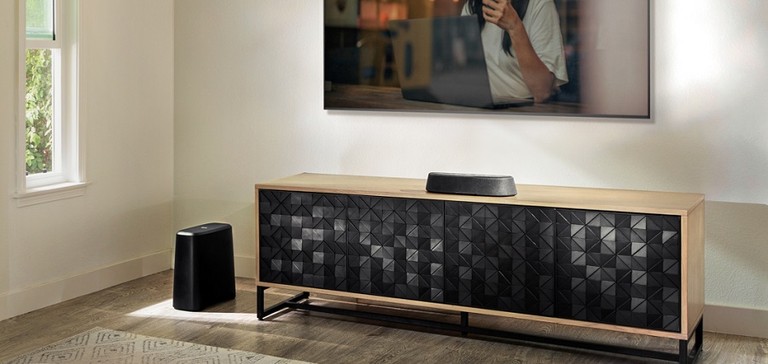 Polk MagniFi AX
Summary
Product Name:

MagniFi Mini AX

Manufacturer:

Polk Audio

Review Date:

April 04, 2022 01:25

MSRP: $500
First Impression:

Pretty Cool
Inputs
1 HDMI (eARC)
1 Optical
1 Analog 3.5mm
1 USB-A (for firmware updates)
Steaming options: Wi-Fi (802.11 a/n/ac), Google Chromecast for Audio, Apple AirPlay2, Spotify Connect, Bluetooth 5.0
Drivers
Sound Bar: L/R Tweeter = (2) 0.75"
L/C/R Mid = (3) 2"
Subwoofer: Woofer = (1) 5" × 7"
Dimensions
Sound Bar:(W × D × H) 14.4 × 4.1 × 3.1"
Subwoofer: (W × D × H) 7.2 × 15.6 × 14.6"
Executive Overview
It's been six years since Polk Audio released their MagniFi Mini at the CEDIA show in Dallas Texas.  We were impressed with the sound coming out of such a small package as well as the connectivity options and the ability for the system to work with your existing remotes. Since then Polk has released other MagniFi options such as the MagniFi Max and MagniFi 2. Now Polk Audio announced its latest sound bar system, the ultracompact MagniFi Mini AX that is designed to provide music and movie enthusiasts with immersive audio playback with Dolby Atmos and DTS:X built-in. Polk engineers further enhanced the surround experience by integrating their patented fourth generation SDA technology to create "an even wider, more accurate sound stage than provided by Dolby Atmos or DTS:X alone." In addition, for immersifying standard soundtracks and stereo music, they've included 3D Audio Mode which upmixes the audio to 360-degree virtual surround sound including virtual height channels.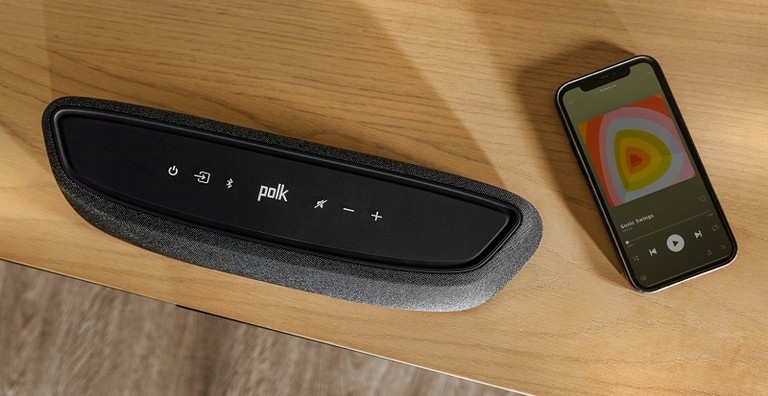 The sleek 14.5" wide design is equipped with an advanced 5-speaker array and a separate wireless down-firing subwoofer.  Polk Audio says that the new MagniFi AX is "a powerful sound bar system (that) provides deep bass, detailed highs, and an expansive 3D soundstage rivaling much larger sound bars". For an even more immersive surround sound experience, you can even add Polk's SR2 wireless speakers (available separately for $199) to enjoy an additional multidimensional Dolby Atmos or DTS:X 5.1 playback.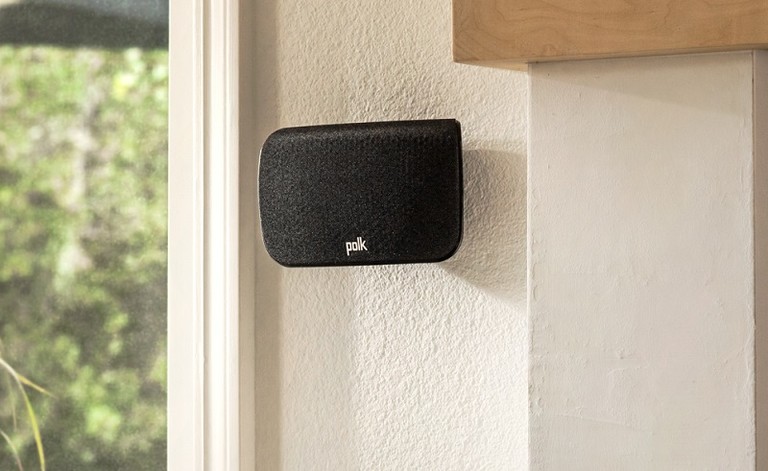 Like other MagniFi products from Polk, the new soundbar will have access to millions of songs, podcasts, and more with Wi-Fi streaming via Apple AirPlay 2, Chromecast, Spotify Connect, as well as the convenience of Bluetooth connectivity. If it's anything like its predecessors, the MagniFi Mini AX system should be extremely easy to setup through either HDMI eARC/ARC (HDMI cable included), optical, or AUX-in. The MagniFi AX also comes with an OLED display to make the settings easy to understand and disappears when not in use.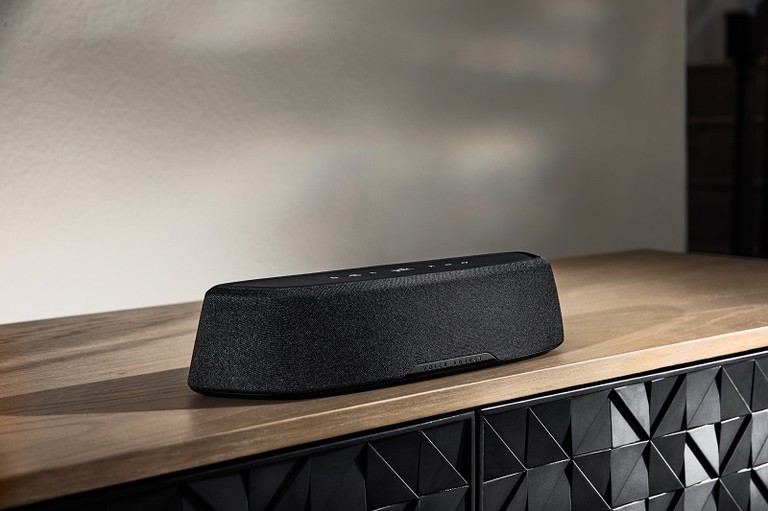 MagniFi Mini AX comes with a remote control, but the unit works with most TV remotes out of the box. We tried this feature with Polk's MagniFi Mini and it worked flawlessly making us wonder why more companies haven't gone this route. The soundbar is also Roku TV ready and is certified to work with any Roku products including Roku remotes.
With MagniFi Mini AX we set out to create the world's best sounding, ultra-compact Dolby Atmos sound bar. By integrating the immersive surround capabilities of Dolby Atmos and DTS:X and then optimizing it with Polk's patented SDA technology, we've created a product that's not only as enveloping as a sound bar three times its size, but with a level of sound stage accuracy that's unmatched in its class.
--Frank Sterns, President of Polk Audio.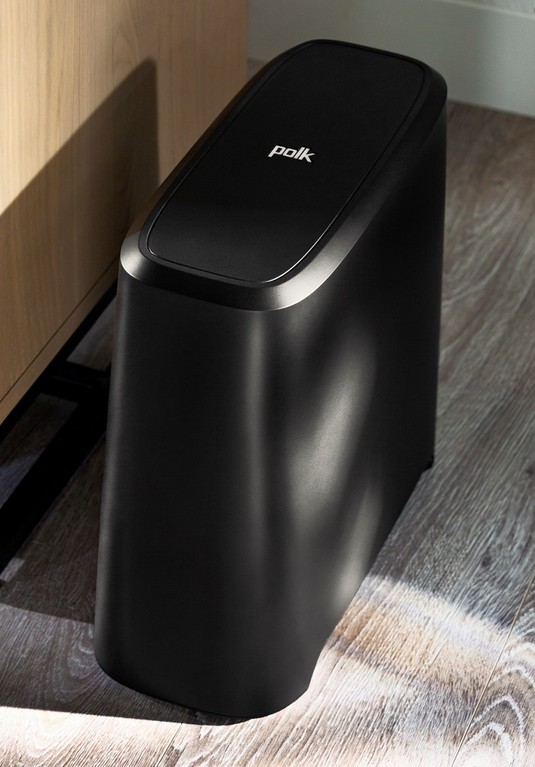 The system has Polk's patented VoiceAdjust speech-clarifying technology and works with the sound bar's dedicated center channel driver so you can can increase the level of voices without affecting the rest of the soundtrack. The wireless down-firing subwoofer that comes as part of the MagniFi system connects to the sound bar automatically and can be placed anywhere up to 30-feet away. The subwoofer can be tailored for your preferences using the BassAdjust feature which optimizes the blending of low frequencies between the sound bar and subwoofer.  The system also comes with three preset listening modes including Movie and Music Modes so you can customize the sound bar's performance to your content while the Night Mode simultaneously increases the dialogue and decreases bass for late-night watching, without disturbing sleeping family or neighbors.
What we think...

Polk's lineup of MagniFi Soundbars won't replace a fullscale discrete Atmos home theater speaker system, but for $500 you get an extremely small soundbar and wireless sub that will drastically improve the sound of your current TV speakers. We're thinking office, small gameroom, or bedroom would be a perfect place for the MagniFi AX. Add the two additional surround speakers for $200/pair and for $700 you have a surround system that can be setup with ease in minutes instead of hours.
The Polk Audio MagniFi Mini AX sound bar system will be available for $499, at PolkAudio.com and through authorized Polk retailers, in the U.S. and other regions.
Unless otherwise indicated, this is a preview article for the featured product. A formal review may or may not follow in the future.
Confused about what AV Gear to buy or how to set it up? Join our Exclusive Audioholics E-Book Membership Program!