Denon AVR-X3700H 9.2CH AV-Receiver Giveaway - Last Chance to ENTER!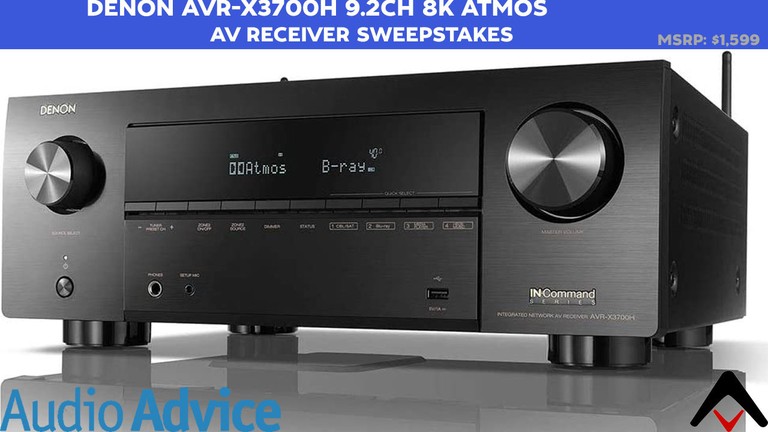 DENON AVR-X3700H Sweepstakes
Audioholics has partnered with
Audio Advice
to give away one
DENON AVR-X3700H 9.2 Ch AV Receiver ($1,599 Value!)


Spring Giveaway! Get ready for the warm season with one of today's most flexible AV receivers by DENON! Take command of your home entertainment with a stunning combination of real power backed by an array of in/outs, audio/video processing and wireless connectivity options for sweet sound throughout your home.
How it Works
As usual with Audioholics sweepstakes, entry is FREE! But this time around you can optionally improve your chances to win by engaging with Audioholics across the Internet and sharing the contest with friends through our sign-up form (below). Only your email address and name are required for initial registration. By registering for the sweepstakes you agree to receive awesome newsletters from Audioholics and Audio Advice to stay up-to-date on news, reviews, how-tos and great deals in audio/video. By midnight Friday, May 13th the sweepstakes will be closed to further entries and ONE lucky winner will be picked and contacted via email in the following week! See the Audioholics Contest Rules Terms and Regulations sticky on the Contest Forum for all the details.
IMPORTANT NOTE: Audioholics Contests are always FREE, from registration to shipping of the prize. Nobody from Audioholics will attempt to contact any registrant until after registration has closed and at no time will you be required to pay a fee regarding this contest. So, watch your spam filters in case we attempt to contact YOU!
DENON AVR-X3700H Audio/Video Receiver
Denon AVR-X3700H is a 9.2 channel 8K AV receiver with 105W per channel (8 ohms, 20Hz-20kHz, THD: 0.08%, 2 channels driven) that fully supports 3D audio formats like Dolby Atmos®, Dolby Atmos Height Virtualization Technology, DTS:X®, DTS Virtual:X™ and IMAX® Enhanced, as well as the latest HDMI specifications such as 8K/60Hz, 4K/120Hz pass-through and upscaling, VRR (Variable Refresh Rate), ALLM (Auto Low Latency Mode), Dynamic HDR (High Dynamic Range), HDR10+ and eARC support.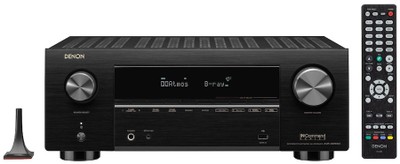 4K TV's, upgraded
Get the most out of your 4K TV until you upgrade to 8K.

9-channels of

entertainment
Drive your entire home theater system with 9 channels of power.

Latest HDMI

and eARC
Enjoy your favorite movies, shows, and games with the best picture and audio quality available.

Full 3D audio

support
Immerse yourself in 3D audio and enjoy your entertainment in whatever speaker configuration you'd like.
DENON AVR-3700H Spring Giveaway!
Complete Product Details:
Audio Advice DENON AVR-X3700H overview
Please Read Before Entering: Contest Rules, Terms and Regulations
Entry must be received BEFORE 05/13/22 at 11:59 PM EDT
PLEASE NOTE: By registering for the contest, you are agreeing to receive both the Audioholics and Audio Advice email newsletters. Contest open to Continental US ONLY.

To enter the Giveaway, simply:
1. Register with name/email to receive the Audioholics and Audio Advice email newsletters, earn optional points with additional engagement and recommendations.
2. Respond using that same address if you are contacted as the winner.
Note: You will ONLY be contacted from an authentic Audioholics email address AFTER the contest ends, you may be contacted for verification of having entered an Audioholics Contest.
IMPORTANT NOTE:
Prize sent through May-to-June 2022.
CONTEST RULES OVERVIEW: Please go our Contest Rules sticky-post in the Audioholics Forum for the complete rules. To enter, simply provide email address and follow confirmation to sign up for the Audioholics and Audio Advice newsletters. Read the complete Contest Rules, Terms and Regulations before entering. One new subscriber who joins between now to 05/13/22 will be chosen at random as the system winner. Only one entry is accepted for the contest. The system will know if you already entered and will prevent you from multiple entries. * Don't wait, the entry period ends May 13, 2022 at 11:59 PM EDT! Contest open for Continental US only.
Recent Forum Posts:
afterlife2 posts on June 17, 2022 19:19
Congrats and fully enjoy!
Trell posts on June 17, 2022 17:18
Wayde Robson, post: 1561930, member: 15138
Bur he GOES OFF if there's a doorbell.

You've trained the dog well
Wayde Robson posts on June 17, 2022 17:02
factoryguy, post: 1561916, member: 91377
The pup is named Joey and he loves movie nights!

Our dog Shadow mostly ignores movie nights but he's always good for some antics if there happen to be any dogs, wolves or vaguely canine sounds in a movie. But he GOES OFF if there's a doorbell.
factoryguy posts on June 17, 2022 15:28
Danzilla31, post: 1561915, member: 85700
Congratulations!!! How do you like your RSL CG3's? I love they're subs curious and Im curious about the cg line

The three fronts are CG23s with the dual midrange and single tweeter. Rear surrounds are CG3s. I've had them for about 2 years and really love the sound. Movies sound great, but so does Miles Davis on the turntable. The dual speedwoofers are friggin' awesome too!
factoryguy posts on June 17, 2022 15:24
Wayde Robson, post: 1561906, member: 15138
We got a picture of Kent with the prize and a brief rundown of initial thoughts after setup. The whole family is excited to hear Denon sound in his system, unfortunately I didn't get a name of the canine member of the family, but he sure looks happy too.

"I'm running it with a Sony 77" Master's series OLED and RSL CG3 speakers with dual speedwoofer subs. The sound is amazing whether listening to Lord of the Rings and Pink Floyd's Dark side of the moon in Atmos surround. Thanks again to Audioholics!" - Kent from PA
Winner of the Denon AVR-X3700H 9.2-Ch. 8K AV-Receiver

Congrats, Kent. To you and the whole family!

56563

The pup is named Joey and he loves movie nights!
Post Reply