Denon Enters the Earbud Game With Noise Cancelling and Wireless Earbuds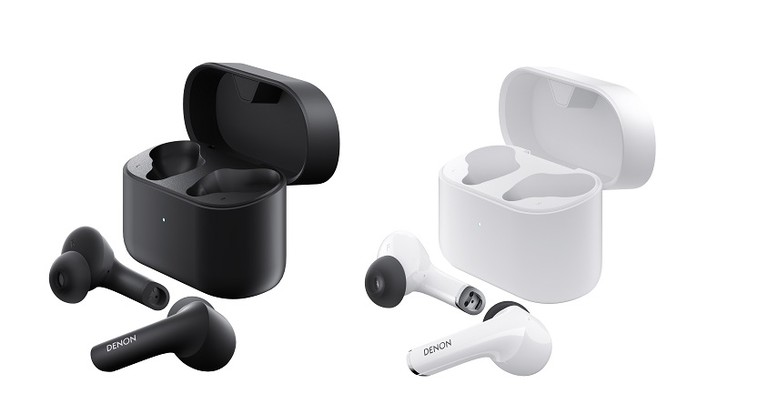 Denon Wireless Earbuds
Summary
AH-C830NCW Noise Cancelling Earbuds
Driver Size: 11mmx10mm Dynamic Driver
Noise Cancelling: Hybrid Active Noise Cancelling (2 mics on each earbud)
Battery Life: Up to 6H earbuds, up to 24H charging case (Playing music via Bluetooth) Up to 4.8H earbuds, up to 19H charging case (Playing music via Bluetooth + ANC)
AH-C630W Wireless Earbuds
Driver Size: 10mm Dynamic Driver
Battery Life: Up to 4.5H earbuds, up to 18H charging case (Playing music via Bluetooth)
Executive Overview
Wireless earbuds are becoming one of the most popular audio items sold in the world with more than 43 million units of true wireless earbuds purchased in just the third quarter of 2019 alone.  That's an annual increase of over 180 percent! While Apple dominates the market with a share of over 40 percent, we're seeing newer companies like Soundcore, Arylic, Earfun, and Avantree all coming in with budget friendly wireless earbuds under $100. We reviewed several of these against the Apple Airpods. Denon wants a part of the action and recently announced its first-ever lineup of true wireless in-ear headphones. The Denon Noise Cancelling Earbuds (Denon AH-C830NCW) and Denon Wireless Earbuds (Denon AH-C630W)  all at an affordable price.  Both earbuds are compatible with Bluetooth-capable playback devices,and both Denon earbuds have fairly large-diameter dynamic drivers that are tested and tuned by Denon Sound Masters.
For years, we have been eager to bring Denon's premium Hi-Fi sound to compact, affordable wireless earbuds, and now is the perfect time, as more people demand better sound at home and on the go. Nowhere else can you find best-in-class sound quality coupled with a light and ergonomic design, sweat and water resistance, and long battery life. With exceptional audio quality, these true wireless earbuds stand apart from anything else on the market.
--Trip Randall, president of Denon.
d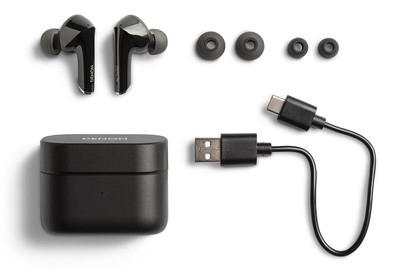 Both models have been built from the ground up using their own designed ear canal fitting through simulations. This careful research allowed Denon engineers to sculpt a more precise shape for all users. Each earbud comes with easily fitted silicone tips in three sizes for maximum comfort. Both models are IPX4 rated for durability, making them safe to wear even during rain or heavy workouts. Additionally, the Denon Noise Cancelling Earbuds feature Google Fast Pair for easy and convenient device pairing.
The Denon Noise Cancelling Earbuds are rated at 6 hours of wireless Bluetooth music on a single charge and up to 24 hours total, with additional charging cycles from the included charging case.  In comparison the Apple Aipod Pro is rated at 4.5 hours of listening time. The Denon Wireless Earbuds are rated at 4.5 hours of wireless Bluetooth music on a single charge and up to 18 hours total, with additional charging cycles from the included charging case. A USB-C cable included with the earbuds enables users to recharge the charging case (lithium-ion battery) from any USB charger or computer USB port.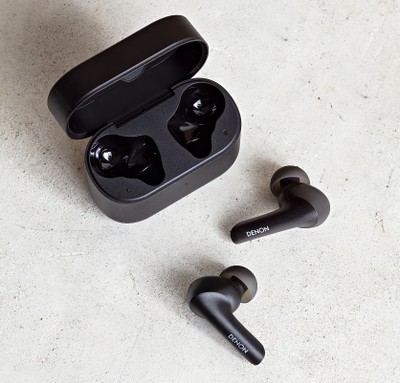 I've been impressed with the amount of noise cancellation even budget friendly noise canceling earbuds can provide. The Denon Noise Cancelling Earbuds have their "next-generation active noise cancelling (ANC) system", which leverages dual microphones in each earbud and advanced processing to reduce ambient noise. For calls, the Noise Cancelling Earbuds use a third microphone that  takes advantage of the ear canal's natural shielding against wind and ambient noise to bring additional voice clarity. The noise cancelling earbuds also come with Transparency Mode where the noise-canceling and ambient sound mix functions can be switched quickly with a simple touch sensor, while a wear detection function detects wearing and removing movements and automatically plays and pauses music. The Denon Wireless Earbuds use a sophisticated microphone for voice calls, providing clear, wireless communication and works with Bluetooth-capable playback device.
Both models are available in black or white, with the Noise Cancelling Earbuds featuring a glossy finish with silver accents, and the Wireless Earbuds featuring a chic matte finish. The Noise Cancelling model will retail for $160 and the Wireless Earbuds will retail for $99.

Unless otherwise indicated, this is a preview article for the featured product. A formal review may or may not follow in the future.
Confused about what AV Gear to buy or how to set it up? Join our Exclusive Audioholics E-Book Membership Program!