Practical Cabling Spaghetti
Practical Cabling Spaghetti

We calculated total cable lengths needed for this job to be roughly 10,000 feet just for the COAX and speaker cables. Since S&S supplied all of the CAT5e cabling for data and Ethernet, I let them figure out what was needed. I could only imagine the look on the face of Kurt Demke from Blue Jeans Cable when I called in my order, especially when I told him I needed the cable in two weeks. Talk about waiting until the last minute. About one week later, 4 huge rolls of cable showed up at the door stop of S&S Electric. Leave it to Blue Jeans Cable to not only meet a deadline, but to beat it by half the allotted time. This wasn't too surprising to me since this is a common experience I have had with Blue Jeans Cable and for our forum readers who also use and rave about the quality of their cables and customer service.
For HDMI cabling, I relied upon DVI Gear's SHR cables (pictured right) for my front projector system and Impact Acoustics for a secondary component run as well as interconnectivity between components. In my opinion, nobody has a better HDMI copper cable solution for long runs than DVI Gear. Impact Acoustics are also another great option for shorter runs, with their advantage being in flexibility since they are a bit thinner and more pliable than the DVI Gear SHR cables.
I used Impact Acoustics Sonic Wave products for all digital toslink connections in all of the systems, and their Sonic Wave products for all audio video connections to the components in System #2 & #3. In my opinion, Impact Acoustics have some of the best solutions for Toslink in any of their series. Their product offerings are of top notch build quality and they make a snug connection unlike many competitor toslink solutions that fall off at the slightest tug.
System #1's cables are mostly comprised of Blue Jeans 1694 COAX and 10/2 Belden speaker cables. In fact every speaker run from in-wall to distribution panel to equipment uses Belden 10/2 speaker cables from Blue Jeans Cable.
Terminations for Coax are Canare and for speaker cables, compression WBTs.
Installation Job Time - Piece of Cake?
S&S Electric told both myself and my builder they could route all of this cabling in a few days. Three months later and after their third time rerouting cables to match my plans, they finished laying the cable down as I specified. Though they didn't work this job full time for three months, they did send a full fledged crew each time they came to my home site in efforts to complete this job which they quickly realized was grossly underestimated. As a funny side note, my next door neighbor kept a close eye on my home while it was under construction and heard a few of the workers spout out colorful metaphors in Spanish directed towards the home owner who decided on such extensive cabling. In their defense, it is doubtful in the history of their organization that they ever had to run such a complex home theater cabling installation. Only an Audioholic would place such demands on an electrical contractor. I was very fortunate they undertook this endeavor rather than closed the door and had me succumb to their prearranged 5.1 Monster Cable packages.
The Bonus Room (Main Theater & Control Center)
This is the central "plexus" for Audioholics where only the industry's finest gear resides. You won't find dinky cubed speakers in the room, or exotic battery powered cables (that is, unless we are ripping them apart to measure, analyze and do a little editorial on them.)
Here are some preconstruction pics that show how the cabling was routed.
Note in several instances, I had to sneak into the home after work hours to move around audio / video cables that were overlapping power runs. There are some critical guidelines that installers should follow when running low level cables such as audio, and video in a home. Despite the fact I handed S&S Electric a routing guideline for my cables, they still made some routing boo boos.
The middle picture shows the conduit I had run for projector cables while the pics to the far left and right show the runs of speaker and coax throughout the room.
In speaking with Ray Adkins, I learned it's a common problem with many installers since most of the people running the cables have little experience with A/V.
Editorial Note On Running Cabling:


Never run power cable parallel with audio or video cables
If close proximity runs can't be avoided, try to cross cables orthogonally (perpendicular)
Power cables should be at least 6 inches away from parallel runs of A/V cable.
Keep cables clear of metal strapping and bracketing, otherwise any slight pull can result in tearing
Main Control Panel System #1
The pic to the above left shows all of the cables breaking out into what would soon be the main control panel (right). It took up until the last two weeks before closing to get my builder and S&S Electric to sort out a workable solution for termination. In the end, they went with my suggestion of building a wooden box and strapping the Décora wall plates onto the surface, followed by terminating all of the cables (except HDMI) into SpeakerCraft female banana's for speakers and coax for audio and video.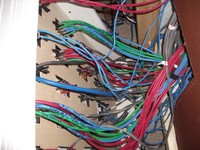 As you can see by the picture above, it is serviceable to all but the faint of heart.
Confused about what AV Gear to buy or how to set it up? Join our Exclusive Audioholics E-Book Membership Program!