First Look - Post-Construction
First Look - Post-Construction
After 13 grueling months, the Audioholics Showcase Home construction has been completed.

Now the fun begins.
With over 10,000 feet of cabling run behind drywall for distributing audio, video and data, at some point this all has to get hooked up to equipment. As of last week I started taking on this challenge solo but could always use a helping hand (*subliminal message* - email [email protected] and offer assistance immediately).
There are three immediate tasks at hand:

Main Home Theater Room System
This is the premier Audioholics Showcase system featuring 7.2 surround sound, front projection, theater seating, acoustically controlled room, 5.1 surround sound electronics for System 3: Bedroom System.
Family Room System
This system is the primary system used to entertain guests and houses 7.1 surround sound, DLP display, Xbox, and distributed audio for front/backyard, living room and guest rooms.
Master Bedroom System
This system features all inwall speakers, including the subs, with no equipment in the room other than the LCD display cable box, and RF repeater system.
Middle Atlantic Rack (for Primary Theater Room)

Here I am today contemplating how to hoist this nearly 7', 300lbs Middle Atlantic rack up a flight of steps by myself (yea our premier system is on the second floor, nobody ever accused me of common sense being my strong point). Just as I built up enough courage (read: insanity) to move it, the local UPS guy shows up with yet another delivery. He seemed to be a sturdy fellow so I tried out a tip I learned from my business partner and offered him a quick $20 to help me carry this beast upstairs.
We did it! But now can someone tell me how to assemble this thing? Look at all the boxes, yikes!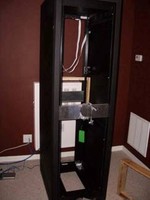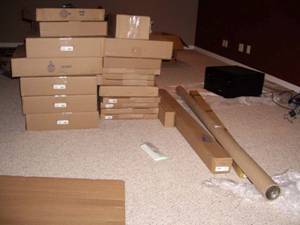 Ok think back to childhood when you had to match up the shapes to the empty peg boards. Does this look familiar? Good cause all of the cables on the floor (and about three more box fulls) in the left pic need to hook up to the main distribution box to the right. Are we having fun yet?


If not, try finishing off Family Room System that has about half the connections of this but in a much tighter space. Main System will be at least a three month project between waiting on room acoustics tuning, theater chairs, the main speakers, and getting it all hooked up and operational. I simply could not wait that long to listen to my favorite tunes, so I managed to get most of Family Room System operational. Once the cabinet guy finishes our shelving, we can mount the TV and put in all the finishing touches.
During this time you may have noticed I had been absent in the forums. It's not for being shy, as anyone here could tell you. I was up to my armpits in boxes, cables and gear. Living the Audioholics dream you say? Try living in my world for about six months. If you could endure that, than your heart and soul is Audioholics. Here is hoping for the best. Now it's back to the grind!
> Check out the Completed Audioholics Showcase Home < updated 7/25/08