PT-FW300U Build Quality and Features
PT-FW300U Build Quality and Features
This is definitely an update for Panasonic's F-Series business/presentation line of projectors. The lumen output is the same, and though they changed their ambient light compensation feature to "Daylight View 5", we couldn't notice a difference in features or performance over version 4. What we did notice is that the F300-Series now comes with an WXGA option - that means it finally has native widescreen support. This is excellent because it means that the line can finally be integrated into hybrid presentation and theater applications. The new series also includes a new digital video input and some other goodies. The F300-Series actually comes in four flavors:
PT-FW300NTU - 3500 lumens WXGA with wireless network features

PT-FW300U - 3500 lumens WXGA with wired network features
PT-F300NTU - 4000 lumens XGA with wireless network features
PT-F300U - 4000 lumens XGA with wired network features
All four F300-Series projectors have the ability to be monitored remotely. Panasonic's original Multi Projector Monitoring and Control software (included) allows users to control and monitor
up to 1,024 projectors via LAN. I can't imagine anyone actually controlling that many, but perhaps I just need a job at NASA or the National Weather Service to visualize the potential. The network even sends out an alarm message if a problem occurs, such as a bulb replacement warning.

The PT-FW300U ditched its Auto Rolling Filter (ARF) system, opting for a new Auto Cleaning Filter - a much more self-explanatory designation. Instead of electrostatically pulling particles out of the path of the light engine, the ACF sweeps them off the filter with brushes. Panasonic continues to design the airflow path to minimize dust and allow the lens system to remain "blob-free". The system goes for about 10,000 hours before the user-serviceable filter/brush needs to be replaced.
Everything else about this projector is about the same as the PT-F200U - at least in terms of its physical attributes. The PT-FW300U has the same lens shift, protective door, and 2x zoom which makes this one of the more user- and placement-friendly projectors on the market. Rear access to the bulb is still available, meaning you don't have to uninstall the projector to get at the lamp. This should be the standard in all business-class projectors.

Inputs
The inputs on this projector are identical to the F200-Series with the exception of a new DVI-I input and Ethernet. This is a welcome change since former models had to use component video and had no support for native digital signals - common with PCs these days (the 15-pin VGA connector will still be around for quite some time, but it is seeing less and less use each year). The DVI-I connector is compatible with HDMI - making this projector totally ready for the 21st century.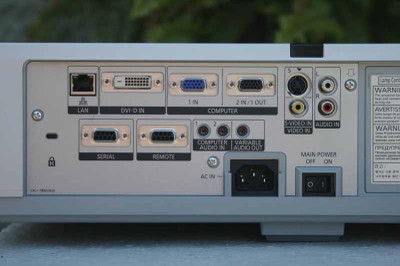 New Features
We won't go into the standard features that are the same from prior models - just check out our review of the PT-F200U for a more in-depth explanation. Users can use a standard web browser to operate a PT-F300 Series projector by remote control or monitor its status over a local area network (LAN). The projectors also can be configured to send an e-mail to notify an administrator when an error has occurred or a lamp needs to be replaced. As we alluded to above, 1,024 projectors can be monitored and controlled with Panasonic's Multi Projector Monitoring and Control software. In this configuration an alarm message is sent to the controlling/monitoring PC if an error or problem occurs.
For classroom instruction, the widescreen models (PT-FW300U and PT-FW300NTU) can display two discrete  images from two sources onto a single screen. This is perfect if teachers need to, for example, show a PC on one side with a live or recorded video feed on the other. The widescreen models offer each video source a native 640x480 (VGA resolution) image.
For those interested in these things, the PT-F300 Series reflects the following
ecological considerations.

RoHS compliance
Lead-free solder is used to mount components to the printed circuit boards
No halogenated flame retardants are used in the cabinet
Lenses contain a minimal amount of lead
For wireless models (PT-F300NTU and PT-FW300NTU) software allows the use of a Signal Map (S-MAP) which graphically shows the strength of wireless connection signals. We're not sure how useful this is in practicality, though Panasonic claims you could see which projector is most apt to handle the signal the best. I don't know any situations where projector selection is that random or flexible, but it's certainly a "nifty" feature (or at least some programmer thought so at the time).

Confused about what AV Gear to buy or how to set it up? Join our Exclusive Audioholics E-Book Membership Program!
See also:
Recent Forum Posts: