Panasonic PT-F100U LCD Projector Review
Panasonic PT-F100U LCD Projector Review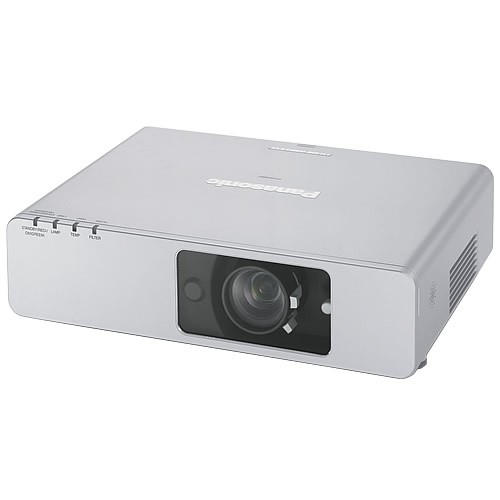 Panasonic PT-F100U LCD Projector Review
Brightness: 3200 ANSI lumens
Resolution: 1024 x 768
Aspect Ratio: 4:3 or 16:9 aspect ratio (4:3 native)
Supported Screen Size: 33-300 inches diagonal
LCD Panel: 3 x 0.7" polysilicon active matrix
Optical System: Dichroic mirror separation/prism synthesis system
Video Features:  Ambient Luminance Sensor (ALS)
Scanning Formats: 480i/576i/1080i and 480p/576p/720p (PAL equivalents supported)
Video Inputs: component, composite, S-video, and 2xPC/RGB (HD15)
Projection Lens: 2x optical zoom; f = 21.6 – 43.0 mm. F/1.7 – 2.6, manual focus & zoom
Lens Shift: Vertical and horizontal (50% vertical, 32% horizontal)
Keystone Correction: +/- 30 degrees (vertical)
Lamp: 250 W UHM lamp
Mounting: ceiling, desk, front/rear (menu configurable)
Power Supply: 100-240 volts, 50-60Hz
Power Consumption: 330 watts (maximum), 3.5 watts (standby mode with fan stopped)
Operating Temperature: 32 – 104 degrees F (0 – 40 degrees C); 20-80% humidity (no condensation)
Audio: 3W output via onboard speaker
Projection Method: Front/rear/ceiling mount/table-top
Remote Control: Standard (non-backlit) remote with laser pointer, AA x 2 batteries
Standard Accessories:   Power cord, Wireless remote control, batteries for remote control, safety cable
Optional Accessories:   Ceiling bracket (ET-PKF100H/ET-PKF100S), AV cables (TY-SC10CP)
Dimensions: 17" x 4.9" x 12.5" in (432 x 125 x 319 mm)
Weight: 13.2 lbs (6.0 kg)
Pros
Super bright
Auto-Rolling Filter (ARF) system reduces LCD panel dust
Easy lamp replacement
Ambient Luminance Sensor (ALS) great for commercial use
Cons
No deinterlacing or 2:3 pulldown
Crushed black levels
No 12 volt trigger
Introduction
Houses of worship are faced with many challenges when considering projectors. Ambient light conditions, placement, input requirements, and resolution are just some of the things that grace the top of the list. It was with surprise that I began a journey with the PT-F100U, discovering that many of the features I associated with and loved about home theater projectors were present on this commercially-targeted product. As multimedia needs advance in both the corporate and house of worship venues, technology seems to be ready to oblige our needs in the form of products willing to cross over and provide features previously thought to be distinct.

Confused about what AV Gear to buy or how to set it up? Join our Exclusive Audioholics E-Book Membership Program!
Recent Forum Posts:
Jim Robbins posts on November 08, 2007 16:33
My office just recently purchased the Network version of this same projector. I was really quite surprised at how well it works. The menu system resembles that of my Panasonic AX-100U and it can scale down from high res computer screens pretty good. My boss often likes to leave his screen at 1280x1024 while forcing us to try and read his code on the native 1024x768 screen. On the old BenQ projectors we had, this was just awful! But on the new panasonic unit, it worked really well! Also, the networking stuff seemed to work pretty cool, too. You could have an index page showing 12 screens of computers connected to it, then select any of them for full screen, or even do a 4 screen version with equal divisions. The networking worked well with both ethernet and it had built in wireless, as well. In any case, a very impressive projector for the office, as well as the church. Later all!
Post Reply