HD66 Build Quality and Setup Menu
HD66 Build Quality and Setup Menu
3D - it's becoming all the rage these days. If you want to get your product some immediate attention, all you have to do is slap a 3D sticker on the box. While it might not be fair, it is a fact of marketing life - buzzwords work. While some might look at the Optoma HD66 solely because of its 3D claims, we like to look at the overall performance. Oh, and there is that little thing we like to call cost. At $699 MSRP (and you know you'll find a sale somewhere), this is a 720p projector that shouldn't need the marketing hype of 3D to get attention.
Build Quality
The Optoma HD66 arrived as all Optoma projectors have - well boxed and undamaged. Included in the packaging was a CD user manual, composite video cable, and VGA to component cable. This is a small white remote as well. The Optoma HD66 is white and boxy with a left mounted lens. There are three rubber, adjustable feet on the bottom with three mounting holes. To the side of the lens are fins to divert excess light off to the side. With the Optoma HD20, I found that the excess light was... well... excessive. With the HD66, I found it to be less so. This might just be me getting used to living with projectors, but it seems like Optoma has done a better job of controlling the direction of the light.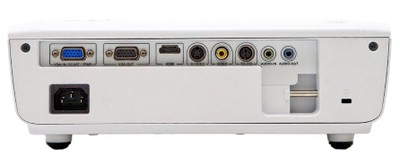 Looking at the back, there are a number of inputs. Near the bottom is the power cord connection and a security bar for tying off your projector. The actual inputs include (left to right) VGA in, VGA out, HDMI, S-video, composite video, RS-232, and stereo audio in and out. Here is where I ran into the first challenge with the HD66. Included in the box is a six foot VGA to component cable but what I needed was a VGA to component breakout box. Scratch that, what I really needed was a component video input but I would have made due with a component video breakout box. Without one, I had no way of connecting my existing component cable to the unit. For the new user, this is an issue that can be fixed with a little forethought and planning. Those looking to upgrade current installations will need to either buy three component video female to female couplers or maybe look into some sort of wall plate.
While I question the need for both a composite AND S-video input, my supposition is that this projector is expected to bridge the gap between business and home theater projectors. If I were an IT director somewhere, I'd see the $700 price tag, the HDMI and VGA inputs, RS-232 support, the fast startup/cool-down time, and audio inputs and think, "Hmm... I bet I could get the company to spring for this and they wouldn't even miss it on the weekends." But that's just me.
Setup
I installed the Optoma HD66 on the Da-Lite UPM-1 universal projector mount in my dedicated home theater room. This room in completely light controlled. Since I didn't have access to a component input, I connected the unit solely through HDMI. Similarly the HD20 before it, I found that the auto-discover function of the HD66 was sometimes a bit too quick for HDCP to lock on to and HDMI source. I ended up having to switch the unit into source lock mode so that it wouldn't keep cycling through the different inputs indefinitely.
Out of the box, the performance of the HD66 was somewhat off. The picture was noticeably washed out and full of artifacts. What you'll want to do is to cut the Sharpness all the way down to "0" under the Image menu. Next, hit the Advanced submenu (under Image) and select Film under Degamma and cut BrilliantColor to "0" and Color Temp to "Warm". From there, you can head over to Display and make sure that Overscan is at "0" (should be by default) and all the 3D options are set to "Off" (more on those later). That should get you pretty close to a decent picture. You'll want to play with Saturation, Brightness, and Contrast from the Image menu to dial it in. If you like, you can switch to Movie mode and make your corrections from there. Just understand that as soon as you make a change, it overwrites User 1 mode. If you want to have a user setting that is more permanent, you'll want to copy (manually, unfortunately) your User 1 settings into User 2. That way, if you (or someone else) decides to play around with one of the other modes, they won't inadvertently overwrite your settings when they make changes.
While spending $300 on a calibration for a $700 projector doesn't make sense to some, hear me out. The Optoma has all the necessary calibration options for a full scale calibration (under Image -> Advanced -> Color) and you'd still come out ahead of many similarly capable projectors. Of course, if you are more of a DIY type, an AVIA or DVE disc and a few hours of fiddling will get you most of the way there. Either way, to get a decent picture out of the HD66, you're going to have to spend some time.
The menu system is fairly intuitive and generic so I won't spend much more time on it. I will say that you'll appreciate a couple of the features on this $700 that I didn't find on the $1000 HD20. While you might be settling for 720p, what you get is Image shift. Image shift is when the projector moves the pixels across the panel rather than Lens shift which is optical. Either way, the effect is that the image can be repositioned without fear of image degradation. This is a huge boon for those that can't position their projectors perfectly dead center to their screen. There is a manual zoom on the projector and a digital one in the menu. I suggest you use the manual one as much as possible. Regardless, you've got more than enough settings here to dial in just most any installation.
This biggest problem I had with the setup was with the PS3. As my sole method of getting Blu-ray content to my display, it is a very integral part of my home theater setup. Unfortunately, as I've found with other displays, the Optoma HD66 didn't really like to play nice with the PS3. I found that I could not successfully send a 1080p signal to the projector. While Optoma says it can accept an 1080p/60Hz signal, I found this wasn't the case for the PS3 (and it won't accept 24Hz at all). I even tried sending a 1080i signal to the receiver and had it upconvert it to 1080p but to no avail. Either I ended up with a blank screen (with a "searching" for source alert) or a heavily distorted picture that would cut out occasionally. That being said, it accepted 1080p signals from my cable box (upconverted at the receiver) without a problem, so I have to believe it is something with the PS3.
Confused about what AV Gear to buy or how to set it up? Join our Exclusive Audioholics E-Book Membership Program!
Recent Forum Posts:
TRoher posts on July 08, 2010 15:31
Projectors & 3D

The BD - 3D specs that were published earlier this year changed the playing field, and the industry is still playing catch up. The HD66 was released prior to the BD specs, so it does not meet those requirements. The HD66's 3D capability claim was based on its 120 Hz refresh rate and ability to handle the 3D signals used at that time and the use of active glasses.
BMXTRIX posts on July 08, 2010 11:12
The whole world of BD-3D is not getting properly addressed by projector manufacturers and it's extremely frustrating to see ANY projectors badged as '3D' when the format that is garnering the most attention right now is the new BD-3D specification.

I do know that LG was showing off all of their 3D capable projectors at Infocomm hooked up to their 3D Blu-ray players at the show. I mean, EVERY projector which could do it was running Blu-ray, not the nVidia card and a PC. It was extremely cool to see them using sub $1,000 projectors with Blu-ray without any hiccups.

There are some great 720p projectors out there and the HD66 is a solid entry level projector, but I wouldn't buy it for the 3D aspect unless I was sticking with the nVidia card solution.

It sure would be nice to see some reviewers with nVidia cards, and some 3D BD players start to test and try out the new 3D projectors.
Clint DeBoer posts on July 08, 2010 10:04
These projectors are EXTREMELY finicky with how they do 3D. I had an Acer in for review several weeks back and it never truly worked correctly. I would have very little confidence in the HD66 working with any 3D BD player apart from its specific design parameters.
LXIX posts on July 07, 2010 13:54
In your review you go to great lengths to mention the fact that you can only use this projector with a PC for 3D.

Are you aware of the fact that the Panasonic BDT300 and BDT350 3D BD players can output their BD signal over HDMI in a checkerboard pattern? I am fairly certain that this will allow this projector to display a 3D image from a new format 3D BD disc.

I am guessing you would need to have a pair of 3D glasses with DLP link as well.

Your thoughts?
krzywica posts on July 07, 2010 11:00
Cool….this would be a nice starting point for me…
Post Reply