Epson Ensemble HD – Form and Function Together at Last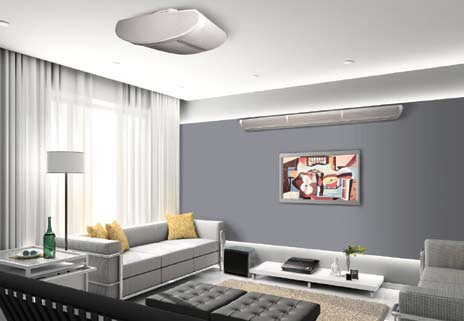 Summary
AV Control
Audio/Video Capabilities - DVD/CD player; FM/AM tuner
Surround Sound Processing - Dolby Digital Surround, DTS 5.1, Dolby Pro Logic, and Dolby Pro Logic IIx (for cinema, music, and games)
Video Processing - Pixelworks® chipset upscales all inputs to 1080p
AV Inputs - (2) HDMI, Component, Composite, S-video
AV Outputs - Digital audio (HDMI, optical, coax) HDMI (video) (upscaled to 1080p) DB15 (audio)
System Remote Control – LCD backlit display, programmable
Dimensions (WxHxD) - 13.5" x 10.5" x 4"
Weight - 7.5 lb

Projector

Model - PowerLite Home Cinema 1080
Projection System - Epson 3LCD Technology
Resolution - Native 1080P (1920x1080), 16x9
Brightness - Up to 1200 lumens (Dynamic Mode)
Contrast - Up to 12,000:1 (Dynamic Mode)
Throw Distance - 100" (wide: 12' – tele: 20.9')
Lens Shift Range - Vertical +/- 96%; Horizontal +/- 47%
Video Inputs - HDMI, component, S-video, composite
Dimensions (W x H x D) - 16" x 12.2" x 4.9"
Weight (ea) - 12.3 lb
Executive Overview
Whenever I hear the word revolutionary attributed to a product I go partially deaf and prepare for a sales pitch. Clever is a far more useful description when it comes to something new in the audio/video market and piques my interest every time. Let the printing press be revolutionary, Epson's Ensemble HD is a truly clever innovation.
The Epson Ensemble HD system is build with a kind of inspired-genius that reinvents the conventional home theater package. Someone at Epson took a long look at today's entertainment systems and painted a picture of everything they saw missing and named it Ensemble HD. The system has taken many conventional weaknesses in the projector-and-surround form factor and re-works them into strengths.
Projectors may have an amazing 100-inch picture but they require a screen and a projector in the middle of the room. Surround sound systems require lots of speaker mounted throughout the room. What's clever about Epson's Ensemble HD is it combines the audio and video systems, delivering a complete entertainment package in one affordable, unobtrusive and infinitely convenient to package. It'll transform any living-space into a compelling home theater that blends back into the room again at the press of a button on your remote control.
This is a complete home theater solution that includes a 5.1 speaker system including 10-inch sub, A/V Controller, 100-inch motorized screen and at its heart is an Epson 3LCD projector. But the system's real genius is its camouflage. The smooth white contemporary design of the motorized screen and projector will compliment nearly any interior. The A/V controller is the command center of your system and easily tucks away on a shelf or table. The system includes a 10-inch cube subwoofer that doubles as an amplifier for the entire speaker system. Okay, it's difficult to hide a 10-inch sub in your refined, modern interior. But this is a complete 5.1 sound system with plenty of bass to kick.
Epson even includes all the mounting brackets, cables and wire management tracks that can be painted to match your interior for that custom in-wall look. The whole system can be installed into any room in less than a day with no stress, no hassle or costly modifications to your interior. It'll install as comfortably into a rented apartment as it will your own home.
Audio Quality
When I got to study the system first-hand at Audioholic's SOTU event it took awhile to sink in exactly what I was listening to. By the number of questions I had to ask to understand all this system's features - Epson's mission was accomplished! Its looks are subtle and designed to be obscured by its design while looking and sounding like a complete A/V system.
Audio/Video Capabilities - DVD/CD player; FM/AM tuner
Surround Sound Processing - Dolby Digital Surround, DTS 5.1, Dolby Pro Logic, and Dolby Pro Logic IIx (for cinema, music, and games)
Video Processing - Pixelworks® chipset upscales all inputs to 1080p
AV Inputs - (2) HDMI, Component, Composite, S-video
AV Outputs - Digital audio (HDMI, optical, coax) HDMI (video) (upscaled to 1080p) DB15 (audio)
System Remote Control – LCD backlit display, programmable
Dimensions (WxHxD) - 13.5" x 10.5" x 4"
Weight - 7.5 lb 
The coolest thing about this system was the way Epson hid five Atlantic Technology speakers inside the projector and screen. Front left, right and center channel speakers are hidden inside the motorized screen cabinet. The rear channel speakers, difficult to blend into rooms at the best of times, are hidden inside a cradle assembly around the projector itself. What a brilliant idea! Rear channel speakers are back where they have to be and the front speakers are barely noticeable along the screen. When I first heard the system I asked if the screen housed some kind of sound-bar technology that beams the rear channels behind the audience. I had difficulty believing the rear channels I heard were coming from the projector itself.
I got to watch a demonstration of the DTS version of Gladiator on DVD playing back on the system's A/V controller. Sure, it would have been nice to see Blu-ray through one of its two HDMI inputs, but this was a demonstration of the complete system.
I was impressed that the sound had been calibrated using its own Location Equalization Control to give the speakers the illusion of being located in the screen rather than above it. As a veteran movie-lover it took no time for me to get sucked into another viewing of Gladiator on a glorious 100-inch screen, easily forgetting I was at a tradeshow with many more systems to view before the day was over.
The sound quality was surprisingly good for a compact system. I'm not going to try and convince anyone that it'll stack up against some of the finest dedicated sound systems I heard at the SOTU. In a purely subjective classification it's fair to put it up there with a very good HTiB sound system. It should be noted that most HTiB system's I've heard lack the LFE impact provided by Atlantic Technology's sub-woofer. This became particularly evident as the Romans pelted the Germanic tribesmen with volleys of exploding ballista-fire.
Video
Epson's system comes in two flavors – Ensemble HD 1080P for $6,999 and Ensemble HD 720P at $4,999. It's literally a complete home theater system, featuring a 100-inch screen, for about the cost of a 60-inch flat panel HDTV. Obviously 1080P media isn't going to get any more scarce in the future, so I'd suggest putting the extra investment behind the higher resolution model. Smaller pixels will mean sitting closer without seeing them. And there is nothing like 100-inch viewing area in your own home to make flat-panel owners jealous.
Model - PowerLite Home Cinema 1080 ($4999 option available with 720p projector)

Projection System - Epson 3LCD Technology
Resolution - Native 1080p (1920x1080), 16x9
Brightness - Up to 1200 lumens (Dynamic Mode)
Contrast - Up to 12,000:1 (Dynamic Mode)
Throw Distance - 100" (wide: 12' – tele: 20.9')
Lens Shift Range - Vertical +/- 96%; Horizontal +/- 47%
Video Inputs - HDMI, component, S-video, composite
Dimensions (W x H x D) - 16" x 12.2" x 4.9"
Weight (ea) - 12.3 lb 
I can't really provide a subjective evaluation of the video quality in HD as the system I saw only played back a standard definition DVD. A good quality display will make you forget you're watching SD after giving your eyes time to adjust to the softness of the images. It should come as no surprise Epson's 3LCD projector effortlessly produced this effect during my viewing.
At one point during the first day of the tradeshow I had been through most of the demo rooms and my mind was abuzz with the many HD images I had been watching. I popped back into the Epson room to catch up with the adventures of Maximus and completely forgot this wasn't HD. Even in standard-def, bold contrast conspired with delicate shadow-detail to produce incredible images.
It's fair to say that if there is one sacrifice to the convenience and transparency of the Ensemble HD system it's certainly not video quality. Epson is to video what Muay Thai is to a quick left knee.
Parting Thoughts
Exploring Epson's Ensemble HD demo was a bit like one of those old late-night TV ads. I arrived expecting to see projector. But somehow this voice inside my head kept saying:
"But wait there's more!"
To be honest I was skeptical as I will always be with any so called complete solution. But let's face it, not everyone is has the time, money or inclination for a professionally integrated home theater system. Now, Epson gives you the system to make it look like you did.
For more information, please visit Epson


Confused about what AV Gear to buy or how to set it up? Join our Exclusive Audioholics E-Book Membership Program!
Recent Forum Posts: