2005 Audioholics Product of the Year Awards
2005 Audioholics Product of the Year Awards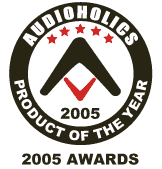 2005 Product of the Year Awards
2005 proved to be another invigorating year for the world of home theater as evident by the bleeding edge and innovative technological masterpieces put forth by many of the industry leaders.  With home theater electronics progressing as rapidly as the computer industry (if not more so), it's hard to keep track and stay ahead of the game.  Choosing class-leading products proves to be challenging since there are so many good solutions out there, all suited to specific market demands and client needs.  With that in mind, we selected gear in each category that really stood out based on our personal experiences via reviews or demo's as well as the market trends it set based on performance, features, and value.
Award: Flagship A/V Receiver
Denon AVR-5805 Multi Function A/V Receiver
The scorecard from the A/V Receiver Checklist proved to be a chartbuster in terms of its Critical Features rating as well as its overall score for a receiver/processor regardless of price.  Even more impressive was the unprecedented power reserves of this receiver and its ability to drive low efficiency 4-ohm speakers with relative ease.  Most importantly, the Denon AVR-5805 sounded pristine in all modes of operation. Its auto setup and room correction via Audyssey MultiEQ was the most comprehensive and accurate system we have tested to date, though the experienced user/installer may still opt for old fashion manual set-up and is encouraged to validate the calibration results.  It also incorporated THX Ultra2, independent processing with amplification for 2 source surround sound, 4 powered zones, up to 22 channels of distributed audio, 10 amp power assignability, useful digital video processing and scaling to enhance standard picture sources, video upconversion to HDMI, active IEEE1394 and Denon Dlink ver 3, and as all Denon flagship predecessors, features superb bass management and speaker setup flexibility.  Separates solutions at this price could only dream of the performance attributes and setup flexibility of this masterful behemoth receiver.
MSRP:  $6000
Award: A/V Receiver

Yamaha RX-V2600 A/V Receiver
We could not get away from the advances made this year in A/V receivers, and Yamaha didn't hold back as it upgraded its line and introduced its newest mid-fi receiver late into the model year. The RX-V2600 has all of the advancements of the more expensive RX-V4600 (minus IEEE1394) but with the most advanced HDMI feature set on the market including video processing and scaling of all video sources to HDMI with full OSD support (a feature even the AVR-5805 is waiting on).   We currently have this unit under review and can tell you it is by far the hottest receiver in its price class.  It's so hot that once it was announced the 2005 CEDIA Show, other leading receiver manufacturers were forced to revamp their competing receiver product lines in attempts to match its feature set.  When paired with a solid 7CH amplifier such as the Emotiva MPS-1, it is capable of gunning down more costly dedicated separates solutions.
MSRP:  $1400
Award: Multi-channel Power Amplifier
Emotiva MPS-1 7CH Modular Multi Channel Power Amplifier
Emotiva caught us off guard with their new modular cage card 7CH power amplifier - the MPS-1.  Its use of high quality parts (such as 105 degree C rated capacitors), and high build quality is a rarity at this price point.  Though it didn't quite hit rated power, it proved to have excellent power reserves, channel separation, bandwidth uniformity and commendably low output impedance which are many of the prime metrics in defining great amplification.   See our measurements and analysis and you will quickly understand why we are fans of this amp.  Pair this amplifier with the Yamaha RX-V2600 receiver and you have a separates killer at a fraction of the price one would ordinarily have to spend to get this level of performance and features.  Its fit and finish are top notch making pride of ownership off the chart for those who require high performance and looks to go hand in hand.
MSRP:  $2000
Award: Universal DVD Player
Denon DVD-5910
Last year Denon dazzled us with their DVD-3910 Universal DVD player so much so that it single handedly won our 2004 Product of the Year award. This year Denon took it up a notch and added Silicon Optix Realta HQV chipset found in $60k Teranex 3RU Xantus system combined with 10-bit video processing from DVDO, Denon's own image enhancement system, and top notch audio DAC's, power supplies and circuit topology make for unprecedented picture and sound quality.  The DVD-5910 set the standard in our new DVD Player Benchmark and is, according to our sources, Denon's last high-end conventional DVD player until high definition DVD arrives.
MSRP:  $3500 | Locate a Dealer Online
Award: High Performance Loudspeaker System
RBH Sound CinemaSITE
When we first saw the RBH Sound CinemaSITE at the 2004 CEDIA show we were instantly captivated by the sheer genius of the product. For years it was only possible to get the elegant look of a custom home theater by either a) having a one-off custom wood-worked cabinet designed and, or b) utilizing an existing furniture solution that allowed integration of baffled speakers on shelves. The problem with either of these solutions can be summed up by a factor of cost, inconvenience and potentially compromised sound quality. The RBH Sound CinemaSITE on the other hand has been completely designed from the ground up to serve as a custom install solution for housing their Signature Series line of in-wall loudspeakers. In addition to being sonically designed to hold the RBH Sound in-walls, the entire system is laid out in a way that makes installation a breeze. Try that with a custom product!
MSRP:  Starting at $17,900 | Schedule an Audition
Award:  Moderate Priced High Performance Loudspeaker System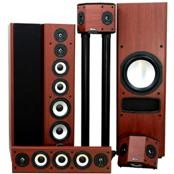 Axiom Audio Epic 80-600 Loudspeaker System
We were interested in assembling a loudspeaker system that would provoke the "WOW" factor but not break the bank. Getting more bang-for-the-buck seems to be the backbone Axiom Audio was founded on.  Throwing in the bone crushing Epic 600 subwoofer brought this package to new depths.  Adding two EP600s only furthered this by providing more uniform bass response in all listening positions.
MSRP: $3,681 for 5.1 System
MSRP: $4,156 for 7.1 System | Buy Now from Axiom Audio
Award:  Moderate Priced Front Projector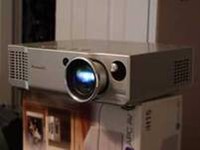 Panasonic PT-AE900U 3LCD Projector
We quickly realized that the Panasonic PT-AE900U just might be one of the best price-for-performance projectors we've seen in a long time. By far, the best attribute of this product is the Smooth Screen technology that puts the nail in the coffin for screen door effect (SDE). Add to those decent blacks, exceptional color reproduction and a slew of features like lens shift and user-calibration of RGB brightness/contrast/gamma levels and you've got a winner for its $2200 street price. We heartily recommend this projector to anyone in the <$2500 budget range looking for an excellent front projection system.
MSRP:  $3,199 | Get the Best Price Online

Award:  Budget DLP Front Projector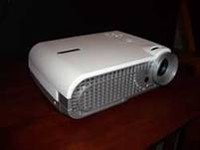 Optoma H31 DLP Projector
The Optoma H31 is a budget projector that, while not having the resolution of its bigger brothers, provides enough oomph to present a truly compelling reason to save some money and be satisfied with a 480p projection solution. I would never have thought that 480p could look so good, but then again resolution is not as big of a deal when the viewing distance is correctly matched to compensate. You'll want to calibrate this unit out of the box (and for each input I might add). Once you have done so you will be impressed with its features, its form, its color accuracy and detail. While it scored middle-of-the-road on our HQV bench tests, its real world performance was impressive and showed that bench tests should certainly not be the sole deciding factor when choosing a display. If you're looking for a budget display to get you into the big screen home theater experience, look no further than the Optoma H31.
MSRP:  $1,299 | Get the Best Price Online

Award:  Projector Mount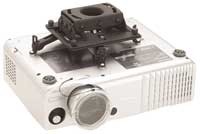 Chief RPA-U Universal Projector Mount
The Chief RPA-U mount is truly universal, fitting just about any projector on the market today. The mount has many key features and adjustments that many other projector mount manufacturers lack in their products. Build quality is top notch and the products are competitively priced. Chief is also well known for great customer support which catapulted them to the top of our list for the product of the year award.
MSRP:  $199

Award: Projector Screen Technology
Da-Lite Acoustical Imager Projector Screen
with High Contrast Cinema Vision screen & JBL 5.1 speaker package
The overall excellent engineering and forward thinking by Da-Lite make this screen an easy choice for those wanting an all inclusive video screen and speaker package. The unobtrusive design of the screen with the incorporation of the JBL speakers Left/Center/Right in the frame now make it possible for many to install a nice front projection system in their home. Top notched video performance, very good audio performance and high bang for the buck puts this product on the award list.
MSRP:  $1,925 | Find the Best Price Online
Confused about what AV Gear to buy or how to set it up? Join our Exclusive Audioholics E-Book Membership Program!