Twelve South BookBook for iPhone 4 Review
Twelve South BookBook for iPhone 4
We've reviewed and talked about several iPhone 4 cases this year. Most of them are unexciting and, well, nothing to write home about. Some of the more notable cases are notable because they are super-rugged or offer a really cool design along with some protection. I even bought my wife an iPhone 4 case that doubles as a clutch purse... of course, while this is cool, I can't exactly get away with using it. I mean, I'm not French. So I've often wondered what else is there for the iPhone. Is there a case that's practical for a guy? Something that I'd actually want to haul around with me and use, that offers protection, but perhaps doesn't look like Fort Knox?
Now there is. And we've never seen anything like it - at least not on this scale.
The Twelve South BookBook for iPhone 4 is every bit as cool as the BookBook for the MacBook Pro that we reviewed last year. Except that we don't carry that thing around all over the place and use it for holding our license and credit cards. Lately, I've taken to wearing cargo shorts and cargo pants - originally because my Ballistic iPhone 4 case was too stinkin' big to fit in my jeans pocket. Now, however, I've just grown to like them. So if I have the space to store a bulkier case, why not use something like the Twelve South BookBook for iPhone 4? I mean, this way the case offers some protection AND it delivers a simple way to store and retrieve your most commonly-used cards, drivers license, business cards, etc.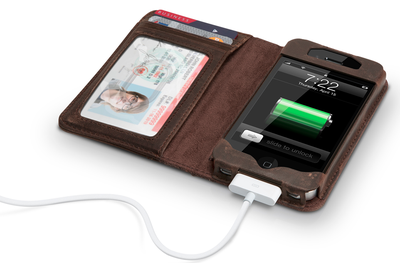 I, for one, love the idea. I also like the fact that when the phone rings you can bend the cover all the way around and hold the phone up to talk. It's practical and you really never have to take the phone out. Possibly the most awkward thing - and it's not all that bad - is that you must pull the red tab to lift the phone up slightly in order to take a picture or use the LED as a flashlight. We'd rather wished they had cut out a hole in the back. Another thing we'd love to see is a magnetic clasp or closure mechanism. If there was just a small magnet within the edge of the case, that would secure it shut, you would have a lot more security in knowing that if you dropped the BookBook for iPhone, that it would fully protect your phone. In our sample, the front flap liked to fling itself open and stay open. But given all the advantages - this is a product that really makes a lot of sense and is a near-total win in our book.
It costs $59.99 at either Twelve South's website or the Apple Store (they love this stuff as the company has Apple's true design-core values at heart). That may sound expensive, but I've paid that much for a good wallet. This is that and much much more.