Twelve South Announces BookBook for iPad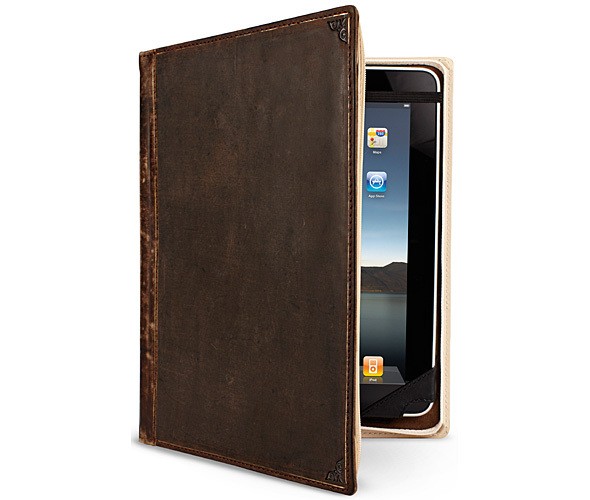 Twelve South BookBook for iPad
Twelve South introduced its new BookBook for iPad, a new version of the popular BookBook Case for MacBook Pro. This new leather case is handmade to look like a vintage book. BookBook for iPad also doubles as a display stand for the iPad. The case has two hardback book covers, a rigid spine and hard inner frame to protect iPad from all angles. It is available in two colors: brown with a black spine (Black) and a more vibrant brown with a red spine (Red). BookBook for iPad is available now and retails for $69.99.
Not only does BookBook for iPad look like a real vintage book, it also feels like a real book, which enhances the iPad reading experience, making it feel more natural. Each case is hand-distressed, giving it a unique look. Hardback covers with reinforced corners offer solid protection from bumps and dings. The classic looking book spine and inner frame offer a superior level of crush protection. An additional layer of security comes from the fact that the antique book appearance disguises iPad from would-be thieves.

Inside BookBook is a button stitched into the left book cover and a string sewn into the right book cover. Those two simple items are used to transform the case into a handy display stand. The button and string create a stand that can be adjusted precisely to your desired viewing angle so you can sit back and enjoy a movie, videos or a slideshow, hands-free.
"In many ways, the BookBook for iPad makes even more sense than our popular MacBook version," said Andrew Green of Twelve South. "Reading books and articles on iPad in a BookBook feels more organic and comfortable. When closed, the BookBook protects the beautiful glass iPad screen better than any case we've ever seen. It may have taken some time to get it just right, but we think BookBook for iPad is exactly what our customers have been waiting for."
BookBook for iPad is a beautifully designed accessory that will appeal to those who want a versatile case that stands out from the rest. BookBook is available now for $69.99 at twelvesouth.com.
About Twelve South
Twelve South is a company dedicated to making one-of-a-kind accessories exclusively for Apple products. The company was formed in 2009 by former executives from the fashion and consumer electronics industries, and its design team includes the original designers of landmark products like the Griffin iTrip and iCurve, and the DLO HomeDock and DLO Relaxed Leather cases. More information is available at http://twelvesouth.com.