TI Intros Lamp-free LED DLP Projector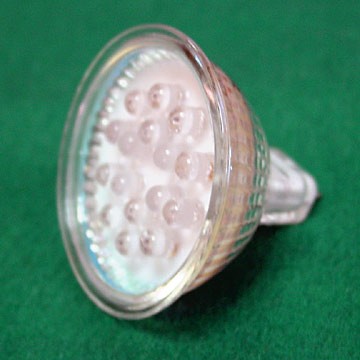 LED lamps coming to DLP projectors
Texas Instruments (TI) introduced what it claims is the industry's first home theater lamp-free projector at this week's InfoComm 2008. It utilizes a Luminus PhlatLight LED light source and a BrilliantColor chipset. PhlatLight is MIT-inspired technology which uses a new type of solid state light source that combines the benefits of both LED and laser technologies. This unique solid state lighting technology is geared towards display and illumination applications that require high brightness and the efficient harnessing of light from a small point source.
Tech Note: The name PhlatLight is derived from its underlying photonic lattice structures. Photonic lattices are complex arrays of sub-wavelength microstructures in a solid dielectric material that can control and radically influence the propagation of light in different directions. This new engineering discipline, combining principles of electromagnetism with the concepts of solid-state physics, has numerous applications in optics and optoelectronics. PhlatLight devices use photonic lattice patterns to extract more light out of the LED more efficiently. These sub-wavelength microstructures direct more light to the surface of the LED, they allow light to emit from the LED more efficiently, and they influence the direction in which the light is emitted.
The lamp-free projector delivers a 1080p picture and effectively eliminates maintenance costs such as lamp replacements and filter changes. Several DLP projector manufacturers have plans to develop DLP lamp-free LED-based projectors, including Optoma, who is expected to ship units in late 2008. Similar to the deployment of the company's BrilliantColor technology, the solid-state, lamp-free innovation will first be incorporated into home theater units and proliferate through corporate and education product lines thereafter.
Due to the advancements in LEDs from Luminus, consumers would presumably benefit from the increased color gamut of LEDs versus conventional UHP/UHM lamp technology. The reflective nature of the mirrors on the DLP chip combine with the LED technology to allow more light to reach the screen and deliver a 50% increase in color gamut range. The new light engine will produce more than 200 trillion colors and a theoretical contrast ratio in excess of 500,000:1.

In addition to the expanded color and contrast performance, the illumination system has a long life, offers up to 30% lower power usage and, most significantly, saves users hundreds of dollars in savings from lamp purchases.
We've been waiting for a breakthrough in LED technology to hit projectors and it looks like DLP might be taking a much needed lead over LCD in this area. We've got out feelers out to gather in as much additional information on this new lamp technology as it is made available to us.
For more information please visit: www.luminus.com and www.dlp.com

See also:
Recent Forum Posts:
powerboost12 posts on February 18, 2011 13:45
To answer the above question about color temperature if you look at the new LED lights they are using red, green, and blue so the colors should be pretty awesome unlike white led or regular light bulbs. Here's a new projector that is using red, green, blue leds.
http://www.aaxatech.com/products/m2_micro_projector.htm
Ooops just noticed this article is 3 years old… sorry…
Biggiesized posts on June 22, 2008 01:40
This is fantastic. I'm glad to see DLP bring back its edge.
mouettus posts on June 21, 2008 09:28
Gooooood.

I was waiting for this exact thing to happen before I buy a projector! Lamp replacement is a major turn off for me.

So I guess in maybe 2 years we'll see some affordable and reliable products that proved themselves in both PQ and reliability.

Another thing that's good to point out is that LEDs dissipate much less heat. So fan noise will be decreased.
Soundman posts on June 20, 2008 16:52
Awesome!

Sounds Awesome!!!! …but I wonder what pricing will be? I'm pretty sure they will cost more since manufacturers know they will be able to charge a premium for them. But if not, it may render all the other projectors on the market obsolete.
GlocksRock posts on June 20, 2008 14:56
I really like the looks of this, definitely something to keep an eye on.
Post Reply